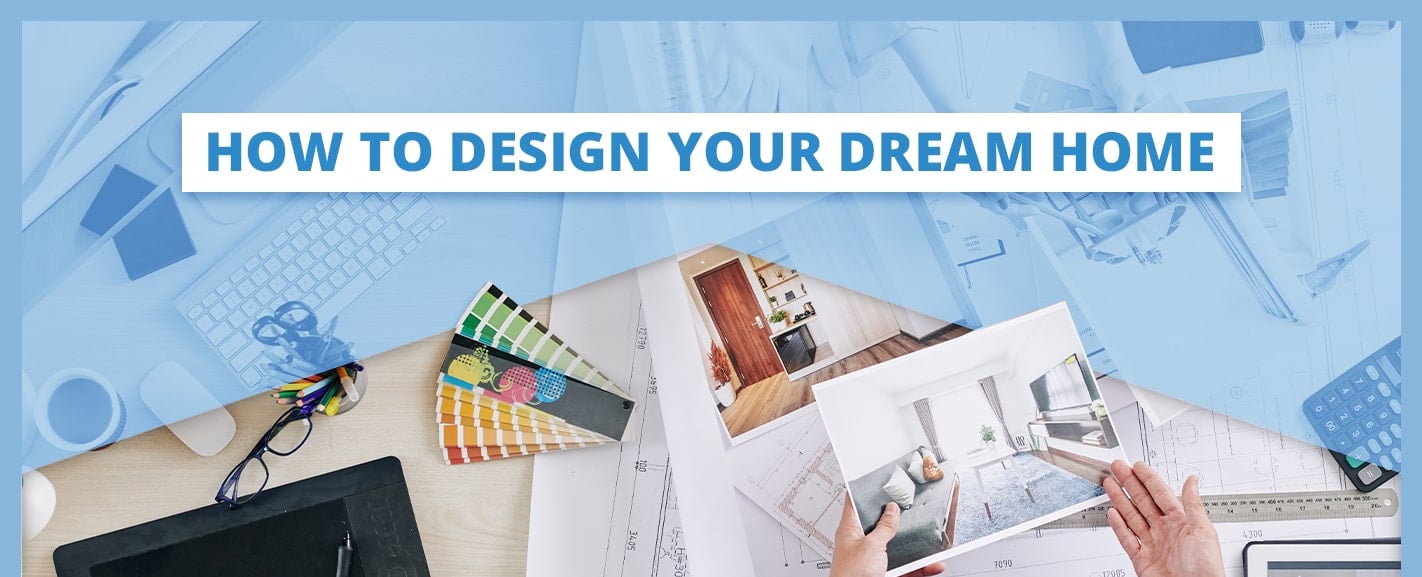 Your dream house does not have to be just a dream — it can happen. The home you always dreamed of can become a reality. When you finally get the chance to create your dream home design, you may feel overwhelmed and ask yourself all sorts of questions. What are must-have features for my home? What are the steps to designing my dream home? Where do I even start?
Steps to Designing Your Dream Home
The pressure to make everything perfect may feel overwhelming. We created a dream home design guide to help you navigate the process.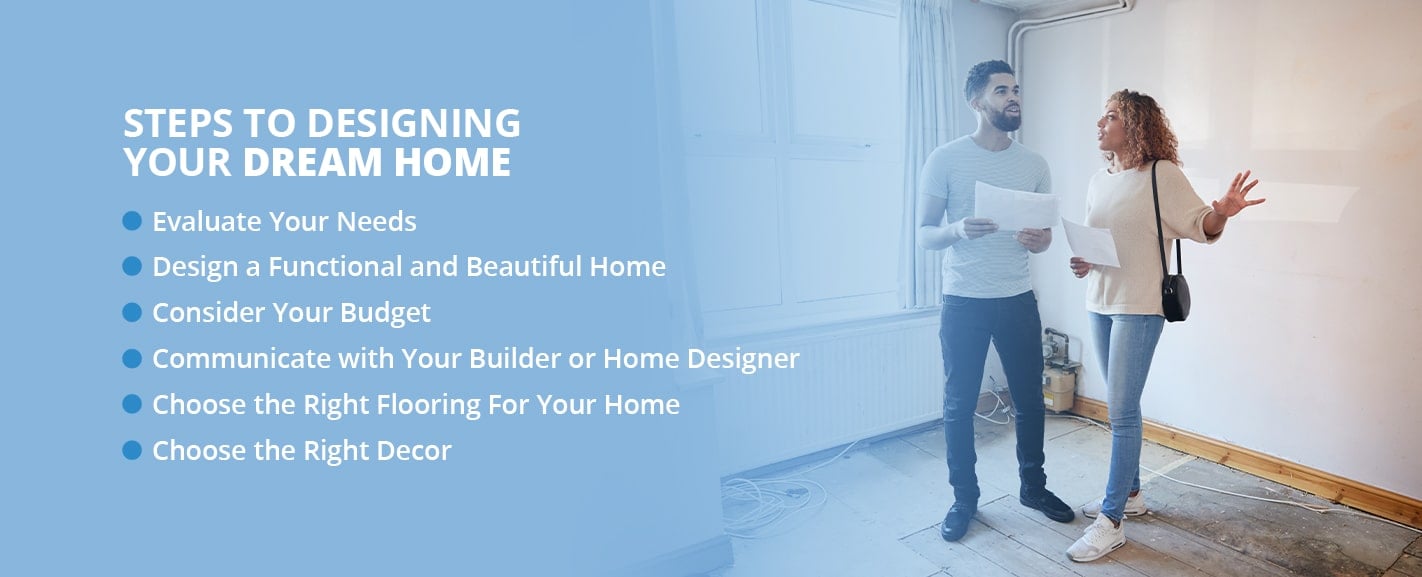 1. Evaluate Your Needs
Start with the basics. Your dream house has to work for you. Think about what you need from your home. Look at what rooms you need. The added features come later. Before you do this, think about the future. Do you have or plan to have children? Do you have aging parents to take care of in the future? Keep these questions in mind when planning your dream home design and follow these steps:
Evaluate your current home:

What currently works for you? What do you wish it had? Does it have anything unnecessary? These factors will help you establish goals for your new home. Finding out what you need and what you don't will help you find all the must-have features for your home and ensure you don't waste space, money or time.
Consider bedrooms and bathrooms:

If you have kids or thinking about kids, you may want to opt for three or more bedrooms. If your kids will move out soon or you don't have any, opt for less. How about bathrooms? Do you need a guest bathroom? Can your family share a bathroom? If you're designing a two-story home, do you need a full bath on the first floor? Or will a half-bath be enough?
Note your family's living patterns:

What rooms get used the most? Where do traffic jams happen? Ask yourself these questions to create the must-have home design for you.
When you have evaluated your needs, sketch out your ideas. A drawing can help any home design team understand what you need and want in your home.
2. Design a Functional and Beautiful Home
Choose a location convenient for you and ask yourself the following questions:
How far do you want to travel for work and activities?
Do you want to live in a secluded area or a neighborhood?
What functions will your dream home hold?
Will you entertain guests often?
Do you need lots of storage space?
Do you need extra room for your family's hobbies?
What kind of design do you want?
Where should your window placement go?
Understanding the functions can help ensure your dream home is ideal for you. For example, if you want more natural light, include more windows in your design.
3. Consider Your Budget
It's time to address the elephant in the room — your budget. You may want all the best dream home features, but can you afford it?
Keeping your budget in mind upfront can help you avoid cutting corners later in the project. It can also help you when deciding whether something is worth the extra money. Choose features that you will utilize and appreciate. You may want a pool, but do you want the added work? Look at the future costs of a feature as well to ensure you can afford the upkeep. Planning ahead will ensure your dream home does not become a burden.
Prioritize features as well. You can add wants later when you have more funds available.
4. Communicate with Your Builder or Home Designer
Make sure you communicate your goals to the necessary party and ensure everyone is on the same page and understands the timeline. If you change your mind about an aspect of your home, notify them right away, so they can make the necessary changes. Having open communication will help make your dream home design come true.
5. Choose the Right Flooring For Your Home
To tie together the inside of your home, choose the right flooring. You can choose from a variety of types of flooring for your dream home. Hardwood, laminate and carpeted flooring are all popular options with today's homeowners. You can mix flooring options throughout the house and add area rugs under furniture or tie rooms together and get the best of both hard and soft flooring options.
Before investing in flooring, consider the following qualities:
Waterproofing:

You may want to add waterproof flooring to the kitchen and bathrooms. The entryway or mudroom may also need waterproof flooring. Avoid installing carpeting in moist or humid environments and opt instead for plush shower rugs or kitchen runners.
Pets:

If you have a four-legged friend in the house, consider adding pet-friendly floors to prevent damage. Pets may have accidents on the carpet, making hardwood or laminate an ideal option since they are easy to mop or wipe clean.
Maintenence:

Some floor types require more upkeep than others. For example, some hardwoods need specific cleaning agents to preserve their integrity and appearance, while some carpet colors fade or wear sooner than others. If you don't want to take the time to maintain your floors, choose a low-maintenance option, and always consult your flooring warranty to learn more about product care.
6. Choose the Right Decor
It's your dream home. Decorate it any way you want! Choose between a sleek modern feel, neutral earth tones, retro accent pieces or any other style. Choosing the right decor will help pull together your home and transform it into your dream home that you will love.
Come up with a theme for each room. Your master bedroom can have a different theme from your kitchen, as can each bathroom. Choose one or two primary colors to decorate the room. Start with bigger pieces of furniture. Once the big pieces have their home, add accent pieces to pull the room together.
Move One Step Closer to Your Dream Home With 50 Floor
50 Floor is here to bring your dream home fantasy to life with premium residential flooring installation. Schedule an appointment today to get started, or give us a call at 1-877-50-FLOOR for more information or home-specific suggestions.