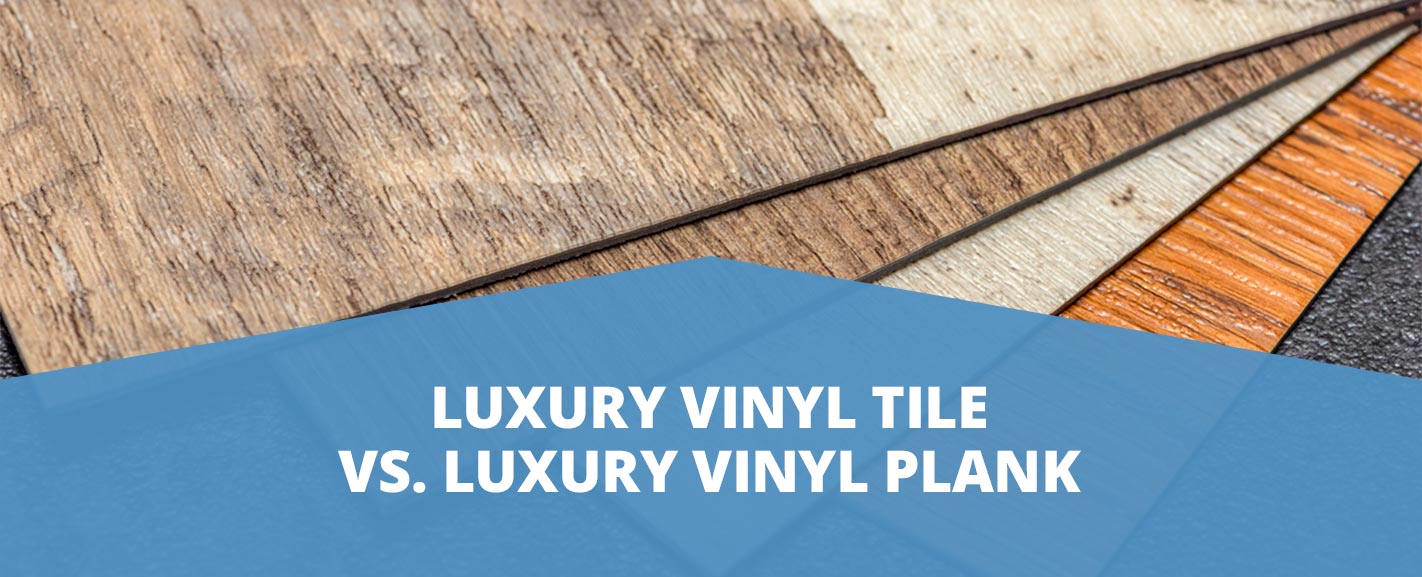 When looking for new flooring, choosing between all the available options can be challenging. Balancing your budget with benefits and different flooring features can make choosing a floor more stressful than necessary. You want your floors to be attractive, durable and cost-effective, and luxury vinyl meets all of these qualifications.
Luxury Vinyl Tile (LVT) and Luxury Vinyl Plank (LVP) are both types of luxury vinyl flooring. LVT comes in tile form, while LVP comes in flooring planks. Learn more about the similarities and differences between luxury vinyl tile and luxury vinyl plank in this article.
Choosing the right flooring style will give your home stylish, high-quality flooring for years to come and ensures a comfortable place for your family to live in. Explore the many benefits of luxury vinyl floors and find the best fit for your home today.
What Is Luxury Vinyl?
Luxury vinyl is a newer form of vinyl flooring. Luxury vinyl tile (LVT) and Luxury vinyl plank (LVP) are flooring options built from luxury vinyl materials. Luxury vinyl floors have multiple layers, which help create a thicker, damage-resistant base. You can customize your floor with several backing, design and texture options to perfectly complement your unique home and interior design.
New technology allows modern LVT and LVP to mimic the look of natural materials like wood, tile and stone in a wide variety of colors and patterns. Some luxury vinyl floors are even textured for a more realistic feel and appearance. Old vinyl flooring came in sheets, making it feel less high-quality than other floorings. Luxury vinyl comes in planks or tiles and can have seams for grout and wide or narrow planks for custom, natural-looking flooring.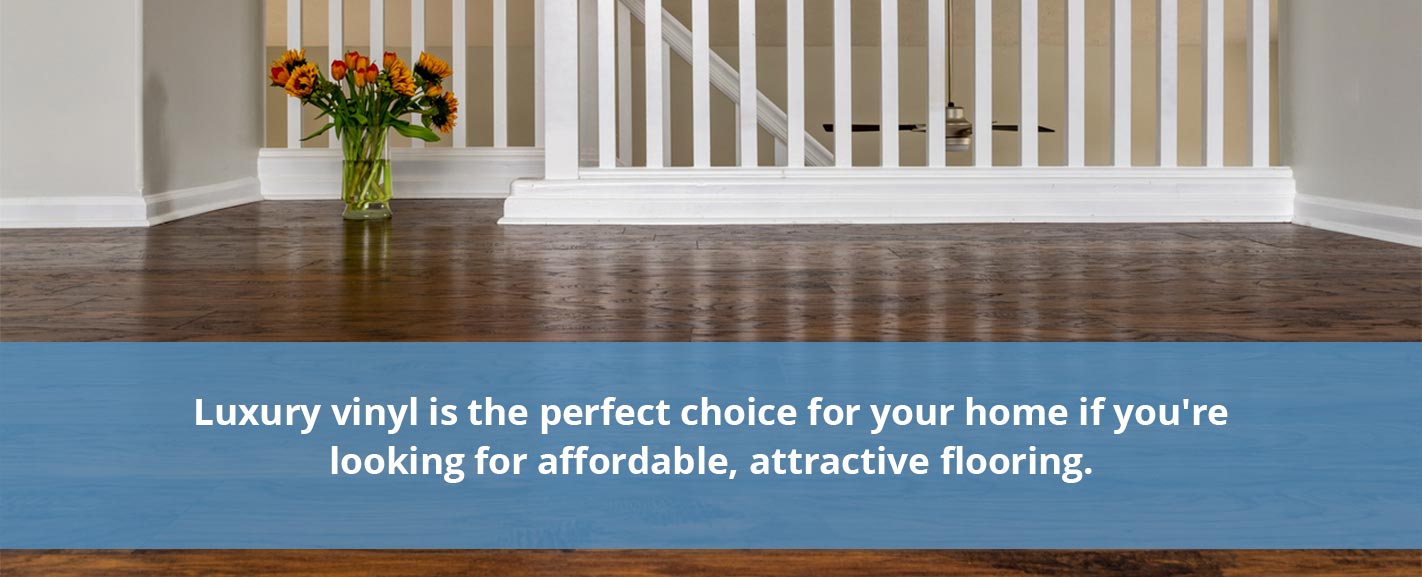 Similarities Between LVT vs. LVP
When deciding between LVP or LVT, consider how your floors look and which room they are located in. There are many benefits to luxury vinyl flooring, and comparing LVP vs. LVT flooring will help you make the best decision for your home. Luxury vinyl offers the look and feel of natural flooring, with increased durability, waterproofing and style options. You'll also achieve your dream flooring at a lower cost and with less maintenance than many other flooring materials.
Luxury Vinyl Tile Luxury Vinyl Plank
These two popular floor options have many similarities, including:
Cost
Luxury vinyl is the perfect choice for your home if you're looking for affordable, attractive flooring. Luxury vinyl is a less-expensive alternative to traditional wood, stone or tile flooring. Since luxury vinyl is designed to mimic natural materials, you can select any color or design you want without worrying about the extra costs associated with exotic or higher-end materials. Exotic woods and luxury materials cost more to install, purchase and maintain than other materials, making it expensive to achieve your dream floor look.
With luxury vinyl, you can get any style at a more affordable price. Add embossed or textured features for a more realistic finish without paying for expensive materials. Even including stain-resistant layers will save you money on repairs and replacements in the future while remaining below the price point of many other designs.
Waterproofing
You want to avoid wear and damage to your floors, but water often causes warping, stains, mold and even rot for some types of flooring. LVT and LVP are both waterproof and built to withstand moisture without damage. Luxury vinyl is constructed from waterproof materials, which can be dried and reused, even after water immersion. Their water resistance makes them ideal for basements, bathrooms and kitchens.
Ease of Care
Natural floorings are attractive, but they often require special cleaning and care. Others, like carpets, attract dust and lint and need regular deep cleanings or replacements to remove dirt and allergens.
Luxury vinyl is made with easy-to-clean materials. Simply mopping and sweeping regularly will remove any debris without damaging the floor. Nonvinyl flooring may need special care or cleaning materials and can become damaged if you accidentally use the wrong cleaning method. Luxury vinyl will withstand scrubbing and washing easily, making cleaning a quicker and less stressful process for your home.
Durability
Without proper care, wood can warp, tile can crack and carpet can flatten. Luxury vinyl will withstand regular wear and tear for 25 to 30 years. When properly installed, vinyl is extremely durable and resistant to water, cracks, scratches and stains. Luxury vinyl options can come with a highly scratch-resistant layer, protecting the floor from gauges, scrapes and tears.
Luxury vinyl also resists cracking since its slight give provides flexibility and strength. It's almost entirely sealed against water penetration, protecting your home from mildew and mold. Additionally, you can get stain-proof layers for your luxury vinyl floors, preventing surface scuffs and discoloration that may show up on traditional vinyl floors.
Differences Between LVT vs. LVP
While luxury vinyl options available are very similar, there is one main difference between luxury vinyl tile and luxury vinyl plank, and that difference is found in their names. LVT and LVP are made from the same material, but one comes in planks and the other in tiles. While both forms of luxury vinyl have the same benefits, choosing between tile and planks will probably depend on the room you plan to install them in.
While both flooring types offer the same waterproof, scratch-resistant benefits, you want to choose the style that complements your home. When weighing luxury vinyl tile vs. plank, select the type that best fits each room. For example, you might choose planks for your living room, bedrooms and even kitchen to mimic the classic, stylish lines of wood flooring. For bathrooms and laundry rooms, vinyl tile may better fit each room's traditional floor styles without giving up the technology of luxury vinyl.
While form is the only real difference when choosing luxury vinyl plank vs. luxury vinyl tile, there are different installation options that work for both LVT and LVP. Floating-click vinyl tiles or planks click together and float above the subfloor. Glue-down installation involves taping or gluing the flooring directly onto the subfloor. Glue-down is not always as waterproof as floating-click, so keep this in mind when installing luxury vinyl in your home.
Schedule an Appointment With 50 Floor
If you're interested in installing hard flooring in your home, LVP or LVT offers the perfect combination of style and strength. Whether you choose tiles or planks, your home will have durable, easy maintenance flooring that looks great and withstands years of use. Enjoy the peace of mind of luxury vinyl and never worry about water damage, scratches or pet stains again.
Update your home's floors with our luxury vinyl flooring options and get the look of natural flooring with the strength of synthetic materials. If you're looking to install new flooring, contact us to schedule an appointment today. During a free in-home appointment, our flooring consultants will provide information about lvp vs lvt flooring and show you flooring samples in your home's lighting and decor.