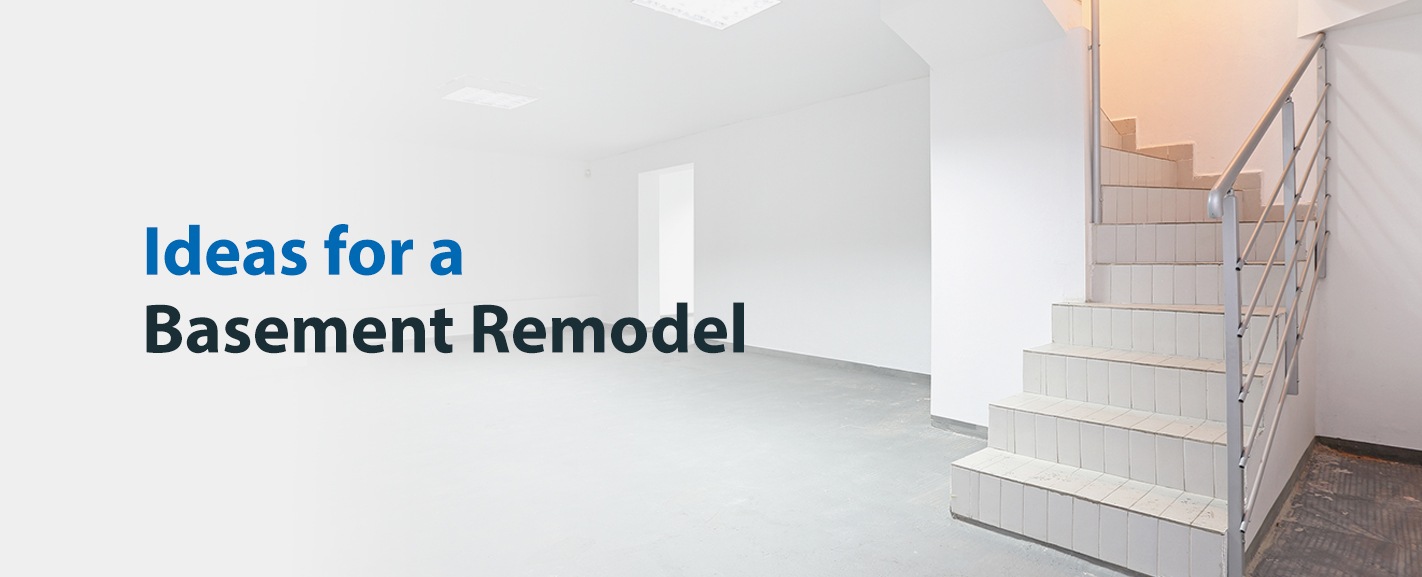 Basements are often forgotten spaces in a home, but they are full of opportunities if you're willing to take the chance. Whether your basement is unfinished or you've been putting off that remodel because you don't have any ideas, hopefully, these basement remodel ideas will inspire you.
8 Basement Remodel Ideas
There are three main things you'll want to consider during your basement remodel:
Flooring
Walls and partitions
Lighting
Flooring is crucial because you want to pick the flooring to look great and be functional. You also want to consider the size of your basement, how much traffic the floor will see and what sort of maintenance it requires. And if your basement is unfinished, complete with concrete slabs, you'll want to understand which type of flooring is best for concrete slabs.
Depending on the size of your basement space, you can play with the walls and partitions to create privacy or even multiple rooms that can be separated from each other.
Because basements are underground, they tend to lack good lighting, so making up for it with artificial lighting can make the difference between a dark, gloomy basement and a bright, inviting one.
Here are eight ideas to finish your basement and make it into a family hub.
1. Make It Into a Spare Bedroom
Whether you're expecting to host many guests over holidays or if your kids are outgrowing their shared room, turning the basement into a separate bedroom is a popular and useful idea, which can also increase the resale value of your home.
If you have a basement entrance as well, you can turn the whole space into a small apartment by adding in a little kitchenette and bathroom. You'll probably want to transition the flooring into the kitchenette and bathroom, but that just means you can have some fun with tiles and vinyl flooring.
2. Add Another Family Room
Who says a home only needs one living room or family room? The basement is a great space to let the family spread out in comfort — and privacy. The basement family room can be turned into the everyday hangout while the original living room can be designated to special occasions and guests. Or, turn the basement into a TV room, which makes a great space for kids to safely watch TV while the adults mingle upstairs.
For smaller basements, there are tricks to make it look and feel larger, such as choosing the right flooring and lighting. This can help prevent the space from feeling too cramped.
3. Create a Cinema
If you dream of something bigger than a TV room, turn your unfinished basement into a home cinema. You can buy a projector to display movies and shows, but even a regular big-screen TV will work.
The key is the details, like making sure the flooring is easy to clean, like laminate, so you don't have to worry about spilled snacks or drinks. You can even add in a kitchenette if you don't have one and stock it with microwave popcorn and other movie snacks to make getting and putting away snacks that much easier.
You can also add in a small powder room under the stairs for added convenience — but make sure to pick the right bathroom tile for your space.
4. Meet Your Fitness Goals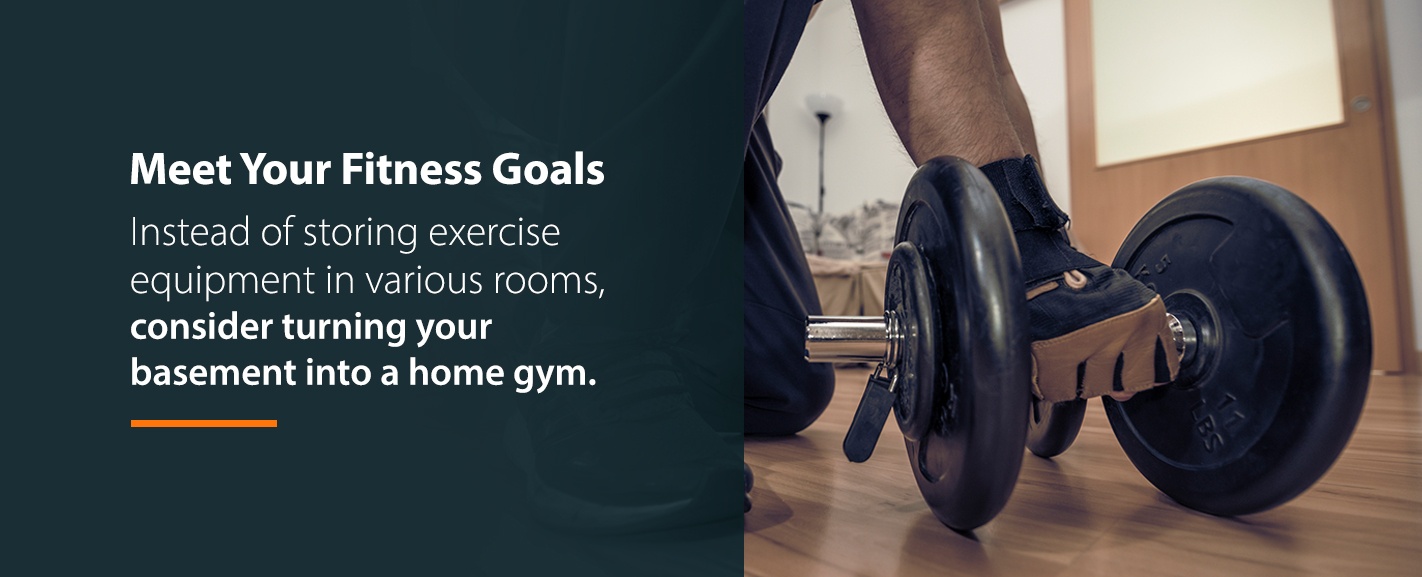 Instead of storing exercise equipment in various rooms — or, worse, all in your already-crowded bedroom — consider turning your basement into a home gym. This easy solution is one of the best basement remodel ideas on a budget.
Make sure you have the proper flooring to handle heavy equipment — and the best way to move it down to the basement — then set up your treadmill, yoga mat and weights to create a gym in the comfort of your own home. You can even set up a TV in the basement so you have some entertainment while you reach for those fitness goals.
5. Get the Games Started
A game room may seem like a frivolous use of space, but it can be a great way to encourage family time. Whether you like board games, video games or table sports, the basement is an ideal place to set these up. If your family isn't big on game nights, you can make it into a playroom or a children's game room, using the same idea but installing kids' toys and games to keep little ones entertained for hours.
Regardless of which type of game room you choose, you'll want to make sure the flooring is something that can withstand everything from spills and scratches to crayons and markers. For children's playrooms, in particular, investing in childproof flooring may be a wise decision.
6. Work From Home in Style
Working from home is becoming more and more common these days, and many people find having a dedicated space for work means the difference between being very productive and not productive at all. One of the best unfinished basement ideas is to transform it into a home office, designed to reflect your personal style.
Install bookshelves to hold any reference materials you need easy access to and invest in a good desk and chair so you're comfortable while you work. Flooring and wall art are two ways you can bring some texture to a room's decor to give it a personality of its own.
7. Load It Up With Laundry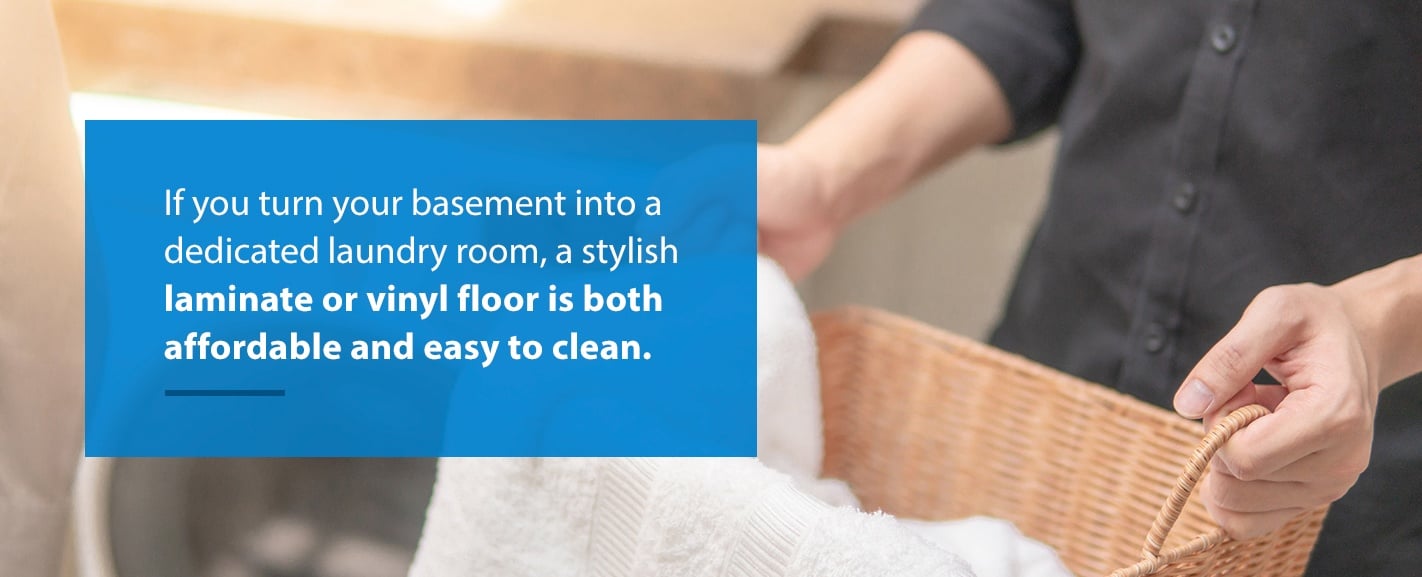 Doing laundry in a cramped space can be frustrating, so if you have an unused basement, turn it into a dedicated laundry room. Install your washer and dryer there as well as a small sink. Some shelving and maybe a comfortable chair can make it into a quaint little spot to peacefully do those loads of laundry that never seem to end.
If you do opt for a laundry room, make sure the flooring your pick is compatible. Having an expensive carpet or natural wood in a room where spills are almost inevitable is a bad idea, but a stylish laminate or vinyl floor is both affordable and easy to clean.
8. Mix It Up With a Multi-Use Room
Basements can sometimes feel massive — too big to be used for a single activity, sometimes. These spaces are great for multi-use rooms, using partitions and different types of flooring to create separate areas for different tasks.
Here are some ideas on how to make your basement into a multi-use room:
Have a game room with a small laundry room separated by a door
Create a home office that doubles as a library, with wall-to-wall bookshelves
Wine connoisseurs can use part of the basement as a wine cellar and use the rest as a family or spare room
A home gym separated with a partition from a playroom means kids can be entertained and supervised while you exercise
You can even jazz up the basement stairway — and any other steps in your house — with a colorful carpet or laminate.
Let 50 Floor Help You Remodel Your Basement
Flooring can do wonders for a room, and at 50 Floor, we can help you choose the best high-quality basement flooring to fit the aesthetic of any room. Whether you've decided on a dark, cozy carpet or a bright, clean luxury vinyl tile, 50 Floor offers a large selection of flooring at budget-friendly prices.
Get in touch to schedule a free in-home consultation and get your basement renovation started.