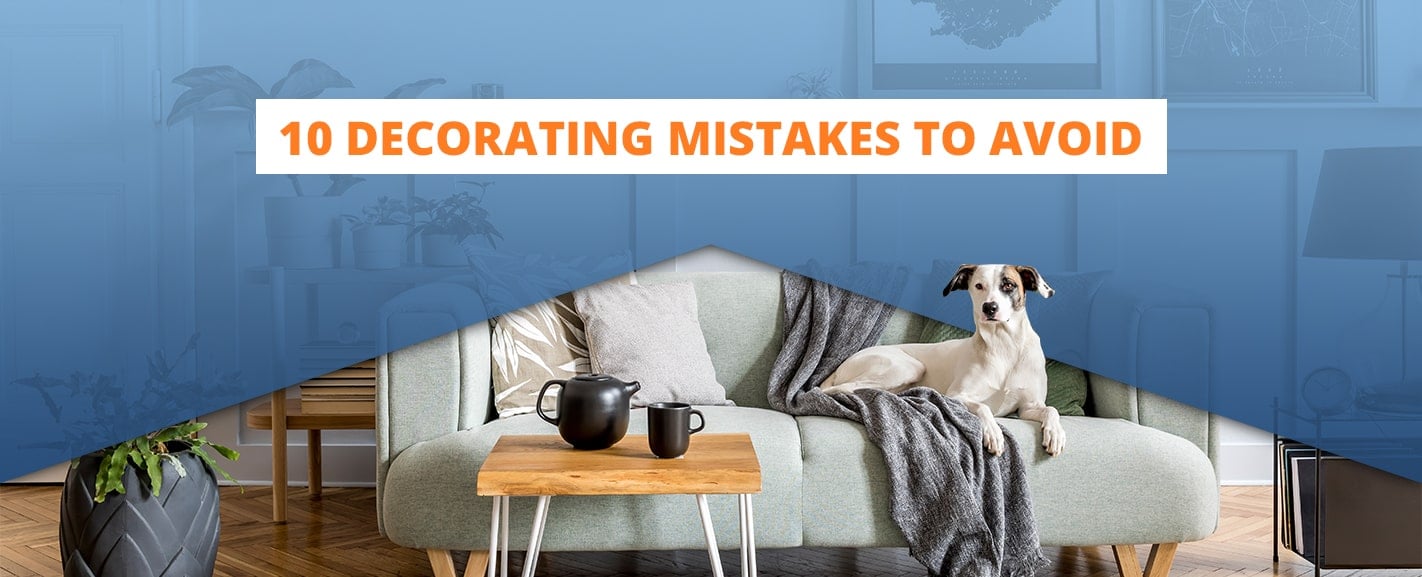 Is it time to give your home a fresh look? Redesigning home decor can be a lot of fun. There are so many colors, patterns, and materials to choose from, not to mention dozens of styles and themes. The beauty of choosing from such an array of interior design ideas is that so many different components come together to be a reflection of yourself and your tastes. While home decorating ventures should always be considered very personal projects, there are some guidelines that can be followed to help you more easily achieve the ideal feel and flow that you desire.
Don't be Hasty with Paint
A lot of people immediately want to go with a fresh coat of paint to begin redesigning their homes. Put on the brakes for just a moment! Paint is one of the more common home decor mistakes. While it is fantastic and encouraged to get new paint on the walls, there are few factors to consider.
First of all, try to refrain from making the paint color the basis for your vision. Paint has so many shades and colors to choose from and it really is not difficult to change should the urge come about. Instead, decide on the most expensive pieces that you will be placing in your space first and select paint colors that will pair beautifully. Finding your picture-perfect furniture pieces should be the priority because everything else can easily be designed around them.
When shopping for paint, it can be easy to get caught up in the wide range of paint chip swatches available. You may think you found the perfect color, but beware! Not all paints look the same on a wall as they do on the chip. One of the best ways to avoid an interior design mistake is to test the paint colors first. Purchase some sample sizes of the paints you like the best. Apply the paints to large sections in the rooms you wish to paint for a better visual representation.
Don't Fizzle Out on Furniture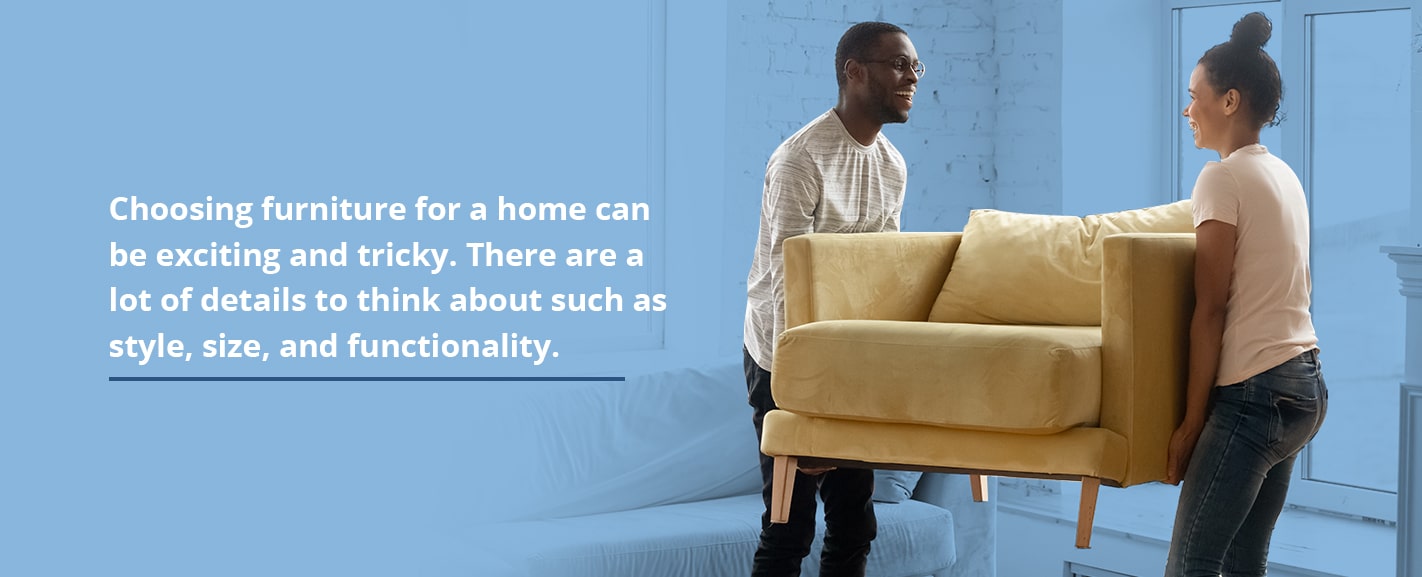 Choosing furniture for a home can be exciting and tricky. There are a lot of details to think about such as style, size, and functionality. As furniture is such a crucial part of any home, it is important to make the right choices the first time. While you are picking out your furniture favorites, keep a few things in mind to avoid fixing design mistakes in the future.
Remember that size does matter. When you only have so much room to work with, it is a good idea to find ways to maximize that space to put it all to good use. Avoid using furniture that is disproportionate to the size of the room. For instance, huge or too many pieces in a small space can make it feel cramped. Likewise, too few or too small pieces in a huge room will make it feel unfinished.
There are many styles to choose from in the furniture world but be mindful that style should not override comfort or functionality. Think about your lifestyle — do you enjoy entertaining family and friends? Do you have (or plan on having) any children or pets? Perhaps you are more of a solo individual. These factors can make a difference in the kinds of materials and designs your furniture choices may have. No matter your lifestyle, it is important that furniture delivers equal amounts of comfort, functionality and style.
Don't Choose Sub-par Flooring
Finding the right flooring for your home is a huge design choice. You will want to find something that not only emanates your personal style but will also serve you well for years to come. Avoid making flooring mistakes by noting these design ideas and finding the best option for your lifestyle and design preferences.
Determining the right materials is the most important place to start when choosing any flooring. Flooring should be able to stand the test of time, and life. Once again, lifestyle plays a key role. Someone who lives more independently may be able to settle for different flooring materials than a large family with multiple pets. In addition, different rooms, such as the bathroom where there is a lot of moisture, may not require the same kind of materials as the living room.
Flooring comes in an array of styles and patterns. From wooden designs for a rustic look to marbled styles for a luxurious design, the skies are the limit. Choose flooring that will best mesh with your overall vision while keeping other aspects of the look in mind. Make sure that the flooring will not compete with the rest of the room but will enhance it to help it look its best.
Don't Pick the Wrong Rug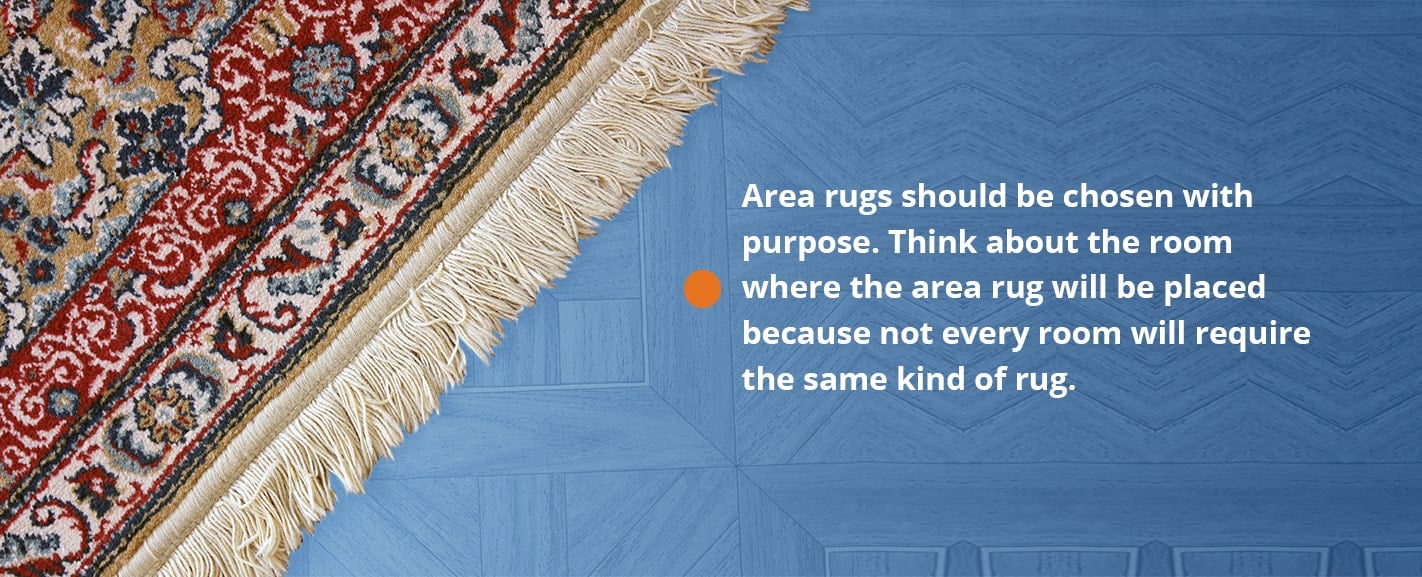 A common mistake when navigating design ideas is choosing the wrong kind of area rug for the space. Choosing the wrong size, shape, and design can really drag down the overall appeal of any room. When making the final decision on an area rug, these simple tips can be a big help to making a successful choice.
Area rugs should be chosen with purpose. Think about the room where the area rug will be placed because not every room will require the same kind of rug. Take the bathroom as an example. If you feel that an area rug in the bathroom would really help pull everything together, that's great! But for cleanliness and functionality sake, you may want to consider a flatweave or outdoor rug as opposed to a shag rug that matches the one in the living room.
The size of the perfect area rug is important to make a lasting impression in any space. A rug that is too small can go unnoticed and get lost amongst the rest of the furniture and decor. When choosing an area rug, make sure that at least the front two legs of your furniture pieces comfortably fit on the edges of the rug. A good rule of thumb is that the rug should touch all of the furniture in the room, bringing the whole look together.
Don't Hang Things Too High
A common mistake when designing a home is hanging things at the wrong level. There are certain levels that are better to hang things, such as art and certain lighting, than others. Such components should be easily seen and should help the eyes flow throughout the room with ease.
Artwork is recommended to be hung at eye level, or close to it. An approximate height will be more than sufficient to get the ideal impact. When in doubt, go lower than higher. You won't want people straining to enjoy the inviting and creative pieces of art your home has to offer. Also, keep in mind the sizes and numbers of art you choose to hang. Fewer, larger versions of art and photos will make a great impression and offer focal points.
Chandeliers should also be hung at the proper height to get the most visual benefits. While you don't want to hang it so low that people are hitting their heads, it needs to be low enough to do its job. Chandelier lighting that is hung too high reduces the spread of light across the room. This will ultimately make the room seem darker. Play with various heights when getting ready to hang a chandelier permanently to find the perfect hanging height for your space.
Don't Get Chaotic with Patterns
There is no shortage of pattern choices in the interior design world. While it can be difficult to choose a favorite, it can be even more tricky to balance patterns in an appealing way. Too many patterns can make a space feel chaotic, while too few patterns can make it feel dull. However, there are ways to find the perfect amount of patterns.
A combination of variation and consistency is key. Consider something simple, such as color. If you have a contrasting color that you would like to use throughout the space to make other elements of the room pop, it would be perfect for considering patterns. Choose a couple of different patterns with that color to bring the pop you want while adding extra detail.
Also, remember that patterns of contrasting color look great against solid backgrounds. Pattern drapes, throw blankets, and area rugs can make a big statement against solid-colored walls and furniture. Just remember that less is more. Too many patterns can distract from the overall feel of the space.
Don't Disregard Good Lighting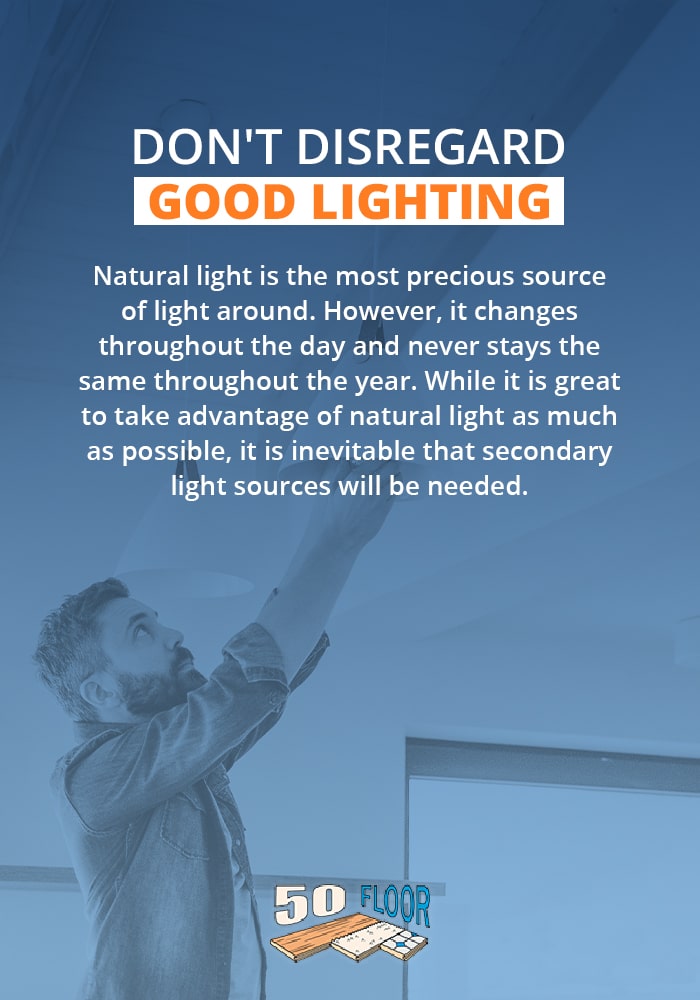 When it comes to creating the perfect ambiance, there may be no better thing to work with than lighting. Natural lighting and artificial lighting are both integral parts of our lives. The good news is that lighting doesn't have to be boring! Take advantage of all of the lighting solutions that are available to you and create the perfect lighting configuration.
Natural light is the most precious source of light around. However, it changes throughout the day and never stays the same throughout the year. While it is great to take advantage of natural light as much as possible, it is inevitable that secondary light sources will be needed. Having a variety of lighting placed at various levels throughout the room can help produce the perfect lighting for any time of day. Consider overhead lighting, floor lamps, wall sconces, table lamps, floor lamps, etc. With so many styles to choose from, there is something for everyone to match their dream decor.
Don't Match (Too Much)
Matching is okay but coordinating is even better! When things match too well, a room can really fall flat. Mixing and matching adds layers and dimensions to a space, making it interesting, inviting, and personal. Think about these best practices for matching colors and patterns in the home.
Not every piece of furniture has to have the same color, pattern, or even texture. Look for pieces that will complement one another while adding their own unique details to the room. Not only will separate pieces make a room feel more lived-in than show-room ready, but it will also be easy to replace something should the need arise.
Different styles can also lend more personalization to a space. Take an eclectic approach and mix and match rustic with bohemian or go for combining elements of industrial and luxury. Combining styles can lead you to something purely your own and make your home even more special.
Don't Forget the Throw Pillows
Throw pillows can add some excellent accents to a room. However, there are some things to be thoughtful of when making them a part of your interior design.
Keep size in perspective. Using tiny throw pillows in a large room with oversized furniture will allow them to be lost in the mix. Larger pillows will help fill empty space with style and function and you do not need to use as many of them. Having too many throw pillows around can make a space feel more awkward than comfortable with all of the shuffling around to actually relax.
You will want to make your space feel homey, not like a setup in a catalogue or department store. Skip the stuffy and perfectly organized lineup of pillows. In addition to adding something extra to a room, they are also there to provide additional comfort. Make sure they look ready and inviting for seating.
Don't Use Faux Florals
A lot of people love to have a touch of nature scattered throughout their homes. While the idea of having flowers and other plants incorporated into interior design seems nice, the actual results can be less. Consider these tips for bringing nature indoors without making a home decor mistake that you may later regret.
Plastic and silk flowers and plants may last forever but they don't come without some downfalls. Most of them tend to look as fake as they are, which can cheapen the feel of the room. They also tend to collect a lot of dust and are difficult, if not impossible, to properly clean.
If you want to bring nature into your home, fresh plants are the best way to go. There are a variety of plants that can thrive in low-light settings, which make them perfect for indoor use. Real flowers and plants can be rotated seasonally if you would like a change.
An alternative or addition to fresh plants is using fresh fruit. Strategically placed bowls of fresh fruit such as apples and oranges can not only look beautiful but can also provide usefulness as a healthy snack.
Avoid Design Faux Pas by Working with 50 Floor
At 50 Floor, we can help you achieve the interior home design of your dreams. With over four decades of combine experience, our friendly and knowledgeable staff will help you find an affordable, high-quality flooring for your needs. Our services come with benefits like:
Price-match gurantee
Warranties
Free, at-home appointments with samples
Timely installation
Whether you are looking for new carpet or want premium hardwoods, we offer the best possible service and materials. We will take the time to help you decide on the ideal match in color and design for your home. Contact us today to schedule your free flooring appointment and get on your way to a beautiful home design.