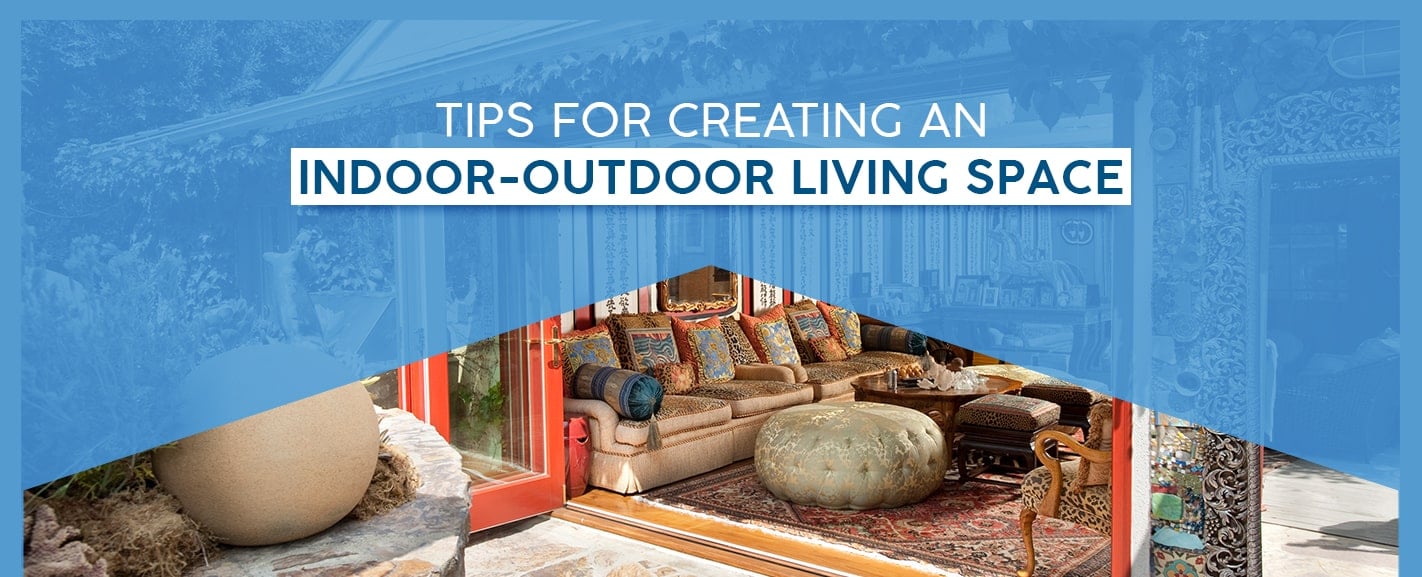 The concept of indoor-outdoor living spaces is becoming increasingly popular as homeowners search for ways to integrate the great outdoors with their home's interior design. These spaces are an excellent way to enjoy fresh air and nature while relaxing in the comfort of the indoors. In seconds, you can transform your home into a multi-functional oasis.
If you're wondering how to create the perfect space that combines natural elements with indoor warmth and simplicity, we've got you covered. Here are our top tips for creating the ideal indoor and outdoor space to entertain guests, friends and family.
1. Extend Your Kitchen or Dining Area
Creating an indoor-outdoor extension is the perfect solution if you have a smaller kitchen or dining room and want more entertainment space. By taking some of these elements outside, you can create a seamless transition between your indoor and outdoor areas. Plus, your inside kitchen and dining areas won't be as crowded.
For example, add an outdoor grill to cook delicious barbecued meals. It can also help build a bar where you and your guests can relax with drinks before and after dinner. If there's an overhang, you can use your indoor-outdoor space no matter the weather. By adding comfortable seating and a table, your house will soon be the go-to location for get-togethers and dinner parties.
2. Create a Family Room
Another popular indoor-outdoor design is to create a family room or living room that's perfect for spending quality time with loved ones. An outdoor family room is an excellent way to add more entertainment space without the cost of building an extension or addition to your home. With some creativity, you could create an outdoor family room that works just as well as an indoor one.
To create the perfect entertainment or relaxation area, you'll want to add comfortable couches and chairs to create an intimate seating area. Consider setting up a TV, radio or fireplace to take your indoor-outdoor family room to the next level. This way, you can watch sports games, have movie marathons and play music when you're hanging out. With a fireplace, the atmosphere will be perfectly cozy every night.
3. Maintain a Matching Design or Theme
If you want to build an eye-catching indoor-outdoor space, it's essential to make sure you have a matching design or theme throughout the room. By keeping a consistent design, you'll ensure there's a cohesive look and style in the transition to your new space. As a result, you create a good first impression for first-time guests in your home. Besides, who doesn't want to relax in an aesthetically pleasing area every day?
Feel free to add matching area rugs, colors, decor and furniture to maintain a cohesive design. It can also be fun to differ a bit from your home's interior design while still sticking to the same concept. For example, if you don't have a place for your favorite lamp in your living room, your outdoor area could be the perfect spot. Aim to incorporate natural elements like plants to make the space more vibrant and peaceful, too.
4. Add Consistent and Durable Flooring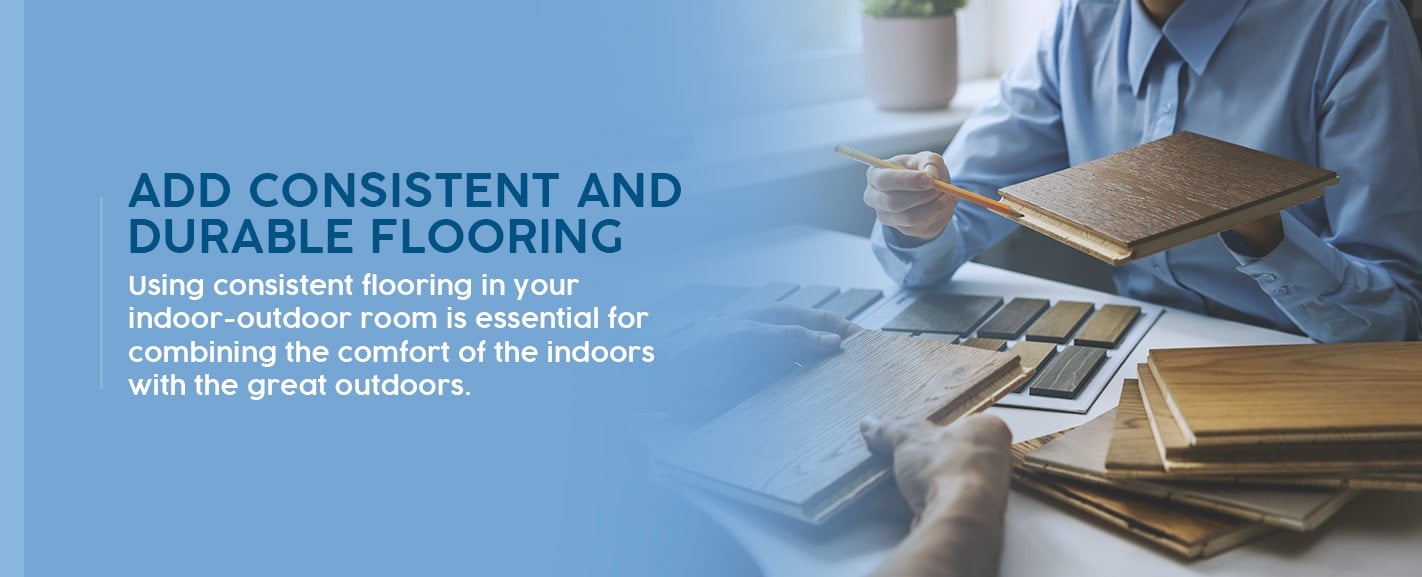 Using consistent flooring in your indoor-outdoor room is essential for combining the comfort of the indoors with the great outdoors. By keeping your flooring consistent, you can create a unified look between your home's interior and exterior and give the impression that these spaces are one and the same instead of two separate rooms.
Investing in durable flooring for indoor-outdoor spaces is essential for extending the longevity of your room. After all, you must ensure your flooring is suitable for various climates. By installing waterproof flooring, you can extend its longevity and keep it protected. As an example, hardwood or laminate floors are some of the best flooring options for ensuring you can use your indoor-outdoor living area all year long.
5. Plan for Seasonal Changes
If you want to use your indoor-outdoor space all year round, you'll want to prepare for seasonal changes, especially if you live in an area that experiences four seasons. One of the best ways to plan for these changes is to incorporate heating and air conditioning or fans into your indoor-outdoor space to stay comfortable no matter the season.
Consider adding a fireplace, firepit or gas and electric heaters to your room for use in the winter to keep you and your guests warm and toasty. For the summer, you may want to set out floor fans or install ceiling fans to keep air moving throughout the space. An enclosed outdoor area may benefit from a portable air conditioner, as well.
6. Protect Your Privacy
If you're close to your neighbors, you may want to consider protecting your indoor-outdoor room from prying eyes. An excellent way to maintain privacy and create intimacy is to add outdoor shades, as you can open them to let sunlight in during the day and close them at night for a cozier, secluded feel. Alternatively, installing fencing or landscaping can create an attractive barrier around your outdoor living space.
7. Install the Right Lighting
No matter the purpose of your indoor-outdoor living area, you should add appropriate lighting. First, consider the atmosphere you want to create within your space. If you want to create a cozy, intimate setting, you may want to opt for softer lighting, such as string lights draped along the walls or fencing. If you need bright lighting to help you see while cooking meals or preparing drinks, overhead hanging lights or flat ceiling lights are essential.
For cohesiveness, consider using the same light fixtures inside and outside — just make sure the outdoor versions are protected from the weather.
8. Utilize Sliding and Collapsible Doors
When you envision an indoor-outdoor room, you likely picture doors that slide open to create one large, free-flowing room. Adding sliding or collapsible doors to your indoor-outdoor living area is one of the best ways to keep your spaces protected and functional all year round. As a result, you get a stunning, continuous room that's the epitome of indoor and outdoor living.
Start Your Indoor-Outdoor Living Design With a 50 Floor Estimate
At 50 Floor, we understand how essential the perfect flooring is for your indoor and outdoor living space. That's why our flooring specialists are dedicated to helping you find the perfect flooring that coordinates with your design, colors, furniture and decor. With our gorgeous and durable flooring options, your indoor-outdoor living area will feel complete.
Schedule an appointment or contact a member of our team to start designing your dream indoor-outdoor living area for your home.