Quick Navigation
Your choice of flooring has a strong yet subtle impact on your entire home decor. Hardwood floors are renowned for their convenience, durability and elegant polished look. Once you've settled on hardwood flooring, you'll face another decision — stick with the classic dark hardwood look or opt for a light finish?
While dark wood floors are great for creating a natural look, light wood floors are better at hiding dirt. There are benefits to both light and dark styles, leaving you to decide which will look best in your home. Let's take a closer look at the pros and cons of both hardwood floor colors.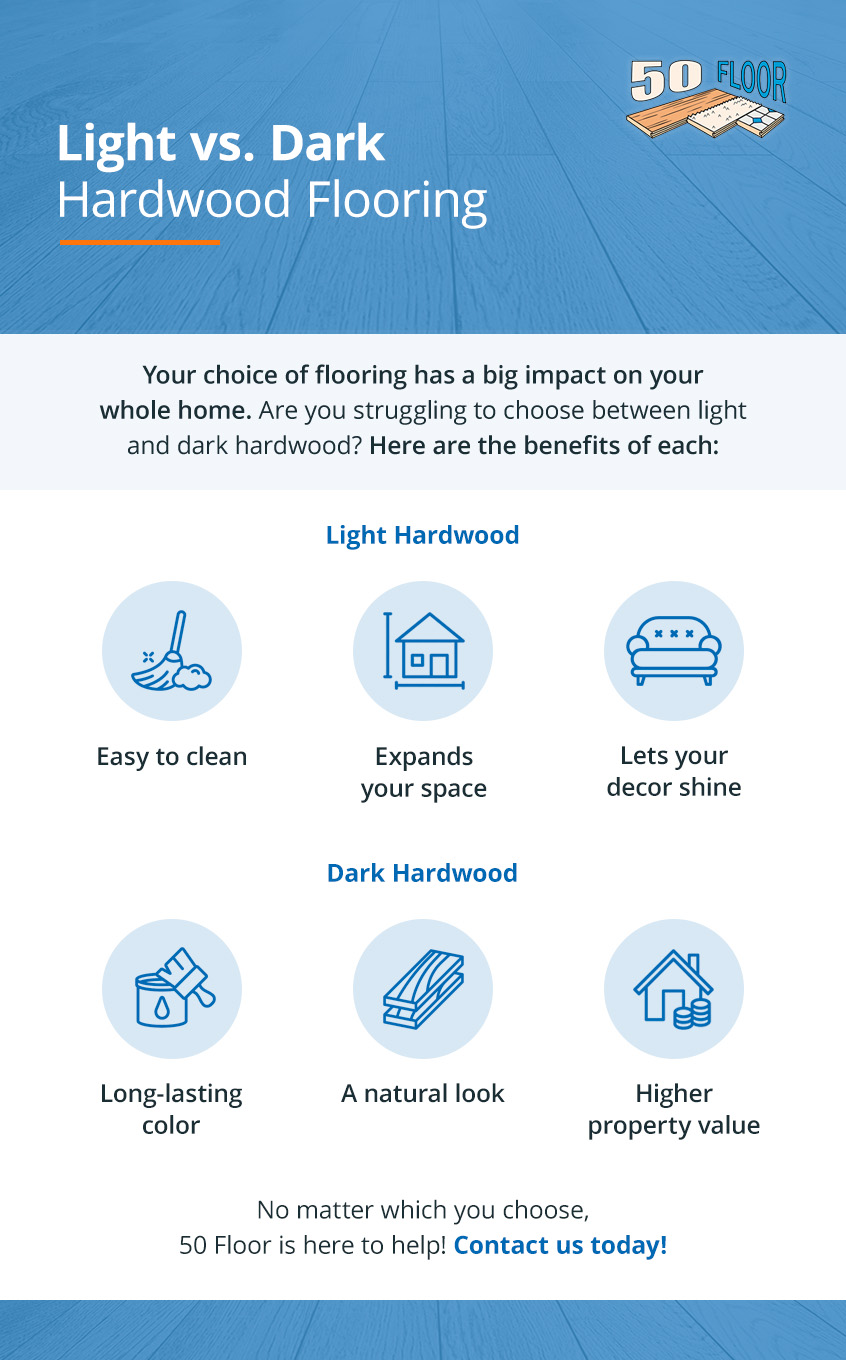 Light Hardwood Floors
Light hardwood flooring is wildly popular for its bright, natural and modern look. When done well, a light hardwood floor can open up a room and create a more spacious feel, enhancing the natural light. The benefits of light hardwood flooring include:
Easy to clean: Light hardwood hides dirt and scuffs better, making it easier to maintain. That means less need to break out the broom or shake your head over marks and scrapes.
Expands your space: Lighter wood has a way of making a space feel bigger and airier by accenting natural light. This optical trick makes it a good choice for houses with limited square footage.
Lets your decor shine: Light hardwood is subtle. If you want a classic, polished floor that will allow your signature furniture pieces, lavish decorative style or fun patterned wallpaper to shine, lighter floors may be the better flooring pick for you.
Dark Hardwood Floors
Dark hardwood flooring is among the most popular styles. Its polished, rustic sheen makes for an unmatched quality look that will enhance the value of your home. With dark hardwood floors, you'll enjoy:
Long-lasting color: Its color makes dark hardwood prone to absorbing sunlight, while light hardwood reflects it. Over time, you'll find that your dark flooring results in less sun damage, retaining its dark sheen for longer.
A natural look: Dark hardwood brings out the richness of the wood's grain, enhancing its natural look and giving your home a visually stunning appeal.
Higher property value: While both light and dark hardwood flooring can give your home a higher market value, darker grain is known to lend itself to higher rewards. As the current most popular hardwood style, today's investment in dark flooring is likely to pay off if you decide to sell your house in the future.
Schedule Your In-Home Consultation
Factors to Consider When Choosing Hardwood Flooring
When comparing dark vs. light hardwood floors, you'll want to consider:
The color of your cabinets: Rather than matching your cabinets exactly, choose a different yet complementary flooring color. If you have light wood cabinets, for example, a dark hardwood floor will add some depth and dimension to the room.
Who will use your floor: Do you have pets or young children? If so, they are likely to track in a considerable amount of mess. There will be a higher chance of scratches and scrapes, which light hardwood can hide better than dark hardwood.
The current style of your home: Does your house and decor style lend itself to a bygone era? Or have you created a modern, minimalist look? While you're free to mix and match styles, many homeowners find that darker hardwood flooring lends itself to a more rustic design, while lighter wood is used to create a more contemporary style.
Start Your Hardwood Installation Process Today
Whether you decide that light or dark hardwood is the right choice, 50 Floor is here to help. We can install your new flooring and ensure your floor is prepared and stained impeccably. Schedule an appointment for a free in-home assessment — we'll come right to you!