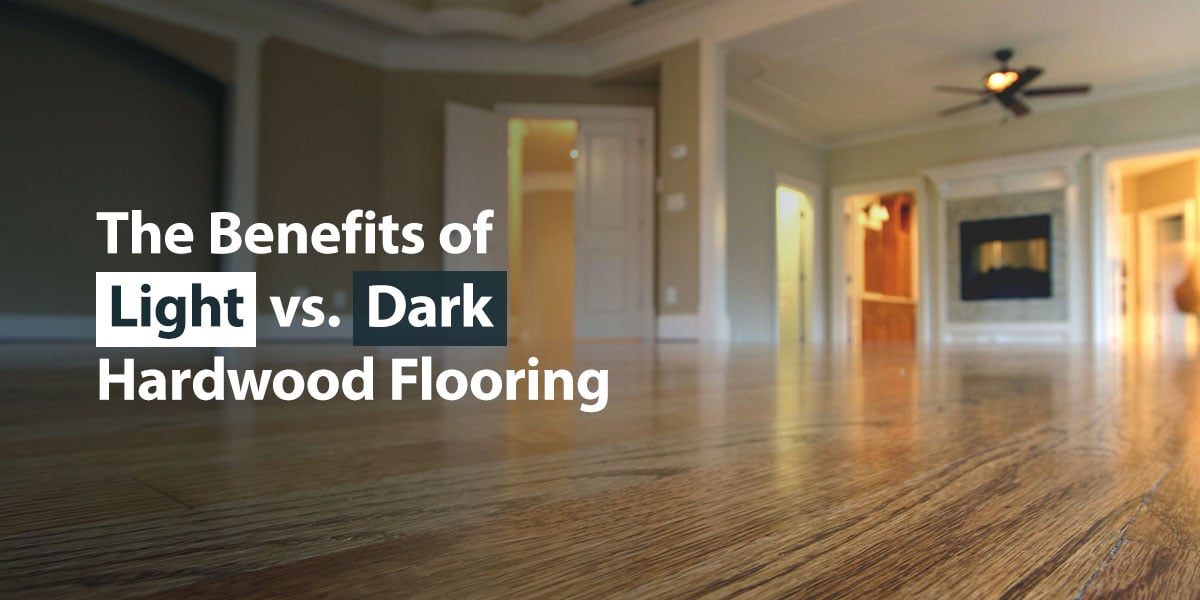 Your choice of flooring has a strong yet subtle impact on your entire home decor. Hardwood floors are renowned for their convenience, durability and elegant polished look. Once you've settled on incorporating hardwood flooring into your home, you'll face another decision — stick with the classic dark hardwood look or opt for a light finish?
While dark wood floors are great for creating a natural look, light wood floors are better at hiding dirt. There are benefits to both light and dark styles, leaving you to decide which will look best in your home. Let's take a closer look at the pros and cons of both hardwood floor colors.
View Engineered Hardwood Flooring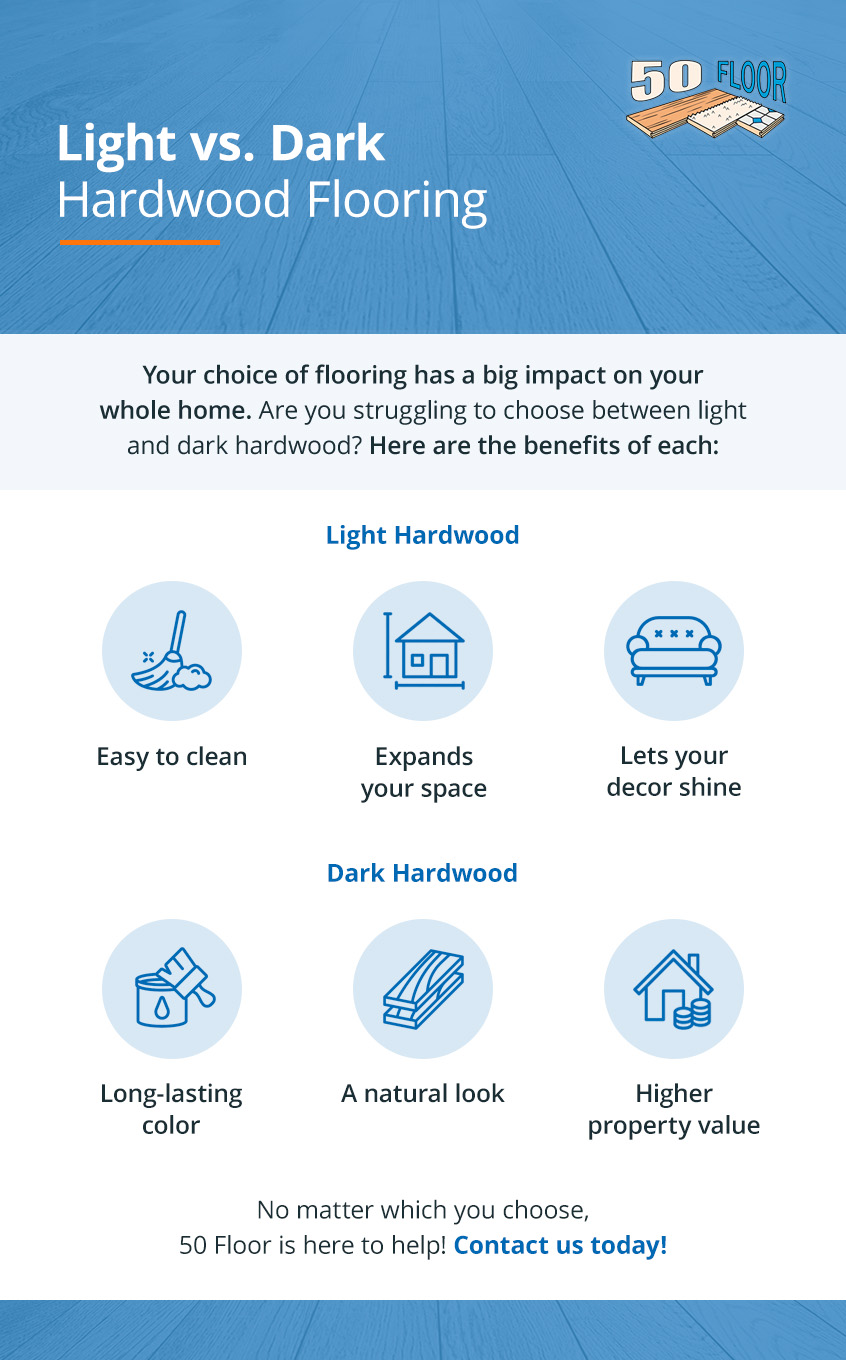 Light Hardwood Floors
Light hardwood flooring is wildly popular for its bright, natural and modern look. When done well, a light hardwood floor can open up a room and create a more spacious feel, enhancing the natural light. The benefits of light hardwood flooring include:
Easy to clean: Light hardwood hides dirt and scuffs better, making it easier to maintain. That means less need to break out the broom or shake your head over marks and scrapes.
Expands your space: Lighter wood has a way of making a space feel bigger and airier by accenting natural light. This optical trick makes it a good choice for houses with limited square footage.
Lets your decor shine: Light hardwood is subtle. If you want a classic, polished floor that will allow your signature furniture pieces, lavish decorative style or fun patterned wallpaper to shine, lighter floors may be the better flooring pick for you.
Flooring and Carpet Installation
Dark Hardwood Floors
Dark hardwood is very popular. It has a rustic, polished feel that can increase your home value. Dark hardwood floors come with the following benefits:
Long-lasting color: Dark hardwood absorbs sunlight rather than reflects it. Over time, you'll find that your dark flooring results in less sun damage, retaining its dark sheen for longer.
A natural look: If you want to enjoy the natural look of wood grain, dark hardwood may be right for you.
Higher property value: Dark floor and light floor can boost the market value of your home. However, a darker grain typically yields a higher value. As the current most popular hardwood style, today's investment in dark flooring is likely to pay off if you decide to sell your house in the future.
Schedule Your In-Home Consultation
Factors to Consider When Choosing Hardwood Flooring
When comparing dark vs. light hardwood floors, you'll want to consider:
The color of your cabinets: Rather than matching your cabinets exactly, choose a different yet complementary flooring color. If you have light wood cabinets, for example, a dark hardwood floor will add some depth and dimension to the room.
Who will use your floor: Do you have pets or young children? If so, they are likely to track in a considerable amount of mess. Dirt and dust show up better on darker floors, so you can expect to need to clean darker wood floors more frequently than lighter wood. Light hardwood also conceals scrapes and scratches better than dark hardwood.
The current style of your home: Does your house and decor style lend itself to a bygone era? Or have you created a modern, minimalist look? While you're free to mix and match styles, many homeowners find that lighter wood is ideal for creating a more contemporary style, while darker hardwood flooring is used for a more rustic design.
The wood finish you prefer: The type of finish you choose can slightly alter the appearance of the wood. Some finishes look better on different types and colors of wood than others. Matte or satin finishes tend to look better on darker wood, while glossier finishes pair well with lighter wood.
The size of the room: Of course, dark or light wood can work in any room. However, if you're looking to make a smaller room feel bigger, you'll want to opt for a lighter flooring choice. Lighter colors help brighten up a room, making it feel bigger.
The amount of natural light in the room: If you love natural light, and your home gets plenty of it, you may want to opt for a darker wood floor as it tends to fade less quickly than lighter flooring options. On the other hand, if your home does not receive much natural light, having dark flooring can make your home feel even darker. For dimly lit homes, lighter-colored wood flooring can, quite literally, brighten up the space.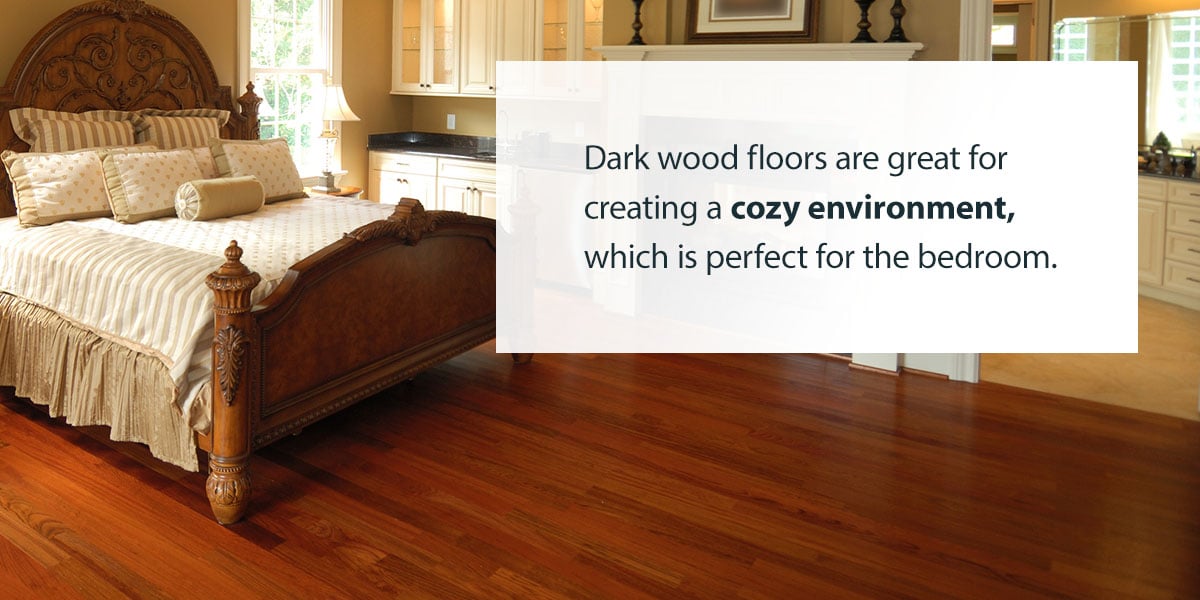 Light vs. Dark Hardwood Floors by Room
Your flooring needs are likely to vary by room. When choosing between light vs. dark flooring, consider the functionality of the room and your design plan. While considering light or dark floors, remember the following:
Bathrooms: Bathrooms tend to be one of the smaller rooms in a home, and light wood is known for making rooms feel bigger. If you're looking to make your bathrooms feel more spacious, you may want to lean more toward light-colored hardwood flooring. Dust is also more unnoticeable with light-colored floors. However, remember that hardwood flooring may be a bit more challenging to maintain in a wet environment like the bathroom.
Bedroom: Dark wood floors are great for creating a cozy environment, which is perfect for the bedroom. Since you likely won't be eating in your bedroom, you can expect less mess to develop in your room. Even though dark floors show dust and dirt more often, your bedroom is an easier place to maintain, so you can enjoy the look of dark hardwood with fewer cleaning requirements.
Kitchen: Messes are bound to happen in the kitchen — from spills while cooking to crumbs from a late-night snack. Light wood flooring is better at hiding dust, dirt and small debris, making it a suitable and popular option for kitchens.
Living areas: You spend a lot of time in your living areas, so you want to love the look of your flooring and overall design. Choose the color flooring that works best with your design style, but if you have a lot of natural light in these areas, keep in mind light wood flooring fades faster than dark wood.
Common Questions About Dark and Light Wood Floors
Still not sure which flooring color is right for you? We've gathered some popular questions about dark and light floors to help you weigh your options.
1. Are Dark Floors in Style?
Dark hardwood floors are a beautiful, classic floor option that will never go out of style. This flooring style brings sleek elegance and a bit of dramatic flair to a home. However, while dark floors remain in style, they do not always work with every design style, such as modern or contemporary.
2. Are Light Hardwood Floors Out of Style?
Light hardwood floors are not out of style, and we don't see it happening any time soon. However, some shades of light hardwood flooring are more popular than others. Light gray and white oak are two currently trending light hardwood floor colors.
3. Do Dark or Light Floors Make a Room Look Bigger?
Light floors are known to brighten up a room, making the overall room look bigger.
4. Do Dark Floors Make a Room Look Darker?
Yes, dark floors can make a room look darker if there is not a lot of natural lighting. However, If you have a big, open room with a decent amount of natural lighting, your room will still feel spacious with dark flooring.
5. Are Light or Dark Floors Better for Resale?
Typically, dark hardwood floors increase the value of a home for sale more than light hardwood floors.
Start Your Hardwood Installation Process Today
Whether you decide that light or dark wood floors is the right choice, 50 Floor is here to help. We can install your new flooring and ensure your floor is prepared and stained impeccably. Schedule an appointment for a free in-home assessment — we'll come right to you!