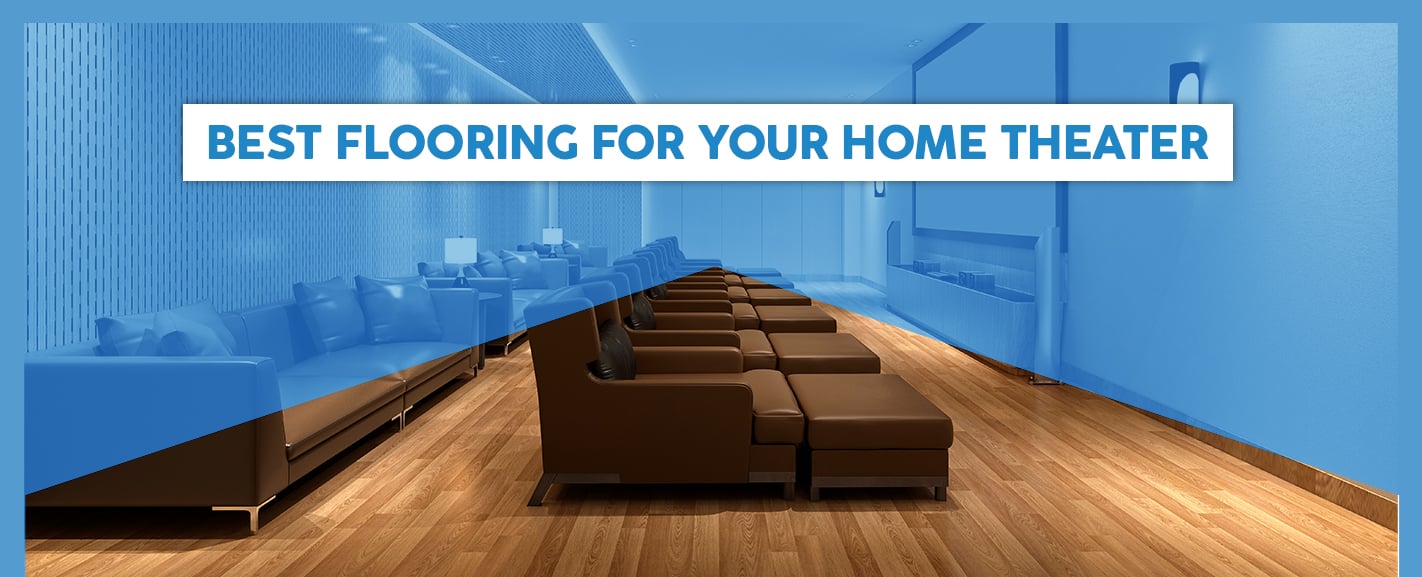 Save time and money going to the movies by setting up a theater in your home. You're in control of how it looks and what movies you'll watch with your loved ones. As you design your home theater, you'll probably want to invest in state-of-the-art audio equipment and a large new TV. But you should also consider what flooring would go best in this part of the house. Explore these home theater flooring ideas to discover the best option for your space.
What to Consider When Choosing Home Theater Flooring
Your choice of flooring is just as essential as the technology, wall color and layout of your home theater. As you design your movie room, think about the following factors for finding the best floor material:
Acoustics: Your home theater is where you're going to be watching all your favorite movies and TV shows. To make the most of your surround-sound speakers, you'll want to invest in a flooring material that creates the best acoustics. Try to avoid materials that cause reverberation, which can be distracting from your movie or TV show.
Comfort: You and your loved ones will gather in your home theater to watch movies and make memories together. Create a cozy, warm room with soft, textured flooring. Comfortable flooring is also helpful if you plan on having your guests sit on the floor during a large gathering.
Aesthetics: Your movie room flooring can help set the mood with warm colors and patterns. You may want your home theater to have a calm, relaxing look or an exciting cinematic appearance. Choose a flooring material that comes in a variety of colors and textures to match your desired theme.
Durability: You may set up a home theater in the basement, which is prone to moisture. Even if you can put your movie room on the first or second floor, think about getting a flooring material that can withstand spills and food residue.
Maintenance: Since you'll be eating snacks and drinks in your home theater, you can expect spills and crumbs on your floor. Choose a flooring material that's easy to clean so you can save time on caring for it and spend more time relaxing on your couch watching your favorite movie.
Schedule a Free In-Home Consultation
Best Flooring Options for Home Theaters
With those factors in mind, explore these home theater flooring ideas to find the best one for your living space.
Vinyl
Vinyl flooring is an excellent option for your home theater because of its:
Durability: Vinyl is naturally resistant to moisture and scratches. Whether you make a home theater in the basement or in another part of the house, your floors will look great for many years.
Aesthetics: Vinyl is available in various patterns and styles. It can even look like natural wood or stone. If you have a theme in mind for your home theater, vinyl can help you achieve it.
Comfort: Even though vinyl is a hard surface, it's more comfortable to walk on than hardwood flooring.
Ease of maintenance: Like hardwood, vinyl is easy to clean with a dust mop or vacuum. You can also wipe spills and liquids with a cloth or paper towel.
Vinyl flooring in your home theater can reflect the sound from your speakers and reduce acoustic quality. You can control the sound by putting an area rug over your floors.
Carpet
Carpet is one of the best home theater flooring options since corporate movie theaters use it on their floors. Explore the benefits of home theater carpet for your entertainment space:
Acoustics: Carpet offers the best sound control out of any other flooring option. Its soft fibers absorb noise to create a surround-sound experience.
Comfort: Besides sound insulation, carpeting also offers thermal insulation, making the room warmer and more comfortable. It's also more pleasant to walk and sit on. Get cozy with your loved ones and watch a movie in your plush-carpeted home theater.
Aesthetics: You can find carpeting in various colors, textures and patterns to suit your desired design. Consider which fiber materials would match your theme and provide the most comfortable experience for you and your guests.
Carpeting isn't as easy to clean as hardwood or vinyl flooring. You'll need to vacuum your floors at least once a week and wipe up spills immediately. If ease of maintenance matters to you, consider low-pile carpeting that has similar attributes to hard surfaces.
Hardwood
Hardwood flooring is a luxurious, beautiful floor material that can warm up any room. Consider some of the reasons why home theater wood flooring is a good idea:
Aesthetics: Hardwood flooring has a natural beauty that comes in various colors and graining patterns to make your home theater unique. It adds a sense of warmth to the room and goes with most design themes.
Durability: Natural wood floors can last for decades in a home. As long as you finish them with water- or oil-based polyurethane, they'll maintain their appearance and integrity.
Ease of maintenance: Since hardwood flooring has a hard surface, it's easy to clean food residue off it with a dust mop or vacuum. You can also wipe up spills with a paper towel or cloth.
The only consideration to make for hardwood flooring in your home theater is that it reflects the sound from your speakers. You can balance the acoustics in your movie room by adding an area rug.
Take Our Quiz to Find Your Flooring Style
Tips for Choosing Flooring for Your Home Theater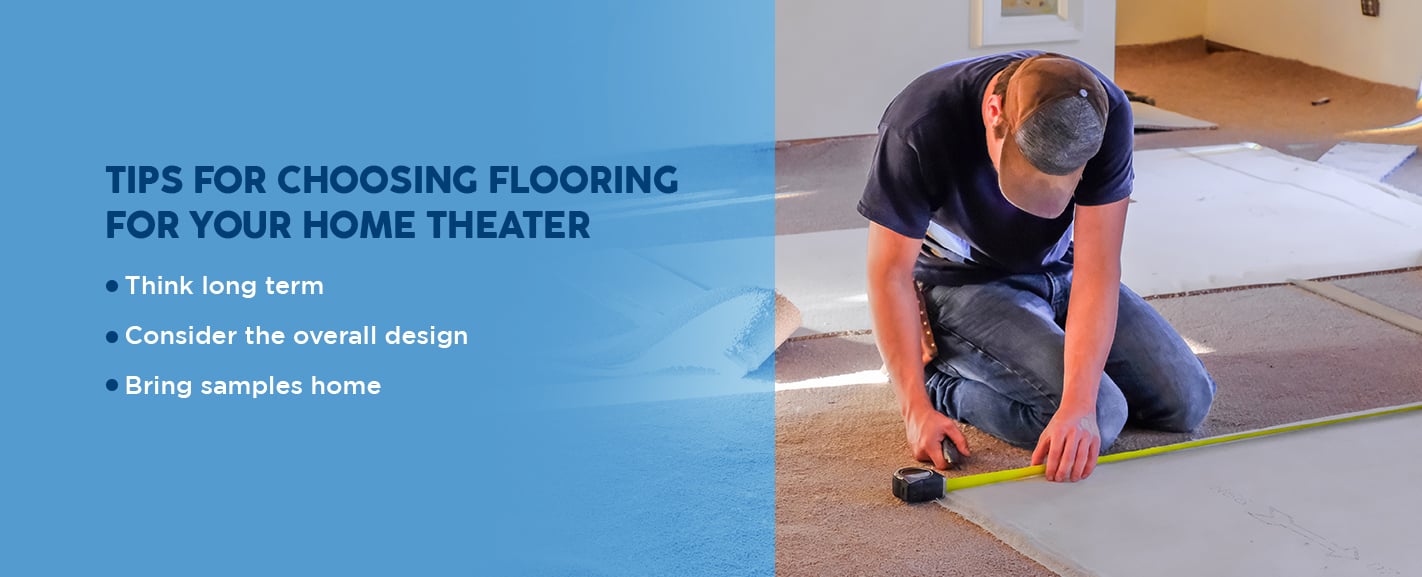 Now that you have a general idea of the pros and cons of each type of home theater flooring, follow these tips when making your final decision:
Think long term: When designing a home theater, it's easy to get caught up in the new look and feel of the space. Even if you like a material now, think of how it'll look in a few decades. You don't want to have to replace your floors any time soon.
Consider the overall design: Your flooring should complement the whole appearance of your home theater. As you explore different flooring, think about which one would match the theme the best. You may want to go with a flooring material that offers several color and texture options for more flexibility.
Bring samples home: You may have an idea of how you want your home theater to look and feel. But you won't know how your flooring will add to your desired aesthetic or atmosphere until you try it at home. Consider scheduling an in-home appointment to get samples of your desired floor material for your movie room.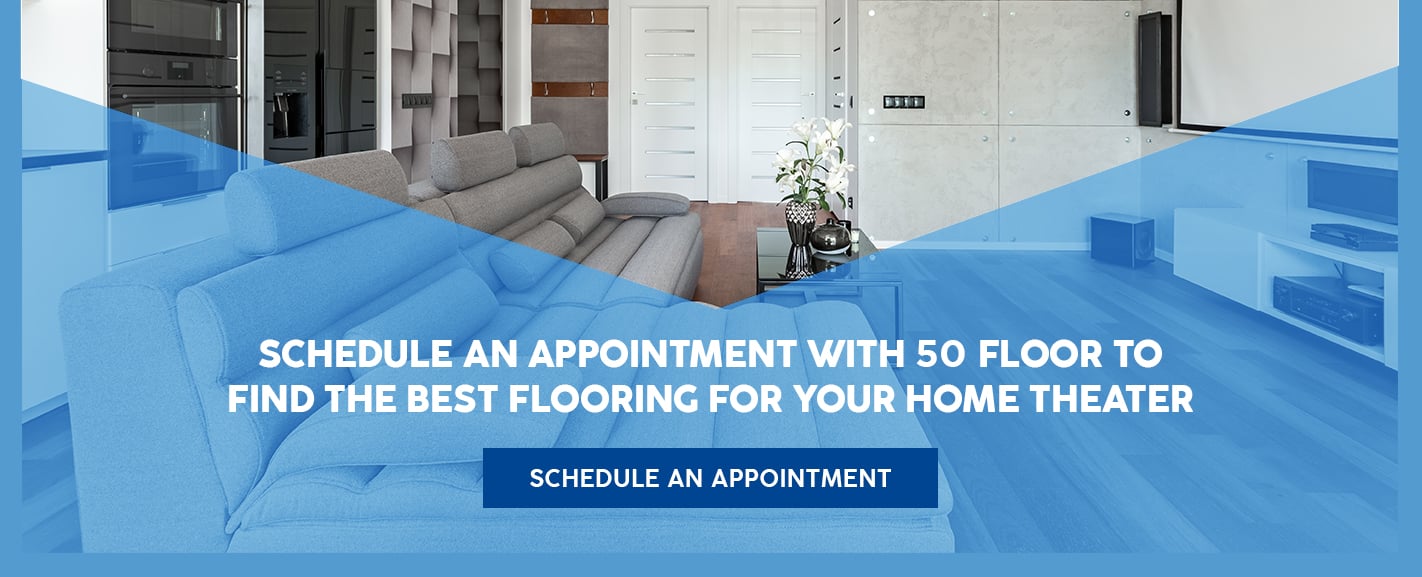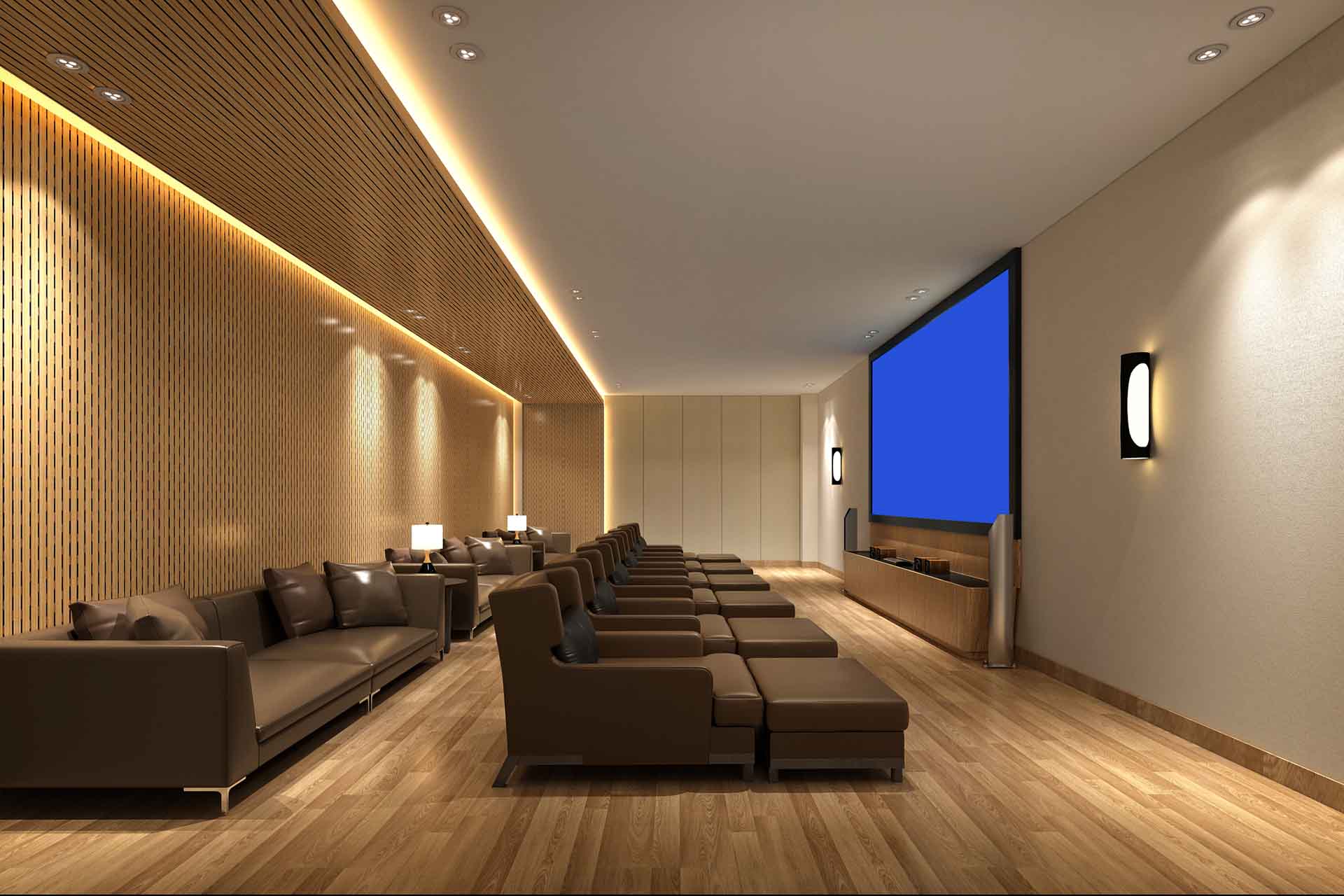 Schedule an Appointment With 50 Floor to Find the Best Flooring for Your Home Theater
Our team at 50 Floor offers in-house appointments, where we bring flooring samples to you. These consultation visits allow you to try out different flooring options in your home theater to find the most comfortable and aesthetically pleasing materials. If you're ready to schedule your appointment, you can reach out to us online or call 1-877-50-FLOOR.