1. Aesthetic
Your personal interior design style might affect the type of flooring you pick. Depending on the aesthetics of your house and your preferences, laminate or carpet could better suit your floors.
Laminate
Laminate is a smooth, hard flooring. Its printed design allows it to mimic wood, stone and tile, and its sleek appearance works well for any home, especially homes with modern and mid-century designs. If you want to have floors that look like natural wood, choosing laminate allows you to enjoy wood's timeless appearance without the expense and upkeep.
Carpet
The plush softness of carpet brings warmth and comfort to any space. If you're looking for a gentler, calm aesthetic, carpet might be perfect for you. Carpet's texture helps add some depth to a room without overwhelming it, and choosing a patterned carpet is a great way to bring out the design of your room. Choose a neutral carpet for minimalist rooms or an interesting geometric pattern for fun art deco styles.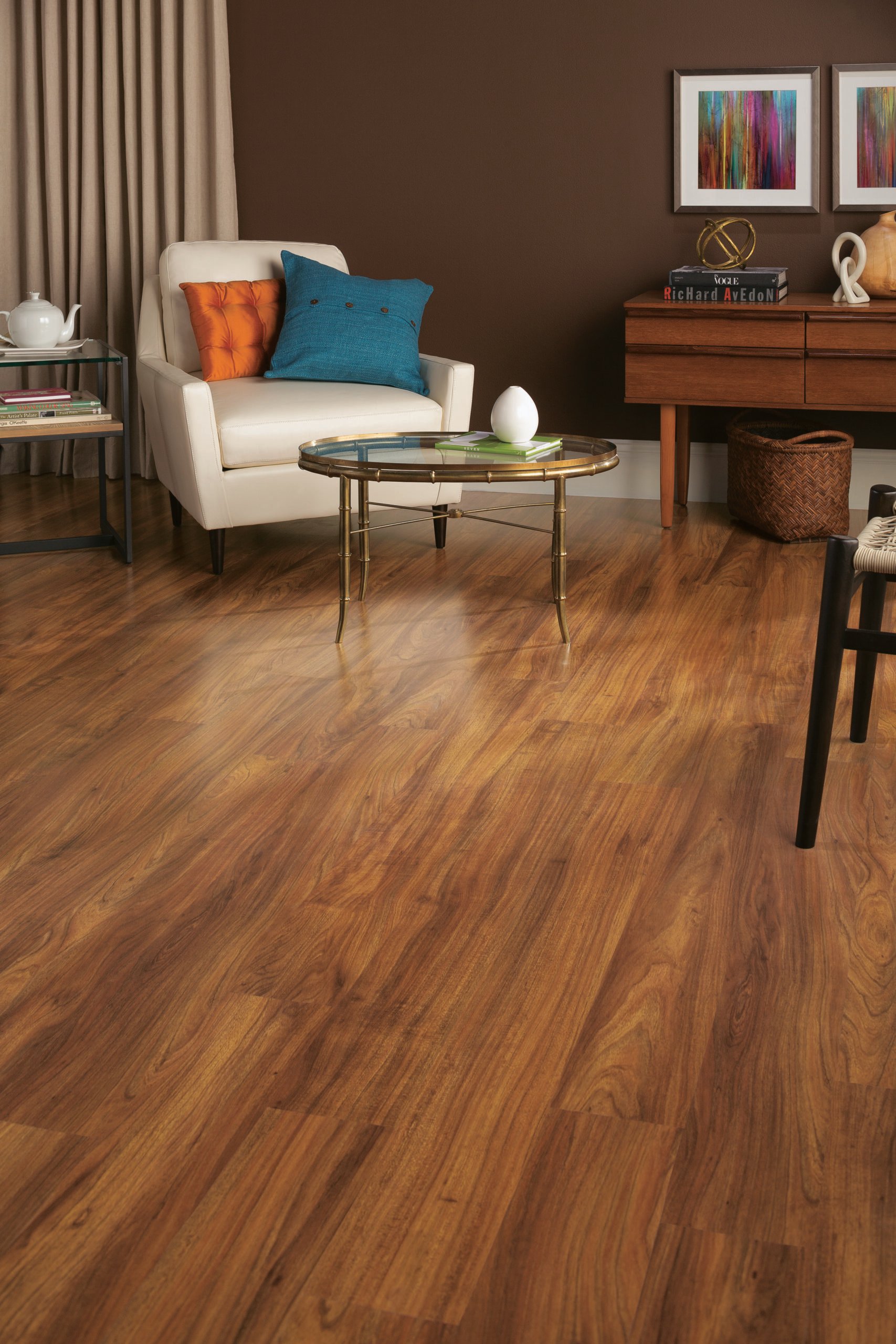 2. Cost
The cost of laminate and carpet installation is about the same. Both materials are less expensive, making them great, affordable flooring options. Your floors might cost more depending on the quality of your flooring and the condition of your subfloor, but overall, these are both lower-cost floor materials. The laminate vs. carpet cost usually depends on material quality, room size and upkeep, so keep these in mind when exploring these floor materials.
Laminate
Laminate is affordable to install and easy to care for. Its durability means you won't have to pay for intensive, regular upkeep. Once you buy laminate, you might not have to spend any more on it until it needs replacing. Any tears, dents or water damage will cost money to replace, but overall, laminate is a low-cost, easy flooring.
If you choose waterproof laminate, your flooring might be more expensive, though it'll hold up against more wear.
Carpet
As mentioned, carpet is highly affordable, just like laminate. You'll see extra maintenance costs over time, however. Carpets should be deep cleaned every year, depending on how much foot traffic they see. This keeps them looking like new for years. Paying for deep cleaning and any spot treatments or stain removals will cost you extra if you want your carpet to look fresh and pristine.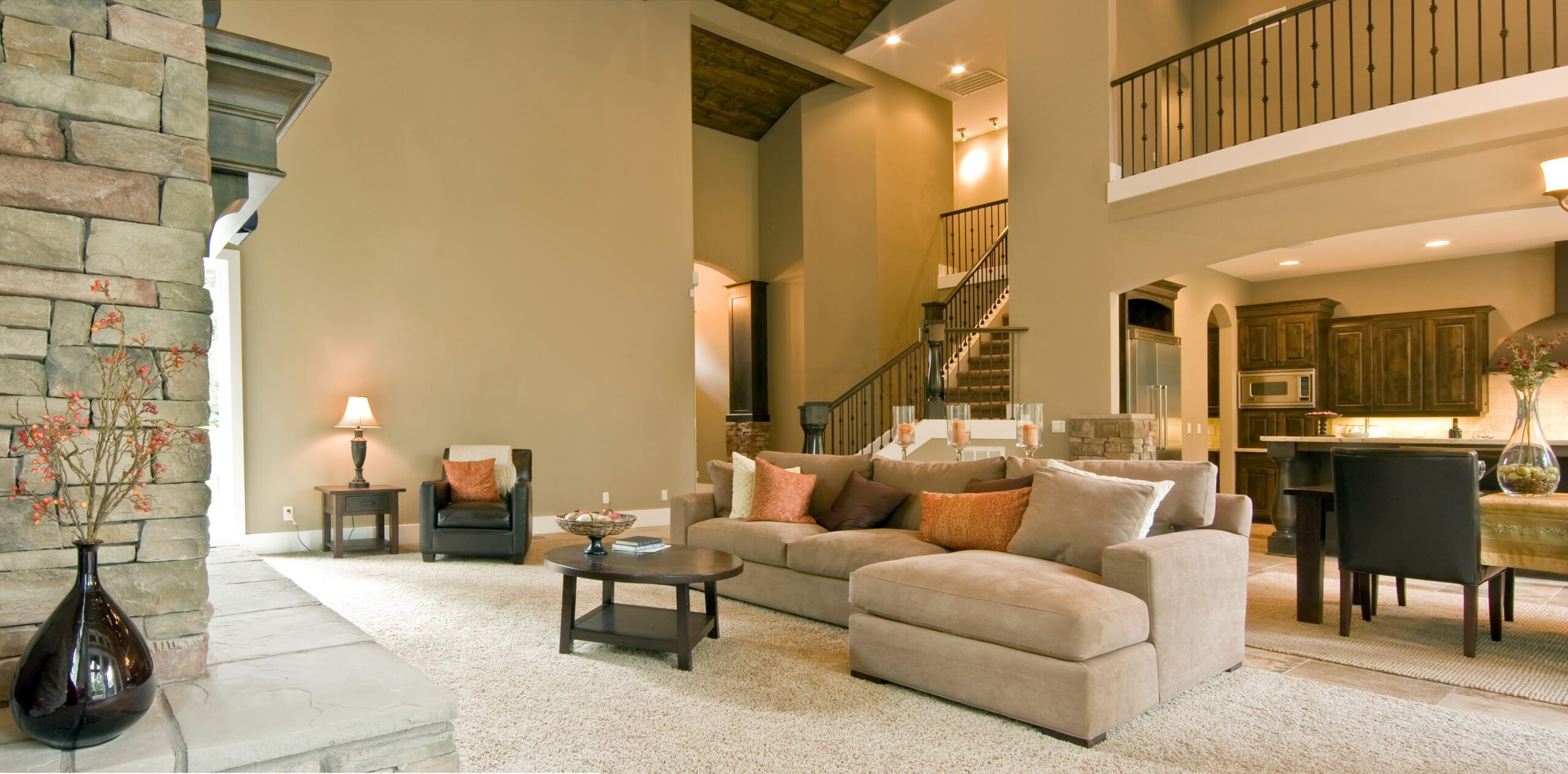 3. Life Span
The life expectancy of flooring materials can greatly influence the flooring you choose. Getting a longer-lasting floor allows you to enjoy your floors for much longer, and floors with shorter life spans let you change things up more frequently. Remember that a well-maintained floor will last longer than a floor that isn't taken care of.
Laminate
Laminate has a life expectancy of 15 to 25 years. Higher quality, thicker laminate is more durable and will last longer, but it's also more expensive. The quality of your installation will also affect the laminate's life span. Additionally, getting laminate with extra protective features like waterproofing will increase the life of your floors. With scratch resistance and waterproofing, you won't have to replace your laminate as often.
Carpet
Carpet lasts around 8 to 10 years. Its soft fibers mean carpet eventually wears down over time. Getting a loop pile carpet will help improve the life of your floor — tight, low loops withstand heavy traffic much better than cut pile carpets. If you don't think stains will be a concern, getting a wool carpet is a great way to increase durability. Wool is better than nylon at resisting damage from heavy traffic.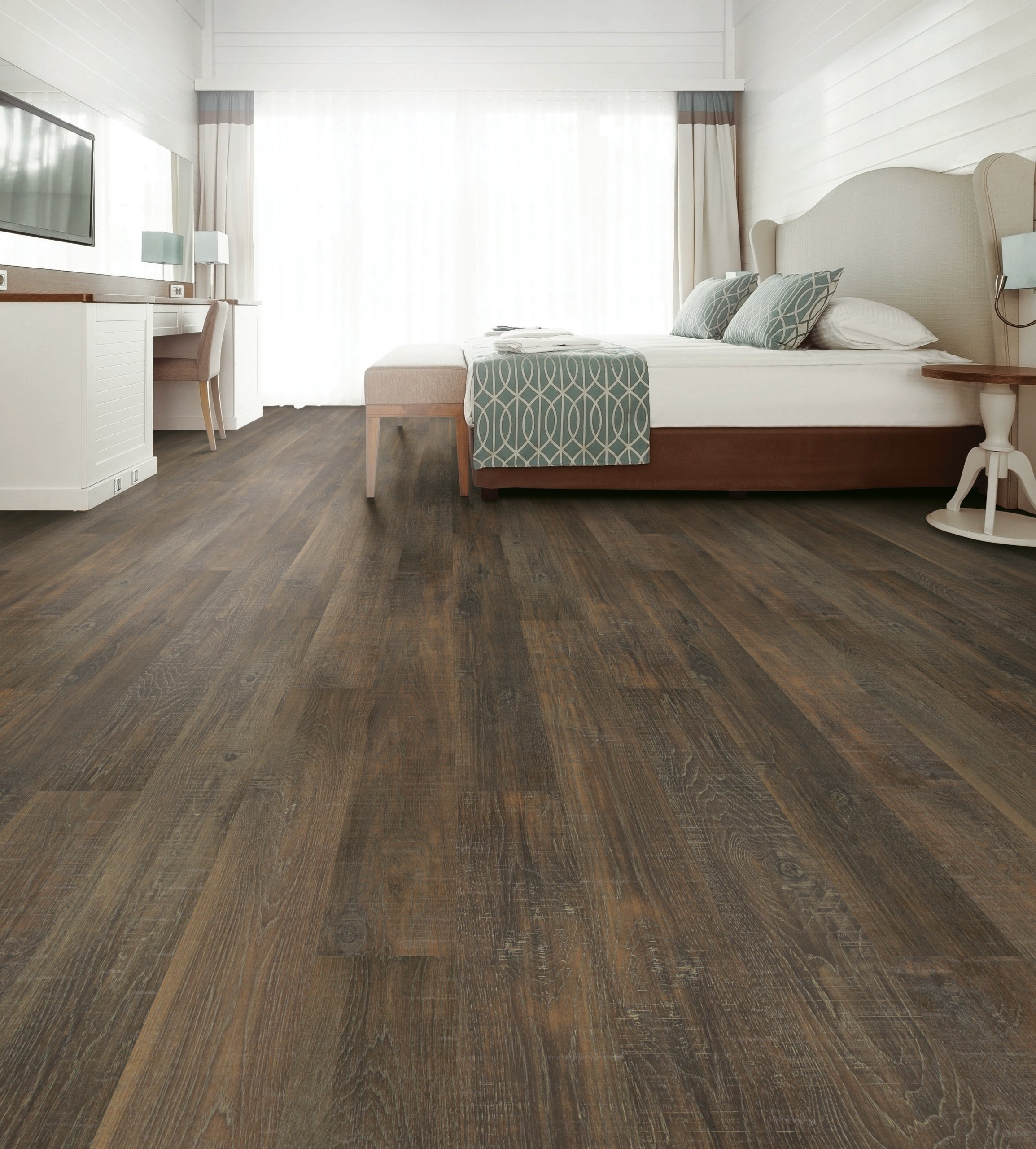 4. Durability
Durability is another essential factor when weighing the benefits of laminate vs. carpet. You use your floors regularly, so you want to choose a flooring material that will suit your lifestyle and your home design.
Laminate
Laminate's durability makes it stand out from other flooring materials. Its multi-layer construction makes it highly durable. Made with synthetic materials, heavy pressure and high heat, laminate can easily withstand years of heavy use.
The thicker your laminate, the better it'll hold up against wear and tear — for such an affordable flooring, laminate's durability makes it an excellent deal. If you want to know more about the construction and benefits of laminate, explore our laminate resource page. It's got everything you need to know about laminate flooring.
Carpet
A common myth about carpet is that it isn't durable. While it's not as tough as laminate, it can withstand regular wear and tear with some annual deep cleaning. If you vacuum your carpet regularly and take precautions to avoid damage, like keeping shoes off its surface, you'll enjoy your carpet for its entire life span.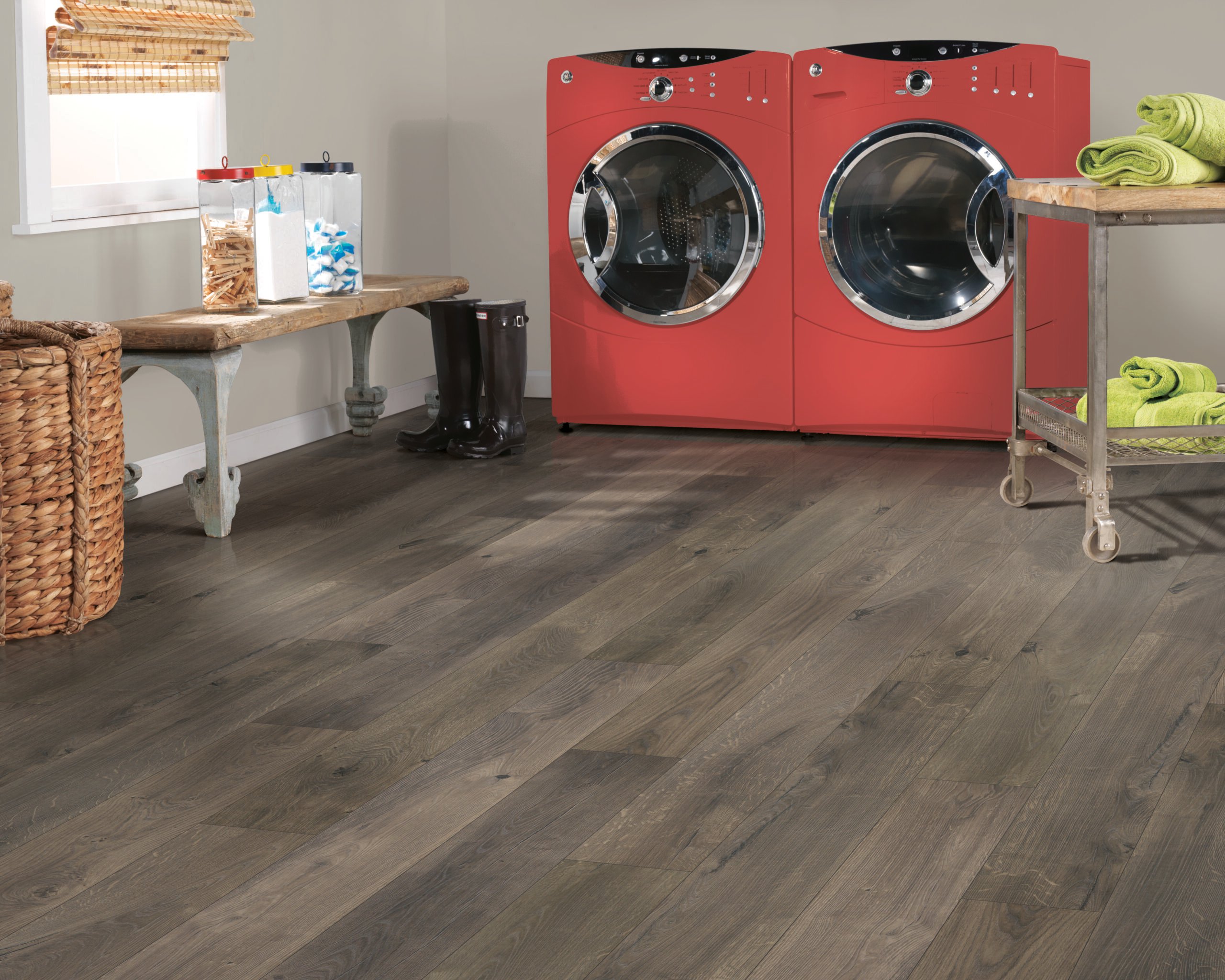 5. Maintenance
Depending on your free time and how much you want to invest in your floors, you might pick flooring based on its required maintenance. Before cleaning or caring for your floors, always check your warranty. Some actions can void the warranty, while some cleaning products can damage your floors. Read your warranty and practice regular maintenance to maintain your floors.
Laminate
Laminate is a low-maintenance floor. It doesn't need refinishing or intensive deep cleaning — for most laminate, you can just sweep the floor whenever it looks dirty and mop occasionally to get it extra clean.
Carpet
Carpet needs a little more maintenance than laminate. Its fibers attract allergens and hold on to dirt, so you should vacuum it at least once a week — more often if you have pets. Additionally, your carpet should get a deep clean every year to two to draw out deep debris and refresh its appearance. Any stains or spills must be treated, so they don't permanently discolor your carpet.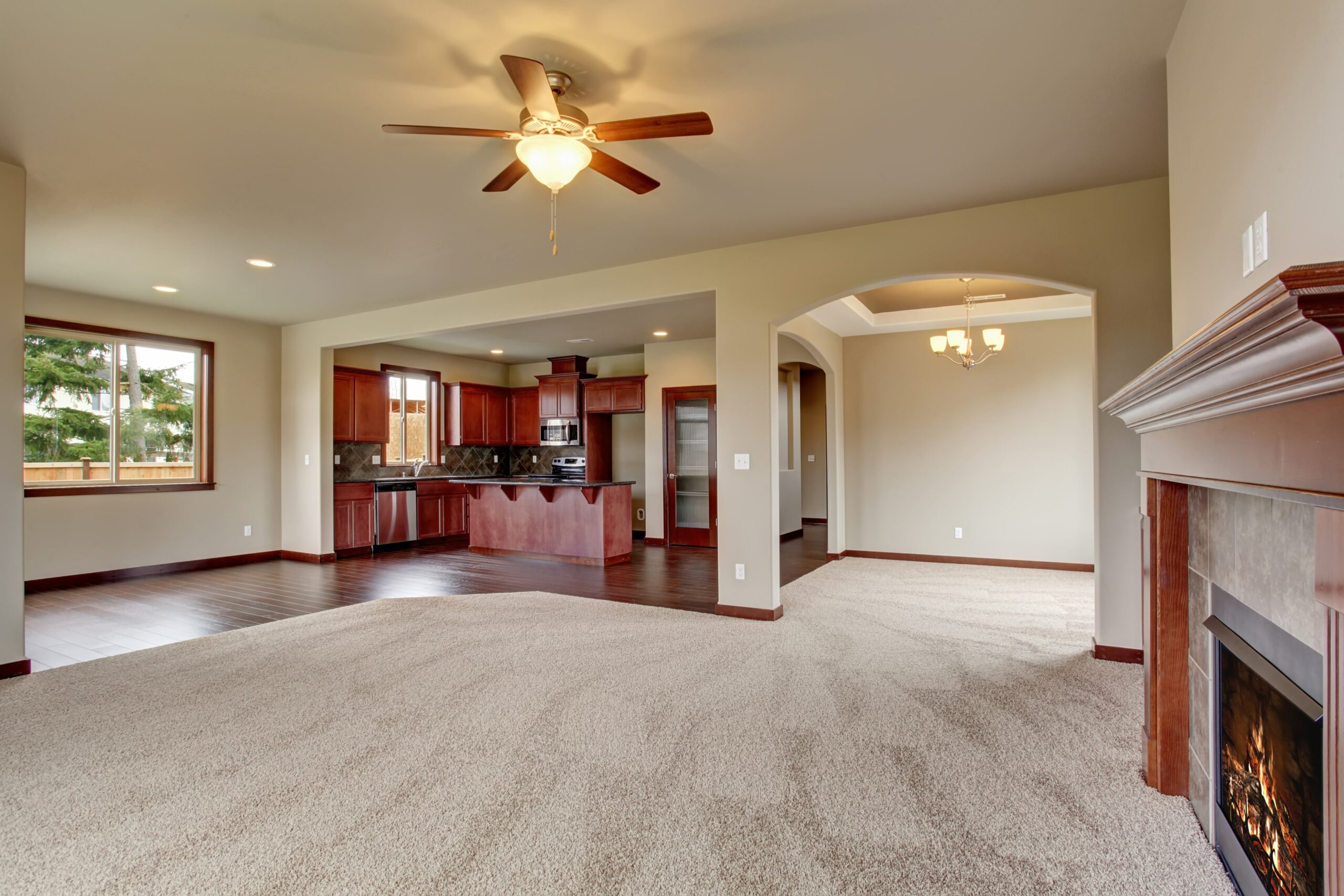 6. Resale Value
Resale value might influence the floors you select for your remodel. If you're planning on selling your home, giving your house a facelift can increase its value. Let's see the laminate vs. carpet resale value and how it affects your home.
Laminate
Laminate probably won't increase the resale value of your home. While it's affordable, easy to install, durable and low maintenance, homebuyers are typically looking for hardwood or tile. Despite this, recent technological advances have made laminate much higher quality than older-style laminate. Because it's no longer associated with low-quality flooring, laminate is favored more often today by low- and mid-range homebuyers.
Carpet
Carpet doesn't typically increase a home's resale value. However, installing new carpet will make a better impression on buyers. Older, worn-down carpet won't look or feel as nice. Re-carpeting before selling your house is a great way to make a good impression on buyers, even if it won't increase the value of your home.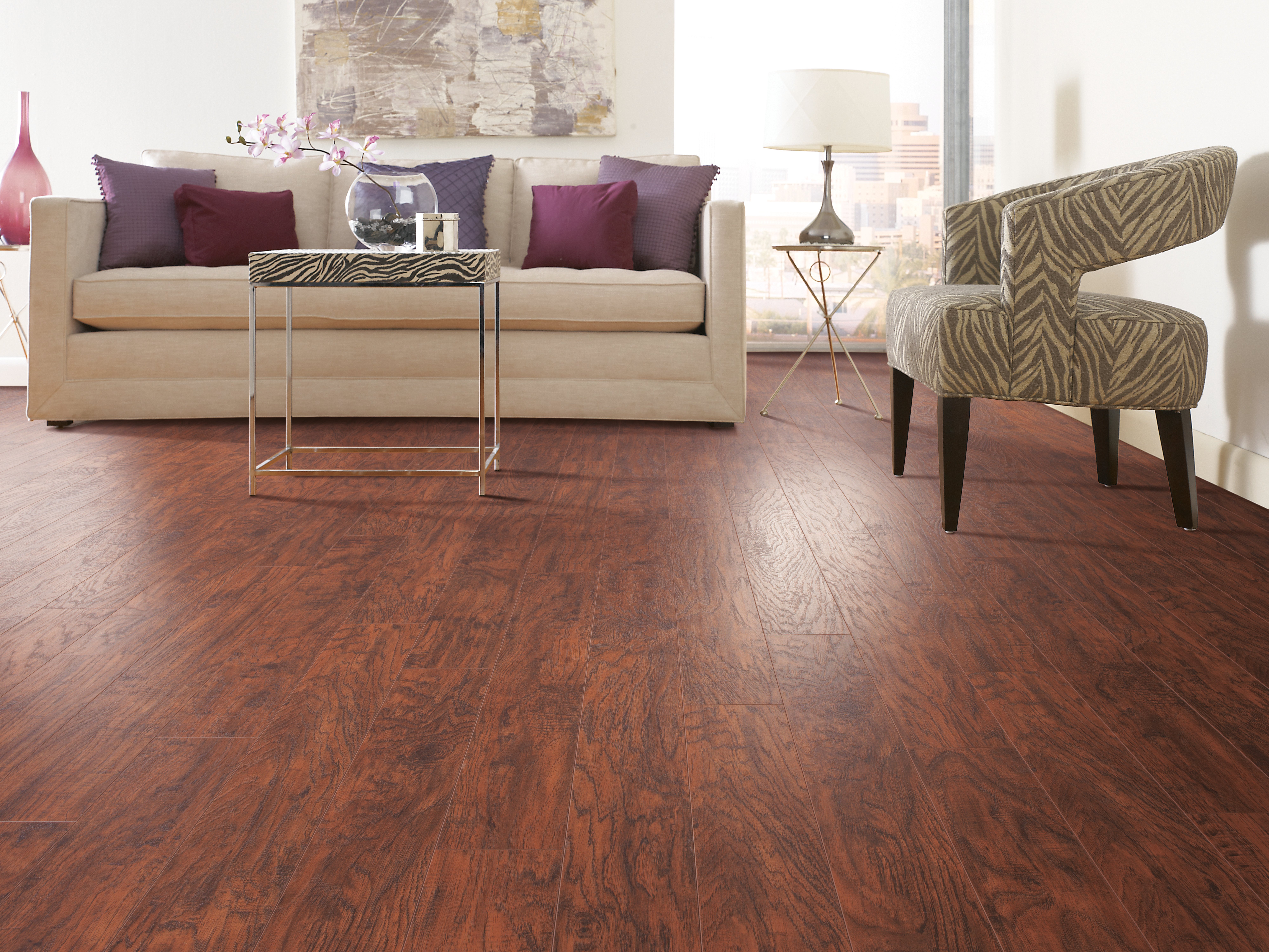 7. Comfort
Depending on your needs and the space your flooring is installed in, comfort will play a significant role in choosing a flooring type. Lounge and rest spaces benefit from softer flooring that's easy on the feet and soft to the touch. Some homeowners might prefer a more rigid floor, depending on your tastes.
Laminate
Laminate isn't a soft flooring. Its durable construction makes it hard and firm, so it isn't the most comfortable floor to sit on and won't keep your feet warm. Still, its hardness makes it ideal for spaces that see a lot of foot traffic, like kitchens, hallways and basements.
Carpet
Carpet is one of the softest flooring options for homes. Its insulating, plush and comfortable softness makes it ideal for bedrooms, living rooms and dens. Carpet gives you something comfortable to sit and stand on. Its fibers will help keep your feet warm, and it's much safer than hard flooring because it won't hurt as much if you fall on it.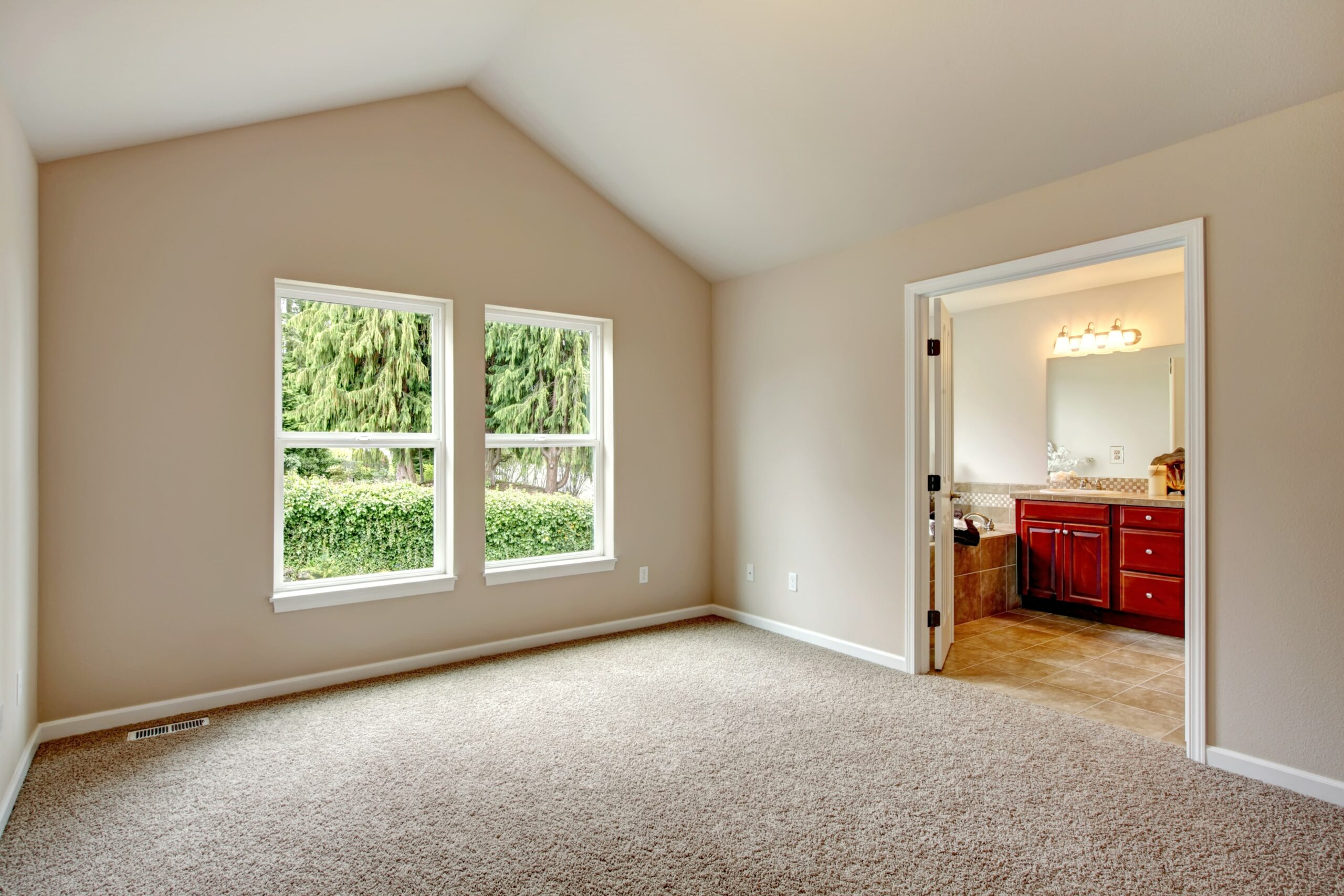 8. Rooms
The room you're reflooring will also affect your floor choice.
Laminate
Laminate is hard, durable and can be waterproof depending on the type you select. Its durability makes it great for any room in the house that sees high foot traffic but low moisture. Kitchens, hallways and living rooms are great for laminate, as it's easy to clean laminate floors. If you get waterproof laminate, you can even install this flooring in laundry rooms and bathrooms.
Carpet
Carpet absorbs moisture and stains easily, so avoid installing it in bathrooms, kitchens and laundry rooms. Living rooms and bedrooms are ideal spots for carpet since it's extremely comfortable and soft. Check out our carpet resource page to see if carpet works well in your home. We've got all the essential carpet information laid out for you.