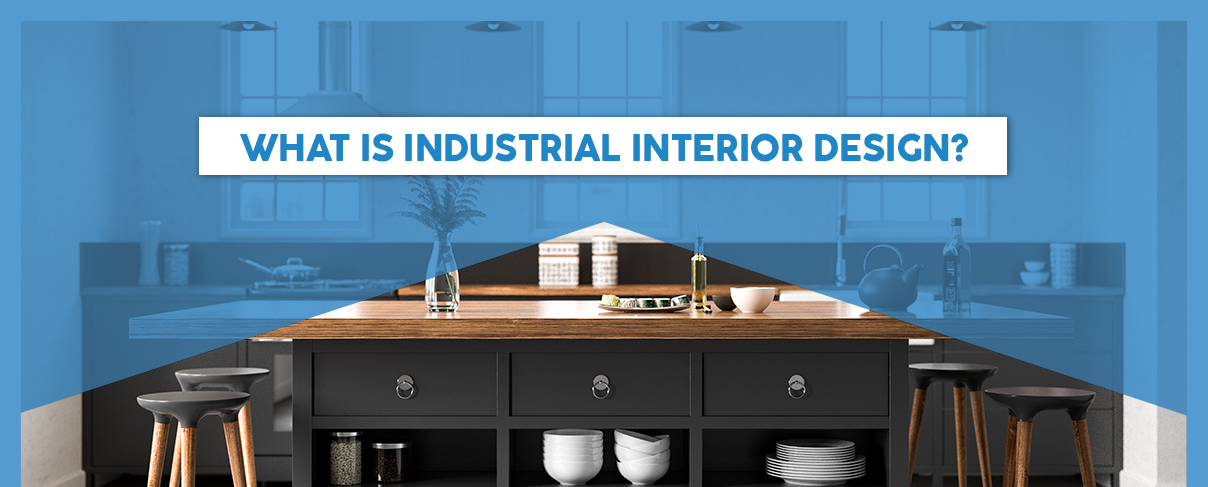 Industrial interior design originated in the 1700s, as buildings consisted of brick, concrete, iron and steel and were designed to last for hundreds of years with little to no maintenance. These large spaces had minimalist designs, as they were more for housing personnel to complete work tasks rather than focusing on aesthetic value.
Since then, industrial interior design has evolved and become more elegant and classy while maintaining the basics of what industrial design is and where it comes from. Industrial design is an up-and-coming interior design trend making headway throughout the interior design space. This style focuses on embracing your home's historical and foundational elements, such as exposed piping, concrete flooring and visible ceiling beams.
Creating an industrial style for your home often involves embracing concrete, raw brick, metal and wood and adding warm elements — such as yellow lighting — to soften the look and make the space comfortable to live in. When implementing this style in your own abode, most of your home's foundational elements should be exposed, and you should add decor to complement these components.
Bringing Industrial Interior Design Into Your Home
Industrial interior design is becoming increasingly popular in both older buildings and newer homes where people build their houses to suit this style. This interior design style is raw and unfinished with a touch of elegance and a homely feeling. Here are a couple ways to incorporate industrial design within your home's aesthetic:
Concrete: Incorporate raw concrete elements such as screened concrete walls or concrete pillars. You can also include smaller decorative components if you don't want to go big with concrete walls or floors just yet — such as a concrete kitchen island. Concrete has been used for centuries in both industrial and commercial applications, and by adding a modern twist, you can integrate the same element into your home.
Brick: Architects and home builders have often avoided adding exposed brick when building homes, but it's an integral component of industrial interior design. Exposed brick walls is one of the most popular industrial design trends and adds personality to your home almost instantly.
Metal: You can bring metal elements into your home with your light fixtures, ceiling beams and decorative items. Try Edison light bulbs with rustic metal fixtures for a truly vintage look. Use elements such as polished brass in your kitchen, bright copper in your bathroom or painted metals in your lounge or living room. These metals come in various hues to match whichever color scheme you choose.
Wood: Raw wood can add an elegant and natural feel to your home while still following popular industrial interior design trends. Consider implementing wood elements in your kitchen, bedroom or living room furniture to bring the industrial look to life. Hardwood flooring is an excellent option that fits the industrial style while still honoring the sleek modernism many homeowners love.
Lighting: Anyone who has worked in interior design or designed their own home interior understands the importance of lighting. By adding warm lighting to your home, you can make your abode more comfortable and highlight focal points throughout your space, enhancing your design features. Finding the perfect lighting is vital for any interior style, and the industrial trend is no different.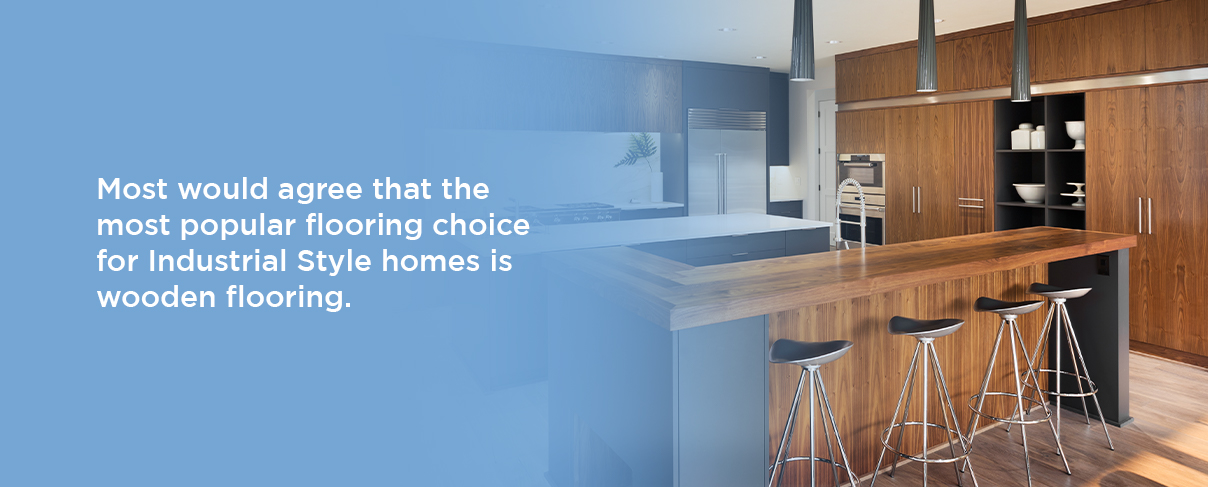 Best Flooring for Industrial-Style Homes
When it comes to industrial interior design, your flooring is one of the most important elements to consider. Choosing the right flooring type for your lifestyle and budget while still complementing your design vision is a large part of your interior design project. Starting with the flooring and walls before you move on to other style elements lets you set the stage for your design and add decor afterward that will complement your chosen look.
Consider what type of flooring would work best for an industrial home. For example, installing tiles likely won't fit the design in a way that feels natural. The same principle applies to carpets, as this flooring type wouldn't have been used in the 1700s for industrial workspaces.
Most would agree that the most popular flooring choice for this look is wooden flooring. You can achieve this flooring type by installing solid hardwood flooring, wood laminate, luxury vinyl plank or even ceramic tiles disguised as wooden flooring. Numerous flooring options are available to fit your tastes, so choosing the right flooring is crucial for getting a look you love.
Here are a few tips and tricks for choosing the right flooring for your home:
Location: Carefully consider the location of your flooring — this is especially important if you're not re-doing your entire floor. Will this new flooring be in the kitchen and bathroom or in the spare bedroom that's only used periodically?
Traffic: Consider how often you use certain areas of your house and how much traffic the flooring sees. As an example, you would probably consider heavy-duty flooring at the front door and other frequented spots compared to the formal lounge you use for Thanksgiving once a year.
Sunlight: Consider the amount of sun your floors get throughout the day. Ultraviolet (UV) rays can damage certain kinds of flooring, such as hardwood, so look for floor types that will hold up well under frequent sunlight.
Style: Determine which components of the industrial interior style you want to use in each room, and choose a flooring type — or more than one — that will gracefully complement your look.
Budget: Crunch your numbers and find a flooring type that will meet your budget as well as your needs and lifestyle. Then, find a flooring supplier you can trust. They should understand your needs and be able to help you achieve your desired look.
An industrial home can be comfortable, practical and warm. When designing your house according to this style, make it as comfortable as possible for you and your family. Ensure your newly designed residence will be somewhere you and your partner can come home and relax and your children can play and thrive. Your home is your family's foundation and should always be your happy space.
Contact 50 Floor Today for Industrial-Style Flooring
Are you ready to start creating your industrial-designed home with the perfect flooring? Schedule an appointment with 50 Floor today for an at-home consultation. We will bring flooring samples right to you so that you can see your potential options within your interior and envision your home as you want it to be. Start planning your ideal industrial design look today!