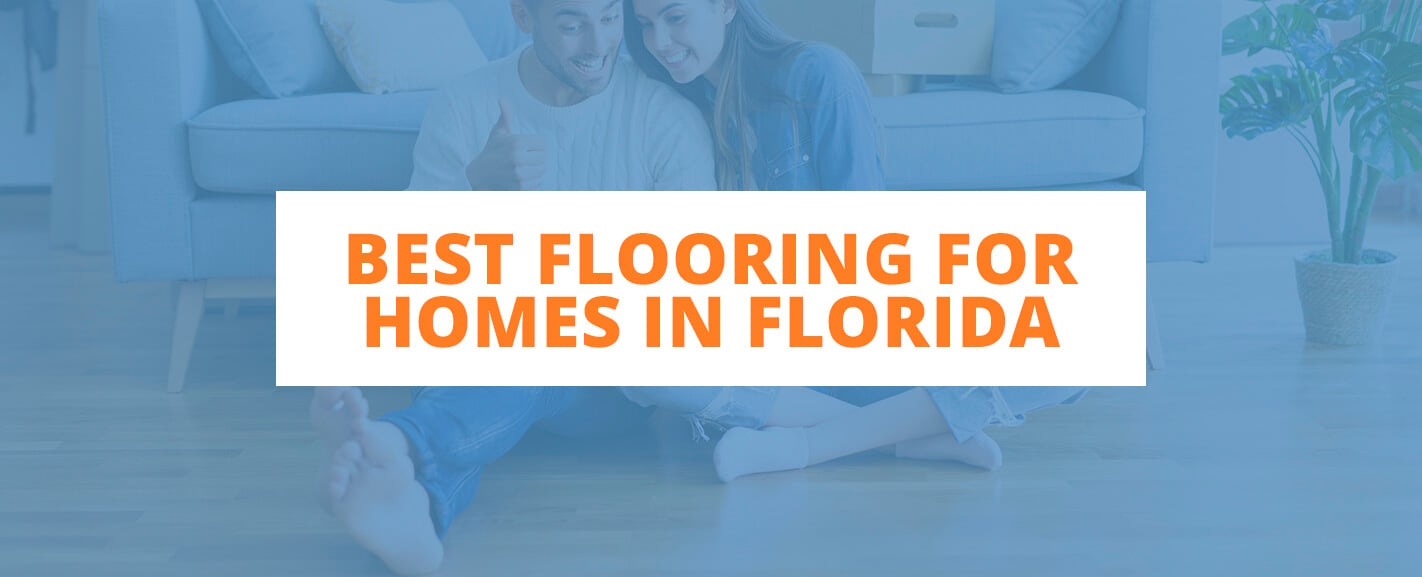 If you're looking to choose new flooring for your home in Florida, you might wonder if there is anything you need to consider based on your location. Maybe your home has a pool and your kids track water into the house every day during the summer. Or, perhaps the humidity in your area means you need flooring that can withstand moisture.
Whatever your needs, this guide can help you pick the best flooring idea for your home. Your floors can be easy-to-clean and durable while still being stylish and matching your design preferences.
Things to Consider When Choosing Floors for Your Florida Home
The climate and typical lifestyle in Florida have certain characteristics that make choosing flooring a more unique experience than in other states. Take these considerations into account when you start shopping for new flooring ideas for your home:
Florida's Climate
Flooring in Florida must be able to withstand extreme weather. Aside from the sun that many visitors love, Florida is also prone to heavy rain, thunderstorms and hurricanes. On average, Florida gets 55 inches of rain per year, more than the U.S. average of 38 inches. Because of the weather conditions, flooring in Florida should be extremely durable.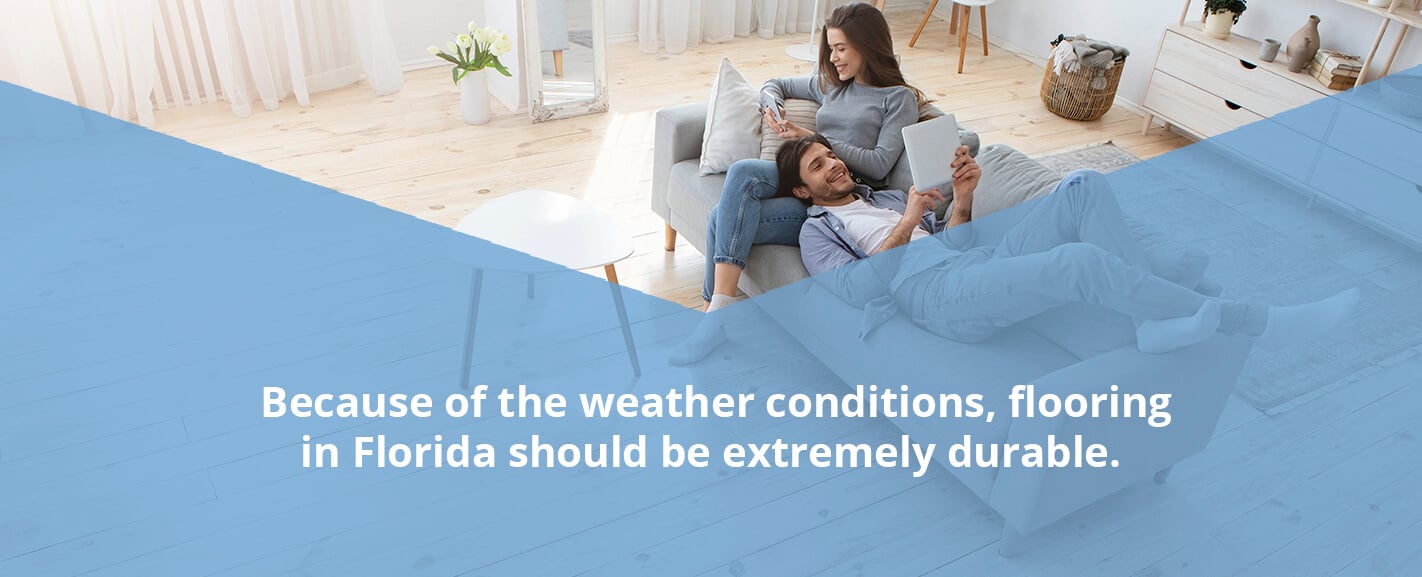 Moisture
Florida is known for its humidity — especially in the summer months. Water-resistant flooring is important because Florida is surrounded by water. The humidity, in addition to frequent weather elements like rain and hurricanes, means your floors will be susceptible to water damage if the materials are not water-resistant.
Maintenance
If going to the beach is your favorite weekend activity, having an easy-to-clean floor might be very beneficial. Sand has a funny way of showing up everywhere — no matter how well you think you cleaned up before coming home. Being able to sweep it up easily and without any risk of damaging your floor can save you time and money on potentially expensive cleaning products.
Best Flooring for Florida Homes
Despite there being lots to think about when choosing flooring for a Florida home, you still have lots of options. Consider these Florida flooring ideas for your home:
Vinyl Flooring
Vinyl is an extremely versatile flooring option — you're sure to find a design and style you love. Vinyl floors typically have multiple layers, protecting the finished floor from spills, mildew, scratches and other damage. The four layers common to each type of vinyl are:
Wear layer
Image layer
Core
Backing
Vinyl is a great choice for flooring in Florida. At 50 Floor, we have two different types of luxury vinyl that are popular flooring options in Florida:
Luxury Vinyl Plank
Luxury vinyl planks (LVP) are manufactured into planks 4 to 12 inches wide and 3 to 4 feet long. They come in styles such as wood and stone and are one of the most popular flooring types on the market. LVP is also beneficial because:
It doesn't require much maintenance: Use a regular vacuum or mop for spills, dust and debris.
It's durable: LVP resists scrapes and dents — even in high-traffic areas.
It's cost-effective: Get the look of hardwood for a lower price point.
It's long-lasting: High-quality LVP can last anywhere from 25 to 30 years.
Luxury Vinyl Tile
Luxury vinyl tile (LVT) is quickly growing in popularity due to its ability to withstand the wear and tear of any busy household. LVT is available in many colors and styles, giving you durability without sacrificing style and personality. It is also easy to maintain and meets flammability and slip resistance standards.
LVT works well in basements, bathrooms, kitchens, bedrooms, living rooms and more. However, LVT reacts to high heat, meaning it might not be the best choice for a sunroom. It is also not intended for installation outside or on stairs.
Tile Flooring
Tile is a popular flooring solution in bathrooms and kitchens partly for its moisture-resistant qualities, making it an appropriate choice for many Florida homeowners. For a classic look that stands the test of time, consider tile in your home. Because of modern technologies, there are more design options than ever before for tile flooring in your home.
Berber or Frieze Carpets
Carpet in a Florida home is also possible if you're looking for a cozier feel. Berber carpet's tight loops mean spills don't absorb into the carpet quickly, and many carpets have flecks that camouflage spills and stains. Additionally, Berber carpets don't show vacuum lines like other carpets do.
Frieze carpets also do not show vacuum lines and are an extremely durable carpet option. Frieze also tends to be softer than other carpets, making it a popular option for people who want soft flooring that's easy to maintain.
Waterproof Laminate Flooring
Laminate flooring may be the perfect solution for your home if you want a cost-effective and durable solution to hardwood flooring in Florida. In the past, laminate flooring was known for not being water-resistant. However, new construction methods help laminate floors resist water and moisture. They have a four-layer design:
Water-resistant film overlay
Design layer
Water-resistant high-density fiberboard (HDF) core board
Balancing layer
There are many benefits of laminate flooring solutions, including:
Scratch and dent resistance
Realistic wooden appearance
Watertight seams
Resistance to fading in sunlight
If you have always dreamed of wood floors in Florida, you can be confident that waterproof laminate flooring will fit your needs!
Why Choose 50 Floor to Install Flooring in Your Florida Home?
At 50 Floor, we understand choosing new flooring for your home is a big investment that significantly impacts your home. We have more than four decades of combined experience, and we believe in finding affordable flooring without sacrificing service or quality.
We bring our flooring options to you with at-home appointments so you can look at flooring from the comfort of your own home. We'll also take care of installation and cover any questions from the beginning of the process until the very end. We offer a price-match guarantee as well as a one-year flooring warranty. Working with 50 Floor professionals, you can be confident you're getting the highest quality flooring with the best service.
We serve various locations across Florida, including Tampa, Orlando, Miami, Jacksonville, West Palm Beach and Fort Myers.
Schedule an At-Home Appointment With 50 Floor Today
If you're ready for the best flooring for your Florida home, 50 Floor is ready to help. Our team can install each type of flooring that we sell, and we're committed to making sure you end up with a new floor you love.
To get started, schedule an appointment with us today.