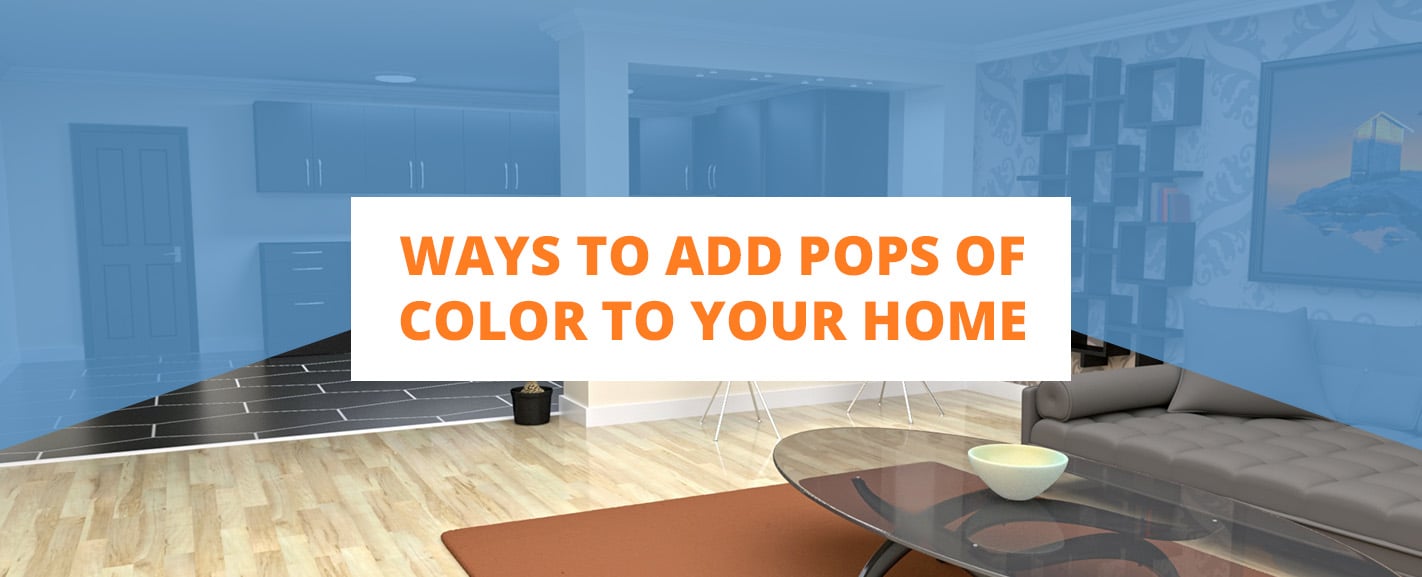 There are numerous reasons homeowners choose to add pops of color throughout each room. Whether it be to create a specific mood or complement the other interior design elements, taking the time to add different shades brings uniqueness and character to your home. There's no limit to the variations and styles you can incorporate into your interior design.
Keep reading to find creative ways to create a house of color in your home.
1. Add Floor Color Based on Room Size
Let's say you have a bedroom that's small enough to fit just a bed and a dresser. The key to making your bedroom look larger is by adding bright colors. Choose flooring from a neutral palette that draws attention to the walls and furnishings. Shades such as white-gray, cream, beige and more help visually heighten the room without being distracting.
For larger rooms, such as a living room, consider sandstone, beige or light gray floors to maintain a large, open atmosphere. Alternatively, you can try blue or green tones in the carpet or luxury vinyl tiles to make a living room feel cozier. For the best of both worlds, you could install light-toned hardwood and place a few colored rugs throughout the space.
A home's bathrooms vary in size, from the main bedroom bathroom to the downstairs powder room. A tip to follow is to keep the floor darker than the walls and ceiling to make the room seem larger. Specifically, colored ceramic and porcelain tiling are affordable options to accommodate your bathroom. If you decide to go with a brighter colored floor, you can include a lighter hue to beautifully reflect the sunlight from the windows.
2. Incorporate Balance Between New and Existing Flooring
An older home can improve its interior design by integrating new and historic flooring. There are several ways to ensure a smooth transition between time periods in your home improvement project. For example, a muted kitchen tile can give the appearance of cleanliness and seamlessness for guests coming out of your traditional living room. Specifically, muted tones can complement older hardwood floors.
For homeowners who wish to add a small pop of color to their existing flooring, sectioning off a room with contrasting bright colors will create a central focal point for your living space. Colors like pinks, yellows and greens can offer a positive feel and complement both bright and neutral furniture. As an example, consider using colored tile to line the door in your entryway.
In new room extensions, such as a sunroom or porch, consider color blends that match the feel and look of the adjoining room — guests want to enter the new room without feeling they left the house. A soft blue laminate floor pairs with an older neutral-colored hardwood floor for a sense of continuation. For homeowners who wish to continue the look of the original flooring, select a style and color that matches your existing floors exactly.
3. Provide Distinct Patterns
Matching your surrounding color scheme is key when choosing patterned flooring.
For instance, wider, light-colored hardwood provides a spacious feel for a modern kitchen. If you have darker walls or appliances, consider simplifying your patterns with neutral hardwood planks to make the kitchen look less busy. Alternatively, you could use a patterned vinyl or hardwood in a smaller adjacent area like the pantry to make the space pop.
On the other hand, if your walls are neutral colored, installing bold and bright tiles on your dining room or kitchen floor can make walking into the rooms feel extra special. Specific patterns such as marble or geometric can be customized with varying colors. Don't be afraid to go bold when it comes to tiles, as they come in seemingly endless styles.
4. Consider the Room's Use and Characteristics
Incorporating each room's use and characteristics will help inform your flooring decision, especially when it comes to the right colors.
Family room: Make your family room an inviting place for loved ones to sit down and spend quality time. Choose a warmer tone for a cozier environment — brown shades offer a comfortable and attractive appearance.
Kids rooms: For an activity room, such as a craft or toy space, selecting multicolored carpet or tile adds excitement to the interior. If the kids have an underwater themed bedroom, accentuate their nautical accessories with a bright blue carpet.
Home gym or movie theater: If your home has a gym or theater, adding a pop of color can create a fun aesthetic for the whole family. Consider bright red or blue flooring for an entertaining theater experience or high contrast flooring to mark your gym equipment.
Main entrance: For a foyer or main entrance, give your guests an inviting welcome with light tones. In a busy hallway, bright or neutral colors can be key to a longer visual appearance.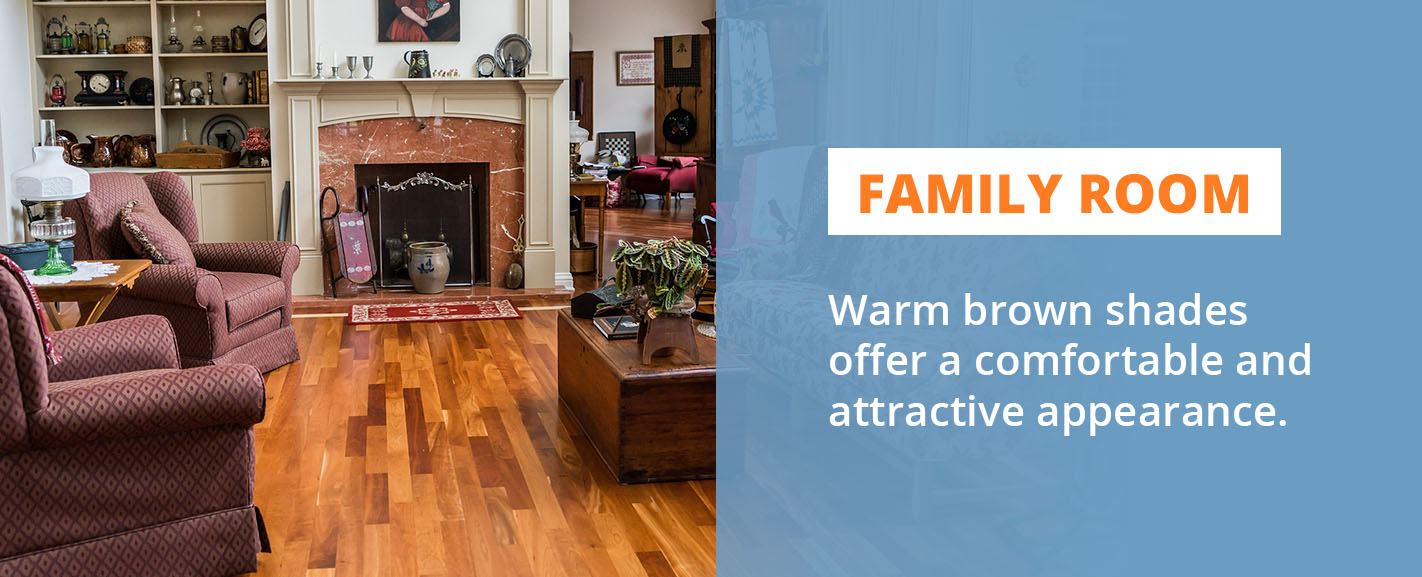 5. Think About the Amount of Sunlight
In a south-facing room, daylight will flow in to give the surroundings a well-lit appearance. Choose from bold and bright hues based on the time of day while considering the usage of the room.
In a home office, it's important to keep the room illuminated throughout the day for work purposes. Incorporate lighter flooring to maintain natural lighting and make it feel less crowded and cluttered.
For a den or bar, you may want to include a darker color palette to match the stools and furnishings for a classic look. At nighttime, it'll be a popular area for friends and family to socialize. Complement your den aesthetic with dark walnut or maple flooring for an intimate experience.
6. Don't Forget the Focal Points
If your home already has colorful furniture and artwork, you can still create a colorful home by keeping the floors neutral and drawing attention to the surrounding objects.
For example, if you have a deep red-colored couch, include a beige or light walnut floor to invite guests and not make their living room experience distracting. Keep the flooring with a low-key white, gray or brown to bring attention to your colorful wall hangings or detailed curtains. If your fireplace is darker than the rest of the room, consider a beige paneled floor to highlight that feature and make the space feel more spacious.
Get in Touch With 50 Floor Today
Selecting the right type of flooring while maintaining a preferable color balance is important for homeowners. 50 Floor offers colorful hardwood and alternative flooring materials, so you can select multiple flooring options for a single room or the whole house. With the right combination of flooring and a few extra elements, you'll have a stunning house full of color.
See for yourself how we can assist you with your home flooring projects by scheduling an appointment today.