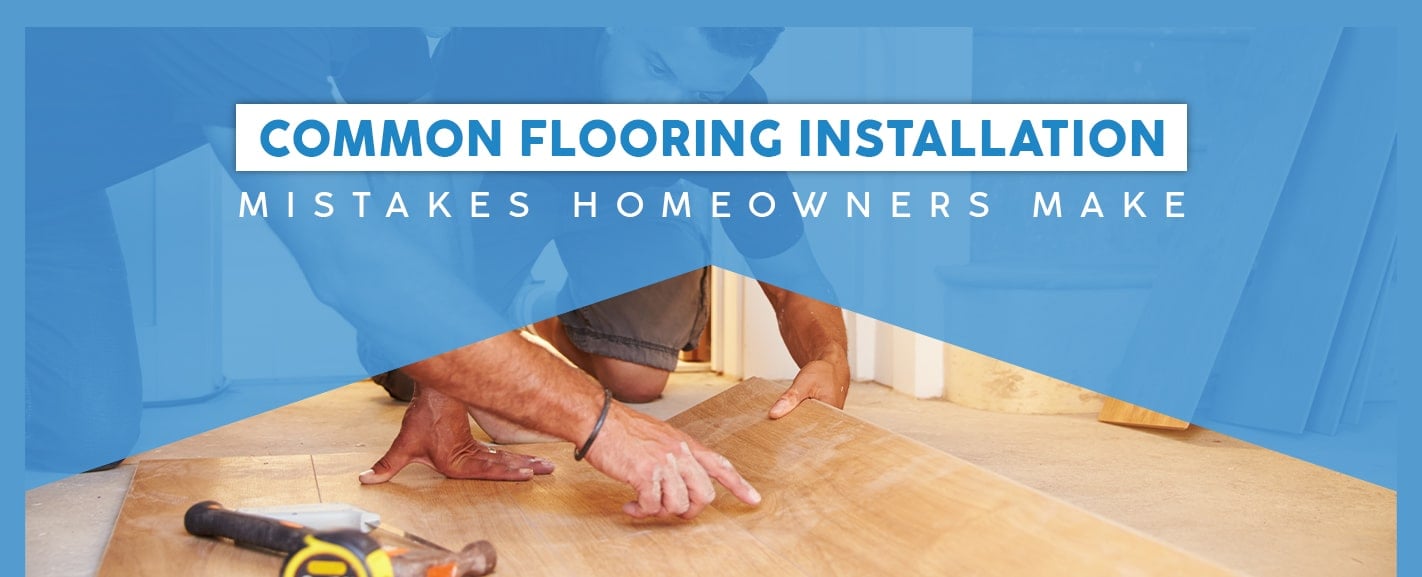 Updating and installing new flooring is at the top of many homeowners' home improvement lists. Since the floors in your homes receive so much traction from people and pets, it makes sense that you'd want to upgrade your floors to give your home a fresh new look and increase its value. However, just because thousands of people undertake flooring installation each year, that doesn't mean every project goes smoothly. Homeowners make many mistakes when installing flooring — from wrong material choices and DIY hacks to buying cheap products. Keep reading to learn about 15 common homeowner flooring mistakes to avoid.
1. Choosing the Wrong Material
Your flooring can change your home's overall appearance, which is why choosing the correct material for your flooring is crucial for the look and feel of your living space. Many find it daunting to select the material because there are so many different options, including traditional hardwood, durable laminate or cozy carpeting. However, you'll want to remember factors such as your budget, your home's traffic flow and your chosen material's cleaning and maintenance needs. Compare all these variables, then visualize the result.
2. Not Preparing the Subfloor
There's a lot of preparation necessary before installation. For example, to avoid post-installation problems, you must take the time to properly prep your subfloor. Your subfloor's condition will directly affect your new flooring's quality. To ensure the structural integrity of your new flooring, you must start with the subfloor. Correctly prepping the subfloor will increase your new flooring's longevity. To prepare your subfloor, you must shore up any weak spots and ensure it is free of dirt and debris, with a smooth and uniformly flat surface. If this doesn't sound like the fun DIY flooring installation project you were hoping for, consider scheduling an appointment to discuss getting your floor professionally installed.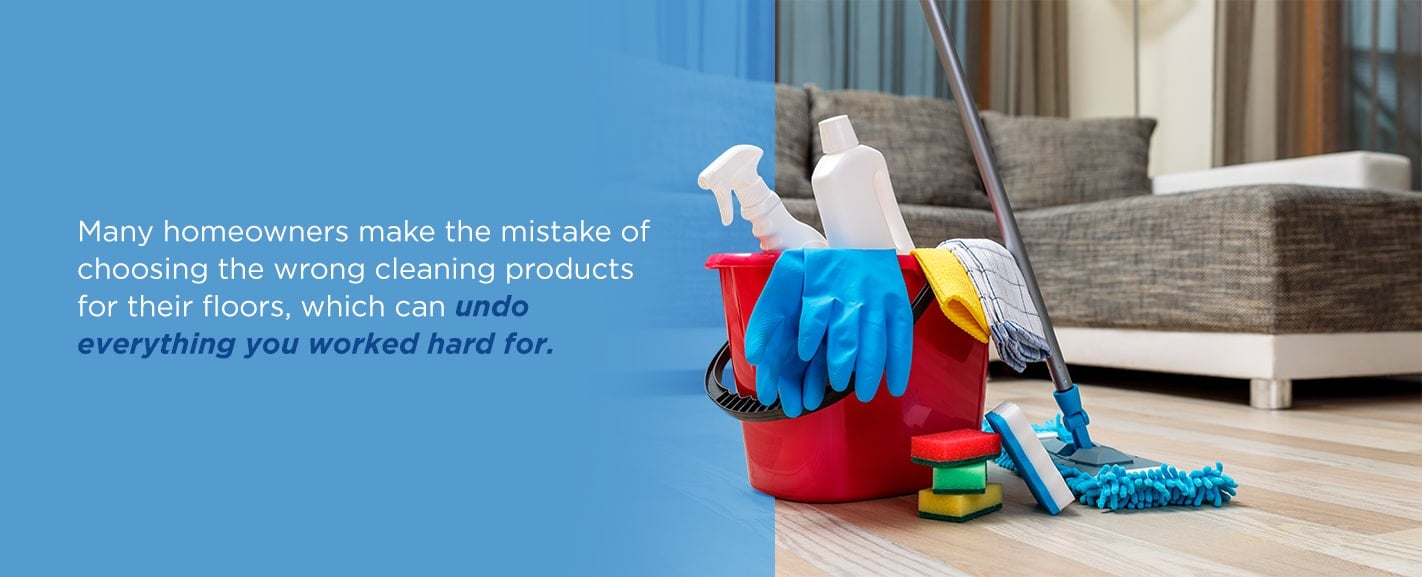 3. Improper Floor Care
Just like your car, your newly installed floors will need maintenance to extend their longevity and keep them looking pristine. Many homeowners make the mistake of choosing the wrong cleaning products for their floors, which can undo everything you worked hard for. Many of the products on the market promise to make your hardwood flooring sparkling clean. Most of these contain oils and wax to achieve this long-lasting shine. However, these ingredients can degrade your floors' integrity. So, while the luster these cleaners provide can lead to short-term results, you'll have to pay a hefty price to refinish damaged floors. To avoid this common mistake, consider these cleaning alternatives.
4. DIY Flooring Installation
Thanks to home improvement TV shows, DIY projects have skyrocketed in popularity in recent years. While do-it-yourself home improvement can give you a satisfying sense of accomplishment and help you save money, it's better to leave some things to the professionals. Many homeowners don't have the knowledge, tools or skills required for installing flooring. New flooring is a significant investment, so don't make the same mistake other homeowners have come to regret. If you lack experience in installing floors, it's likely going to cost you a lot of time and effort, while there's no guarantee the finished product will have the quality you expect. DIY flooring isn't a wise idea, especially if it is your first time. To prevent a negative flooring experience, having a professional install your new flooring is your best bet.
5. Transitions
Flooring transitions have a dramatic role in any home's overall interior design. Whenever you switch from one flooring material to another, a transition is necessary. Often, homeowners who choose to go the DIY installation route overlook this step. Floor transitions make the overall look between two different flooring materials cleaner. It also protects the edges of your flooring from normal wear and tear. For example, a flooring end cap would provide a clean transition between hardwood and carpet.
6. Moisture Level Check
If you are installing hardwood floors, it's essential to monitor the humidity in your home. If moisture is present, wood floors will expand. On the other hand, if the area is too dry, the wood will contract. Both of these extremes can cause your new flooring to develop problems. Many homeowners neglect to check humidity because they aren't aware moisture has any significance. One of the benefits of professional installation is that the pros know this, and will check the moisture levels before they begin work.
7. Incorrect Measurements
Inaccurate measurements are a significant setback for any installation project. Taking incorrect measurements can leave you wasting money on excess materials or cause you to come up short, leaving your project at a standstill. Many homeowners who lack installation experience make this mistake when installing flooring on their own. Going with a professional floor installer will give you peace of mind. But, as a piece of advice, if you are going to install new flooring yourself, triple-check your measurements to make sure they are accurate.
8. Working in the Wrong Order
Home renovations have many moving parts, and you should complete them in a specific order to have a successful project. Often, homeowners make the mistake of working in the wrong order. Doing so can prevent you from going with your preferred floor choice or cause you to pay more money in the end. And if you are installing the flooring yourself, isn't the goal to save money? Two common incorrect workflows that affect your new flooring are:
Painting the area first before choosing and refinishing the flooring.
Installing your cabinets before your flooring.
Both these sequences can restrict your range of flooring options. For example, if you choose and install your cabinetry first, you'll have limitations on the height and type of flooring you can choose from.
9. Buying Cheap Materials
We all know home renovation can be expensive, and you may feel tempted to save money by finding the cheapest choices. Everyone loves a good bargain, but what you see is not always what you get. With floor installation projects, buying inexpensive materials can result in lower quality, leaving you with more problems than you started with. In contrast, purchasing high-quality materials will boost your home's resale value and keep your floors looking newer for longer. Cheaper materials are less durable, and they don't look as good or hold up as well. To prevent you from spending even more money in the end, invest in top-quality materials from the beginning.
10. Failure to Research
New flooring is exciting, and most homeowners want to dive in right away, but it is crucial to look at the whole picture before making any decisions. Before you choose flooring materials, think about where you are installing the new floor. Are there any enhancements you should make? Will you need transitions between different flooring sections? Do you have or need a subfloor? Do your homework and think everything through before making any flooring purchases. Prior preparation will save you time, money and effort. During this process, you may realize there are more advantages to hiring a professional than trying to do it yourself.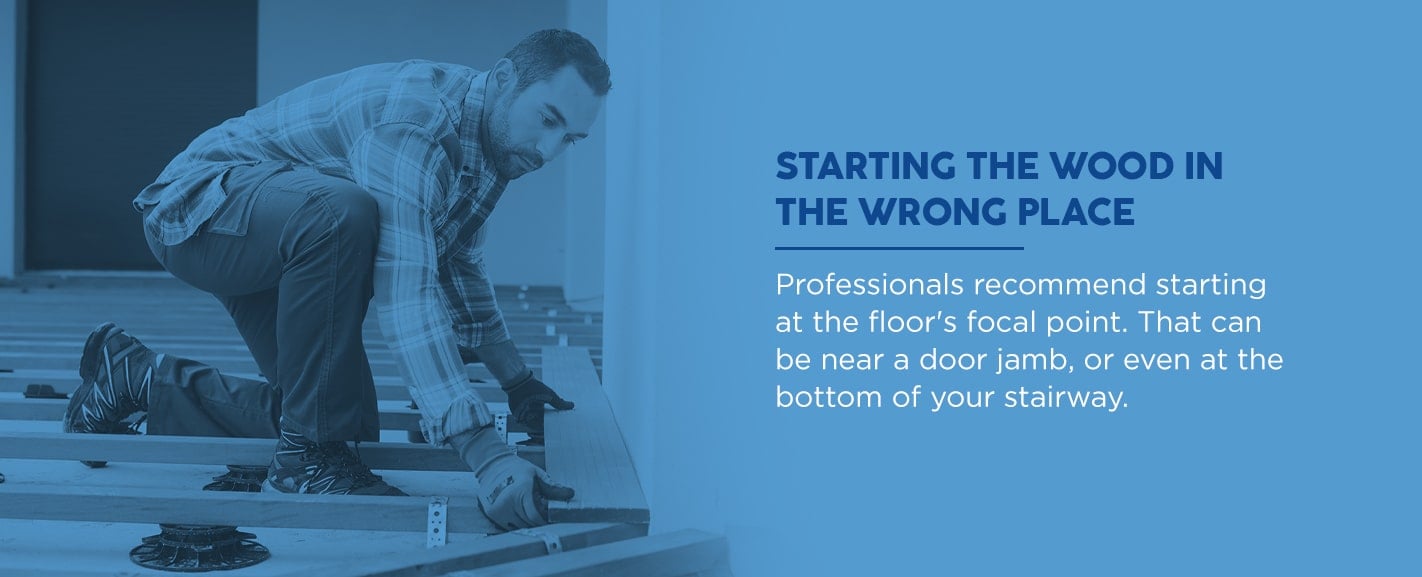 11. Starting the Wood in the Wrong Place
Many homeowners mistakenly believe that they must start their installation against the edge of the longest, straightest wall, which is the exact opposite of what you should do. Beginning there is more challenging because it will leave you in a tougher position. Professionals recommend starting at the floor's focal point. That can be near a door jamb, or even at the bottom of your stairway. By starting at these spots, you have more flexibility with row positioning, which results in a gorgeous floor.
12. Incorrectly Nailing Boards
Even when you think your floorboards are secure, it is essential to carefully install each plank with enough fasteners to prevent loose moving boards. Not using enough fasteners causes the boards to squeak or creak when you walk on them. Some homeowners make the common mistake of rushing through the project before thoroughly securing the boards. To follow recommended best practices, use at least two fasteners per board.
13. Tiling on Concrete
Tiling directly on concrete causes more flooring installation problems many homeowners aren't aware of. For example, reflective cracking happens when the concrete cracks through shrinkage. Another cause of this cracking is the shifting of sub-layers below the concrete. These cracks within the concrete will cause your newly installed tiles to break as well.
14. Underestimating the Project Timeline
Many homeowners don't realize how long it takes to do a thorough job of installing new flooring. Depending on your home's square footage, it may take the better part of a week or even more to complete the installation. But don't forget that after the installation, it still takes additional time for the floors to settle. Many homeowners immediately walk on their floors and move all their furniture back into place right after the project, which is a common mistake. Be patient when moving heavy furniture back in and resuming everyday life in general. You don't want to ruin your new investment.
15. Skipping Welcome Mat and Furniture Pads
After installing new flooring, many homeowners do not look toward the future. Using a welcome mat and furniture pads can protect your new flooring from damage. Adding a welcome mat at the front door of your home will prevent anyone from tracking dirt and mud onto your floors. The furniture pads will protect your floors from any scratches or scrapes your furniture may cause — especially when it is time to move your furniture back in.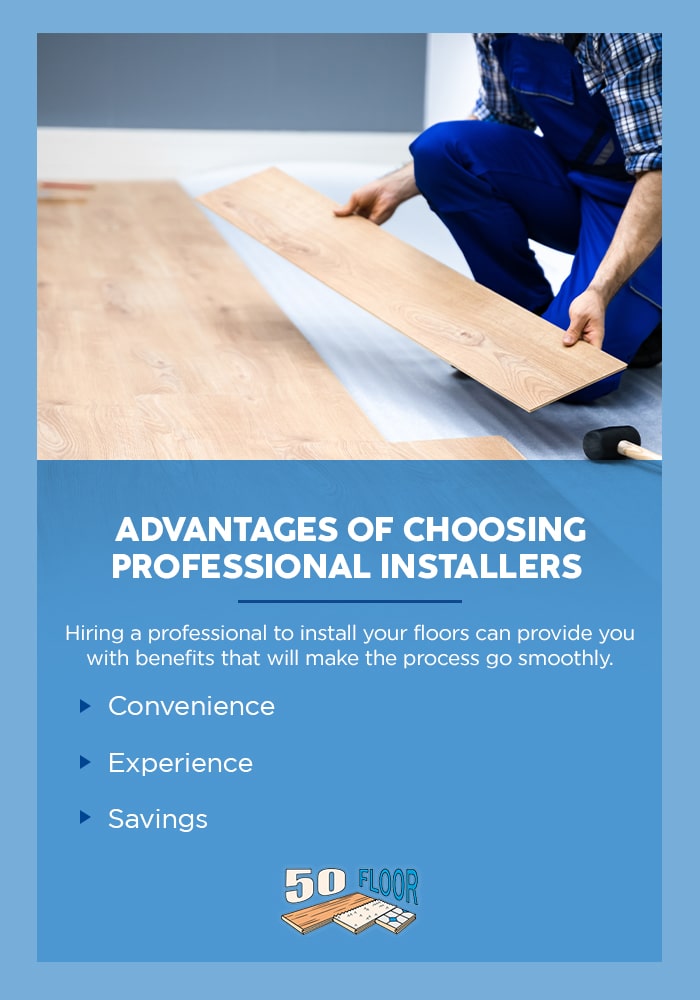 Advantages of Choosing Professional Installers
As mentioned before, installing new flooring is a significant investment that can dramatically affect your home's appearance. Hiring a professional to install your floors can provide you with benefits that will make the process go smoothly.
Convenience: You could cut the amount of time you will spend trying to install your new flooring yourself in half if you hired a professional. The time you would have spent working on this project is now free to do other things. Let a professional take installing your floors off of your to-do list.
Experience: Undertaking any home improvement project requires you to weigh the pros and cons — especially installing your new flooring. One potential disadvantage could be your lack of professional experience. Floor installation isn't a low-cost project, so you want to make sure it gets done correctly. Professional installers have knowledge, skills and specialized tools. Look for a company that carries an insurance policy — that way, in the rare event that your home gets damaged, you won't pay for it out of pocket.
Savings: DIY flooring installation is not as straightforward as many homeowners assume it is. Doing it yourself doesn't always guarantee you will spend less. One inexperienced mistake can cost you more time and money than you would have spent if you'd hired a pro in the first place. A professional flooring installer will know ways to save your hard-earned cash without cutting any corners.
Skip the Hassle and Contact the Professional Flooring Installation Experts at 50 Floor
Now that you've learned the common mistakes homeowners make when installing flooring and the benefits of hiring a professional installer, it is time for you to find the right flooring company! At 50 Floor, we offer a wide selection of flooring options with expert-level installation. Instead of doing it yourself, contact the experts at 50 Floor. We'll provide a convenient, free in-home consultation to discuss your flooring options. Save your time, money and effort by making your appointment with us today.