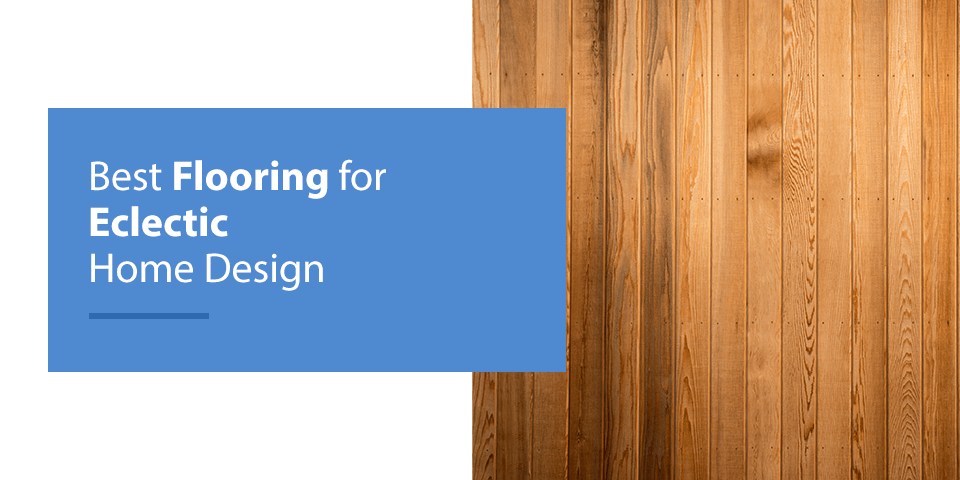 Eclectic homes are unique to each individual, embracing the personality and boldness of the homeowner. When choosing a flooring option for an eclectic home, it may seem a bit daunting to have so many different kinds to explore. With so many color palettes and patterns to consider, you may not know where to begin. 50 Floor is here to help. Find the best eclectic flooring options and learn how to embrace eclectic style with this simple guide full of useful tips. You are sure to find inspiration that will lead you to the perfect floor in no time.
What is Eclectic Design?
Eclectic home design gives you a lot of freedom that other design styles do not generally offer. It is perfect for someone who loves a wide range of styles, colors, textures, and more. Ideally, the eclectic interior design concept allows homeowners to experiment and play with an endless array of furniture, accessories, flooring, and more. The idea is to bring all of the varying components together into one beautifully cohesive design.
There are several characteristics that help to define eclectic home design in all its glory. Some of the most tell-tale details include:
Mixed patterns and textures
The combination of old and new styles
A variety of global influences
Gallery-style wall decor
When you are designing for an eclectic house, there are some simple guidelines you can follow to keep you from getting overwhelmed by all of the different design paths you can take. You can keep your look from appearing chaotic by using some of these helpful tips:
Pick a color palette
Maintain balance throughout your space
Play with pattern
Avoid overcrowding the room
Learn more about these eclectic design basics and how they can help you choose the perfect flooring for your eclectic home.
Select the Right Color Palette
When it comes to eclectic home design, nearly anything goes. That being said, choosing your ideal colors and sticking with them will really help you keep your entire concept on track.
Think about the feeling you would like your space to have. Do you want a room that feels light and bright or would you prefer a space that is cozy and warm? Deciding on this will help guide you toward choosing colors that will best suit your preferences.
Select a neutral color and complement it with an accent color that you love. Your flooring can play a big part in helping you to stick with your color palette. Used for thousands of years, tile flooring is durable and looks amazing in any room within a home. Porcelain floor tiles can be found in an endless selection of patterns and colors ranging from simple to complex, making it one of the ideal eclectic flooring options.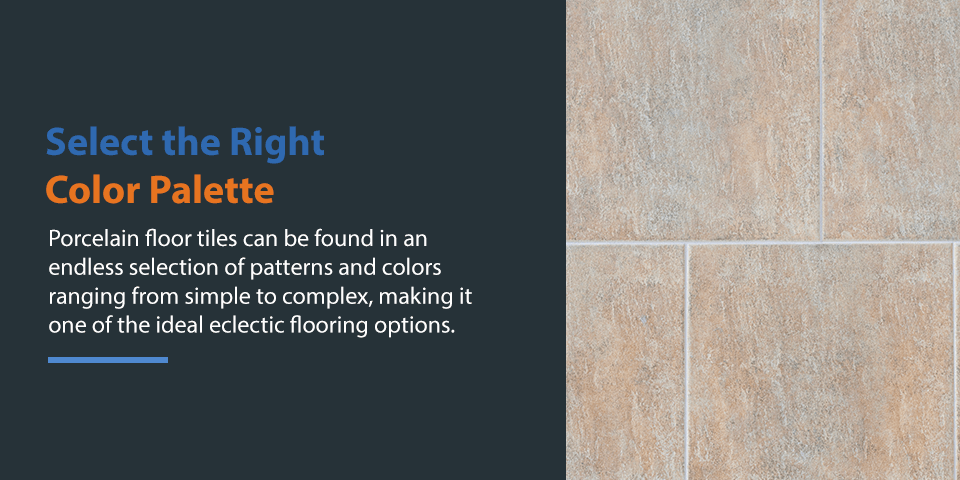 Contrast Maintains Balance
The creative freedom that eclectic interior design allows ultimately gives you free rein to decorate as you see fit. However, pulling off a successful eclectic look requires a certain amount of balance to keep things from becoming too chaotic.
Contrasting colors such as bolds, neutrals, light, and dark mesh together in perfect harmony to help keep the room grounded. Opt for bold-colored walls and furniture with neutral tones or choose light shades for the walls to contrast with dark furniture.
You can also use contrasting textures and materials, such as hardwood floors against industrial-style furniture and natural accents. Hardwood floors are an excellent flooring option due to their functionality, convenience, and comfort.
Laminate flooring is also a great choice, especially for maintaining an eclectic kitchen design. Laminate flooring comes in a variety of materials and colors to set off the entire eclectic look of your kitchen. Known for its longevity, durability, and range of aesthetics, it can be the flooring you've been looking for.
When you are browsing for eclectic floor styles, keep contrast in mind. Keep the contrasting features you have consistent throughout the space and use the flooring as a way to help finish off the entire cohesive look.
Play with Patterns
Choosing patterns to mix and match with the color palette of your eclectic home can really help boost your overall vision. Patterns can add a lot of personality to any space, allowing you the perfect chance to take risks that will make your home individual to you.
Vinyl flooring is a great way to incorporate patterns into your eclectic-styled house. It can be found and installed in sheets or in tiles and have multiple layers to provide a highly durable floor. Complement a room full of colorful patterns with a more simplistic design. Use your flooring as a chance to contrast the rest of the room with a pattern that is wild and bold.
From geometric shapes to marbled patterns and everything in between, you are sure to find the ideal eclectic flooring option.
Less is More
An eclectic-styled home has a variety of patterns, textures, and colors. One of the biggest mistakes that a homeowner can make when trying to achieve the perfect eclectic look is overcrowding their space. When it comes to eclectic style, less is actually more. When you are choosing the perfect floor, you do not want it to get lost in the rest of the room.
Carpet is one of the most versatile flooring options, making it perfect for eclectic home design. It is the perfect way to introduce texture and color to help bring your entire vision together. Not only that, but it is also a warm and cozy option for optimal comfort. If you find the ideal carpet with the texture and colors that make your eclectic design complete, you want it to be a noticeable feature.
Refrain from adding too much to your space and you will see that your eclectic home will feel nothing less than welcoming, especially when the right flooring has the chance to make a statement.
Embrace Your Eclectic Style With the Help of 50 Floor
At 50 Floor, we understand that having the right flooring is a vital component to your home. Not only does the right flooring enhance your home interior design, but it can also greatly impact your health and wellness. For over four decades, 50 Flooring has been dedicated to providing our customers with the most affordable, superior-quality flooring available. We take pride in offering the best customer service to help you find the perfect flooring options for your home.
Shopping with 50 Floor offers multiple advantages including:
Price-Match Guarantee
Flooring Warranties
One-Year Installation Warranties
At-Home Appointments
Professional and Timely Installations
Unmatched Service
Contact us at 50 Flooring today to see how we can help you with all of your flooring needs.