1. Aesthetic
Engineered hardwood and SPC flooring come in a wide range of colors and styles. Engineered hardwood is constructed with wood veneer to highlight the wood's natural grains and beauty. It's available in many species and designs, from timeless white or red oak to a smooth-finished maple.
Meanwhile, SPC flooring features a design layer with a printed pattern, which can mimic authentic wood or stone textures and appearances. While you may get a slightly more natural look with engineered hardwood since it uses real wood, either option can help you achieve the genuine look and feel of solid hardwood.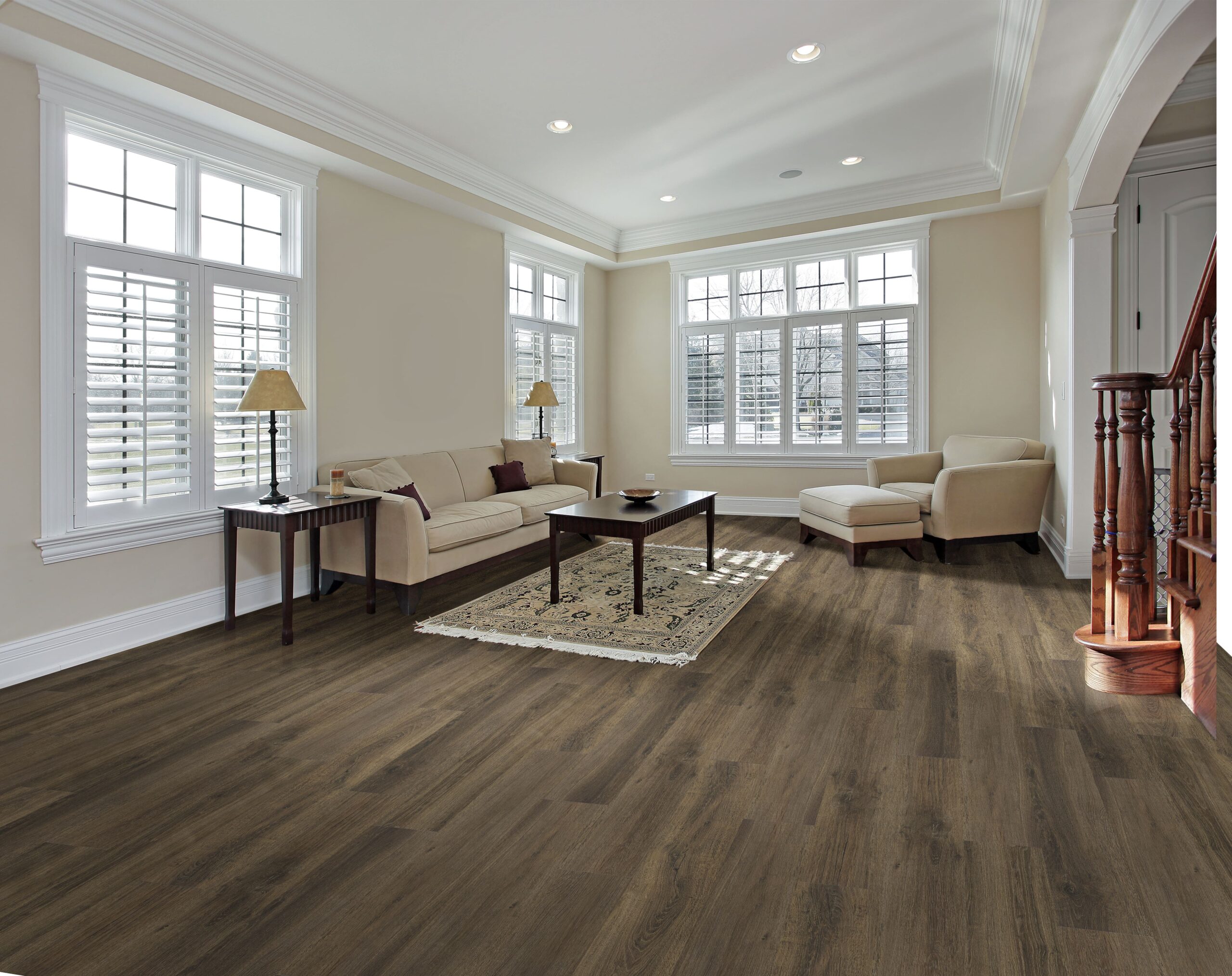 2. Cost
SPC flooring is usually less expensive than engineered hardwood. While engineered hardwood can range anywhere from $4-$16 per square foot, most types of vinyl flooring — including SPC — average $2-$3 per square foot. Additionally, SPC flooring typically uses a click-style installation, which simply involves cutting the planks to size and clicking them into place.
The click-style method is much faster than methods like floating the floor or gluing, nailing or stapling the planks down, which is common with engineered hardwood. While this method is slightly less durable than engineered hardwood installation, it also drives down labor costs considerably.
Engineered hardwood comes at various price points, depending on the plank width, thickness and wood species you choose. While it generally costs more than SPC, it adds more value to a home since it features natural wood. It also costs less than solid hardwood flooring.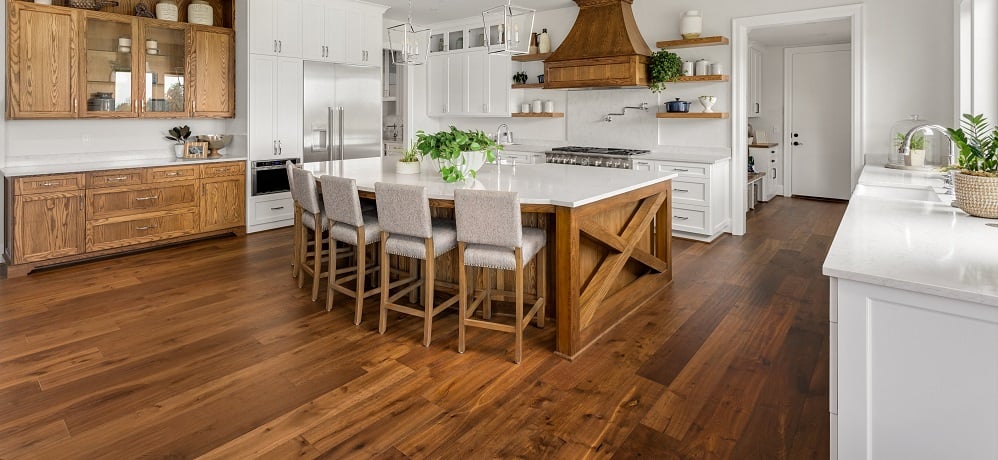 3. Life Span and Durability
When correctly installed, cared for and maintained, engineered hardwood can last up to 30 years or longer. While it's possible to fully refinish some engineered floors, this isn't always the case. The wear layer's thickness can determine whether sanding and refinishing the floor is possible. Be sure to select engineered hardwood with a thick wear layer if you wish to sand, refinish and extend its life span.
Meanwhile, SPC and other vinyl flooring types can last 20 years or more with proper maintenance. While SPC flooring is incredibly durable and water-resistant, it's prone to scratching and fading, especially with excessive light exposure and heavy use.
However, it can last many years with proper care and cleaning. If any noticeable gauges or abrasions occur, a simple and affordable plank replacement is always an option.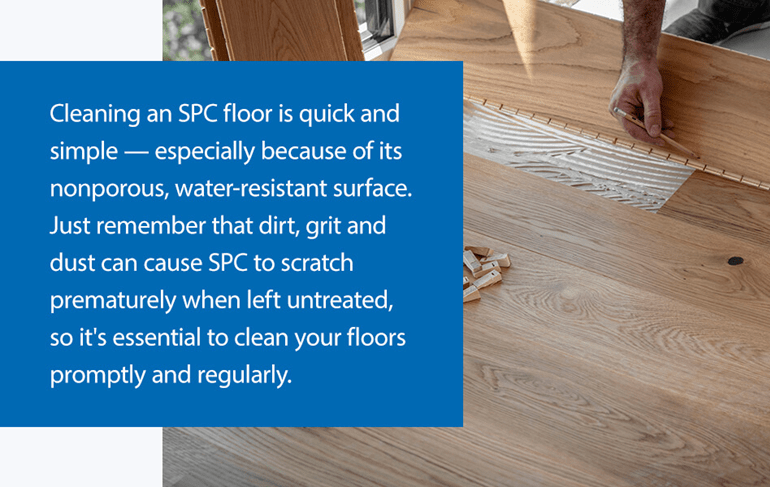 4. Maintenance
Hardwood floors are generally easy and affordable to maintain. Aside from ensuring a stable, temperature-controlled environment to prevent warping and swelling, remember to clean your engineered hardwood floor consistently.
Sweep, dust, mop and vacuum regularly to remove dirt and grit buildup. If necessary, you can clean engineered hardwood with special products — just remember to review your floor warranty to ensure you're using the proper methods and products.
Likewise, cleaning an SPC floor is quick and simple — especially because of its nonporous, water-resistant surface. Just remember that dirt, grit and dust can cause SPC to scratch prematurely when left untreated, so it's essential to clean your floors promptly and regularly. The faster you remove grime buildup, the better!
Try to vacuum or sweep your floor regularly to keep it scratch-free. If your vacuum cleaner has a rotating bristle brush or beater bar, remember to turn it off before vacuuming the floor. Washing the floor a couple of times a week can also help prevent dirt and debris buildup. Once again, remember to check your warranty for cleaning recommendations.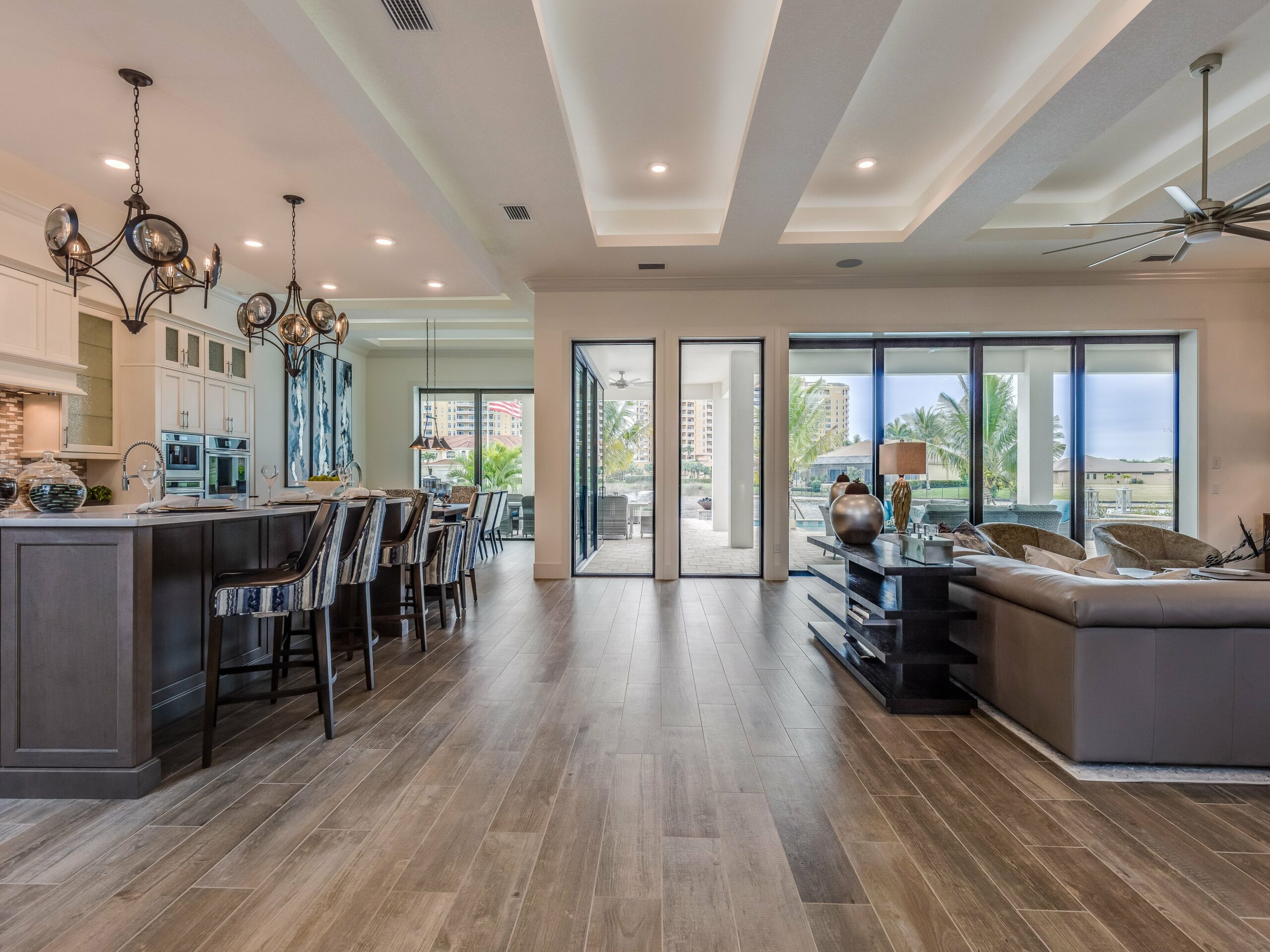 5. Resale Value
You might be wondering if SPC or engineered hardwood can add home value, especially if you plan to sell your house in the future. This is one aspect where these two flooring types differ.
A significant advantage of hardwood flooring is that it adds resale value to your property. Many homebuyers enjoy seeing wood floors due to their timelessness, style and authenticity. Unfortunately, SPC flooring won't provide any extra resale value in most cases.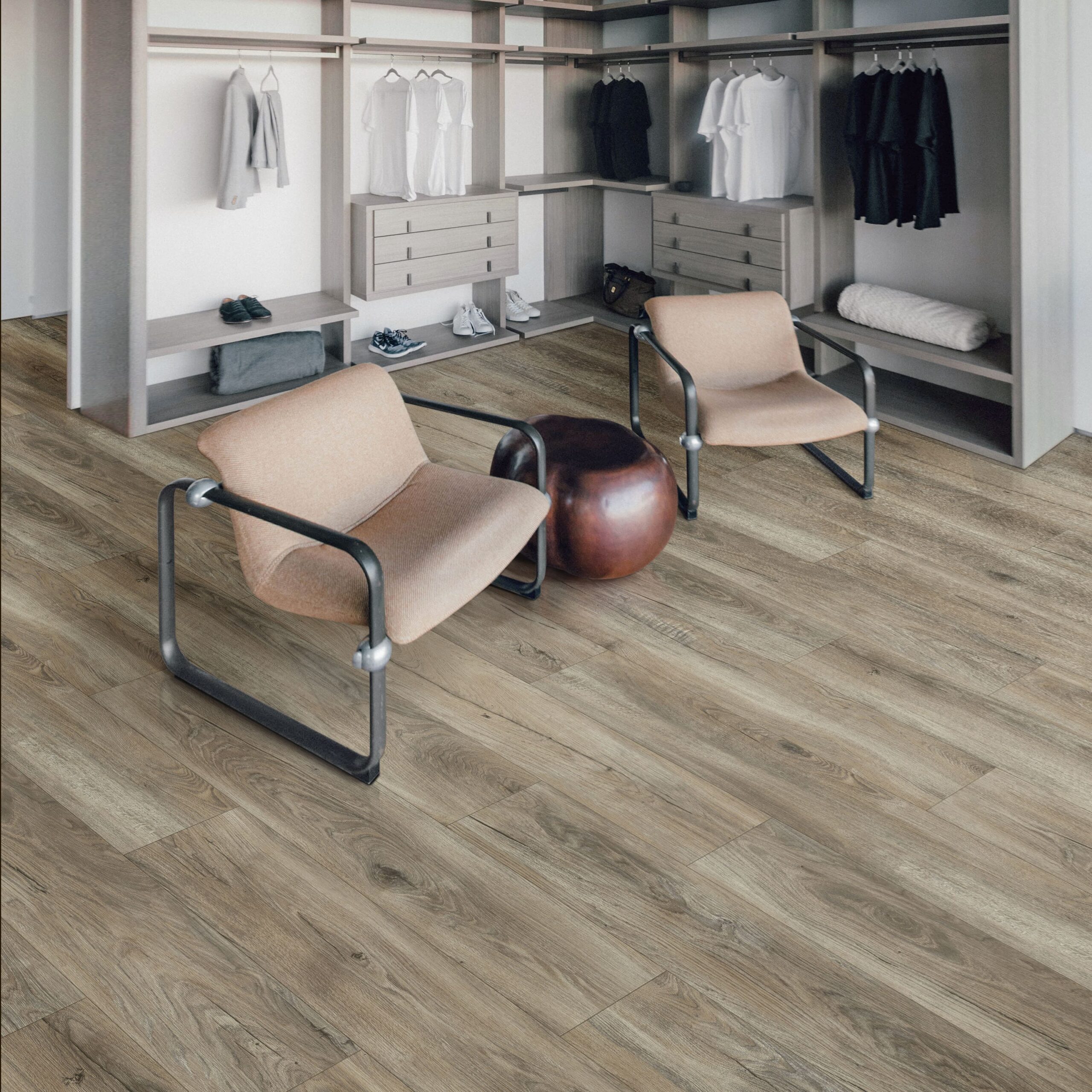 6. Comfort
While engineered hardwood isn't nearly as soft and plush as carpet, it's still comfier to walk on than harder, colder materials like tile. You can also complement hardwood flooring with a soft area rug for added underfoot comfort.
Similarly, SPC flooring does sacrifice some comfort for durability. Luckily, you can use a cushioned bottom layer for added support, as well as area rugs.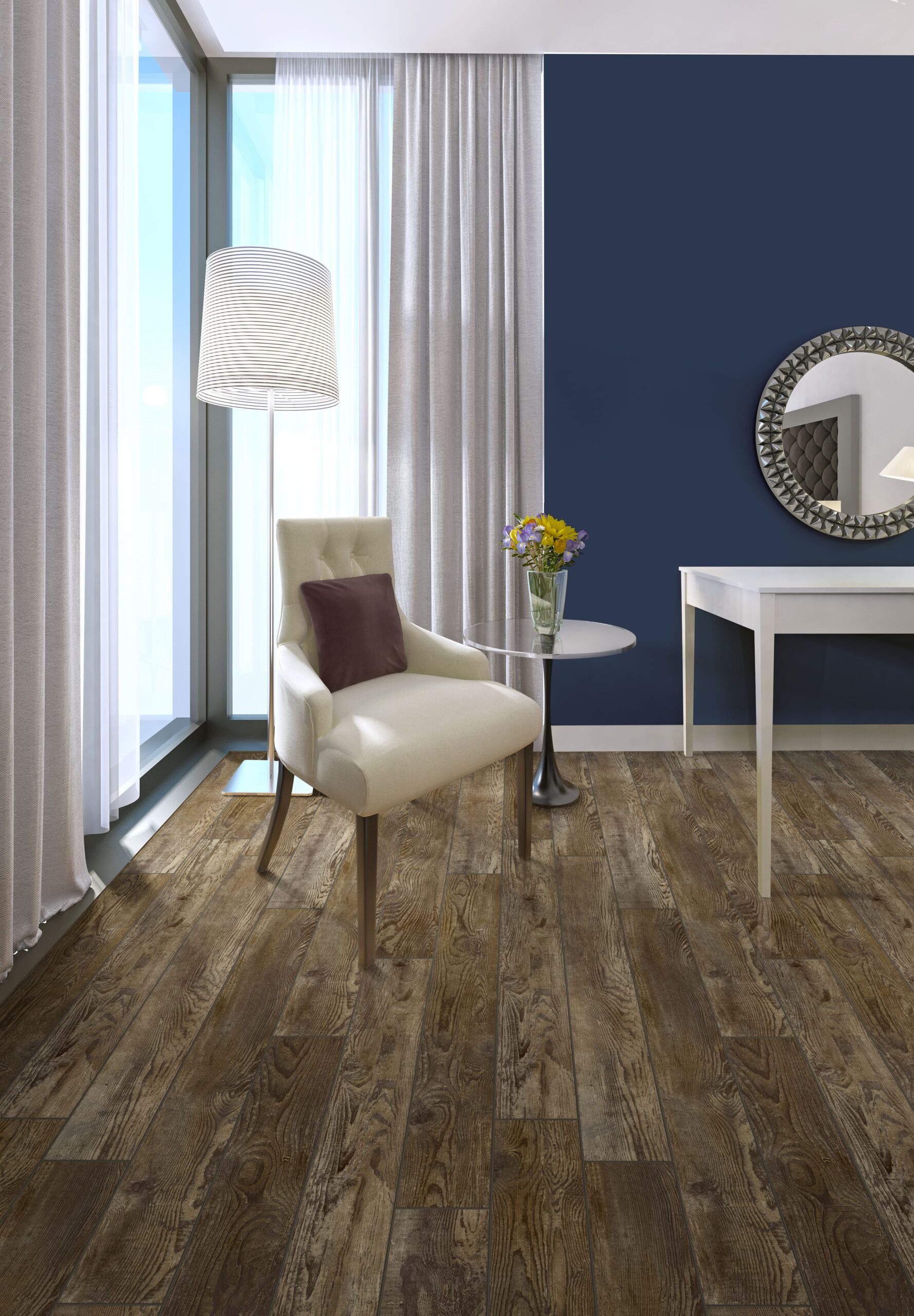 7. Rooms
Because SPC flooring is waterproof and can withstand humidity and temperature fluctuations, it can be a great choice for high-moisture areas, such as:
Basements
Bathrooms
Kitchens
Laundry rooms
Mudrooms
While engineered hardwood is more moisture-resistant than solid hardwood, it's not waterproof and can be sensitive to extreme moisture and temperature shifts. That being said, engineered hardwood may be better suited for the following rooms:
Bedrooms
Entryways
Living rooms
Offices
Remember that too much sunlight exposure can damage both SPC and engineered hardwood, as ultraviolet rays can cause them to fade over time. We don't recommend installing these materials in sunrooms and greenhouses unless the room has some type of climate control. If you're installing hardwood or SPC flooring in a room with multiple windows, try to pull your blinds or curtains shut when possible to prevent excessive sunlight and heat.