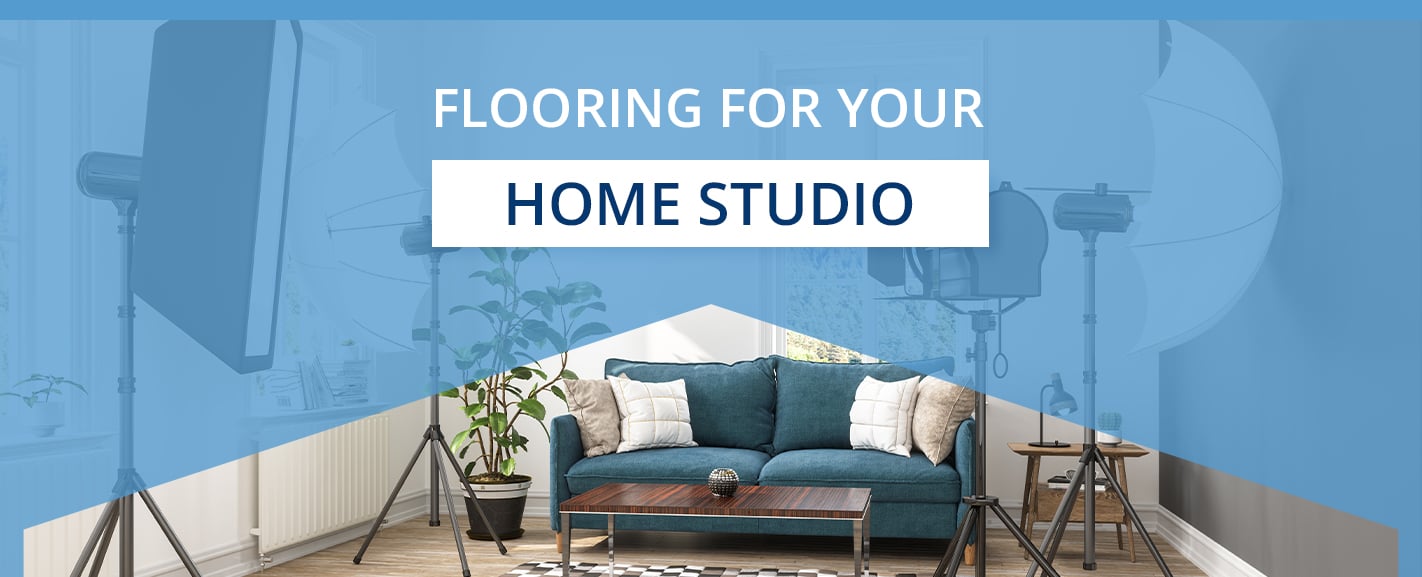 With so many options available, choosing the perfect flooring for your home studio is easier when you have inside information. Each kind of flooring has distinct advantages when you're concerned with acoustics and noise insulation. Some are easier to install, whereas others make the best flooring options for soundproofing.
Whether your home studio is where you make music or record videos, having a relatively soundproof flooring with a hard surface is ideal for working with an even sound distribution. Learn more about the best types of flooring for recording studios to decide what's best for your space.
Best Music Recording Studio Flooring
Flooring installed for a recording studio should be firm and resolute rather than soft and plush. Carpet is generally the least desirable option for a studio because of its tendency to only absorb higher frequencies, reflecting lower sound waves and resulting in poor recording quality. You have plenty of great options for flooring, barring carpet. Below are some of the most popular qualities for recording studio flooring:
Has a vibration and density that enhances sound quality rather than detracting from it
Insulates the floor to keep musical notes or singing from escaping to a below room
Makes cleaning up quicker and easier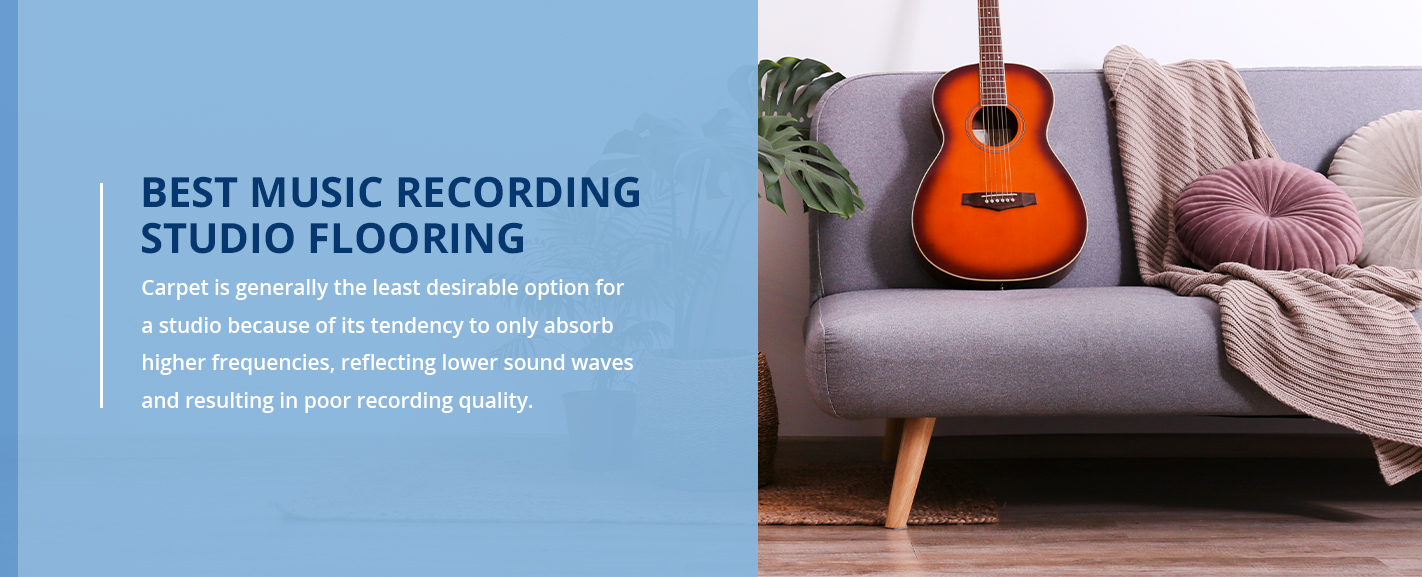 Best Video Recording Studio Flooring
When considering the best flooring options for an at-home video recording studio, your choices are going to be similar to those for a music recording studio. However, if you will be regularly working with heavy equipment or doing skits using a green screen, we recommend selecting a resilient flooring such as laminate. If you prefer hardwood, consider extending the floor's longevity by protecting it with area rugs.
In addition to soundproofing your studio room, you will want to lay a durable floor with an appealing aesthetic for your viewers if the floor will ever be in frame. You should also select a neutral and timeless floor that will pair with any color scheme should you choose to redesign your filming room over time.
Take Our Quiz to Find Your Flooring Style
Flooring Selection Tips for Your Home Studio
Whether you're in need of flooring as an influencer or have an audio recording facility to outfit, follow a few flooring selection tips to help make your decision:
Evaluate the space's purpose: Perhaps your home studio is in your basement or doubles as your home office. If this space serves more than one purpose, keep that in mind as you select the flooring. You might want something even more durable or versatile.
Stop sound from coming in: Minimizing external noise is just as important in soundproofing your studio room as it is to limit the internal noise leaking out. If your studio is above other rooms, soundproofing underlayment can help keep outside sounds from coming in.
Protect your floors: Lay area rugs where you place any sound, light or camera equipment to shield your floor from scratches. Even scratch-resistant floors can be damaged with excessive use.
Consider your style: Utility doesn't have to be the only concern for your recording studio. Think about the rest of your room's style and your personal tastes to get a floor you'll be happy with.
Flooring Options for Your Home Studio
When designing a filming or audio recording room, weigh your flooring options from those on this list:
1. Vinyl Flooring
Vinyl laid over concrete serves as one of the best flooring options for a music recording studio in particular. The dense concrete keeps the sound volume contained inside the room while limiting outside noise.
If your studio is up on a second floor, you can have concrete poured over the wooden plank subfloor beneath your current flooring, and then the vinyl can be installed on top. Pouring concrete over a wooden subfloor adds another layer of insulation and is one technique contractors used to improve the evenness of a floor as preparation for laying a floating floor or vinyl.
Vinyl may be the most cost-effective option available, and a luxury variety can look similar to laminate or hardwood while offering vinyl's exclusive indestructibility and other special features. Luxury vinyl options can cost as much as laminate, depending on where and what you buy. When vinyl gets scratched, the damaged piece can be peeled up and quickly replaced without disturbing the rest of the floor.
The pros of vinyl flooring for a home studio include:
Affordability
Easy installation
Replaceable planks or tiles
Resilience to scratching, chipping, cracking and water
Durability to pressure and high traffic
Ease of cleaning and care
Sound insulation qualities
Consider that vinyl flooring may not add as much value to your home as other options, though luxury versions and their pros make it worthwhile.
2. Laminate Flooring
Laminate is designed to look and feel like genuine hardwood, and when floated over a concrete base, it offers similar benefits to hardwood in a recording studio. Although laminate has an upfront cost a bit higher than vinyl, it is well worth it.
With a variety of appearances to choose from, laminate offers a muted color and a quality texture to suit any theme. Laminate has become a popular choice as a hard floor and is designed to feel comfortable and easy to walk on.
Many laminate floors are spill-proof or feature extended durability. Even laminate floors labeled to be scratch-resistant must be treated with care when you're moving heavy objects around, however. Area rugs look nice over laminate and can protect the surface from recording equipment.
The benefits of laminate flooring for your studio include:
Durability
Sound insulation qualities
Ease of maintenance
Simple installation
Resistance to trapping allergens
3. Tile Flooring
Like hardwood and other solid flooring options, tile is a hard floor that's suitable for recording studios. Tile comes in a variety of sizes, styles, patterns and colors, making it ideal for anyone with unique tastes. Tile is also ideal for high-traffic areas, making it a perfect choice if you have a team working in your recording studio or if it serves other purposes.
If you do select tile for your recording space, be sure to treat the rest of the room appropriately. Add absorbing and diffusing elements on the walls and ceilings to help find the right balance. With that, you can then enjoy the pros of tiles, like:
Durability
Longevity
Ease of maintenance
A range of material options
4. Hardwood Flooring
In addition to adding a beautiful, classic aesthetic to a room, hardwood provides excellent acoustic properties and is sought after for its value and appealing look. Hardwood can be installed over the substrate by either nailing or stapling its planks to the subfloor. It can also be installed as a floating floor over concrete. Many music shops and professional recording studios have premium hardwood flooring.
This flooring option is a common choice for studios because it reflects frequencies. Carpet and soft materials absorb high frequencies, altering the quality of your acoustics. You can get more consistent results with a harder material like wood.
Hardwood floors are stylish and versatile, perfect if your room serves other functions or won't be a recording studio for long. Other pros include:
Added value to your home
Lasting durability
Availability in a variety of woods
Ability to be stained different colors
Aesthetic quality
Keep in mind that hardwood can come at a higher cost than other options, though it ultimately will enhance your home's value. It may also take a bit longer to install, but the benefits will be worth the extra time.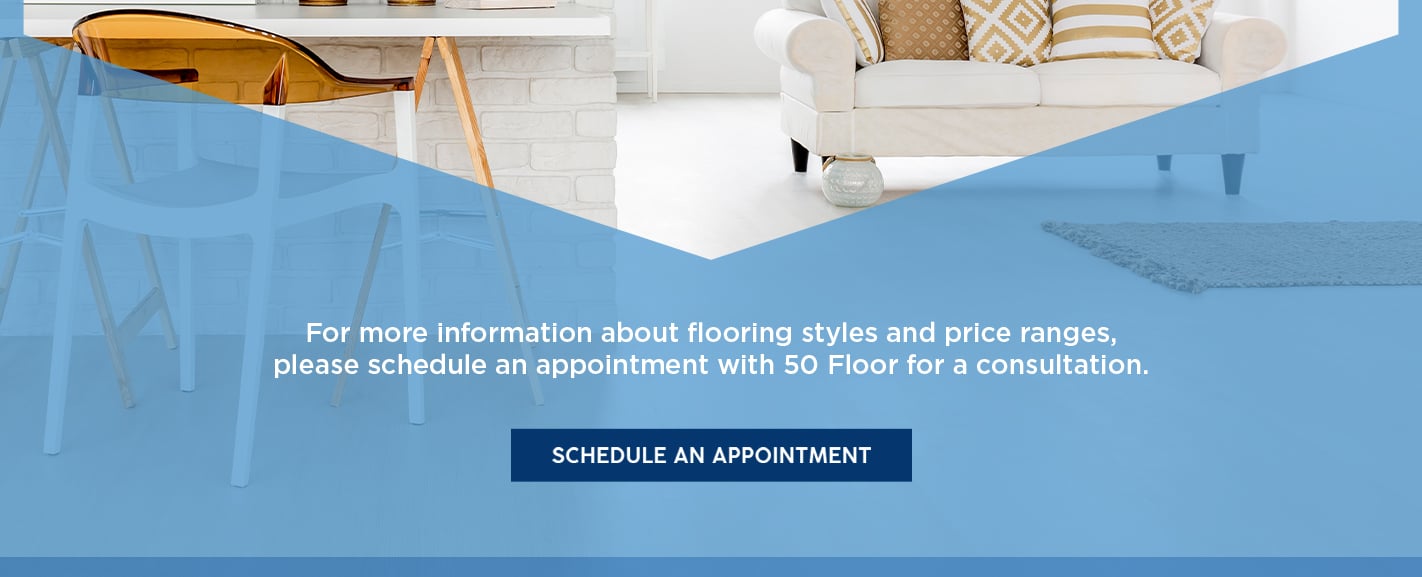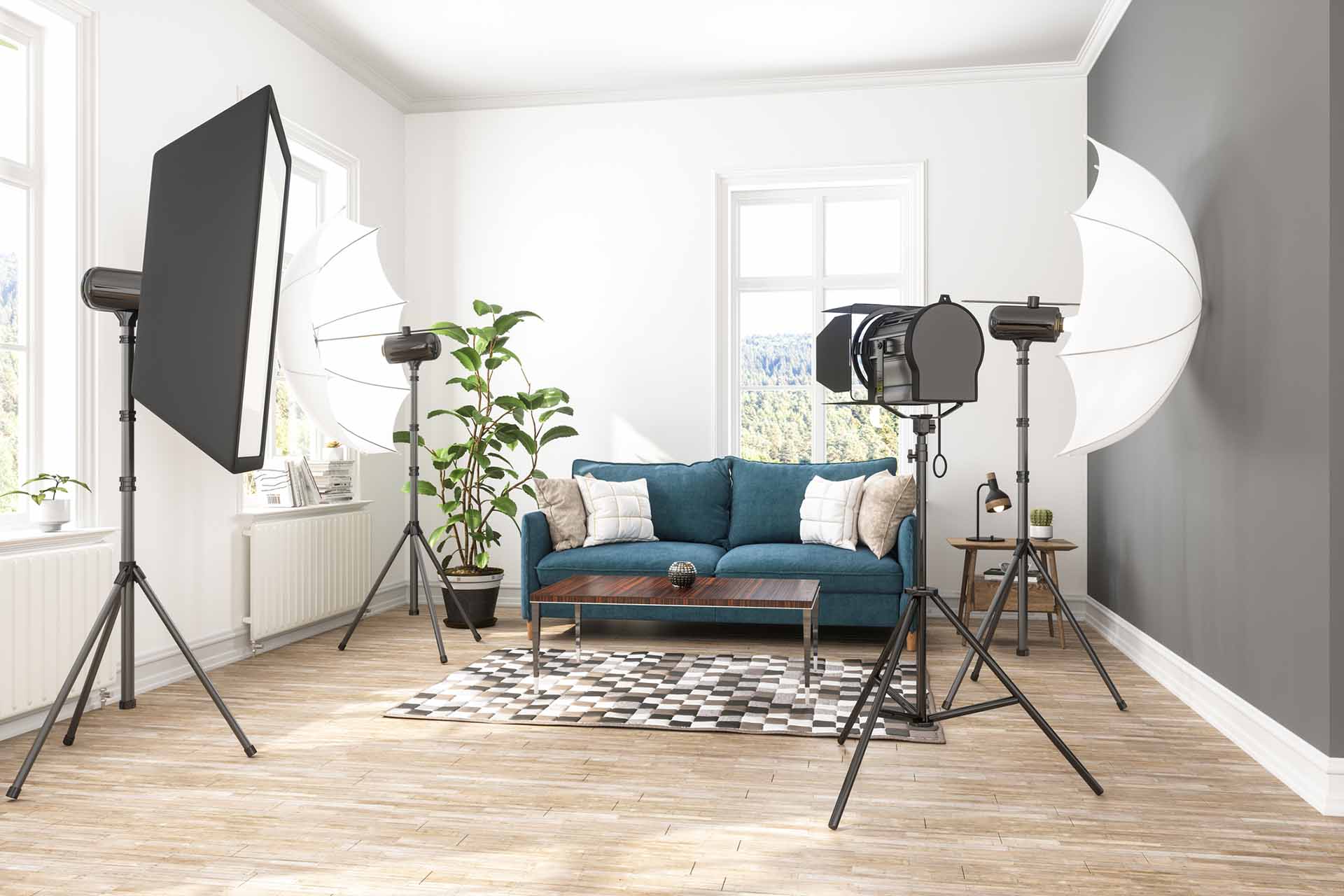 Contact 50 Floor for an In-Home Consultation
If you want to install the perfect new floor for your home studio, our flooring professionals are available to make sure the work is done correctly and efficiently. You may need help making a final decision. We can provide samples of flooring for you to look at in your home studio, giving you a preview of what the finished floor would look like in your space.
For more information about flooring styles and price ranges, please schedule an appointment with 50 Floor for a consultation.