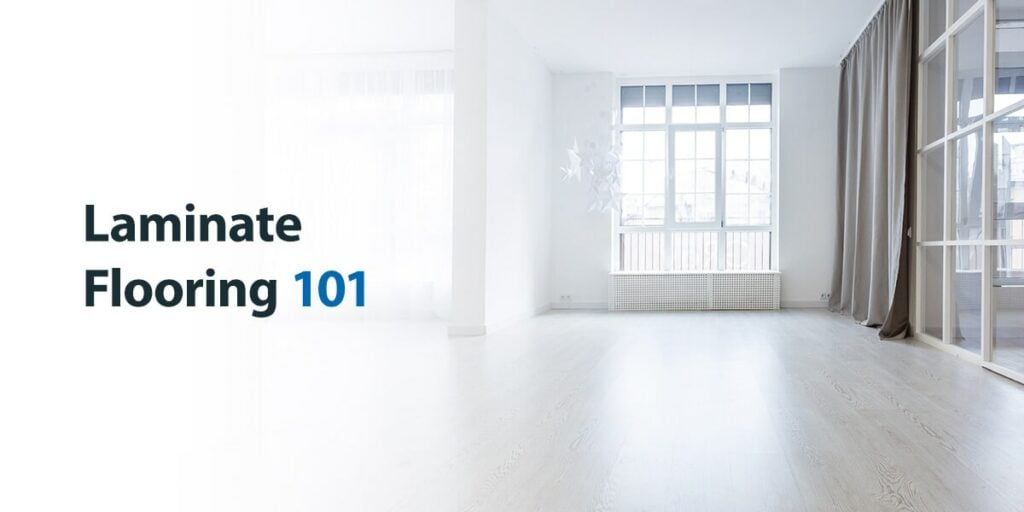 Are you wondering where to buy laminate flooring or how to install it? Maybe you're looking to redo your floors but don't know where to start. Either way, if you're interested in learning more about laminate flooring, our 101 guide is here to help. Below is all of the essential information you need before starting your floor remodel.
What Is Laminate Flooring?
Laminate flooring is a synthetic composite flooring with layers fused together to form a tough and durable surface. It's highly resistant to wear and tear, moisture, fading and stains. The synthetic construction of laminate allows it to be printed in various styles — you can get laminate that mimics wood, stone, tile and other materials. This enables you to get durable, natural-looking flooring at an affordable price.
What Is Laminate Floor Made of?
Laminate flooring is made of four synthetic layers of material, each with a different purpose. This four-layer synthetic construction makes laminate extremely strong, water-resistant and versatile. Each layer serves a unique purpose, allowing the laminate to remain strong while imitating many other flooring materials.
The four layers that make up laminate flooring are:
Back layer: This layer helps provide structure and moisture resistance. A melamine reinforcement helps keep the back layer solid and sturdy.
Fiberboard core: The fiberboard layer reinforces the laminate's stability and helps with impact resistance. Along with a solid coreboard center, this layer is treated with an edge sealer to improve the durability and strength of the laminate.
Decorative layer: The decorative layer has a detailed, printed photo that gives laminate its appearance. Laminate features various cosmetic options so that homeowners can achieve the flooring design they want for a more affordable price.
Wear layer: This is the top layer of laminate flooring. Aluminum oxide and melamine give the laminate a wear-resistant, clear finish that stands up to hard fading, stains and wear and tear.
Is Laminate Flooring Good?
Laminate flooring is a good choice for homeowners looking to install durable, wear-resistant floors at an affordable price. Since laminate can mimic the look of other flooring materials, it's ideal for anyone who wants a wood, stone or tile floor without the cost and extra maintenance. Laminate is perfect for your home if you need strong, tough flooring.
Getting a higher-quality laminate will help improve the look and durability of your laminate floors. You can identify quality laminate by its overall thickness and the thickness of the wear layer. The thicker the wear layer and the higher its abrasion class (AC) rating, the more durable the laminate is. Look for thicker laminate and wear layers for a better, higher-quality laminate floor.
For a quality, tough laminate, look for a thickness between 6 millimeters and 12 millimeters. This range is the best thickness for laminate flooring because it ensures the laminate has the maximum strength and impact resistance. Good laminate flooring should be thick enough to stay protected from impact for several years.
Features of Laminate Flooring
Laminate flooring has many features that make it an excellent flooring option for your home. With stronger, more protective features, you can install excellent laminate flooring that will stand up to regular use for years. Some of the best laminate features include:
AC rating: As mentioned above, the AC rating determines the wear layer's durability. The more traffic your home sees, the higher the laminate's AC rating should be. AC3-rated laminate is the most durable residential laminate. If your home sees high amounts of foot traffic, this is an excellent flooring rating to pick. Rooms with moderate traffic should have AC2 flooring, while rooms with light traffic should have AC1 floors.
Width: Laminate comes in a variety of widths. Choose a width that makes your room look larger and more sophisticated. Different widths can change the look and feel of a space.
Finish: There are dozens of finish options for laminate. Select a wood-look finish like oak, cherry, pine or maple, or choose a stone or tile finish. Some laminates also have texture options — select embossed, smooth or glossy laminate to get the look you want.
Waterproof: Advances in technology have led to the creation of waterproof laminate. This laminate is highly scratch- and dent-resistant, making it stronger than ever. Regular laminate is not waterproof, but unique water-resistant technology means waterproof laminate can stand up to moisture with ease.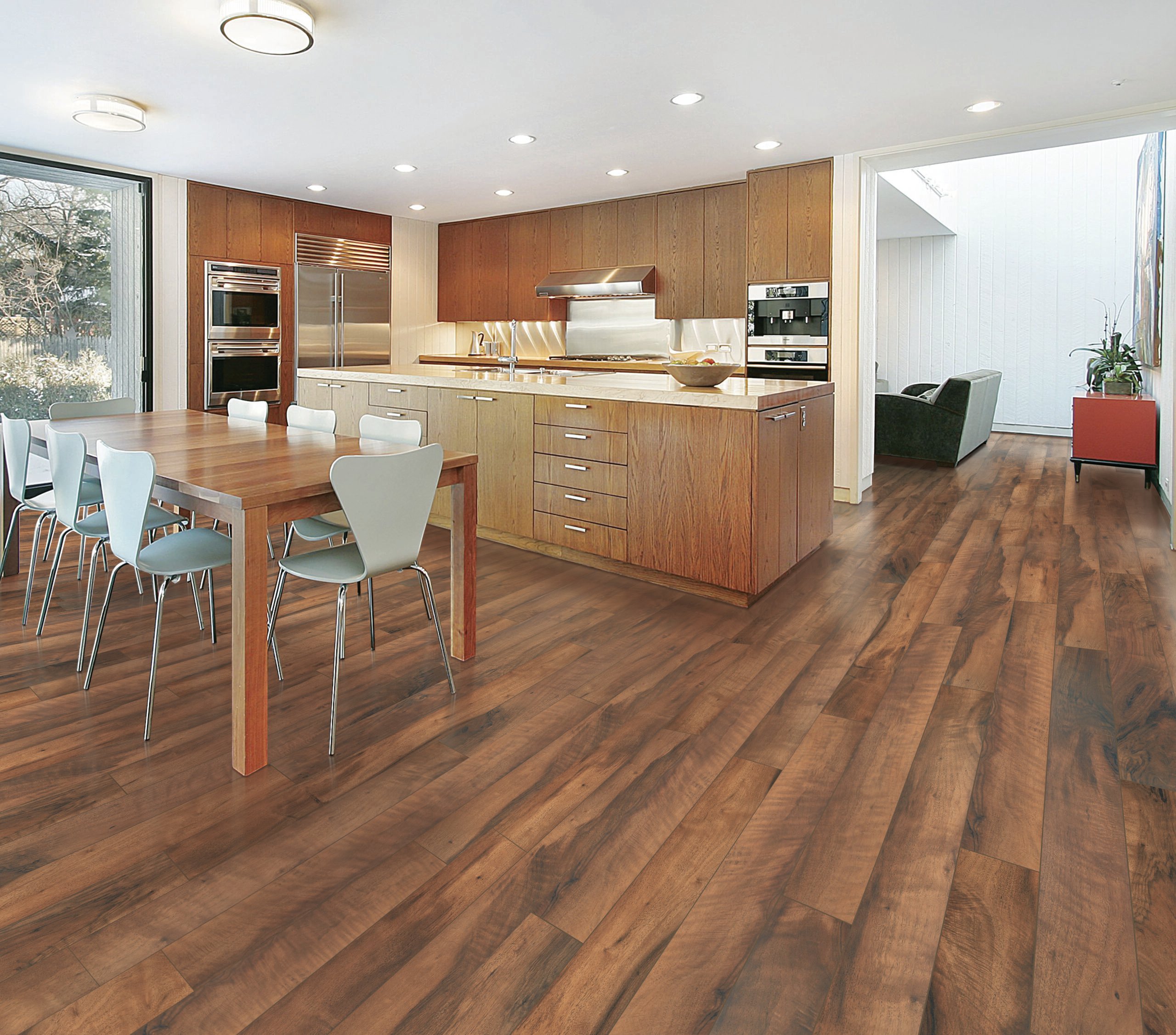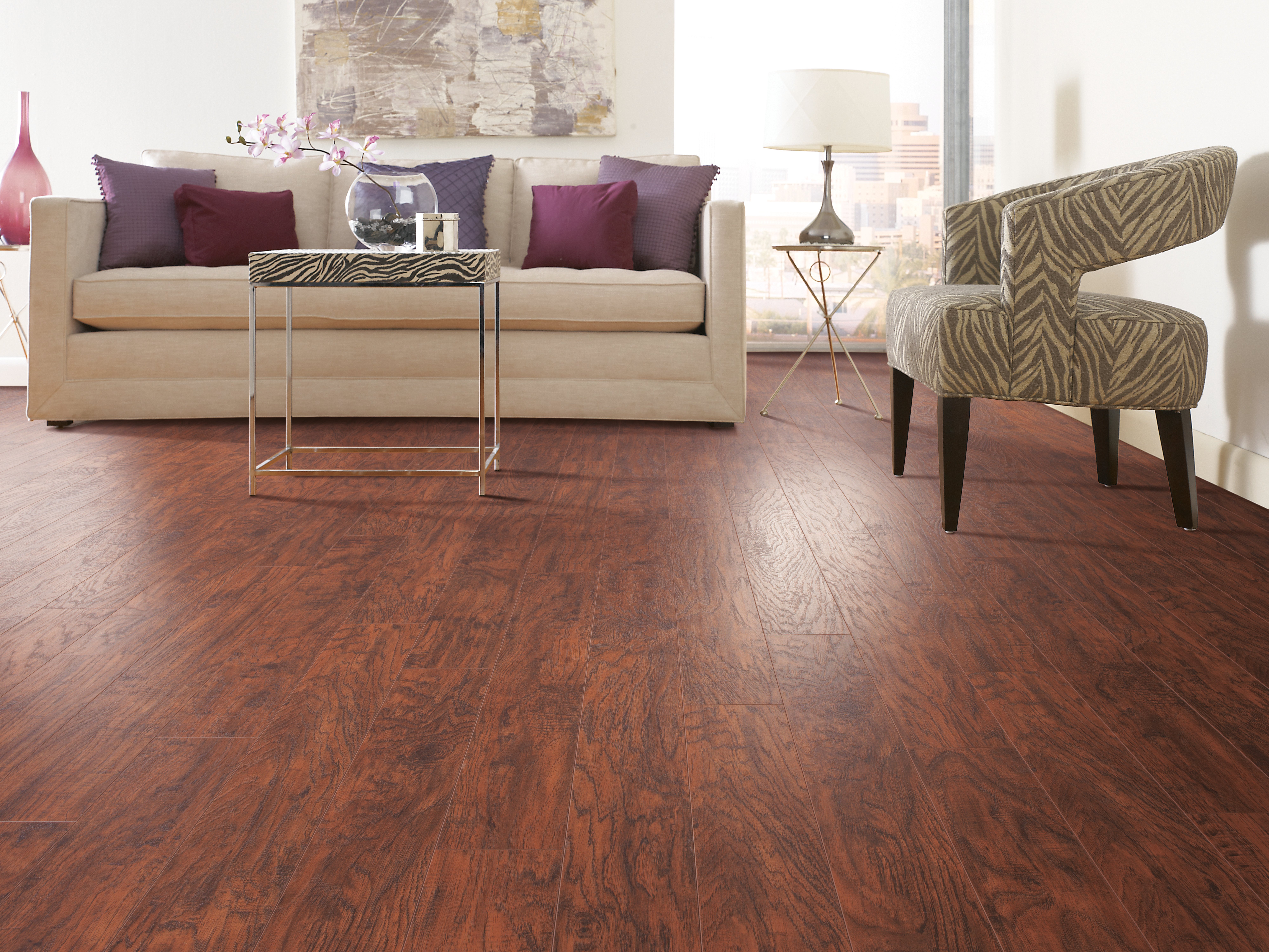 Pros and Cons of Laminate Flooring
Before selecting a flooring material, you'll want to think carefully about what you do and don't want in a floor. There are many benefits to laminate flooring, making it a great option for most homes. Still, let's look at some laminate pros and cons so that you can make an informed decision:
Pros
Here are some of the benefits of laminate flooring:
Affordable: Laminate is one of the most affordable flooring options. Even higher-quality laminate is less expensive than natural options like wood and stone. It's a cost-effective flooring for anyone looking to refloor on a budget.
Allergen-resistant: With no cloth fibers, laminate won't attract dust and allergens. You can quickly sweep up any irritating dirt and debris, making your home a comfortable place for anyone with allergies.
Easy care: Unlike other flooring materials, laminate doesn't need refinishing, rebuffing or extra care. Because it's so durable, you can simply sweep and mop your laminate floor whenever you think it needs it.
Durable: The synthetic components and strong layering make laminate incredibly durable. The high heat and pressure used to create laminate make it resistant to wear and tear, so it can stand up to years of heavy use easily.
Versatile: The many laminate looks, textures, widths and features make it easy to integrate with your existing home design. You can customize your laminate flooring to complement your home without sacrificing any of the needed features.
Water-resistant: Thanks to its aluminum oxide coating, even standard laminate is water-resistant. This helps protect your subfloors from water damage and gives you a robust and firm floor year-round. Upgrading to waterproof laminate will make your floors even tougher and safeguard your home against water.
Cons
There are a few drawbacks to laminate flooring, including:
Hard: Laminate's durability also makes it a hard, more uncomfortable flooring. Its surface might not give your feet the best support, and it can be too slick for pets to grip on.
Refinishing: Unlike hardwood, you can't refinish laminate. This means you have to replace your laminate if it's damaged instead of simply refinishing it. It's relatively easy to replace laminate sections, but you can't restore a damaged laminate like you can with hardwood.
How Long Does Laminate Flooring Last?
Laminate flooring typically lasts 15 to 25 years. Specifically, installation largely affects how long your floors last. Without sound installation, your floors won't hold up well, and you might have gaps that let water into the subfloor. Always use a professional installation company to give your floors the best installation and the most extended life.
While all flooring will need replacing eventually, you can make sure you get the most life out of your floors by maintaining them and investing in quality products.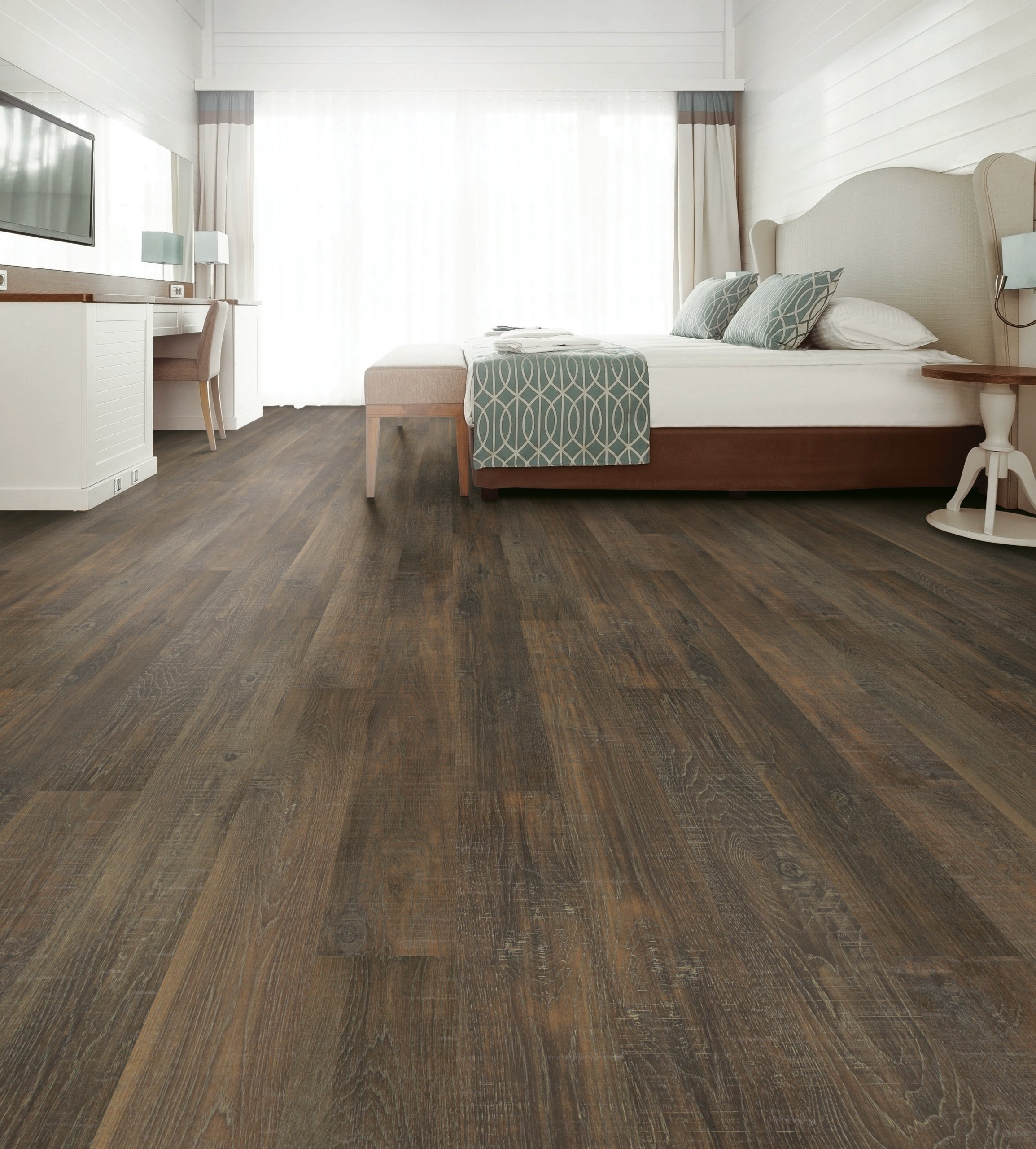 Types and Styles of Laminate Flooring
At 50 Floor, we offer several finishes, textures, sizes and types of laminate to ensure you find the right laminate look for your home.
Types of Laminate Flooring
Here are the two main types of laminate flooring:
Normal: This laminate is your standard, water-resistant laminate flooring. It isn't waterproof, but it does resist some moisture. Standard laminate is exceptionally durable and wear-resistant, making it great for dry rooms.
Waterproof: This is a more expensive laminate, but it has waterproof protection and even better scratch and dent resistance. Since water won't penetrate this floor, you can use it in every room of your house, even high-moisture areas like bathrooms.
Styles of Laminate Flooring
You can choose from any number of finishes, styles and looks with laminate flooring options. Laminate flooring can look like many natural or tile floors depending on your preferred style.
50 Floor offers a variety of wood-look styles that will bring the warmth of natural wood to your home without sacrificing durability or water resistance.
For a stylish bathroom, consider getting a stone- or tile-look laminate that complements your existing design.
Play with finishes and designs to find the right flooring style.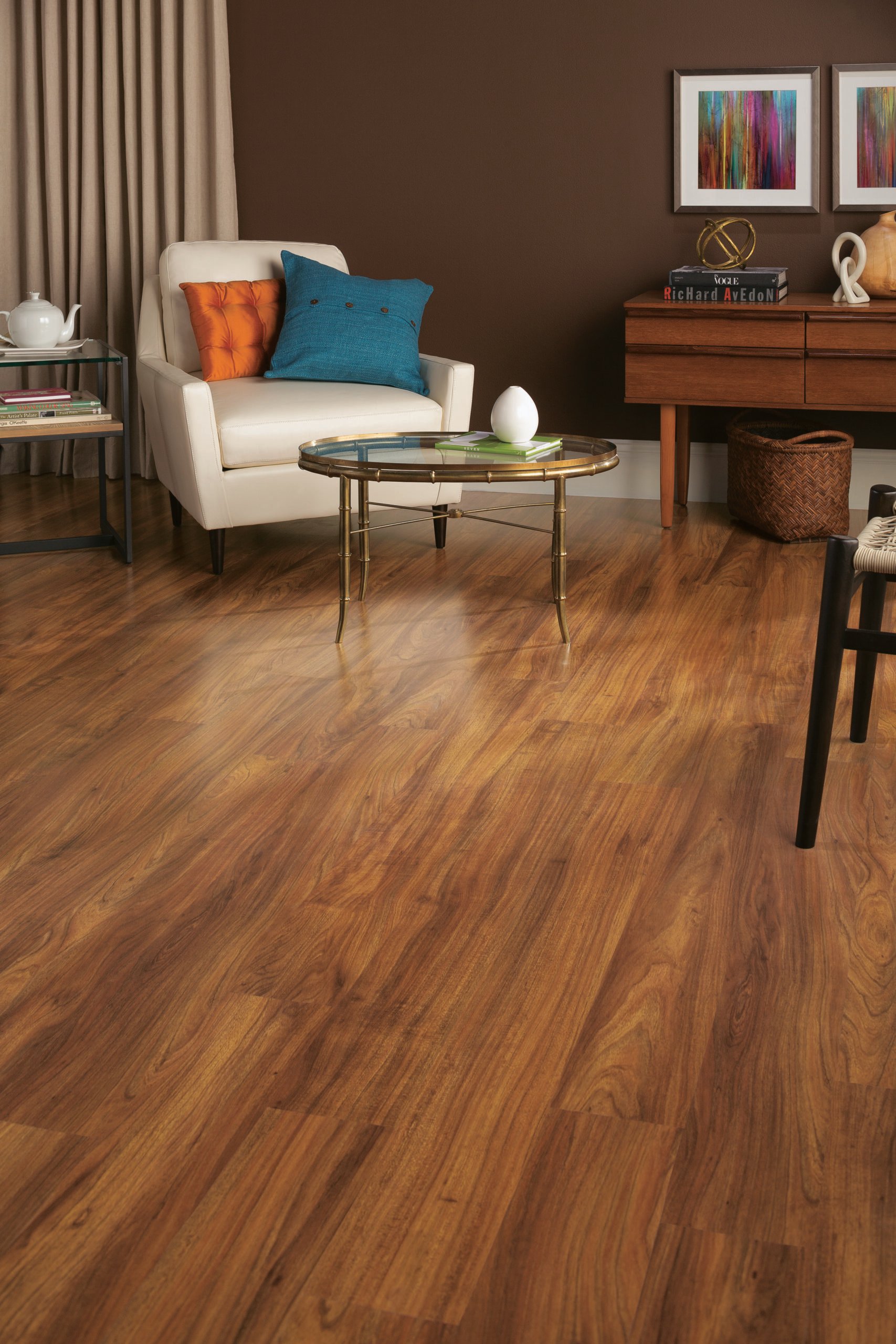 How to Choose Laminate Flooring
With so many options, finding laminate flooring for your home might seem challenging. Here are some of the things you should consider when choosing laminate floors:
Type: Do you want standard or waterproof laminate flooring? Depending on your needs and budget, you might want to get standard laminate for most of your rooms. You might also want to invest in a waterproof laminate for better waterproofing, durability and toughness.
Room: The room you're reflooring will affect the laminate you pick. Depending on a room's size, look and function, you might choose a different laminate to ensure you get the most out of it. For example, choosing a lighter color or broader planks can make smaller rooms look bigger.
Design: Try picking a laminate that complements your existing home design. Pick colors that work with your house's interior and use your home decor to find laminate flooring that makes sense in your space. Choose cool tones to make a space feel larger and warm tones to add life to your rooms.
Budget: Always consider your budget when shopping for flooring. While you might want to get the lowest-priced flooring at first, choosing slightly more expensive flooring will give you longer-lasting, more durable floors. Laminate flooring prices will change depending on type, finish, room size and more, so talk to your flooring company about options that work with your budget and home.
How to Match Laminate Flooring
Matching new flooring to old, faded flooring can be difficult. While looking at laminate flooring images might help you get some idea of what color you need, your best option is to compare actual laminate samples. 50 Floor brings samples to your home so you can match them in person to get the most accurate flooring possible.
If you don't mind having flooring that isn't an exact match, consider revamping your floors with a laminate that complements your existing floors instead. You can play with contrasting colors or similar tones to create attractive floor designs that elevate the look of your home.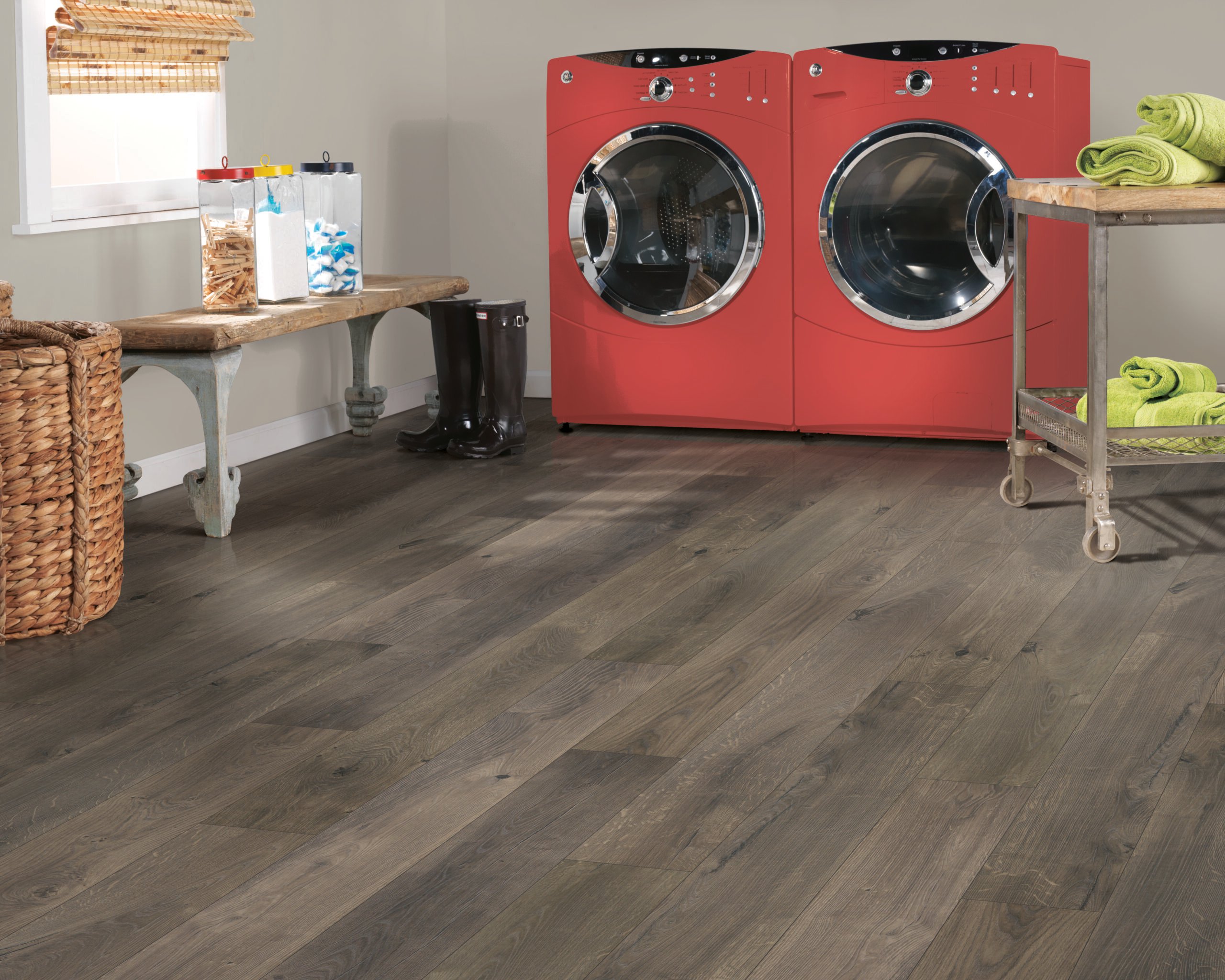 How to Install Laminate Flooring
Laminate is a floating floor style, which means it doesn't get installed directly on the subfloor. After an underlayment is installed, the laminate is attached to the other planks or tiles with a tongue and groove design. This allows it to stay securely sealed in place without adhering to the subfloor.
Always use a professional installer to ensure you get the highest-quality, longest-lasting laminate floor. At 50 Floor, we work closely with you through every step of the selection and installation process, so you know you're receiving the best flooring work possible. After you select your laminate flooring, we'll set up an installation date so you can get your new floors as soon as possible.
Our team will arrive at your house on the scheduled day of installation. They'll go over payment, flooring material and installation rooms to confirm all the details of your installation are correct. After this, you'll receive a timeline, so you know when to expect the completed work. Once your new floors are installed, you'll get a care guide to help you maintain your floors and keep them in top condition.
Laminate Flooring Care
Proper care and maintenance are essential to keeping your floors looking like new. Once your floors are installed, you can consult your care guide to learn how to maintain your laminate floors best.
General laminate care is much easier than carpet or wood — you don't need special machines for deep cleaning or refinishing every few years. Laminate is durable and stain-resistant, so you just need to sweep and mop whenever the floors look or feel dirty. Regularly sweep your floors to remove dust and gently mop to remove any stains or deeper grime.
To protect the laminate's surface, avoid dragging furniture or sharp objects across it. Take your shoes off inside to prevent scuff marks, and place mats at entrances to catch snow, mud or dirt that's tracked in. These simple steps will help keep your laminate looking great for years.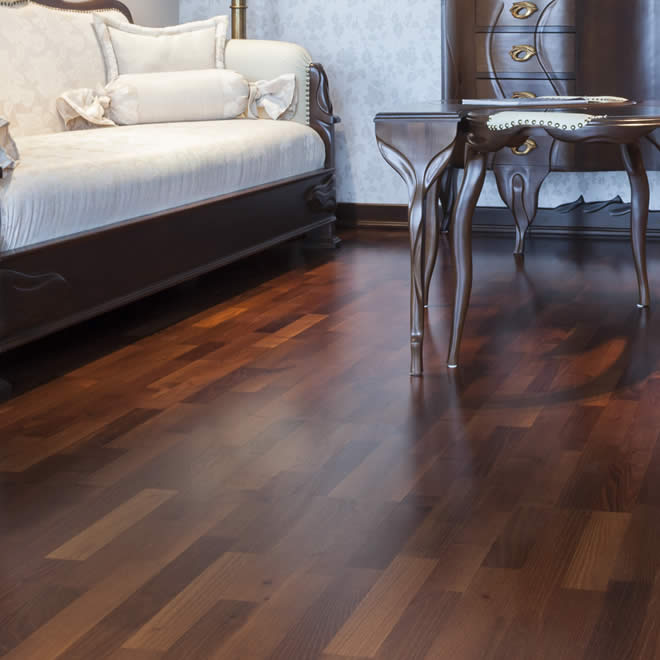 Shop 50 Floor for Laminate Flooring and Installation
Now that you have the basics down, where can you buy laminate flooring? At 50 Floor, we carry high-quality laminate styles to help provide stylish, durable flooring for your home. You can check out floor samples from the comfort of your own home with our convenient at-home floor sampling. We'll bring the samples to you so you can match and compare them in person, giving you a better idea of what they'll look like once installed in your home.
Explore our superior-quality laminate flooring and find the best laminate styles, features and options for your home. If you're ready to get started reflooring your home, schedule an appointment with us today!