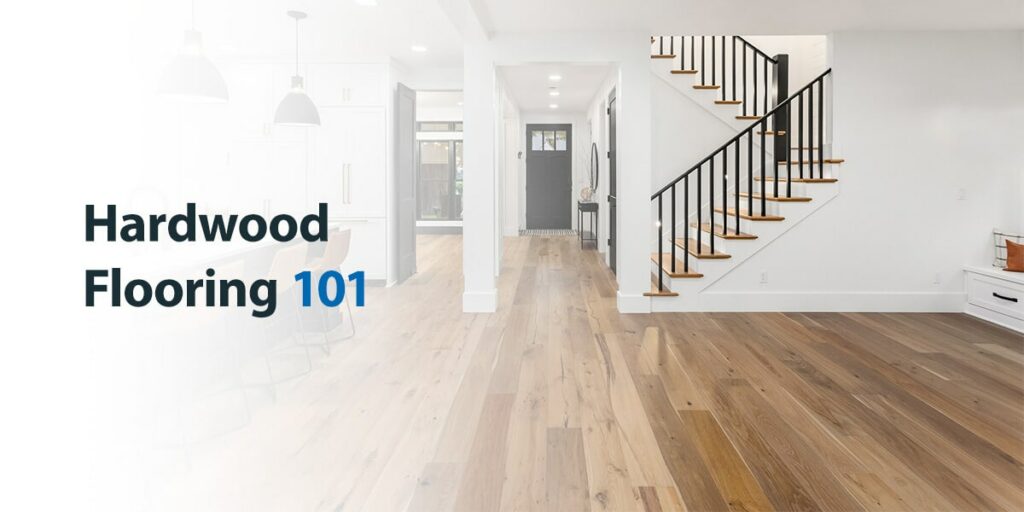 If you're looking for a new floor, consider elevating your home with hardwood flooring. Hardwood is a timeless, versatile material ideal for any homeowner looking to add value and warmth to their space.
Interested in hardwood floors? Our 101 guide has everything you need to know. Check out this article for all the basics on how to choose hardwood flooring, how to clean it and more.
What Is Hardwood Flooring?
Hardwood flooring is made from solid hardwood. Solid hardwood flooring is built from dense, slow-growing tree species, making it a durable, long-lasting flooring material. This material is made from natural wood species. In comparison, engineered hardwood is a hardwood composite flooring made from several thin layers of hardwood pressed together on top of high-quality plywood.
Different species give you a variety of rich, deep colors, and you can select your finishes, styles and sizes to customize hardwood floors to your tastes. The natural warmth of wood and its wide range of species has made it a timeless, popular choice for home floors. With hardwood flooring, you can pick an eco-friendly, strong material for your home.
Pros and Cons of Hardwood Flooring
Hardwood flooring is one of the most popular flooring materials. It comes in dozens of wood, cut, color and pattern options, making it ideal for homeowners looking to renovate and elevate their spaces.
Considering solid hardwood for your next floor? You'll need to weigh the costs and benefits of this excellent material. Every floor has its own needs, advantages and maintenance needs, so you should ensure the material is suitable for your home and lifestyle before making a decision.
Let's look at some of the pros and cons of hardwood flooring.
Pros
There are many benefits to having hardwood floors in your home:
Durability: Hardwood is exceptionally durable and will last you many years. With regular maintenance, you can expect to have the same hardwood floors the entire time you live in your home. Hardwood will withstand years of wear and tear with the proper care and will continue looking incredible the whole time you have it.
Classic look: Hardwood is a timeless, beautiful flooring material. The natural look and feel of wood give your home a warm, welcoming feeling that isn't easily replicated by other materials.
Maintenance: Wood is relatively simple to care for. With regular sweeping and mopping, you can easily remove dirt and debris from the wood. Refinish the floors every 10 years and keep the wood free from moisture and you'll ensure your floors are in great shape.
Allergen-reducing: Because wood doesn't have the plush, absorbent fibers of carpet, it won't trap irritating dust and allergens. This makes it an excellent option for anyone with allergies and respiratory conditions or pets.
Good investment: Because wood is so durable and timeless, it has one of the best returns on investments for homes. Having wood floors can help increase the value of your home.
Versatile: Wood comes in many colors, species, textures and pattern options. This makes it perfect for customizing — you can easily select a hardwood that perfectly complements your home.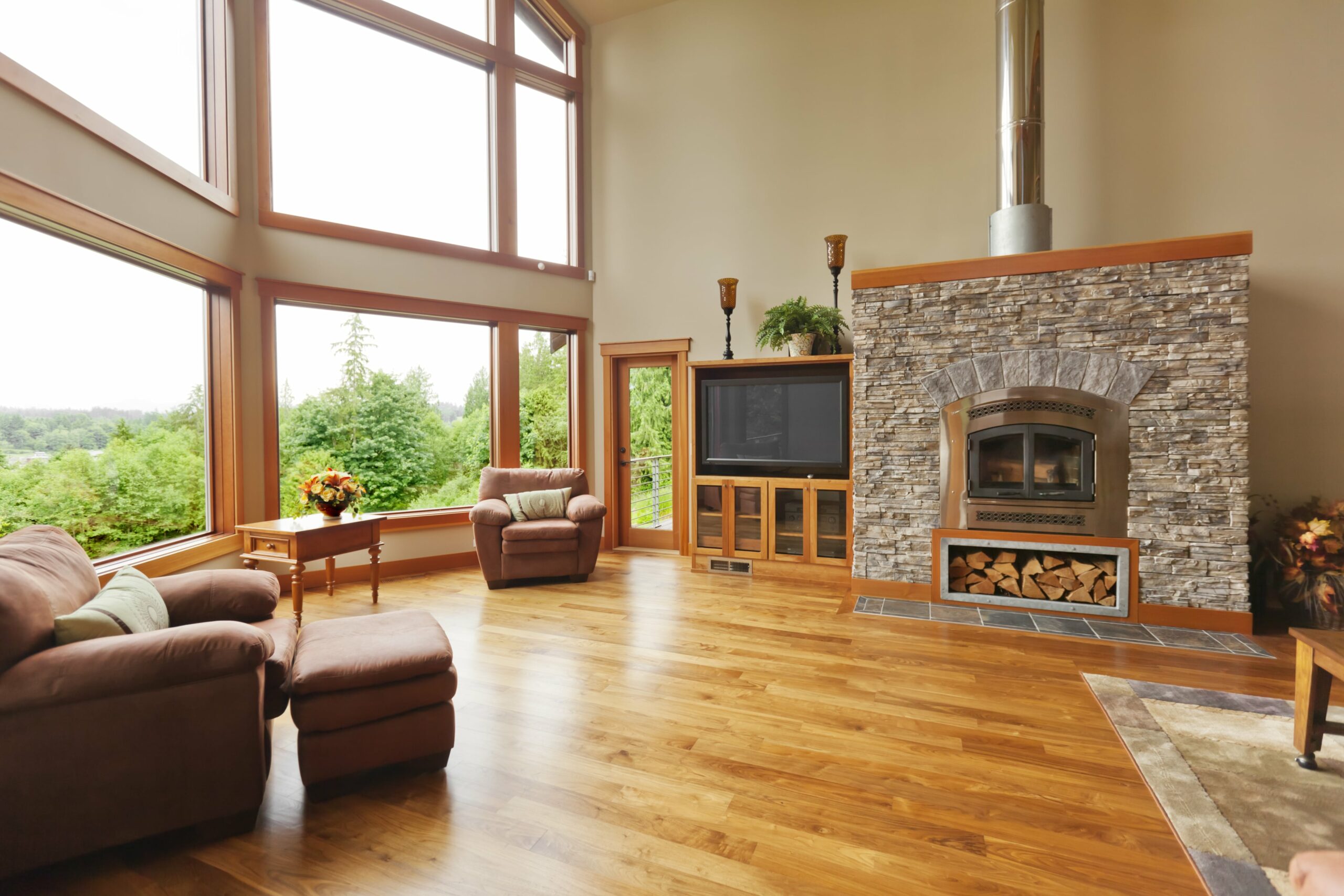 Cons
While hardwood floors offer numerous benefits, there are a few cons to consider before installing:
Moisture: Hardwood is susceptible to moisture damage. While a spill here and there isn't a big deal, over time, large amounts of water and moisture on your hardwood will cause warp and rot. Wipe up any spills quickly and keep your hardwood floors protected from moisture.
Cost: Hardwood floors have a higher upfront cost than many other flooring materials. Due to hardwood floors' solid, natural materials, they're more expensive to install. However, this higher upfront cost is balanced out by the higher return on investment and the long-lasting nature of hardwood.
Noise: Since hardwood is natural, it might creak or groan when you walk on it. Old wood floors are especially prone to creaking. You can reduce noise by filling gaps between the subfloor and joist or shimmying the subfloor and joists.
Surface damage: Over time, hardwood will become scratched and might have some gouges. This isn't a severe problem — these scratches will disappear when you refinish your floors. Protect your floors from scratches with rugs and avoid placing sharp objects on them.
Pet problems: The slick surface of hardwood might make it difficult for some pets to walk on. Older dogs especially can have difficulty getting up from hardwood floors since they can't get a grip on the smooth surface. Pet claws can also increase the amount of scratching your floors take on.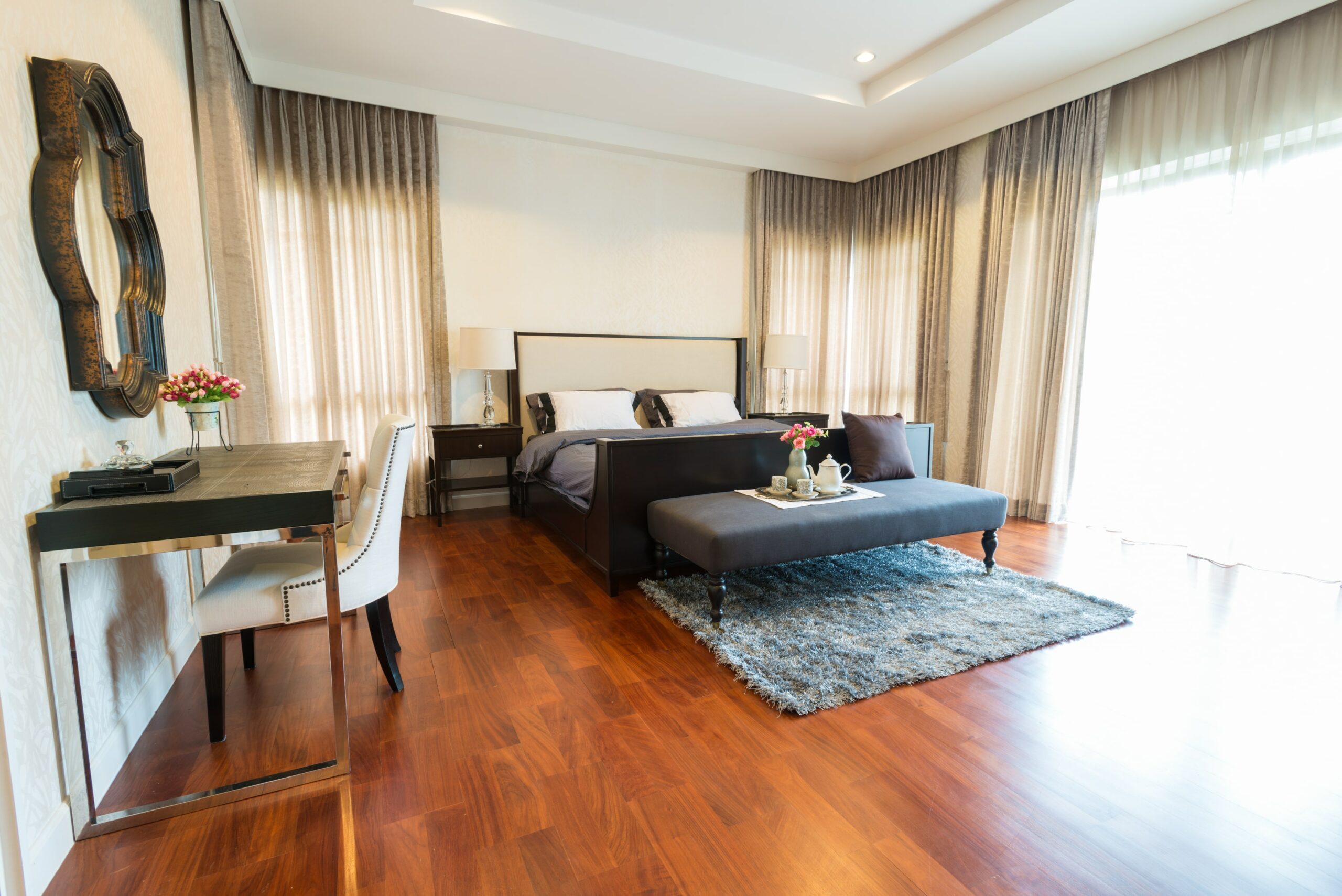 Types and Styles of Hardwood Flooring
There are dozens of different styles and types of hardwood flooring, making it a versatile material ideal for any home design. Talk to your flooring company about the best options for your home, budget and needs.
Types of Hardwood Flooring
With dozens of wood species available, you're sure to find the perfect hardwood for your home. Different species and constructions will complement your space in unique and stylish ways.
Classic wood: These are domestic woods available in various species, stains, grains and hardness. They include walnut, white oak, red oak, maple, cherry and birch.
Exotic wood: These are imported woods that are often more expensive than domestic woods. They're often tough and richly toned. Popular species include Brazilian cherry, black acacia and Australian cypress.
Engineered wood: This is a combination of hardwood plank bonded to high-quality plywood. More moisture-resistant than solid hardwood and less expensive. This wood is available in many of the same species as solid hardwood.
Styles of Hardwood Flooring
Your preferred style will reflect your design tastes and your home's existing look. Using different colors, patterns and plank sizes can easily elevate the look of a space.
Wide planks: Wider planks are more expensive, but they can help make a room look larger and more upscale.
Thin planks: Thin planks are a popular style — they're less expensive than wide planks and a classic wood floor style.
Patterned: Wood patterns like chevron, herringbone and random widths add an extra dimension to your floors. They enhance the space without needing extra rugs or colors.
Color: Wood color and stain can help complement your home's design. Bring out different emotions and draw the eye to the wood with your unique color or stain.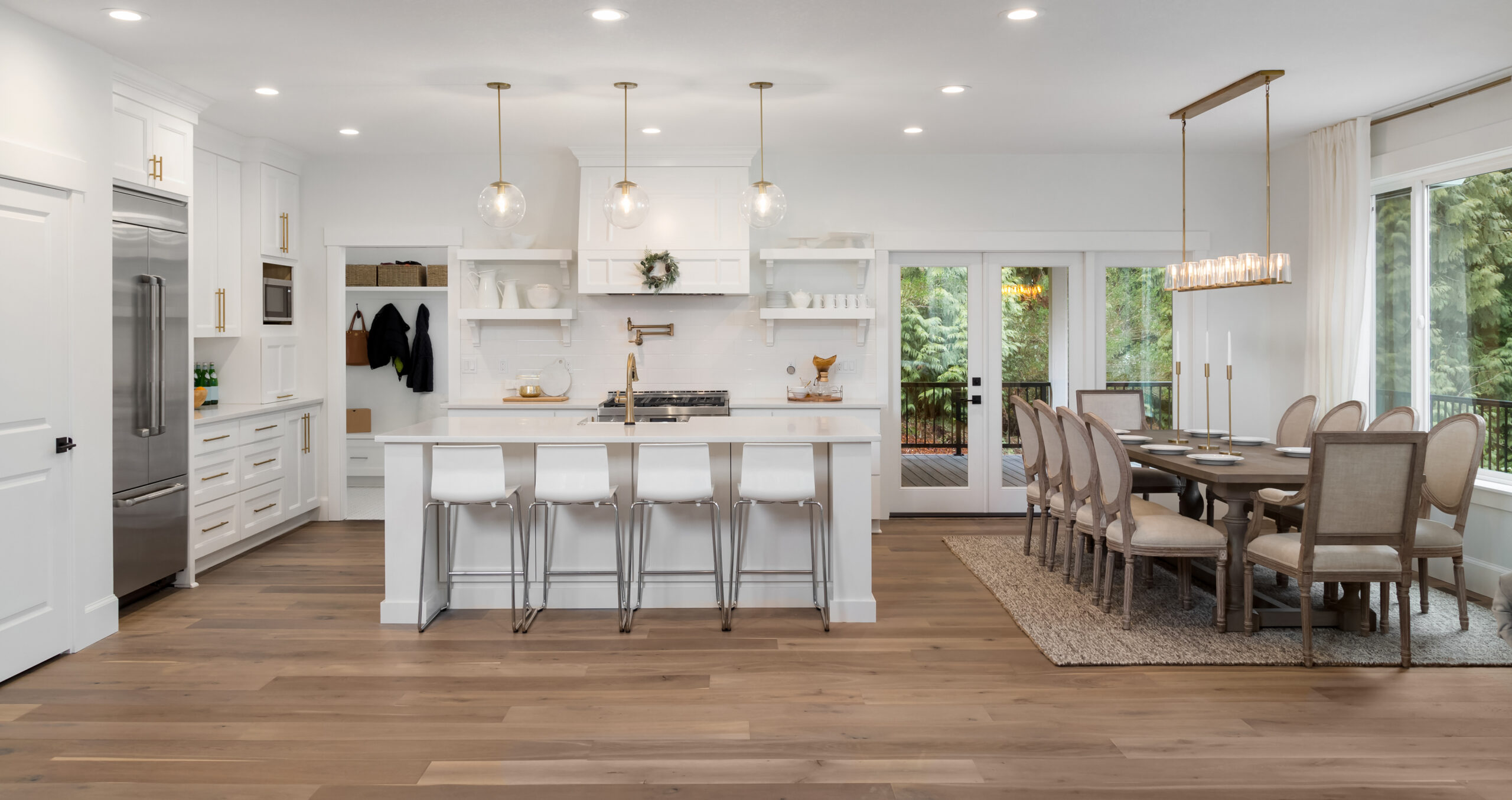 Hardwood Flooring Finishing
Finishing is the liquid protective coating applied to hardwood to protect the floors from spills, scuffs, scratches and water damage. The fresh stain and lacquer give your wood a luminous sheen and help it last longer against wear and tear. Two main options for getting your wood finished are site finishing and prefinishing.
Site finishing was the typical method before prefinishing was developed. Site finishing involves installing the new hardwood and then sanding and finishing. This process is messy, kicking up lots of dust and unpleasant smells. It takes several days to site finish, so this method is preferred for new constructions instead of existing homes.
Prefinishing is a convenient, clean method that streamlines the installation process. There are many benefits to prefinishing hardwood floors, including easier installation, less mess and fewer imperfections. Since prefinished hardwood is sealed before arriving at your house, you don't have to re-arrange your life around the finishing process, avoiding toxic fumes and mess. It's a streamlined, easy way to get your hardwood sealed and protected before it arrives on installation day.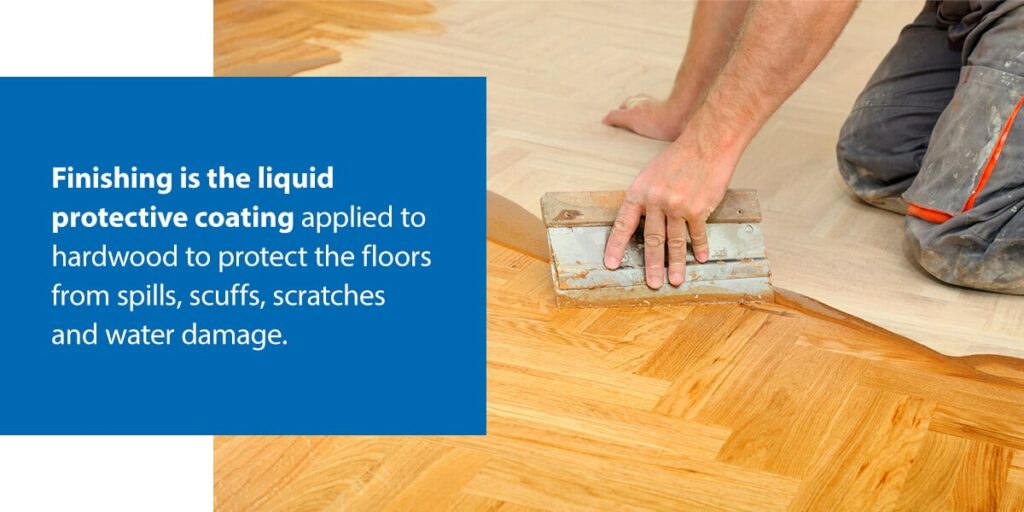 Hardwood Flooring Cuts and Grading
Cuts and grading help you select a hardwood within your budget and style. These ratings affect the wood's look and how expensive it will be, so you can find a wood that looks exactly how you want it to.
Hardwood Cuts
Flatsawn: Flatsawn boards have cuts that leave the growth rings parallel, giving your planks an almost flamelike pattern.
Quartersawn: Quartersawn boards are cut perpendicular to the rings, giving the wood a straight grain. These cuts are more expensive than flatsawn boards.
Hardwood Grading
Wood grades are given based on the number of imperfections and defects in the wood. Some flaws are desired in different species, so check with your flooring company for grading specifics.
In general, the best-graded wood planks, called select wood, will be almost the same color, have no knots and have a similar length. The lower the grade, the more variations, holes, knots, colors, sizes and defects you'll have.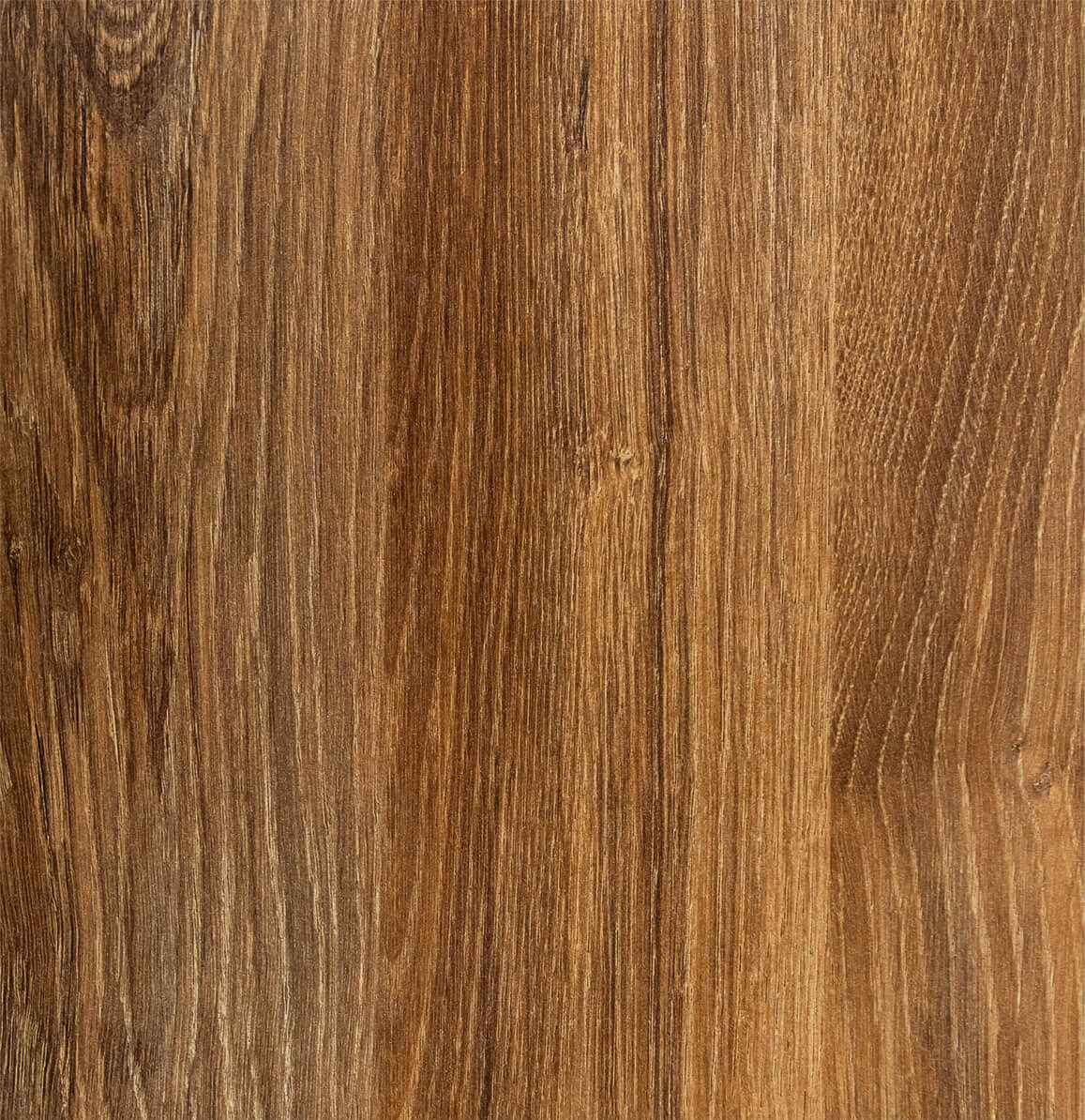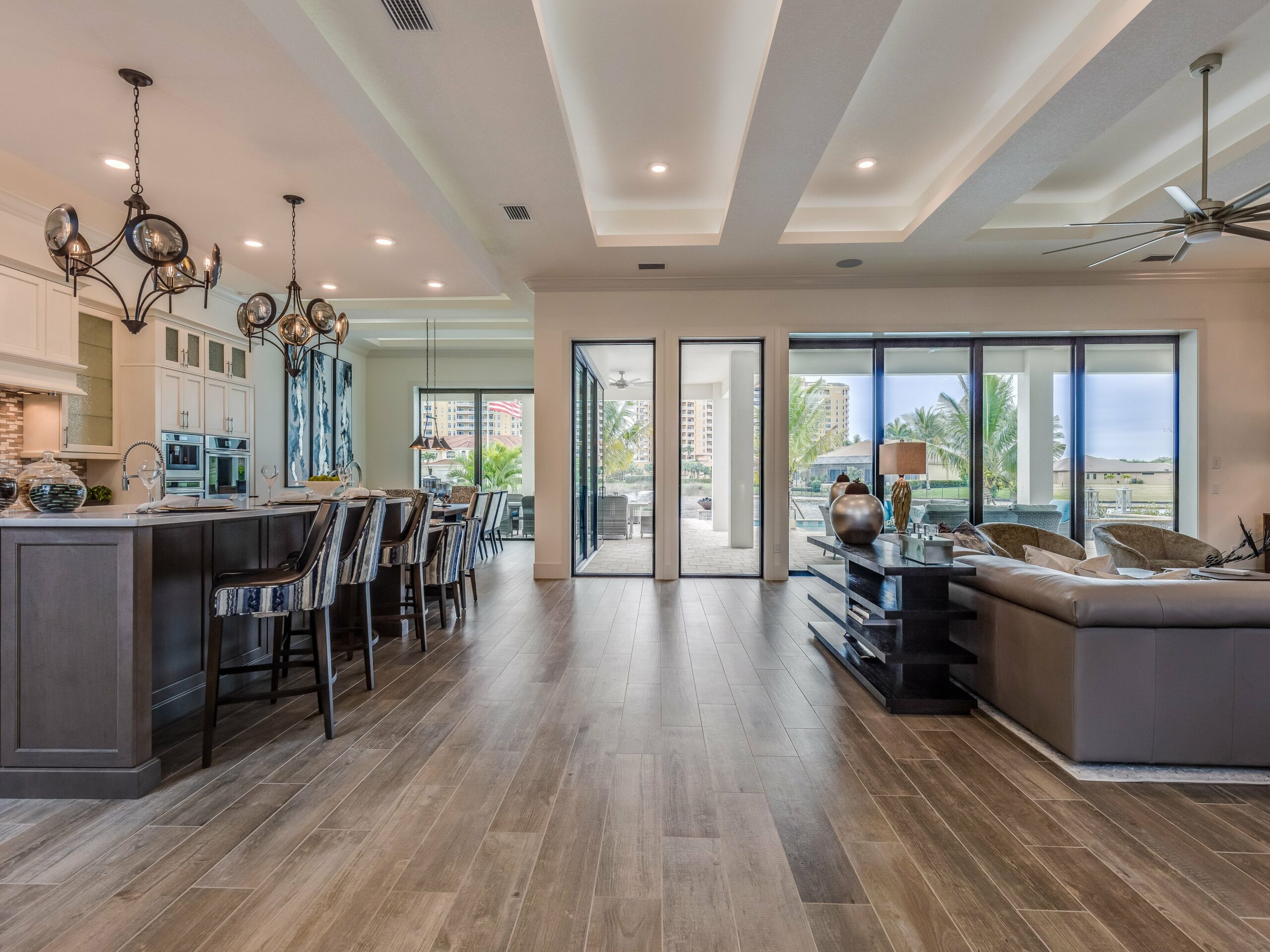 How Long Does Hardwood Flooring Last?
With proper installation, hardwood floors can last for over a century. However, your floor will begin to look worn without adequate care. Ensure your floors last as long as possible by:
Refinishing every 10 years
Keeping them moisture-free
Protecting them from fading
Preventing scratches with rugs
Cleaning them regularly
The better your installation, wood quality and maintenance, the longer your floors will last. Keep them looking pristine for decades with the best servicing and care.
What Goes Under Hardwood Flooring?
Hardwood flooring must be nailed to the subfloor to ensure it stays attached. Depending on your wood thickness, solid hardwood can be installed over a plywood, plank or oriented strand board subflooring. It can't be installed directly over concrete. Floating engineered hardwood can be installed over these subfloors and concrete since it doesn't attach directly.
Underlayment goes under hardwood floors and over the subfloor to help with support and moisture prevention. It provides an extra barrier for the hardwood and helps it with sound dampening and stability.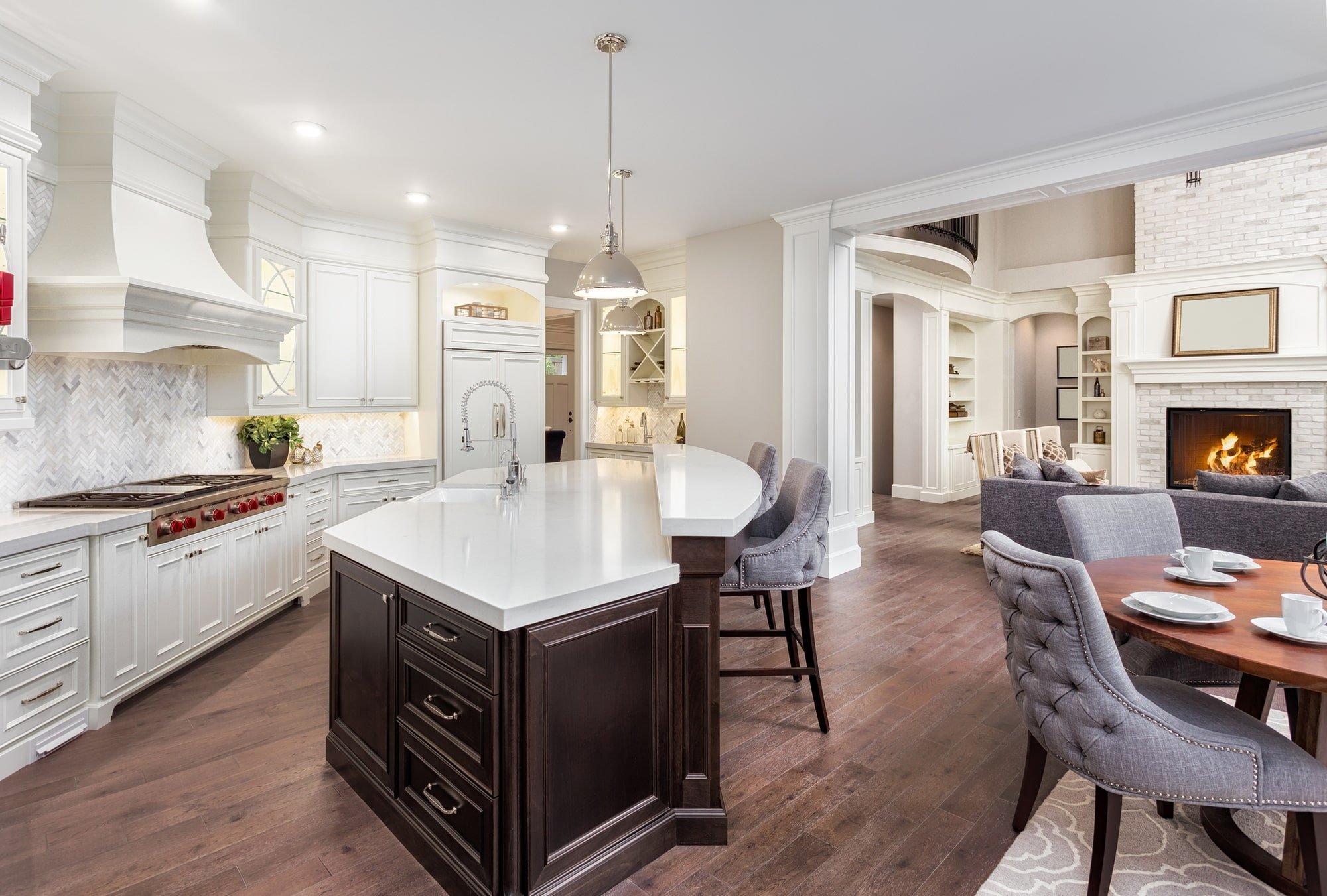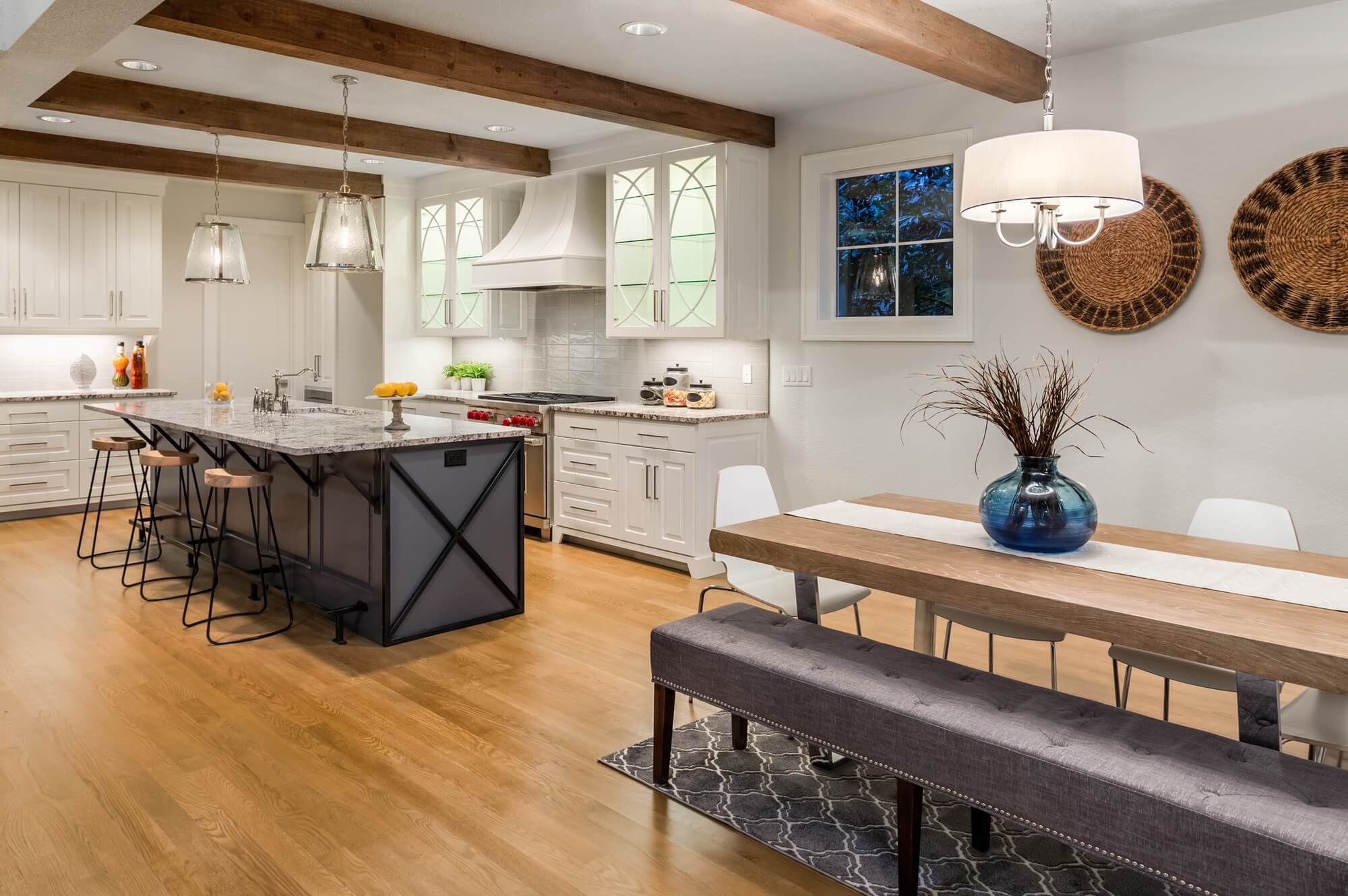 How to Choose Hardwood Flooring
Choose a hardwood flooring that complements your home. The floor should enhance the look of the house, not overwhelm it. This means finding a wood color, style and tone that fits the room's existing design. Budget is a significant factor in choosing a hardwood, but it isn't the only one.
Your home design or theme can influence the wood you pick. Seaside-themed homes and bright, airy spaces benefit from lighter woods in whites, light browns and grays. Modern and minimalist homes often have darker, contrasting wood to add depth to their neutral, straight lines.
Room size can also influence your wood choice. The bigger the room, the more the material will cost. You might want to choose a classic wood to help you stay within your budget. For smaller rooms, lighter wood will help open up the space, making it seem bigger to the eye.
Choose a color for hardwood flooring that works with your existing color palette. Use cool-toned woods for rooms with blue, gray and green themes, and warm-toned woods for orange, red and yellow. Rooms with black, white and brown will have different tones depending on their shades, so carefully evaluate your room's color tone. Most woods are naturally warm-toned, but you can get them stained cool to complement your house.
Also, consider your needs and rooms when selecting a wood. For basements, choose engineered hardwood. It stands up better to moisture, can be installed over a concrete subfloor and will hold up to use better there than solid hardwood.
How to Install Hardwood Flooring
Always use a professional flooring company to ensure you get high-quality, lasting installation. At 50 Floor, we work with you every step of the process to ensure you're getting the right floor for your home. Once you've selected your flooring and scheduled an installation date, we'll handle all the specifics and work for the installation.
On the day of the installation, our installers will come to your home with all the necessary hardwood and materials. After confirming the product, the room and your payment, our expert installers will move some of your larger furniture and start the installation. You'll receive a rough installation timeline so you know when the job should be finished.
After we've installed your floor and everything is completed, you're free to enjoy your brand-new hardwood floors.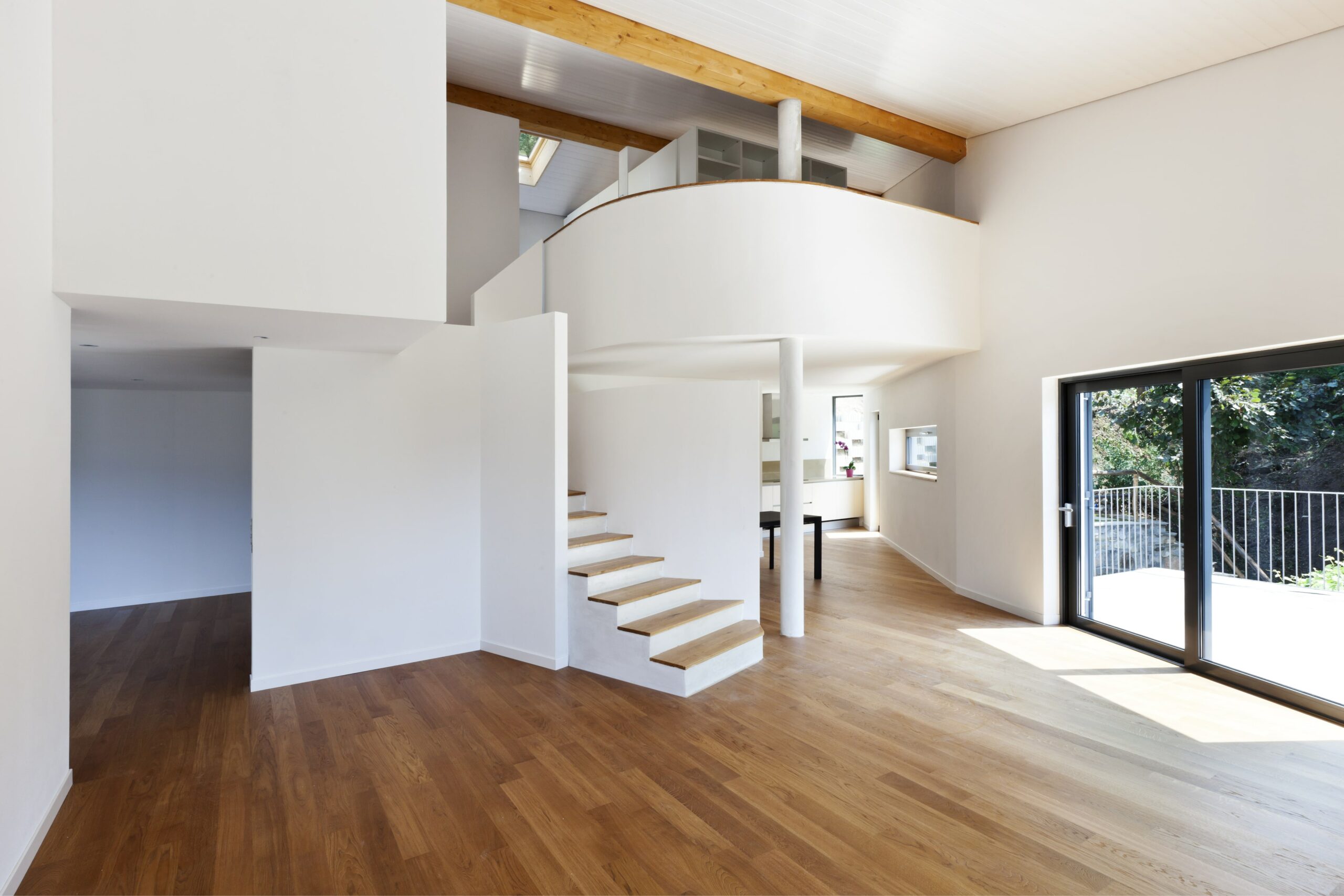 How to Acclimate Hardwood Flooring
Acclimating hardwood ensures it doesn't warp and has the same moisture content as its installed environment. Wood will expand and contract without proper exposure to its permanent environment, causing problems for you.
After being kept in their factory conditions and arriving at your home, installers will test wood moisture content to ensure they're ready for installation. Once their moisture content is close enough to the environment's, they're ready for installation.
After installation, you'll want to wait a couple of days or whatever the recommended time is before walking on your floors. This helps prevent warping and cracking and provides a quality, stable floor.
How Much Does Hardwood Flooring Cost?
Hardwood flooring costs depend on your wood species, room size, pattern and any extra colors or features. Exotic wood species will be more expensive than traditional ones since they're harder to get. Additionally, the larger the installation job, the more wood is needed and the more expensive it will be.
Talk to your flooring company about price estimates, and they'll help you find the best wood option for your home and budget. At 50 Floor, we offer a free in-home estimate so you can get the most accurate pricing and best advice for your new floors. Our team will consult with you and bring samples right to your home so you can see the wood in person for a better idea of what it'll look like once installed.
Hardwood Flooring Care
Before doing any hardwood cleaning or care, check your warranty. It'll have all the information you need to properly clean and care for your new floors without damaging them.
Once you've checked your warranty, the general basics of learning how to clean hardwood flooring are pretty straightforward — you just need a broom, a mop or damp cloth, distilled white vinegar or a gentle cleaner and water.
Simply sweep your floors regularly to pick up any dirt and dust. At least once a month, carefully mop the hardwood with the gentle cleaner, and you're done! Dry afterward with towels to prevent water damage if necessary.
For long-term care, protect the floors from fading by adding curtains to block sunlight and use rugs to stop scratches in high-traffic areas. Refinish your floors every 10 years to remove gouges and restore their shine. Clean up any water or spills immediately to prevent water damage.
Your floors will last a lifetime if you treat them well.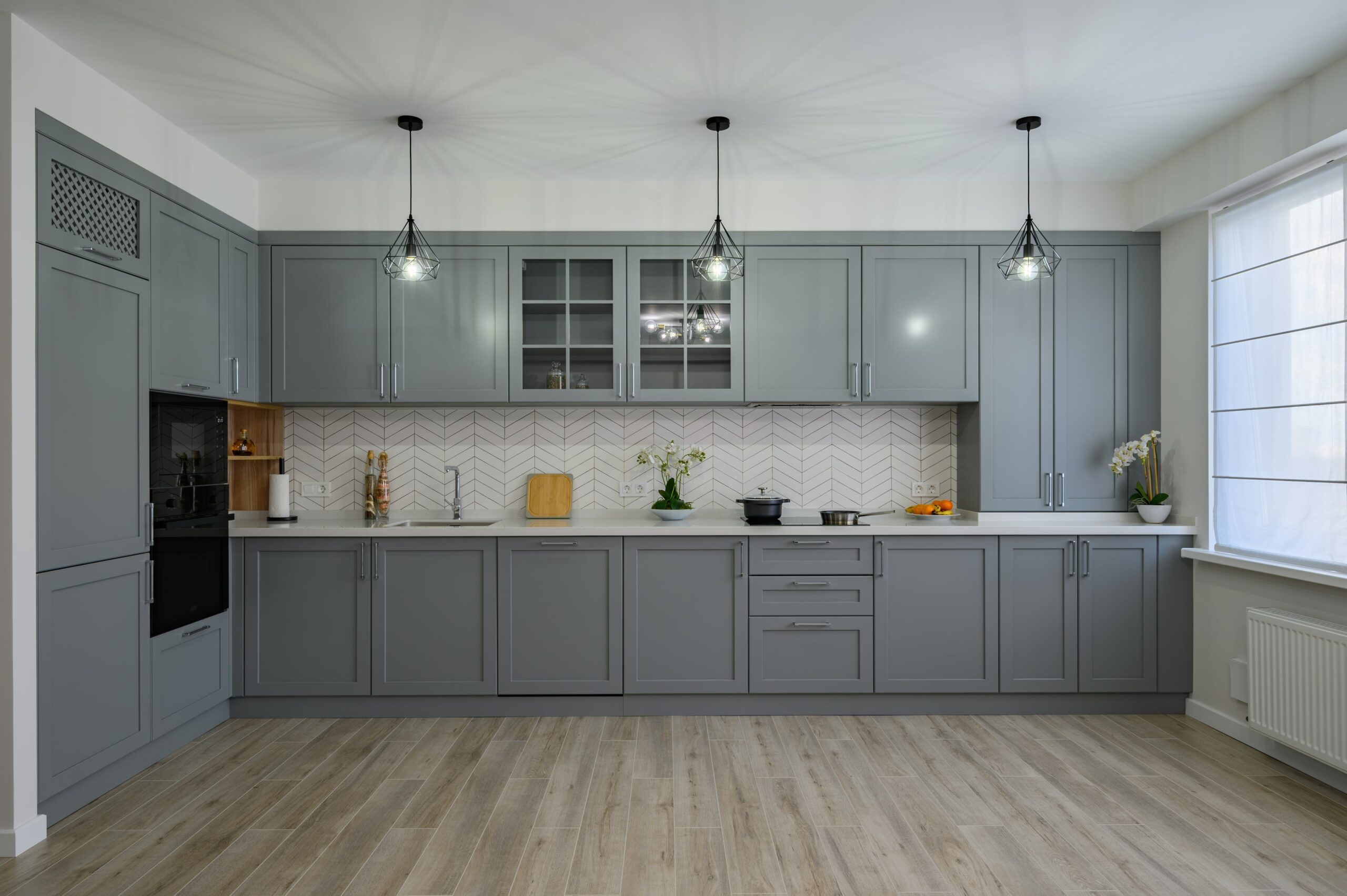 Contact 50 Floor to Install Hardwood Flooring
Now that you know the basics of hardwood, where can you buy hardwood flooring? Choose 50 Floor for a variety of high-quality solid and engineered hardwood floors. Our experienced team will work with you closely to find the right hardwood for your floor renovation. We offer the convenience of an at-home shopping experience with our home-delivered floor samples so you can have an easy, stress-free flooring installation process.
To ask us questions or get started on your hardwood flooring installation, contact 50 Floor today!