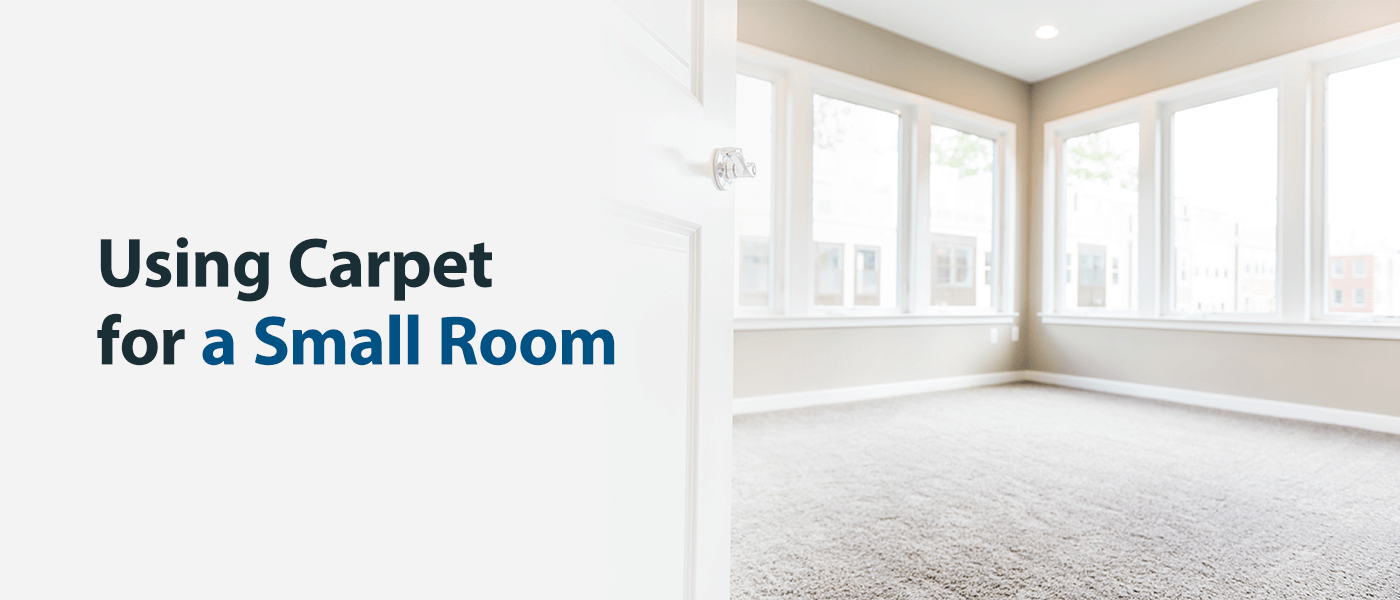 Besides carpet's luxurious texture and aesthetic appeal, wall-to-wall carpet can also make a small room look bigger. When choosing a small room carpet, you'll need to find a color, pattern and style that complements your living space's walls, furniture and decor. Consider these visual tricks to choose the right carpet for a small room to appear more spacious.
Carpet Colors That Make a Room Look Bigger
One of the many benefits of carpeting is that it comes in various colors and materials to fit in with any part of your home. Some colors can make the room appear more spacious by reflecting light and creating visual interest. It helps to find a color that complements the existing furniture and decor in your living space to create a cohesive, aesthetically pleasing design.
These are the best carpet colors for small rooms:
Light colors:

You'll want to use light colors in a small room to draw the eye outward and give the appearance of additional space. Bright colors reflect the natural lighting in the area and make it look bigger. You can use a lighter shade of your favorite color to expand the space visually if you'd prefer a bold color over a neutral tone.
White or off-white: Since a color that reflects light makes the room feel bigger, white is the perfect shade for visually expanding part of your home. White naturally reflects light, especially if the room has plenty of natural lighting. This shade matches any existing furniture, wall or decor color you already have in the space, too. You can also use off-white or cream-colored carpeting if you don't like stark white.
The room's existing colors:

It's helpful to choose carpeting that goes with the paint color of your walls, furniture and decor to make the room feel bigger. Instead of making your carpet the same color as the walls, you should choose a shade in the same color family. You can also use contrasting colors for a bold design that enhances the visual interest of the room.
Blue or green: A small bedroom or flex space should be relaxing instead of feeling cramped. Carpeting with light shades of blue or green is easy on the eyes and creates a calming atmosphere in your living space.
Neutral tones: Shared entertainment areas — such as the living room, family room or game room — can look bigger and more inviting when you use neutral-colored carpet. Consider sandstone, beige or light gray for these parts of your home. These colors are light enough to reflect the light and complement the room's existing furniture and decor.
Carpet Patterns for Small Rooms
Besides the carpet's color, you also need to choose visually appealing patterns that are easy on the eyes and enhance the room's visual appeal. Your carpeting should have a subtle appearance instead of serving as the room's focal point. The area will appear smaller if your carpet takes too long to process visually. Instead, have subdued carpeting that blends in with your existing furniture, decor and wall design.
The following are excellent carpet patterns for your small room:
Tone-on-tone carpeting: This pattern involves modest shading methods that highlight the room's overall design. Instead of using bold colors or shapes, tone-on-tone carpeting has a modest appearance that's visually appealing for all who enter your living space. It also tends to hide dirt better and allows you to use bold colors in other parts of your decor.
Structured-grid, cut-loop carpeting: This type of carpet features the selective cutting of some of the loops, resulting in a textured yet refined look. Since the textural change doesn't alter the color of the carpeting, it gives your floors a modest visual interest to make the room look bigger and more inviting.
To make your room look more spacious, try to steer clear of bold, brightly colored patterns that create distractions for the eye.
You might get away with a larger design on your carpeting if your small room doesn't have much furniture. But if you ever wanted to add a chair or bed to your room, your carpeting might not fit the design anymore. Instead, you'll want to choose a timeless floor covering that complements your home's decor for decades.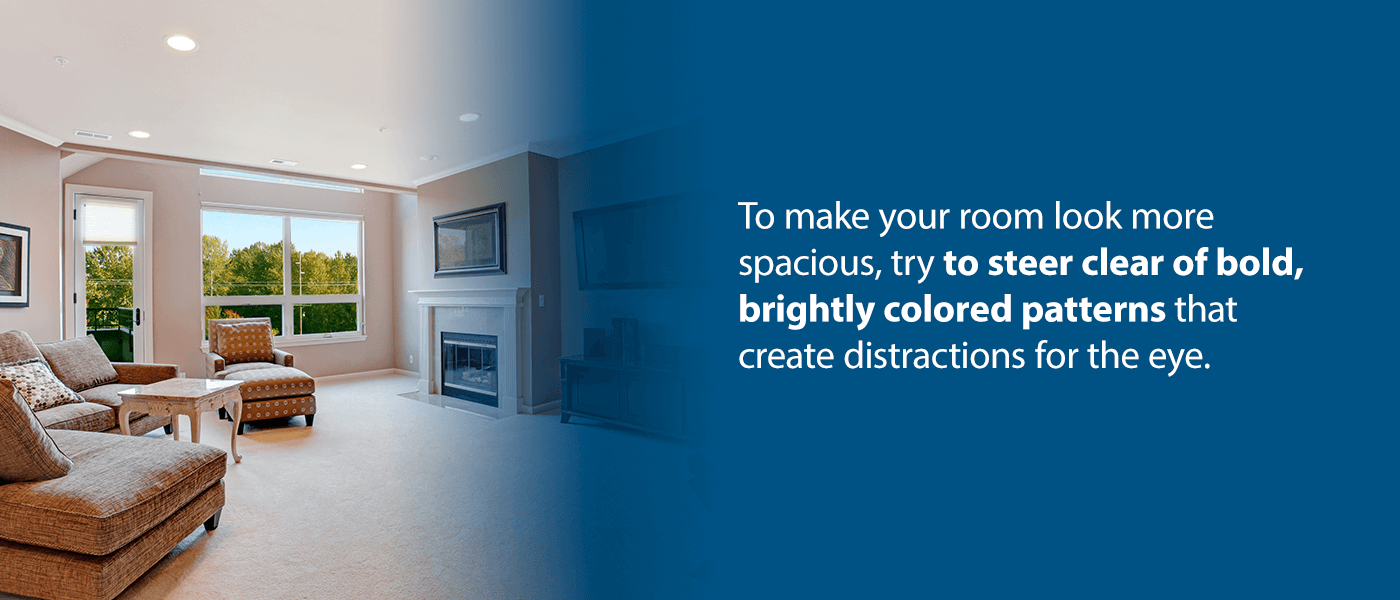 Styles of Carpet for Small Rooms
Your carpet's style involves the material and height used. Installing wall-to-wall carpeting in a room creates a cohesive, visually appealing look. You may want to have consistent flooring throughout the whole house to reduce distracting colors and patterns. Either way, consider the following types of carpet styles for your small room:
Schedule an Appointment With 50 Floor for New Carpet
Our flooring specialists at 50 Floor will help you find the perfect carpet for the small room in your living space. We provide in-home consultations, where we bring you flooring samples and suggest which materials suit your existing wall colors, furniture and decor. For more information about our products and services, schedule an appointment with us online or call 1-877-50-FLOOR.