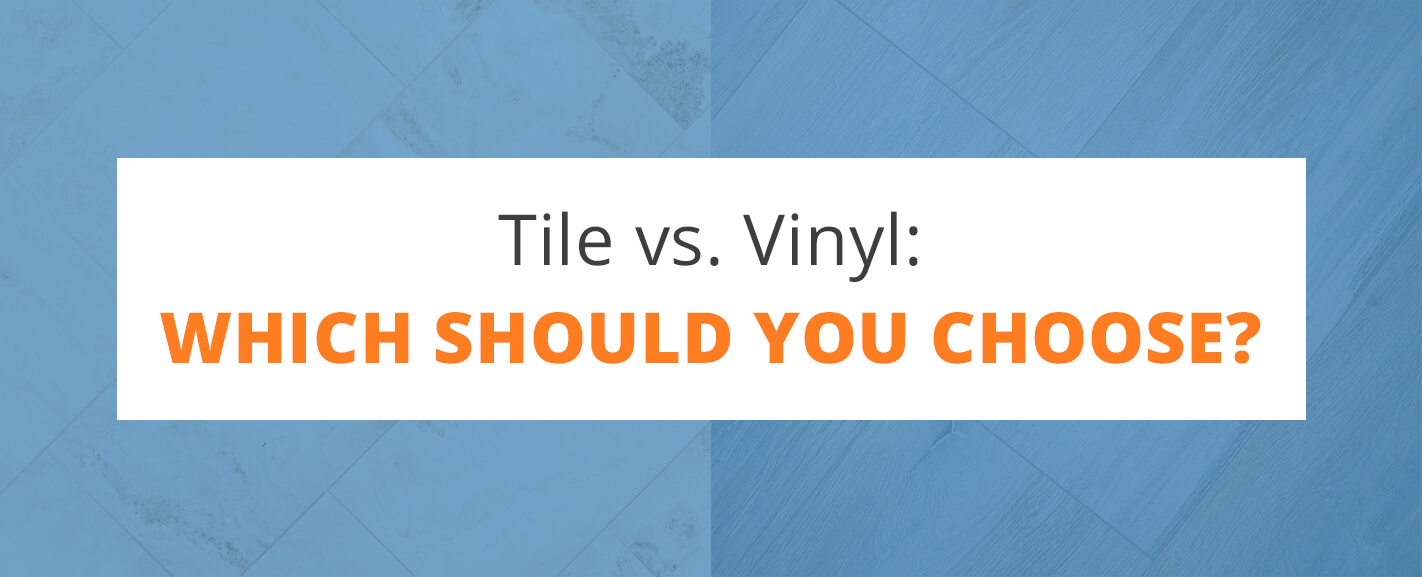 Though you may not think about it often, your floor brings together every design aspect of your home. Choosing the right flooring style can truly transform your space — even when you don't make any other interior design changes. If you're stuck wondering why a certain room in your house just doesn't look quite right, it could be time to update your floors.
Two of the most popular floor types among homeowners are tile and vinyl. Each offers unique benefits that appeal to certain lifestyles. While heavy traffic areas require a durable floor that endures wear and tear, bathrooms and kitchens need a water-resistant floor.
Of course, your needs are specific to you, so you know what you need better than anyone else. If you're having trouble deciding between tile and vinyl, we're here to help. Learn more about the advantages and disadvantages of tile and vinyl flooring below so you can decide which is suitable for you and your home.
The Pros and Cons of Tile Flooring
This is a versatile floor type that can be made from various materials, such as clay, ceramic and porcelain. Using tile for flooring has been done for centuries, and it continues to be a popular choice among homeowners. Most tiles are made by shaping the raw material and firing it in a kiln. This process has been streamlined since tile first gained its popularity and has made it easier for homeowners to install tile in their homes at various price points.
Most often, tile is placed in kitchens, bathrooms and other areas in homes that require water-resistant flooring. The method used to grade tile is called the Porcelain Enamel Institute (PEI) rating scale, which ranks tiles on a scale from zero to five. The rating your tile should have will depend on where you plan to install it, so it's a good idea to talk to a professional to help you determine what tile PEI rating would be best.
Before choosing a tile floor, you should know its pros and cons.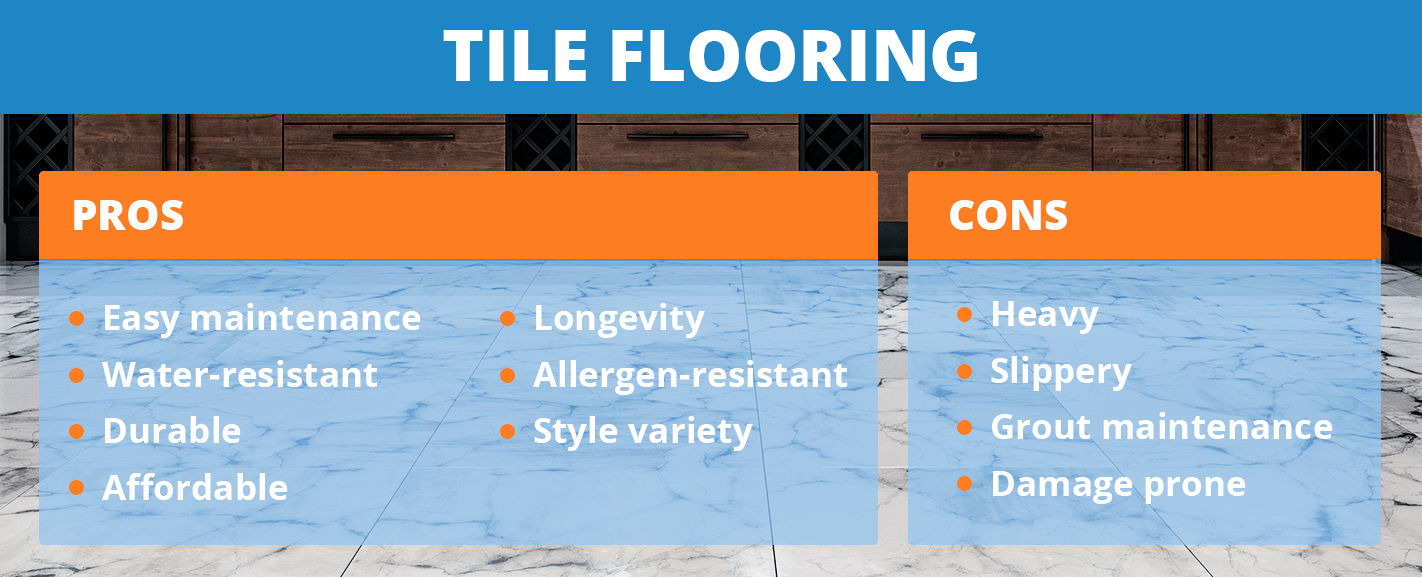 Pros
The benefits of tiled flooring are far-reaching, and include:
There are many reasons why tile would make a wonderful addition to your home. The material's durability and water resistance make it a solid choice for homeowners with active lifestyles or families with children or pets. The long lifespan of porcelain tiles is also appealing because families can make the investment and feel comforted knowing their tile floor will last them a long time.
Cons
However, you should know about a few drawbacks of tile flooring before making a decision:
Ultimately, tile floors are stunning additions that can elevate your home's appearance. The choice to install tile will be determined by your own needs, style preferences and lifestyle choices.
The Pros and Cons of Vinyl Flooring
A vinyl floor is made of synthetic material that's shaped into planks and composed of multiple layers that protect it from damage. Many homeowners are drawn to vinyl because it can imitate the appearance of other flooring types, such as hardwood or tile, yet is easier to maintain.
In particular, luxury vinyl is another popular option to consider as it uses advanced techniques and technology to improve vinyl's existing benefits. This specific kind of vinyl can replicate textures, making it a more advanced and accurate copy of other flooring types.
Outfitting your home with vinyl floors is a significant decision you should carefully consider. That's why we've outlined some of the most practical reasons to choose vinyl and its potential drawbacks.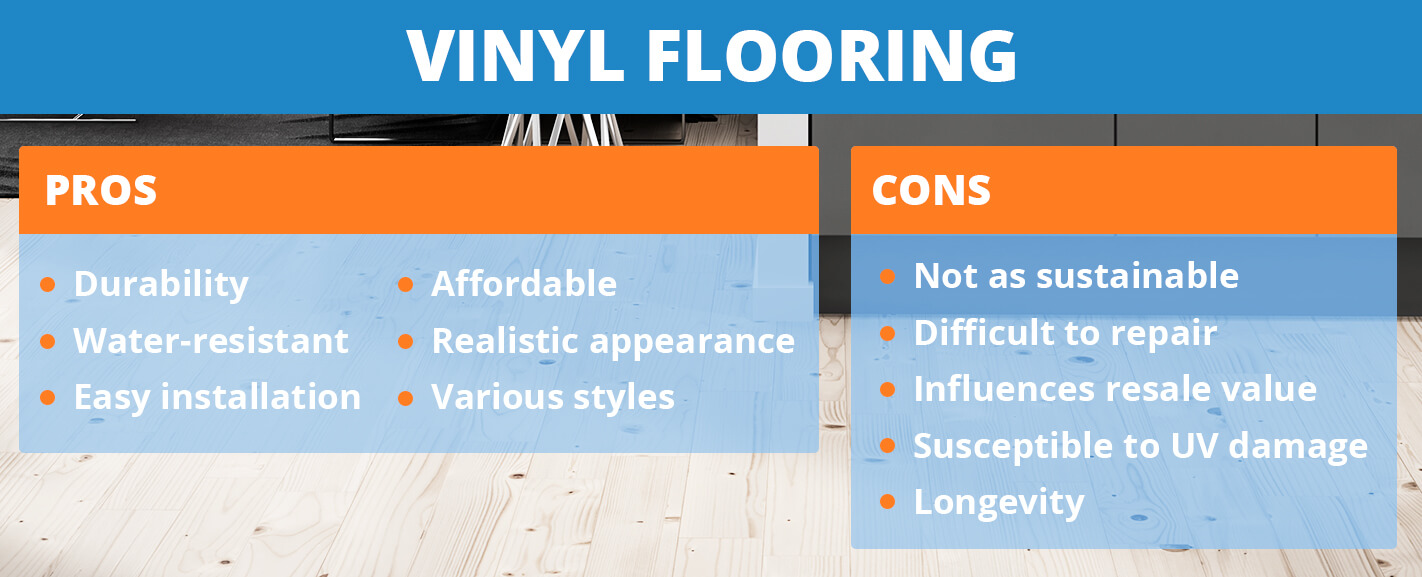 Pros
These floors have grown in popularity over the years and are becoming a standard fixture in many homes. That's no surprise, considering the number of advantages vinyl flooring boasts. Here are a few of the main reasons homeowners are switching over to vinyl:
This style of flooring's central appeal is its ability to imitate other flooring patterns and textures. The durability of vinyl also makes it an excellent option for households that experience plenty of foot traffic. By installing vinyl, you can get the look and feel of another type of flooring with a few better features.
Cons
There are a few drawbacks to consider before making a final decision regarding vinyl installation. The disadvantages of vinyl include:
Trends show that vinyl is only going to become more commonplace in homes as time goes on. There are various reasons one might choose to switch to vinyl, but the decision comes down to your personal preferences and lifestyle.
The Differences Between Tiles and Vinyl
Both tile and vinyl floors offer a wide range of benefits for homeowners — and each comes with drawbacks. There's some overlap with either flooring type, such as their cost efficiency and resistance to damage. There's also a significant difference in their drawbacks, so consider all aspects when deciding between the two.
Below is a quick recap of the pros and cons for tile and vinyl so you can make side-by-side comparisons and decide which flooring option would be best suited to you.
Pros

Cons

Tile

Easy to maintain
Resistant to water and allergens
Resistant to damage, such as scuffs or cracks
Cost-efficient
Long-lasting with proper care
Various style choices

Heavy material weighs down subflooring
Slick surfaces can result in falls
Cold to the touch
Grout is difficult to clean
Improper installation increases chances of damage
---
Vinyl

Protective layers prevent surface and water damage
Easy to install as a floating floor
More affordable than ceramic tile
Mimics the appearance of tile and wood
Multiple style options

Harmful for the environment and home air quality
Harder to repair when adhered to the subfloor
Can impact the resale value of your home
Fades over time in direct sunlight
Damage and fading require more frequent replacements
Overall, homeowners with large families and active lifestyles will want to go with something more durable. If you're on a budget, you may choose to go with vinyl so you can still get the look of tile without the cost. If you or someone in your home has allergies, you may choose tile due to its natural resistance to allergens. Look at each pro and con carefully, considering your design style and the activity in your household to make a decision.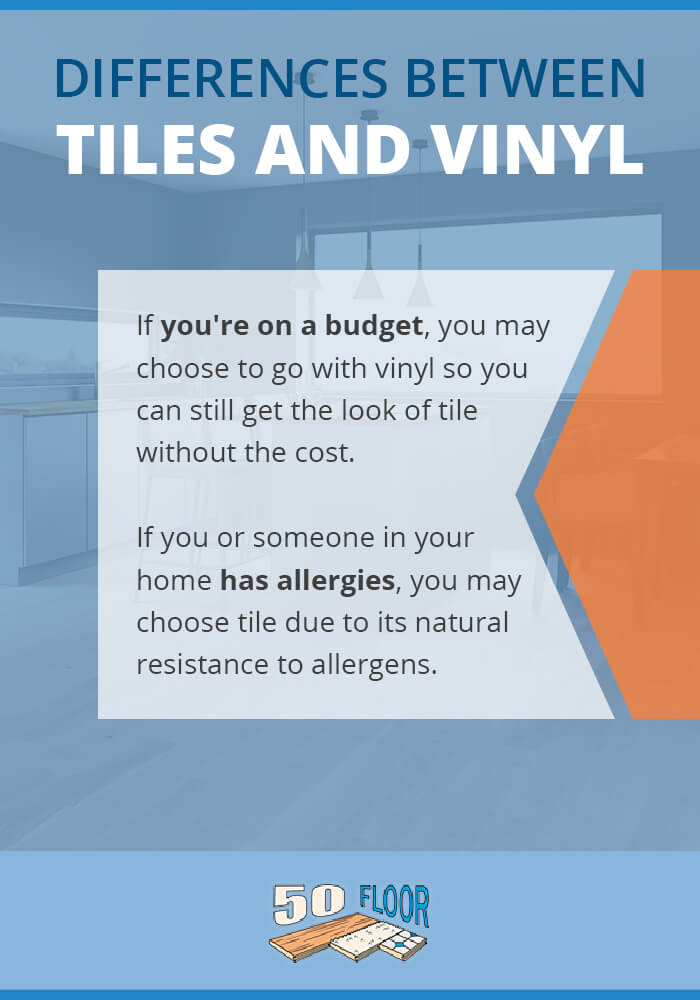 Shop for Quality Tile and Vinyl at 50 Floor
Once you've determined which flooring type is right for you, it's time to choose from your many options and have it installed in your home. 50 Floor can supply you with a wide range of choices for colors, finishes, visuals and effects. Customize your floor based on your needs and interior design choices so you can bring your dream home to life.
Whether you choose tile or vinyl, 50 Floor brings you quality, affordable flooring and assistance at every step of the process. Schedule a free in-home consultation with us to see our options in your home and compare our samples to your current decor. Then, we'll help you pick the floor best suited to you, and our professional staff will take care of the installation process.
Get started today and find a floor you love!