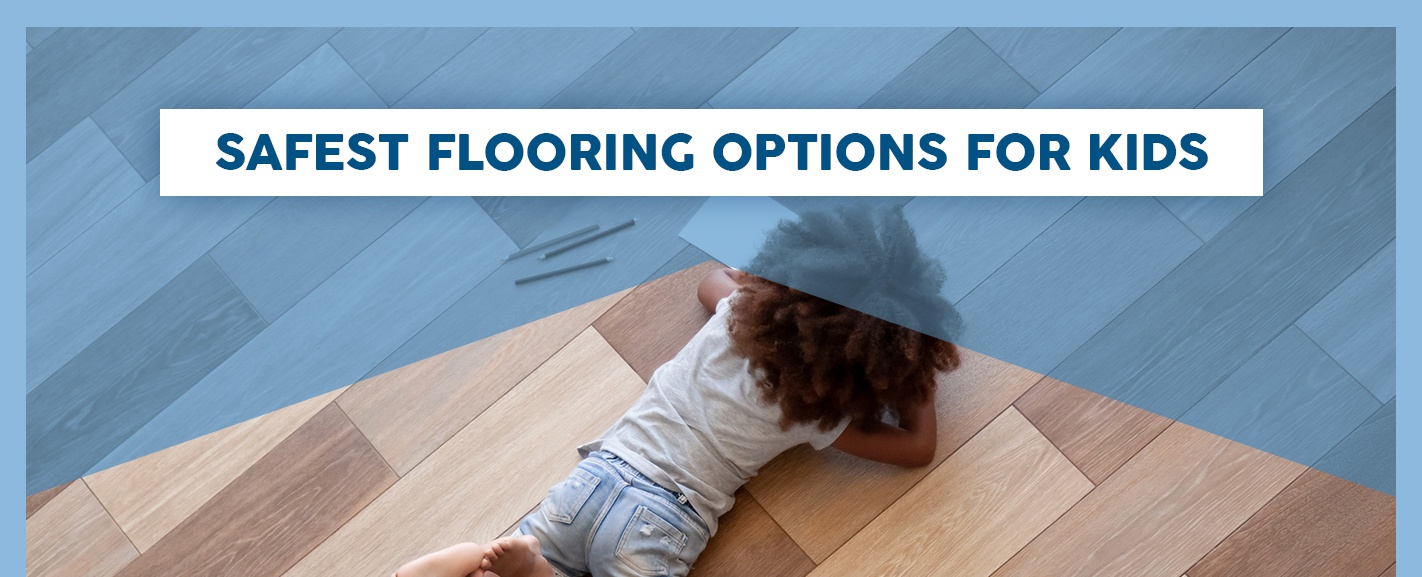 If you have children, you know how important it is to have comfortable, low-maintenance flooring throughout the house. Your baby might take their first steps on their bedroom floor, and over the years, they'll probably drop food in the kitchen and dining room. The flooring materials you choose can make those precious moments safer and help you clean up everyday messes. This guide explores the safest flooring for babies and children.
Factors to Consider for Choosing the Best Flooring in Kids' Rooms
You'll probably want to put kid-friendly flooring in your child's bedroom, but you should also consider where else in the house your children spend their time. Think about these features before you start looking at flooring materials:
Activity: When designing a child's bedroom, nursery or playroom, think about all the ways they're going to use the space over the years. Children often like to drive toy cars or jump on the floor. The flooring material in these areas should be able to withstand high levels of activity.
Comfort: As babies learn to walk, they need a soft surface to practice taking their first steps. Your floors should be comfortable for their growing feet and a safe spot to land when they fall.
Health: If your child has allergies or other respiratory conditions, you need floors that won't hold onto pet dander, dust or other air contaminants.
Sound reduction: Kids usually like to jump and scream while they play. You might want to install flooring that traps sound so your children don't disturb the rest of the house.
Maintenance: As your little ones wander around the house, they might accidentally spill some juice or knock over a plant. You should install a flooring material that's easy to clean to keep up with the messes you can expect with kids in the home.
Best Flooring Options for Kids
After you've thought about what kind of floors you need for your home with children, here are some options for the best flooring for babies and older kids.
1. Carpet
Carpeting checks off almost all the boxes for safe, comfortable flooring options for kids. Carpet can be any color to complement your walls or decor. Your child can even pick out their favorite color for their bedroom floors. You can also find unique fibers of different textures to accommodate your tastes.
Some of the benefits of putting carpet in your child's room or the living room include:
Safe for most activities: The soft carpet fibers are ideal for kids jumping or running in the room. When children bend over a castle or car set, carpeting is also comfortable for their knees.
Comfort and safety for walking: Carpeting features a soft, cushioned surface for your babies and children to walk on. As your children learn to take their first steps, you can be confident that they'll fall onto a plushy floor to avoid injuries.
Traps sound: The thick, cushioning carpet fibers help insulate a room and prevent sounds from traveling throughout the house. When your kids play, the sound won't disturb you or your guests.
Ease of maintenance: Carpeting is relatively easy to clean with a vacuum. Keep in mind that you'd probably have to get it professionally cleaned or steamed to remove stains from juice or crayons. If you're looking for a low-maintenance carpet, consider low-pile carpeting. This style is still soft, but its tight fibers make it easier to clean up dust and crumbs.
2. Hardwood
Hardwood is luxurious and aesthetically appealing, but it's also durable and safe for children. You can find a wood species for your floors in your desired color finish that can withstand wear and tear. This flooring material is safe to use in your child's bedroom, the living room or the family room. Here are some of the advantages of having hardwood flooring with kids in the house:
Durability in high-traffic areas: The polyurethane finish on hardwood flooring enhances its ability to withstand everyday wear and tear. Even if it gets some scratches and dings every once in a while, you can easily sand it and refinish it as needed. You can also add an area rug on the hardwood floor in your child's bedroom to make it more comfortable for daily activity.
Health for children with allergies: Hardwood's rigid surface doesn't hold onto animal dander, pollen and other allergens. If dust collects on the floor, you can clean it up with a vacuum, broom or dust mop.
Convenience to keep clean: After applying a finish to your hardwood floors, they won't need that much care. Its hard, flat surface makes it easy to clean instead of trapping dirt or stains.
3. Vinyl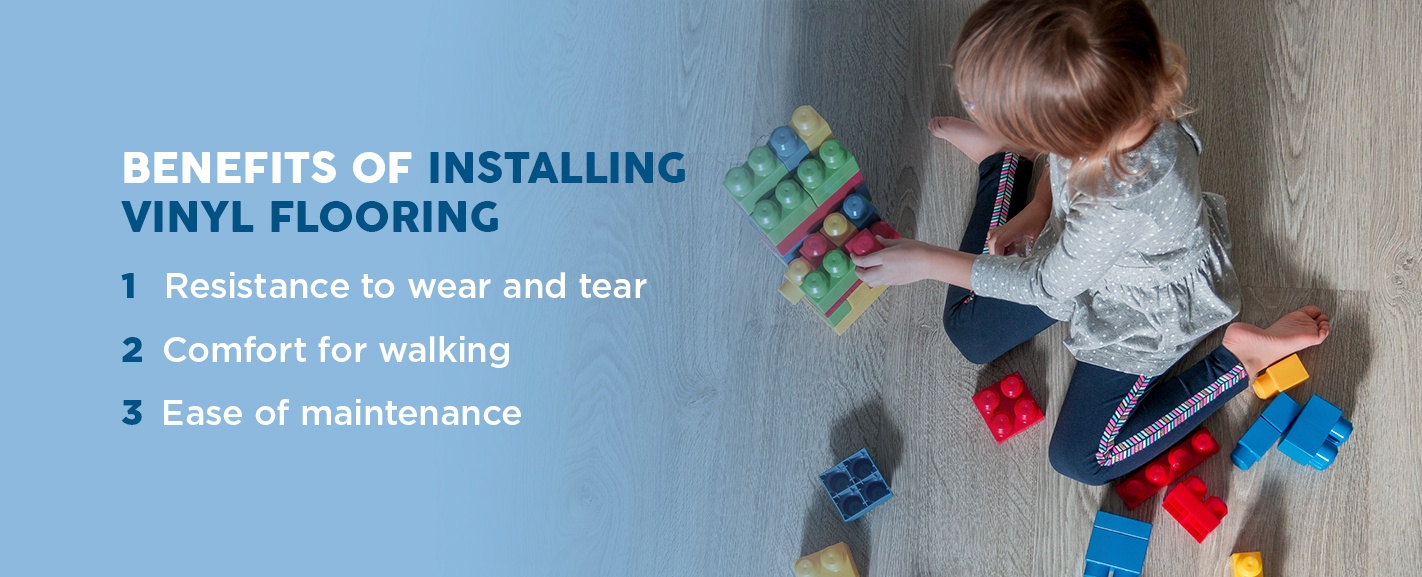 Vinyl is available as tile, plank or sheet flooring. You can install this durable, aesthetically pleasing material in your child's bedroom, but it's also suitable for any other room in the house. Vinyl comes in various colors and textures to complement your home's design aesthetic. These benefits come from installing vinyl flooring in a kid-friendly living space:
Resistance to wear and tear: Whether your kids spill their drinks or scrape their toys against the floor, vinyl flooring can withstand damage from everyday wear and tear. Its rigid surface has a protective layer that can resist cracking, scratching, scuffing or chipping.
Comfort for walking: Even though vinyl is a hard material, it's softer than most other flooring options, so it tends to be more comfortable for little feet. It may also provide a little bit of a cushion for your baby learning how to walk.
Ease of maintenance: Vinyl is a durable material, so it doesn't require much care. Its hard, flat surface allows you to clean crumbs and other debris. Since it's waterproof, you can use a wet mop on it to wipe away tough stains.
4. Tile
Tile flooring is one of the most versatile flooring options, with plenty of colors and styles available to accommodate your design preferences. It may not be suitable for your child's bedroom, but you can install it in other parts of the home with confidence that it'll withstand your child's activity. You should put down tile flooring in your home for the following reasons:
Durability against daily activity: Tile's hard surface is resistant to impact and liquid damage. Whether your child is painting a masterpiece or racing cars, your floors can handle accidental messes and scratches.
Safety for children with allergies: Tile doesn't hold onto pet dander, dust or other allergens. Even if these contaminants collect on the floor, you can easily clean them with a vacuum, broom or dust mop.
Convenience to keep clean: Tile is easy to clean and waterproof. Even if you get a stain on your floors, you can scrub or wipe them with a soft-bristled brush or wet mop.
5. Laminate
Laminate tends to look like natural wood, so it's available in all the same colors and styles you would find in wood finish. Compared to hardwood flooring, this material tends to be slightly more durable and affordable. As a result, you can use it anywhere in the house. Here are some of the benefits of installing laminate flooring:
Safe for kid activities: Since laminate is resistant to moisture, you won't have to worry about spills and stains on your floors. It's also less likely to get scratched when your kids play with toys with rough surfaces.
Protection for children with allergies: Laminate flooring has a tight seal that keeps animal hair, dirt, pollen and other allergens from settling into the floors. If you notice debris on your laminate flooring, you can clean it with a vacuum.
Ease of maintenance: As a durable material, laminate doesn't require much care throughout its lifespan. You can easily clean its hard, water-resistant surface with a vacuum and wipe up spills with a soft cloth.
Schedule an Appointment With 50 Floor to Explore the Safest Flooring Options for Kids
If you need kid-friendly flooring for your house, you may want to schedule a consultation with us. During an in-home appointment, we provide flooring samples to help you find one that's suitable for your living space. You can even let your kids help you pick out the floors for their bedroom or playroom. For more information about the products and services we provide, you can also call us at 1-877-50-FLOOR.