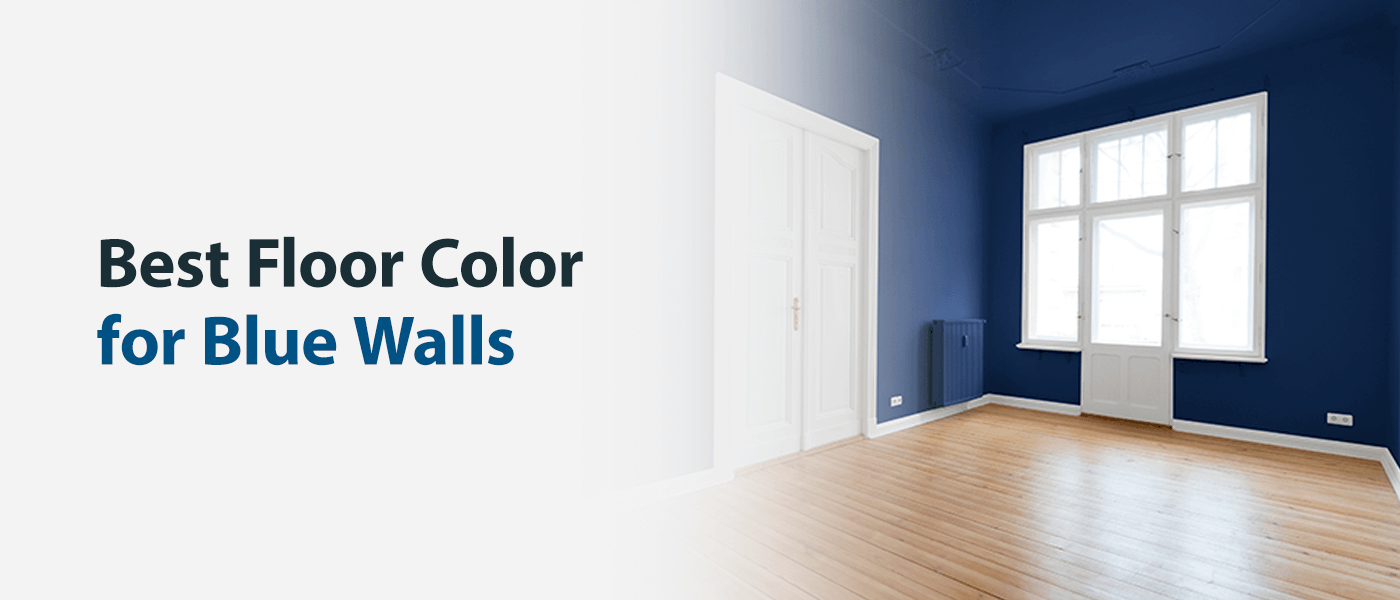 Blue is a cool, calming color that can help you relax in any room in the home. Before you paint your walls blue or if your walls already have this cool shade, you'll need to find the perfect flooring. The right choice will match the color and enhance the overall aesthetic of your bedroom, living room, dining room or kitchen. Carpeting, hardwood and luxury vinyl tile all come in various colors and textures to help you find exactly what you need to complement your room's design.
The right color flooring for your blue walls depends on the shade of blue you use and the desired appearance and atmosphere for each part of your home. Explore the best floor color for blue walls to give you an idea for your new carpet, hardwood or luxury vinyl tile flooring.
What Color Carpet Goes With Blue Walls?
Carpet has a luxuriously soft texture and noise-reducing qualities to create a relaxing environment in your bedroom, living room or family room. You can usually find this flooring in any color you want, so you can match your blue walls and indulge your unique design style. Consider these color ideas for carpet for blue walls:
Cream: This soft, light brown pairs nicely with blue walls because the color combination is reminiscent of the sand and the ocean, letting you enjoy a coastal atmosphere in your home. Both cream and light blue are visually soothing and make your living space appear clean, bright and inviting.
Tan or natural: Natural-colored carpets have a spa-like calmness to them and can enhance the aesthetic of any light or dark blue walls. This color combination works well in the bedroom, where you typically go to relax and spend time alone.
Gray: Since this modern color has become a favorable carpeting option, it can fit your contemporary home's theme. Like blue, gray comes in various colors and shades, so you can find the perfect hue to match the specific blue in your room. You'll probably want to pair a light gray floor with a dark blue wall for an aesthetically pleasing contrast. You can also do the opposite and pair dark gray carpet with light blue walls.
Pink: Have fun with your carpet color choice with different shades of pink. Consider pairing navy blue walls with pale pink carpeting for a modern design. You could also change it up and get bold fuchsia pink floors with robin's egg blue walls for a dramatic look.
Brown: Installing brown carpeting in a room with blue walls promotes a cozy, warm look that complements many design aesthetics. You can add brown leather furniture together to create a relaxing living area for the whole family to enjoy. You could also pair dark brown flooring with light blue walls for visually appealing color contrast.
What Color Wood Floor Goes With Blue Walls?
Hardwood flooring is an aesthetically pleasing option for the blue walls in your living room, bedroom, office or entryway.
It naturally has unique wood graining that gives each panel a distinctive color. You can also stain your hardwood flooring for a consistent look. Blue walls go well with these wood floor stain colors:
Light gray: Light gray is a neutral color that goes well with any shade of blue you decide to put on your walls. This color usually works best with pastel blue walls because it makes the room brighter and more inviting. You can also use light gray floors with dark blue walls to establish a pleasant contrast and add some brightness to the area.
Gray: Medium-gray wood goes well with medium and dark shades of blue. This wood floor color makes the room look elegant and luxurious.
Cream: Natural cream wood flooring can give your living space a warm, relaxing atmosphere. Cream-colored hardwood flooring balances out the cool of the blue walls and makes your room cozier. This color can also help balance out the lighting in your room if you have dark blue walls.
Dark brown: Dark brown hardwood floors with blue walls create a stylish and elegant atmosphere. You may want to check the room's lighting and make sure your room isn't too dark before installing this color flooring in a room with dark blue walls. Consider investing in dark brown hardwood flooring with a fine, glossy finish for an elegant shine.
View Hardwood Flooring Options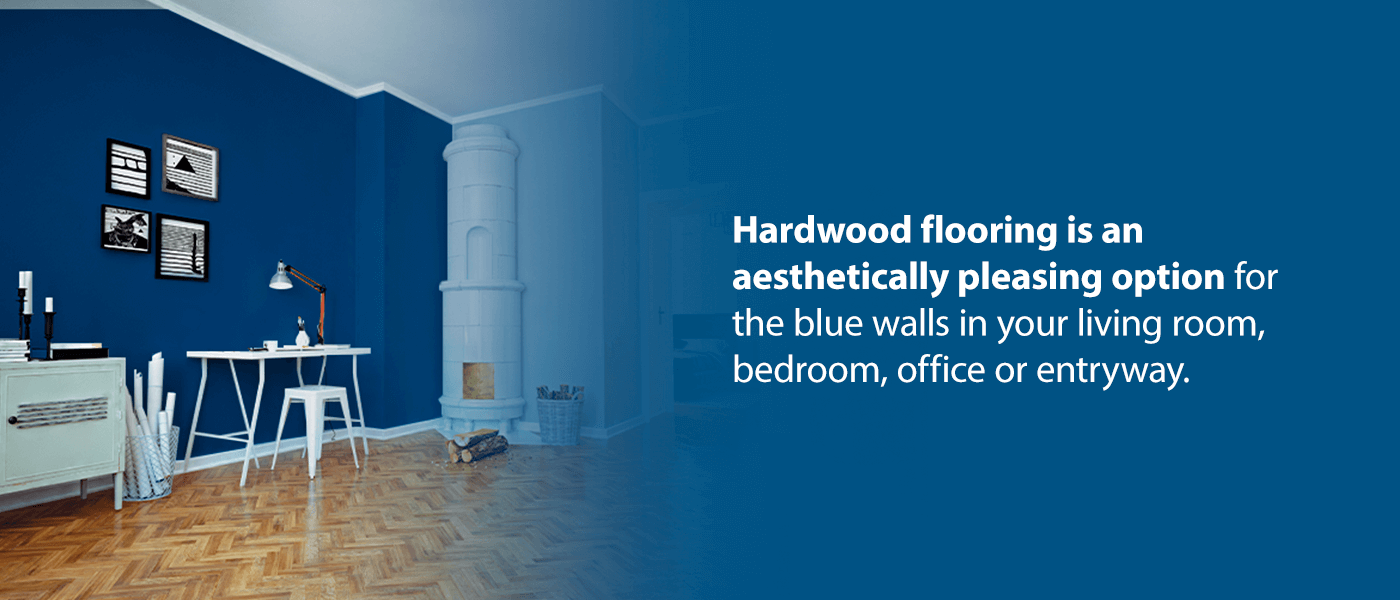 What Luxury Vinyl Tile Floor Goes With Blue Walls?
Luxury vinyl tile flooring is a durable option for your kitchen, bathroom, dining room or sunroom with blue walls. You can have luxury vinyl tile that looks like luxurious marble or other natural stone types at a fraction of the cost.
Choose one of the following tile colors to complement your blue walls:
White marble: White floors create a subtle contrast with the blue walls and allow the blue to stand out. Instead of using plain white tile, you can get marble flooring with colorful textures, stains or graining. You may like white Carrara marble tile because of its luxurious look and its ability to complement any wall color. Having white flooring can make your living space brighter, especially if you have dark blue walls.
Gray: Like blue walls, a gray floor can also create a soothing, calming atmosphere. This color can also match any of your existing furniture, including pieces with vibrant or bright colors.
Cream: Blue walls might make your room cooler. You can warm up your space with cream or beige tile flooring to make it feel cozy and inviting.
Pearl blue marble: Instead of using solid blue tile floors, choose pearl blue marble tile for a splash of blue throughout the whole design. Like white Carrara marble, this tile has a particular stain that complements the walls, adding an accent to make the tile more luxurious. Consider installing flooring with this blue element for an elegant living space.
Silver travertine: For a contemporary or modern style, install silver travertine tile flooring. Its natural grain gives your floors a glamorous and luxurious look. This glossy flooring blends flawlessly with blue walls in various shades.
View Luxury Vinyl Tile Flooring Options
Even after researching the best colors to match your blue walls, you might not be able to decide on the right fit until you've seen flooring options in person. Our specialists at 50 Floor offer in-home consultations, where we bring samples to your house and let you test them against the blue walls throughout your living space. For more information about scheduling an appointment, contact us online or call 1-877-50-FLOOR.