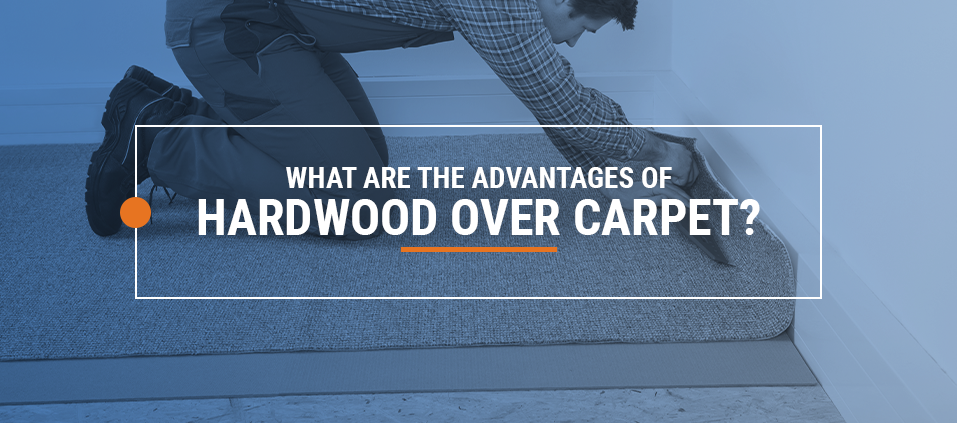 Hardwood and carpet are two popular flooring materials for residential and commercial properties, but which one is better? Even though both options serve different purposes, most homeowners choose to install a wood floor over carpet. Consider the following nine advantages of hardwood over carpeting to determine if wood floors are best for your living space.
1. Hardwood Is Upscale and Timeless
The natural, warm aesthetic of hardwood floors is the symbol of luxury in the flooring industry. These planks comes in various designs and species that can accommodate any style throughout your house. The variation in color and graining in natural wood panels gives them their luxurious look, and specialists can install them horizontally, vertically or in a herringbone pattern. Wide plank wood even makes a small room look bigger.
Installing new hardwood floors or changing its existing color can transform a living space and make your house a home. Since this material lasts a long time, you might have them in your rooms for several generations. Wood floors are like a piece of history on your property that your family will love for years to come.
2. Hardwood Lasts Much Longer Than Carpet
Even though hardwood flooring tends to cost more money upfront, it lasts for decades longer than carpet, so you won't have to replace it as often. If your floors start to lose their color, you can apply a brand-new stain to restore or change their sophisticated appearance. Solid wood flooring can last up to a century if you clean and maintain it properly.
High-quality carpet can last a little less than a couple of decades, even with the utmost care. You would need to replace your carpeting completely if it rips or loses its luster. On the other hand, you can sand, stain and refinish your hardwood floors to keep them looking their best.
3. Hardwood Is Easier to Clean and Maintain
Carpeting can trap dirt and dust, which makes it more difficult to clean. Even if you deep clean your carpet, dust and dirt can still linger within the fibers. Debris and spills stick out on your hardwood floors so you know when to clean them.
To maintain your wooden flooring, all you need to do is dust it every week with a broom or vacuum, instead of cleaning it with liquid products like you would have to do with carpet. Manufacturers suggest avoiding commercial cleaners on hardwood floors because they could damage the material.
4. Hardwood Increases Your Home's Property Value
Since hardwood floors are aesthetically pleasing and last a long time, installing brand-new hardwood yields a return of about 106%, depending on how much you spend on the remodeling project. Whether you're selling your house soon or you want to increase its value for your benefit, replacing your floors with natural, solid wood is a wise investment.
Young and wealthy prospective buyers tend to look for hardwood flooring as they walk throughout a property because of its durability and luxurious visual appeal. Having wood floors in your home will help you earn more when you sell it and shorten its time on the market.
5. Hardwood Is Healthier Than Carpet
Natural wood is healthier, especially for those who have allergies and other respiratory conditions. Carpet traps dust, tobacco smoke and dirt and keeps them in your home longer, especially if you don't clean your floors often. With hardwood floors, you can easily remove allergens with a mop, broom or vacuum to prevent illnesses.
Besides reducing unpleasant respiratory symptoms, wood flooring is also better for your home's indoor air quality (IAQ) because of their all-natural components. Some carpets contain harmful materials that release volatile organic compounds (VOCs) into your living space. To enhance your hardwood floors' health qualities, use a water-based polyurethane finish or one with a low VOC count.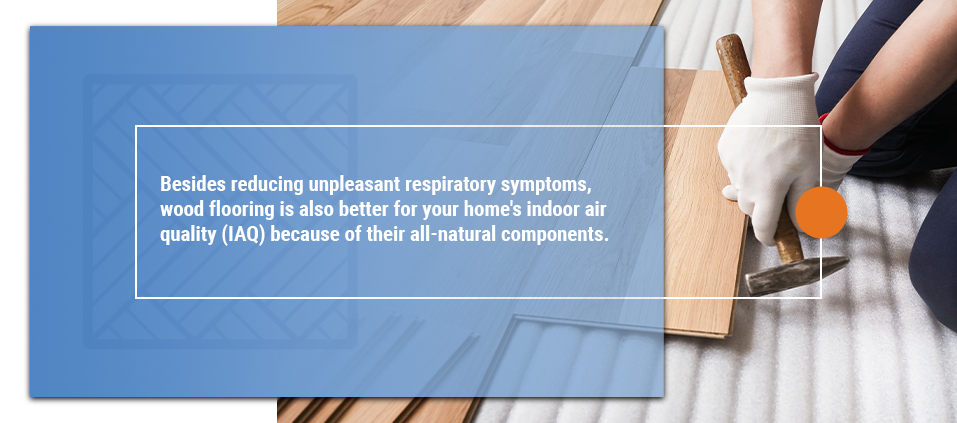 6. Hardwood Is Easier to Repair
Someone could spill a drink on the floor, or your pet could have an accident. No matter how you stain or damage your flooring, it's more convenient to fix your hardwood floor over carpet. If your carpet rips or gets a stain on it, you need to replace all of it, including the pad underneath it. To repair your wooden floors, you could replace a broken panel or sand and refinish the room with an oil- or water-based polyurethane finish.
7. Hardwood Costs Less Money to Maintain
To extend your carpeting's lifespan, you'd need to schedule an annual carpet cleaning besides regularly scrubbing and vacuuming the fibers. It's also challenging to maintain brand-new carpet fibers' undefiled appearance after furniture has flattened them or something has spilled on them.
Maintaining wood floors, especially engineered hardwood panels, is very easy and affordable. You only need to clean your wood floors once a week, and you can use simple household equipment instead of investing in professional services. You could even refinish your hardwood flooring yourself instead of hiring a flooring specialist.
8. Hardwood Never Goes Out of Style
The timeless appearance of hardwood flooring has survived countless design trends, from traditional to modern. Homeowners have installed these types of floors in their houses for centuries. With new patterns and colors available, including hand scraped wood, wooden floors will never go out of style.
Even though you can refinish them to maintain their look, hardwood floor planks tend to improve with age. The colors of carpeting fade and grow dirty over time, so it can go out of style in a few years without proper maintenance. You could still get the cozy feeling of carpet by laying down an area rug. When you sell your house, the next homeowner can change the floor color with their desired wood finish.
9. Hardwood Is More Environmentally Friendly Than Carpet
Today, homeowners are concerned about the impact their property's decor, furniture and building materials have on the planet. Solid hardwood flooring contains materials taken straight from trees in nature. Most manufacturers replant the trees after they've cut them down to create a sustainable environment. If you decide you want to change your floors in the future, you could recycle your wooden floors to extend their lifespan.
Most carpeting fibers contain petroleum, a limited resource that releases VOCs as it breaks down, reducing your home's IAQ. Carpeting itself cannot be recycled, and since you have to replace it every couple of decades, it's not as environmentally friendly as hardwood flooring.
Schedule an In-House Appointment With 50 Floor
Even though there are many advantages to hardwood flooring over carpet, we also offer plenty of carpeting options for your home. If you schedule an appointment with us, we'll bring samples of our flooring to your home to help you make an informed decision. For more information about our products and services, feel free to call us at 1-800-50-FLOOR.