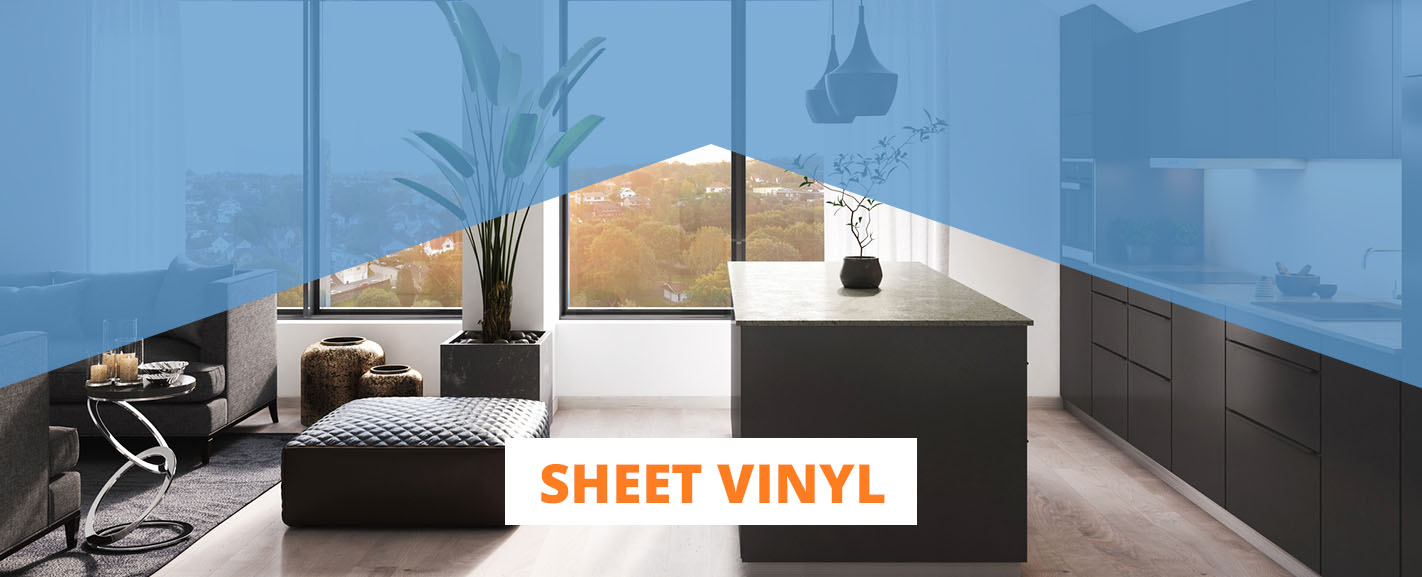 When you hear "sheet vinyl flooring," you may think of the standard low-cost flooring in older kitchens and bathrooms. Modern vinyl sheet flooring has greatly improved over the years — new manufacturing techniques can make sheet vinyl look like real wood or tile. Since there are so many texture, color and design options on the market, it can be challenging to find vinyl sheet flooring near you that looks great in your home.
50 Floor has the best vinyl sheet flooring available. Our options are stylish to fit your home's look and durable to last for years. We will help you select modern vinyl sheet flooring that looks great in your home and fits your budget.
What Is Sheet Vinyl?
Sheet vinyl is a style of vinyl flooring that comes on a sheet up to 12 feet wide. This sheet is fitted to the floor, cut to the dimensions of the room and around obstacles like cabinets. It has a higher quality than older vinyl due to manufacturing improvements over the years.
Sheet vinyl is highly durable with four layers in its structure:
Wear layer:

 

Sheet vinyl is covered in a urethane wear layer that resists scuff marks, stains, scratches and dirt from sliding furniture, shoes, paws and everyday traffic.
Image layer:

 

The image layer is the decorative layer with the color and design. It can mimic many other flooring styles.
Core: The core makes the sheet vinyl rigid and gives it structure. This layer is what makes the floor sturdy for walking.
Backing:

 

The back layer, called the backing, makes the flooring resilient and moisture- and mildew-resistant. It provides the foundation to prevent warping.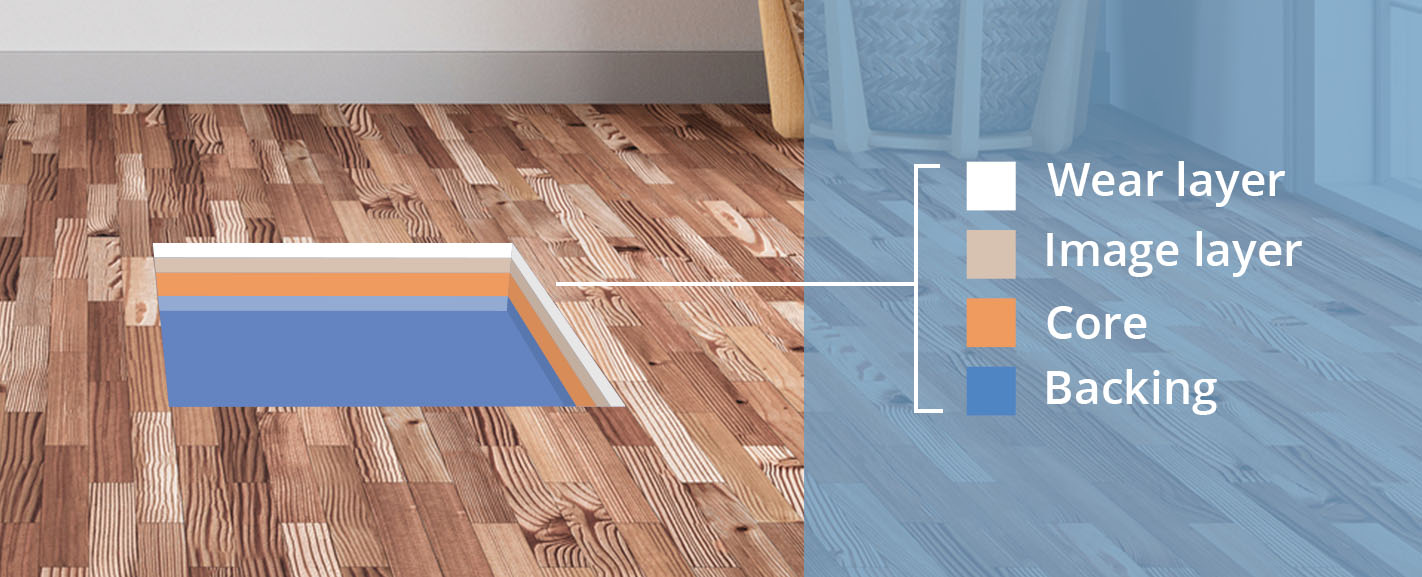 You'll find modern vinyl sheet flooring in a variety of options, including:
Tile: Tile-look sheet vinyl gives your home the high-end

 

tile flooring

 

look for less. Sheet vinyl designs come in many tile patterns, including grout lines.
Stone:

 

Sheet vinyl can replicate a convincing stone, travertine, marble, concrete or slate flooring. Sheet vinyl with a stone design comes in various colors and tile shapes, from square to hexagonal.
Wood:

 

Sheet vinyl flooring can have a

 

hardwood

 

design with many grain types and colors available. Wood-look sheet vinyl gives you the appealing look of hardwood flooring with the durability and simple maintenance of vinyl. You'll find this flooring in all wood colors, from light wood tones to dark gray and other hues.
Decorative: When you want flooring with a unique design, choose decorative sheet vinyl. Sheet vinyl designs have a geometric, checkered or patterned look for an eye-catching style.
Difference Between Sheet Vinyl and Luxury Vinyl
Besides sheet vinyl, other types of vinyl flooring include luxury vinyl tiles and luxury vinyl planks. Though they are all vinyl, sheet vinyl has some differences from the luxury options, including:
Format:

 

Sheet vinyl comes in a sheet, whereas luxury vinyl comes in tiles or planks to replicate natural flooring options like wood and stone.
Durability:

 

Though vinyl is generally durable, luxury vinyl is more resistant to dents and gouges than the sheet style.
Cost:

 

Vinyl is one of the most affordable flooring options available, yet the prices differ between sheet and luxury vinyl. Sheet vinyl is slightly more cost-effective when considering both the costs for materials and installation.
Benefits of Sheet Vinyl
Sheet vinyl is one of the most durable and affordable flooring options available, so it's popular with many homeowners. There are many advantages to installing modern vinyl sheet flooring in your home, such as:
Cost-effective:

 

Out of all the vinyl flooring options, sheet vinyl has the lowest cost.
Durable:

 

Sheet vinyl flooring resists damage like mildew and scratches, keeping its best appearance for sheet vinyl's 20-year lifespan.
Well-made: Sheet vinyl has many layers that give this flooring its structure for high-traffic areas.
Moisture-resistant:

 

Sheet vinyl flooring is more waterproof than tile and plank vinyl flooring since it can be installed seamlessly and is made with waterproof materials like polyvinyl chloride (PVC).
Stain-resistant:

 

Sheet vinyl is great at resisting staining from spilled food, dirty shoes and more due to the protective wear layer.
Low-maintenance:

 

Sheet vinyl is easy to clean, requiring regular sweeping to catch dirt, debris and crumbs and occasional damp mopping for spills. Unlike other flooring types, you do not need special chemicals or a professional service to clean sheet vinyl.
Best Places to Use Sheet Vinyl in Your Home
Sheet vinyl flooring is the optimal choice for any room with a level subfloor. You can install sheet vinyl over old ceramic tile, concrete, padding, noncushioned vinyl flooring or wood. Sheet vinyl is an excellent flooring choice for rooms at all grade levels, especially these rooms:
Bathrooms:

 

Sheet vinyl flooring for bathrooms is one of the best flooring options for areas of your house with high moisture. The sheets can be installed seamlessly, so there is nowhere for moisture to gather and create mildew and mold. Vinyl also retains heat better, so it won't be so cold to stand on.
Kitchens:

 

Kitchen sheet vinyl flooring is durable against heavy foot traffic, moisture-resistant against spills, comfortable to stand on for long cooking sessions and less likely to break your glass dishes if they're dropped.
Sheet vinyl flooring is also a great choice for these other rooms:
Bedrooms
Basements
Laundry rooms
Living rooms
See Flooring Options in Your Home
50 Floor has the best vinyl sheet flooring options for your home. We have options in several colors, textures and designs, so you are sure to find a flooring option that has the look you want. 50 Floor will take care of every part of your flooring project, from sheet vinyl selection to proper installation. We will ensure you get the quality flooring you deserve.
When you schedule your free consultation with us, our flooring expert will bring several modern vinyl sheet flooring samples to your home. You can compare the various choices and see what they will look like in your kitchen, bathroom or other space. Our expert will answer all of your questions about sheet vinyl so you can be confident in your decisions.
Schedule a Free Consultation With 50 Floor Today
50 Floor has vinyl sheet flooring near you with the designs that fit your home and prices that fit your budget. Our flooring experts are committed to providing you with top-quality flooring options made to last for years. We have several locations throughout the United States ready to serve you with sheet vinyl and other flooring options.
Get modern vinyl sheet flooring from 50 Floor today by scheduling your free consultation on our website.