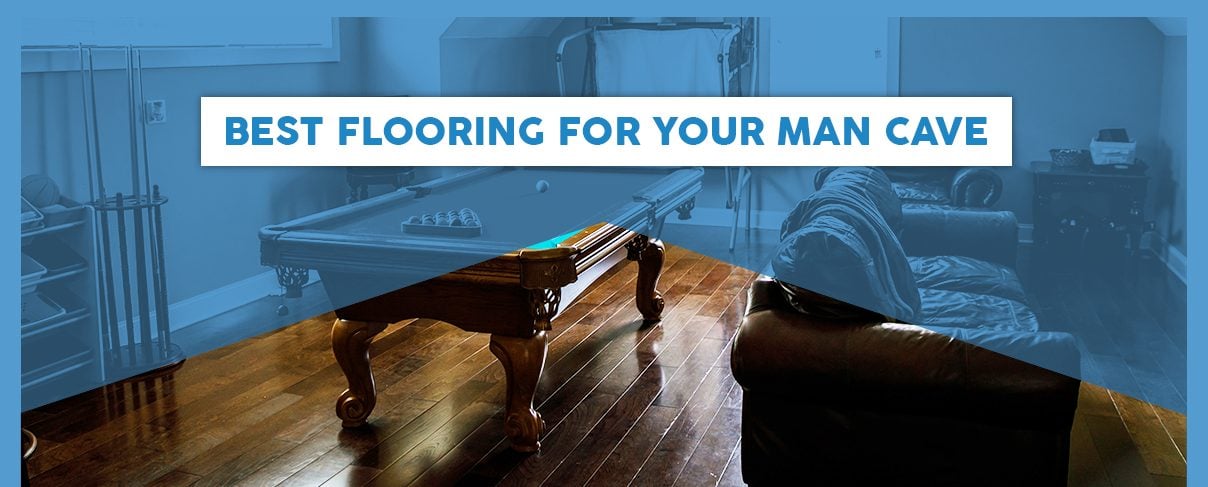 ---
Table of Contents
---
Whether you want a place to unwind by yourself or hang out with the guys, your man cave gives you an outlet to escape from daily stress and take part in your favorite hobbies. As you design this unique space in your home, think about what kind of flooring you want to install. This guide can help you figure out the best material for your man cave flooring.
What to Consider When Choosing Flooring for Your Man Cave
As you start to look at flooring options for your man cave, these factors may influence which one you choose.
1. Part of the House
Your man cave can go anywhere in your house where you have enough room, like the basement, garage or a spare bedroom. The room's size will help you determine how much your flooring will cost. Your man cave's location will also help you figure out specific durability or aesthetic requirements for your floor.
If you need man cave basement flooring, you may want to install a sturdy material that can withstand humidity and temperature changes. On the other hand, if you set up your space in a spare bedroom, you can design it with flooring that matches the rest of the house.
2. Purpose
The man cave can be where you enjoy your favorite pastime or entertain friends. Your floors should help you accomplish whatever you want to do in this unique space. If you're going to create an area to write and play music, install flooring material that enhances the acoustics. Consider putting in a comfortable floor that absorbs sound if you want to use your man cave to watch movies or sports games with the guys.
3. Foot Traffic
As you design your man cave, think about how many people you'll entertain in it. If you'll be spending most of your time alone, watching TV or playing video games, you don't have to worry much about your flooring's durability. However, if you plan on having your friends over to hang out in your man cave, you need a flooring material that can withstand the extra foot traffic. Consider your floor's resistance to spills and its maintenance requirements, so you can quickly clean it after your friends have left.
4. Design
As you create your man cave, consider how you want it to look. Besides what you hang on the walls, your floor's colors and patterns can either enhance or distract from the room's overall appearance. Think about whether you want dark or light wood or tiles to match your walls and furniture. Some flooring has several design options to help you achieve the desired look for your man cave. You can even design affordable floors that resemble more sophisticated materials.
Schedule a Free In-Home Consultation
Man Cave Floor Ideas
Here are some of the best flooring options for your man cave.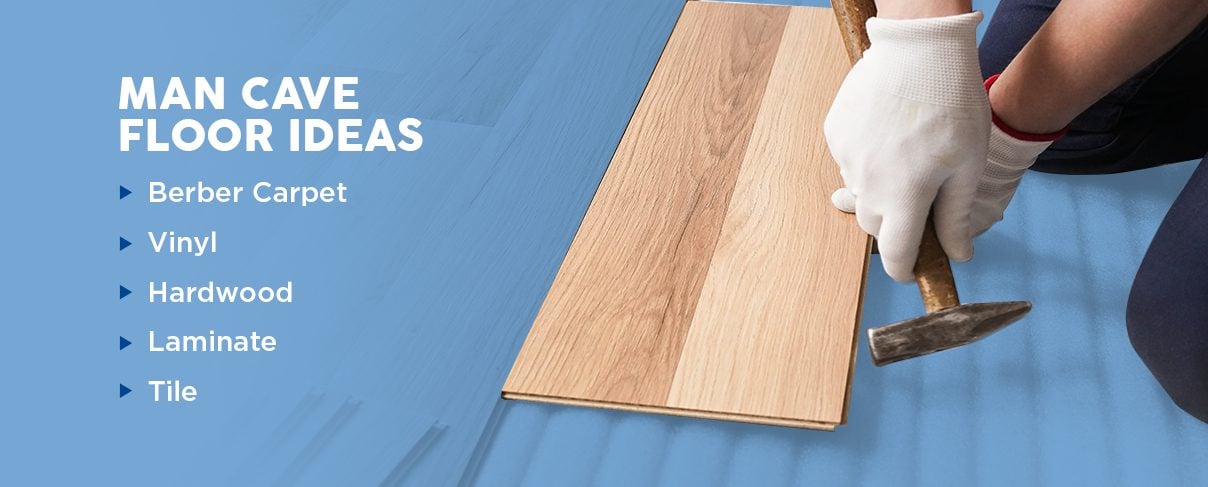 1. Vinyl Floors for Man Caves
Vinyl flooring can go on your man cave in the garage or unfinished basement. With this material, you can set up your man cave as a space for watching TV or playing video games with your friends. The backing you choose for your vinyl flooring can help absorb sound, so you can do whatever you want without echoing throughout the whole house.
This low-maintenance material can accommodate high-traffic areas because it's easy to clean with a damp mop or vacuum. It can also resist scratching, slipping and moisture damage. Vinyl comes in plank, sheet or tile, and it's available in various colors and patterns that resemble other materials, such as natural hardwood or stone.
2. Berber Carpet in Your Man Cave
Carpeting would be suitable for your man cave in a spare bedroom or finished basement. This material offers warmth and texture to your space, making it inviting to you and your guests and giving you a comfortable place to walk. You may want to use a man cave carpet if you're going to turn this room into a home theater or a game room. Since it absorbs sound well, you can watch movies or sports with your friends without disturbing the rest of your household.
Low-pile Berber carpeting features tight loops of fabric that create a firm, flat surface. Since it can withstand heavy foot traffic, you can entertain all your friends for the big game. Due to its short fibers, it doesn't trap dirt like deep-pile carpeting. Instead, dust and debris sit on top of the surface, so you can vacuum it once a week. It also comes in a variety of colors and patterns that can highlight your man cave's design.
Take Our Quiz to Find Your Flooring Style
3. Laminate Floor Ideas for Man Caves
Laminate flooring contains four layers that make the flooring more durable than other materials. Since it's not entirely resistant to moisture, it may be best to put it in your man cave if you plan on using a spare bedroom on the main level of the house. You can put it in your music studio man cave because it doesn't absorb noise. This material is also durable enough to use as flooring for hosting your friends and playing video games.
If you want to watch the game without disturbing your family, you may want to lay down an area rug to absorb the noise. Laminate can withstand foot traffic, and it's easy to clean with a vacuum or dust mop. It can look like natural solid hardwood or stone tile, and it comes in a variety of colors and species.
4. Tile Floors for Man Caves
Tile flooring features units made of porcelain or ceramic that can also take on the appearance of other materials, such as marble or slate. Since this flooring can naturally conduct heat, it allows you to set up radiant heating for your man cave. It can go in the basement or garage because of its moisture resistance.
Tile's acoustic qualities can help you practice your music, but you can also use your man cave to play games and watch TV with friends. This material can withstand most wear and tear, and it's easy to clean up the occasional spill.
5. Hardwood for Man Cave Flooring
You can install solid hardwood flooring in your man cave in a spare bedroom on the main level of your house. Since it doesn't absorb noise, wood flooring provides you an excellent place to practice your musical instruments. It can withstand light foot traffic, so you can create this private space to gather your thoughts and get creative instead of having all your friends over. Wood is available in a variety of species that each come with different durability and aesthetic qualities.
Engineered hardwood features various wood species that manufacturers fuse and put a protective veneer layer on top. You can even install it in your basement because it's more resistant to moisture than solid hardwood. As a result, you don't have to worry about accidental spills, and you can easily clean it after your friends have left. Engineered hardwood offers a sleek and masculine appearance for your man cave.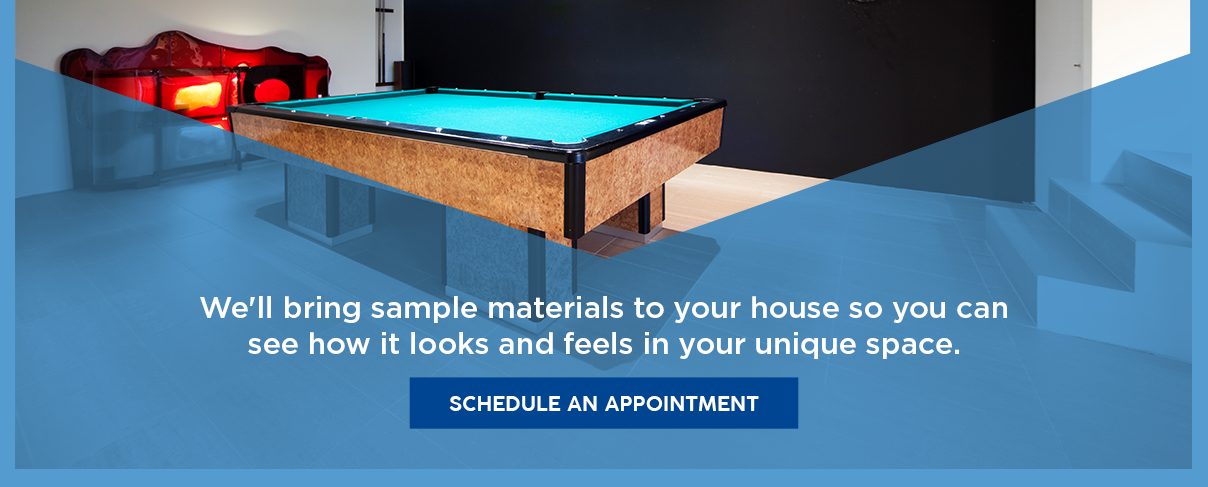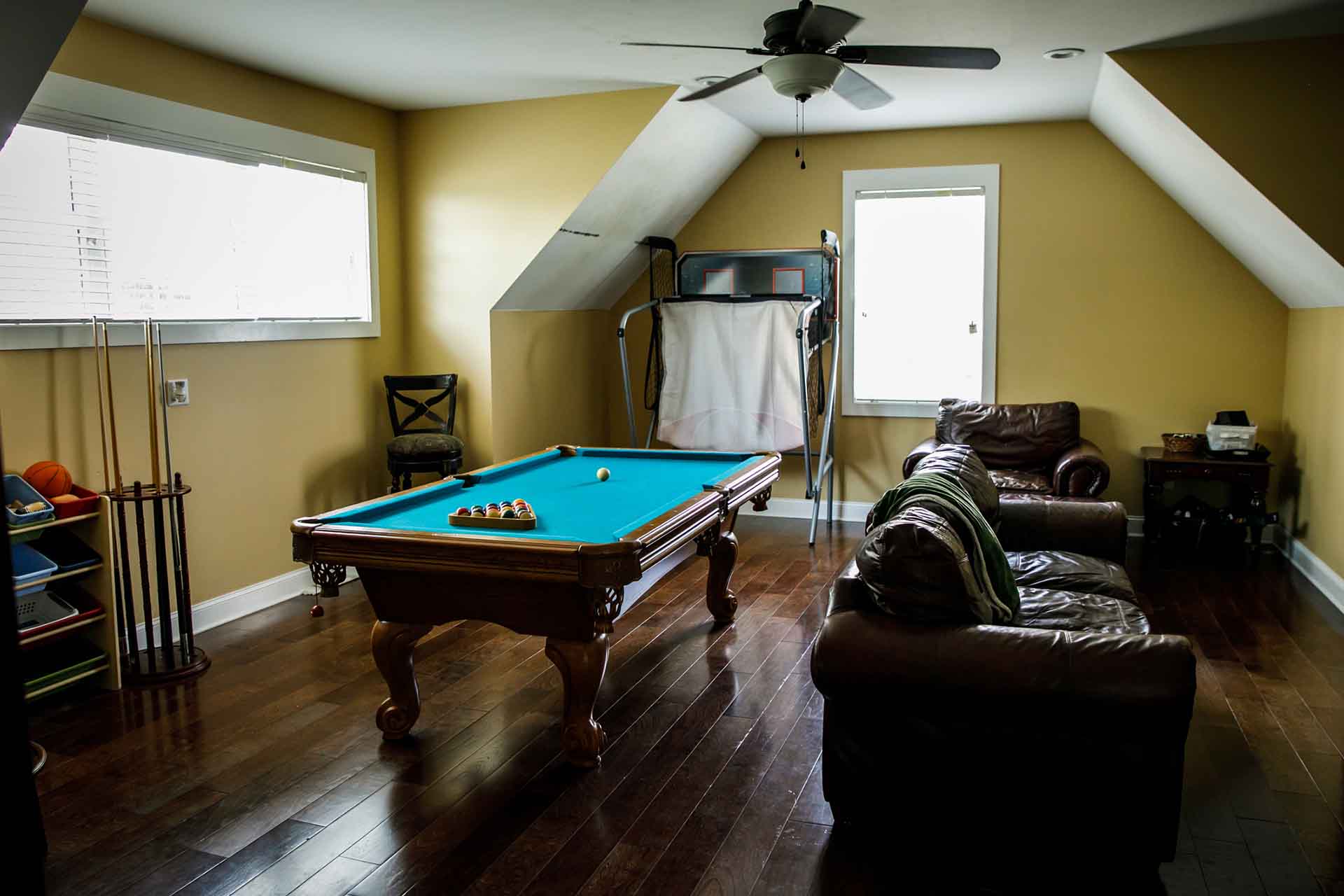 Schedule an Appointment With 50 Floor for Man Cave Flooring
When you're ready to start renovating your man cave, schedule an appointment with us to help you find the perfect flooring. We'll bring sample materials to your house so you can see how it looks and feels in your unique space. For more information about how we can help you design your new room, you can also call us at 877-50-FLOOR.