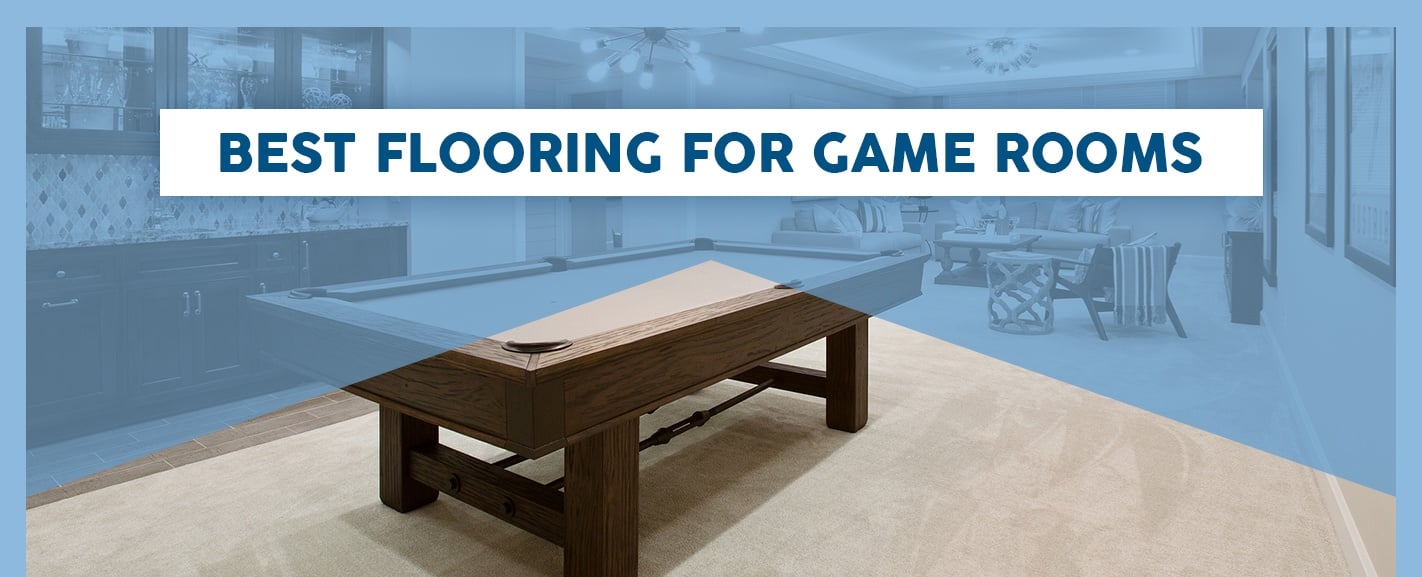 ---
Table of Contents
---
Your game room is a place where you and your family can relax, let loose and have fun. It's where people get competitive on trivia night and gather to watch the big game. It could be where your kids get out their energy after a long day at school or have a slumber party with their friends. However you use it, your family game room sees a lot of action.
All this activity means your game room flooring has its work cut out for it. It needs to keep up with years of moving furniture, sleepovers — and let's face it — spilled drinks and food. Installing the right flooring has a huge impact on your game room.
Things to Consider When Selecting Game Room Flooring
You should consider a few factors when selecting your game room flooring. No two game rooms are alike, and every family's budget is going to be different. Take a step back and envision various aspects of your game room to determine the flooring that is right for you.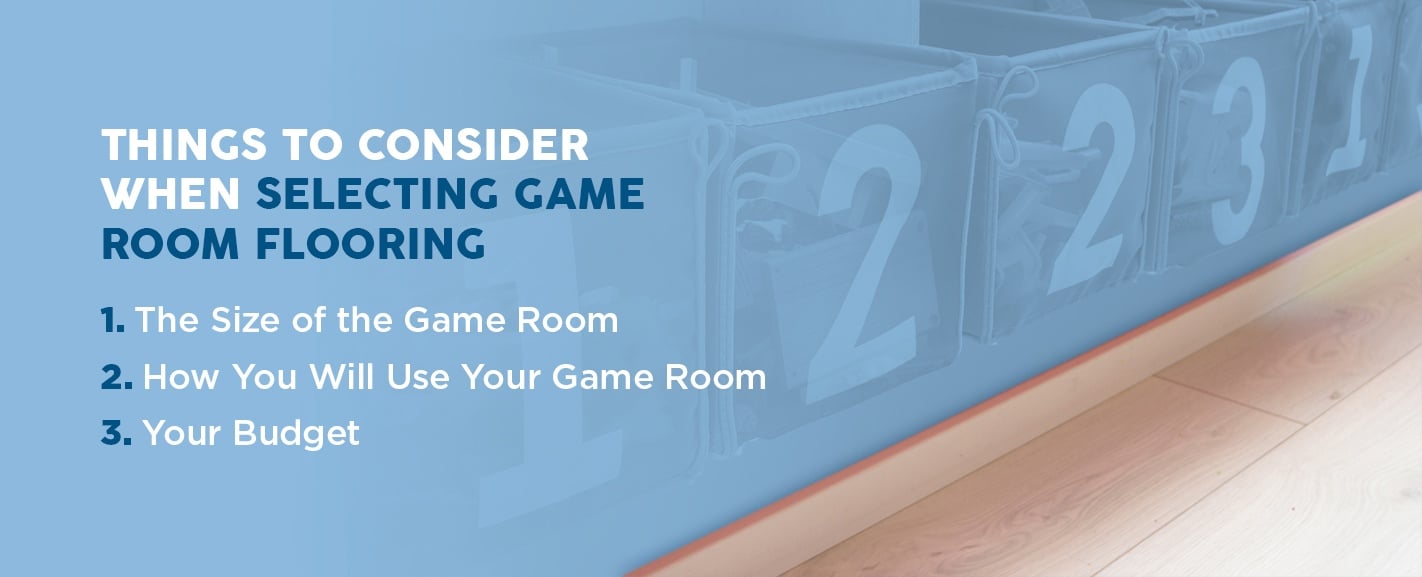 1. The Size of the Game Room
Some houses have a game room that is big enough for friends to gather around a table to play a game of cards. Other game rooms are the size of the entire basement. Wherever your game room falls on the spectrum, knowing its dimensions is the first step in choosing the right flooring.
The size of your game room determines how much material you'll need. The amount of material needed can affect the type of material you choose, as the cost increases with every square foot. Plus, it takes more time to install flooring in bigger rooms, adding to the cost of labor. Knowing the size of your game room an important first step in the flooring process.
2. How You Will Use Your Game Room
Think about how your family will use the game room to figure out the right flooring. What purpose will the room serve? If it's primarily for your kids, then you may want an inexpensive material that you can clean easily. If you're worried about your kids falling and hurting themselves, you can choose a softer material like carpeting.
If the game room is for the adults or the whole family, there may be pool or ping pong tables, couches or a television set. People will probably be eating, drinking and snacking during movies or sports games, posing a risk for messes. Some game rooms get a lot of foot traffic, while others are dormant until the next special occasion. The exact use of your game room will determine the types of flooring you should consider.
3. Your Budget
Your budget is going to impact your game room flooring — there's no doubt about it. If your game room is small, you might be able to choose a more expensive material — even with a modest budget. Larger game rooms might call for more affordable materials because of the added square footage. Consider scaling back on other areas of your home to add more room in the budget for your game room.
Whatever your situation, your budget usually has the final say in how you proceed with the flooring process.
Schedule a Free In-Home Consultation
Best Flooring Options for Game Rooms
You've considered aspects of the game room and your individual budget. Now it's time to understand the best materials available for your game room. With each having their own pros and cons, you'll have to choose the material that is right for your family's needs. Any of these options will contribute to creating an awesome home game room!
1. Vinyl
If you want to use a material that is both budget- and kid-friendly, vinyl flooring for your game room is a great option. A synthetic material that mimics the look of hardwood or tile, vinyl is water-resistant and easy to clean. It's also softer than other materials like hardwood and tile, making it a bit easier on the feet. It comes in several styles, suiting various tastes.
Make sure you clean up spills quickly, as water can seep between the seams of the vinyl. Its smooth surface also poses a slipping risk. With these factors in mind, vinyl can be a great option. Make sure to avoid spills and keep an eye on your kids as they play.
2. Carpet
Many people choose carpet for game room floors because of their good looks and affordability. Carpet provides texture and comfort to the room, making it an inviting place where kids can play on the floor and people can hang out. The color options are almost limitless, allowing you to customize your game room to the exact look you desire. With carpet, you can move furniture around without worrying about scratches or damage to the floor.
In some instances, you may want to choose a different material for your game room flooring. Basement game rooms are not the best place for carpeting due to a higher moisture level, which could lead to mold or mildew. Game rooms that involve eating and drinking also threaten to cover your carpet with stains. Game rooms with heavy traffic can also cause a carpet to look worn out in a few short years.
Take Our Quiz to Find Your Flooring Style
3. Laminate
Laminate is another affordable option. Like vinyl, laminate consists of synthetic materials and can look strikingly similar to hardwood or tile flooring. It is fairly water-resistant and can be easily cleaned with a broom or damp mop. Choosing laminate for your game room floor can give you exquisite looks at decent rates.
While laminate is water-resistant, large spills and puddles can cause permanent damage. Once the damage is done, it is difficult to repair laminate. Sometimes, you'll have to replace the whole floor in addition to the damaged section.
4. Tile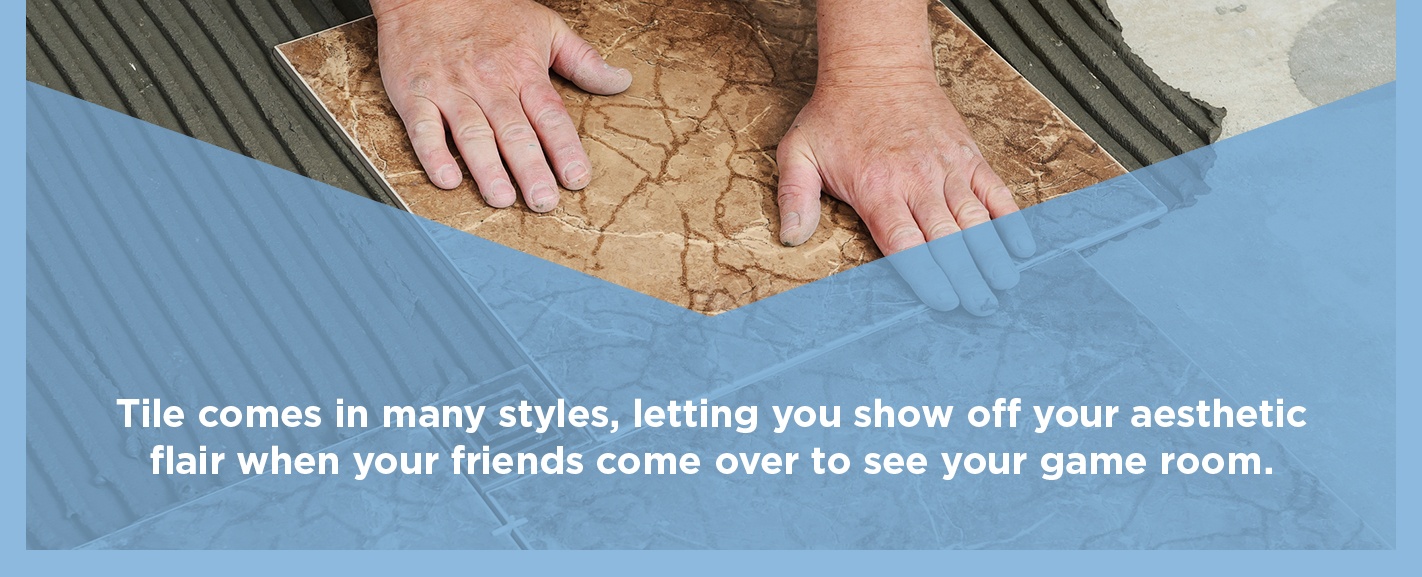 Tile flooring might not be the first thing that comes to mind for a game room, but it could provide a unique appearance with plenty of benefits. It's tough and water-resistant, making it easy to clean. It is durable and can last for years to come. Tile comes in many styles, letting you show off your aesthetic flair when your friends come over to see your game room.
If your kids are going to be the main users of your game room, then tile might not be the best option. It can also be cold to the touch, making it less inviting than some of the other options available. Tile can be quite expensive, making it less appealing if you have a large game room.
5. Hardwood
Achieve enviable looks when you choose hardwood flooring for your game room. Hardwood is durable and can last for decades with proper care. Your game room will be an inviting place to socialize with friends thanks to its warm and natural appearance. With many available species to choose from, you can create the game room of your dreams.
Game rooms with wood floors are not the most water-friendly. Spills pose a major staining risk to hardwood floors. Hardwood is also one of the more expensive options, especially if your game room is on the larger side. You also need to be careful about moving furniture around, as dragging furniture can scratch and damage this expensive but luxurious flooring.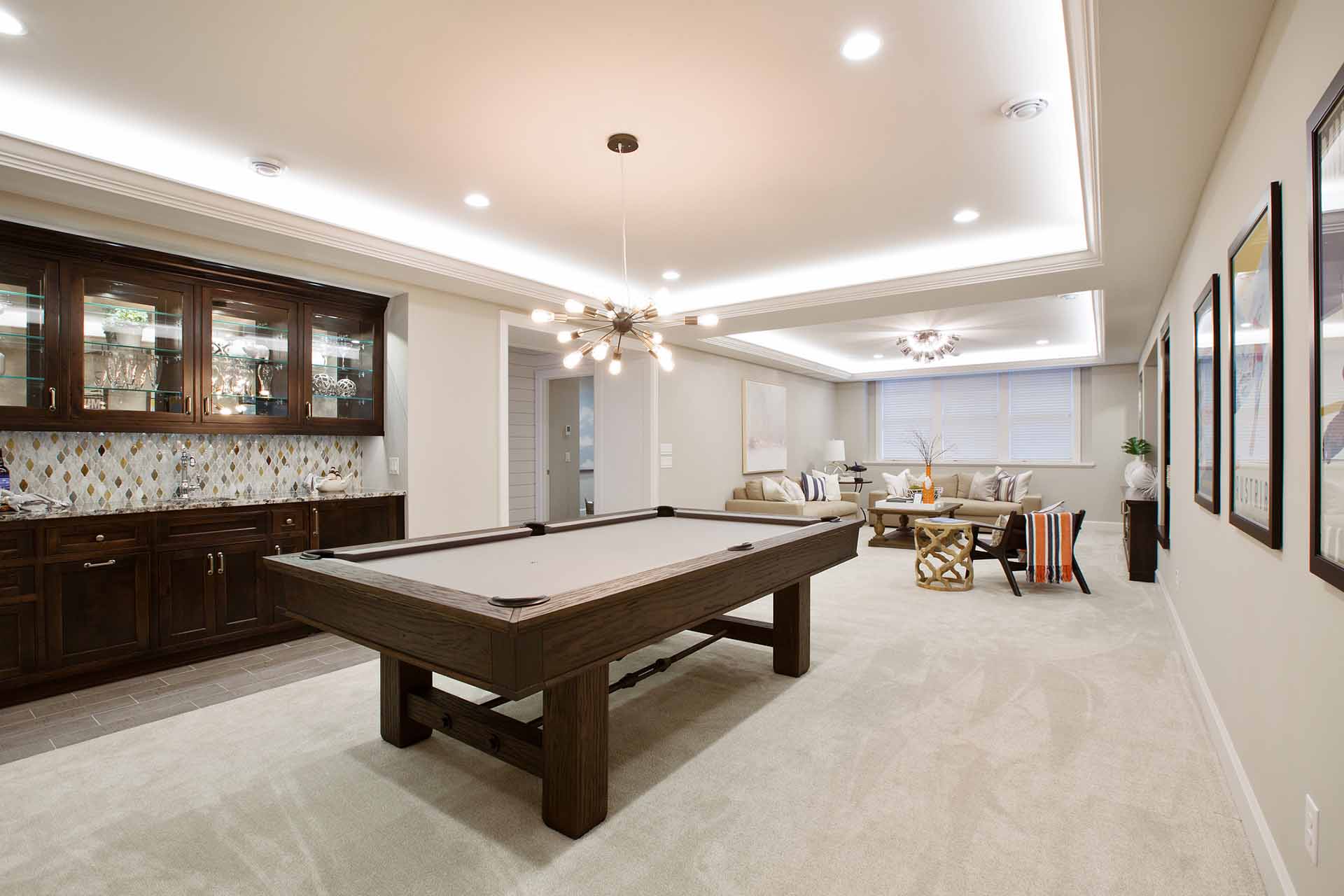 50 Floor Can Install Your Game Room Flooring
50 Floor has been helping customers choose the right flooring for over four decades. We make the task of adding flooring to your game room easier as we work with you at every step of the process. Unlike the competition, we come to you with samples of flooring. We want you to be able to touch and see the materials available to you in your home's unique lighting. With our help, you can make a decision you feel confident about.
Choose 50 Floor to turn your game room dreams into a reality. Contact us online today and schedule an appointment to meet with one of our representatives. Take the next step in creating an awesome home game room!