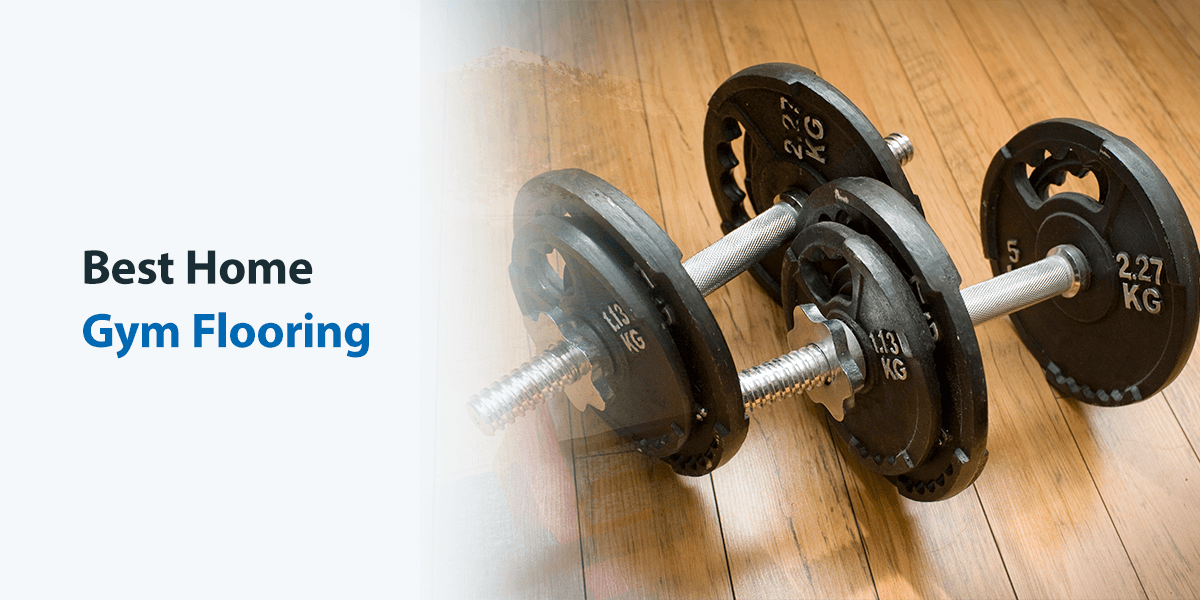 Planning out a home gym can be a lot of fun. You can choose new equipment, weights, decor and more. One of the most critical aspects of designing a home gym is the flooring. You want to choose home exercise room flooring that is beautiful and fits in with your overall gym design but is also durable and will stand up to the rigors of regular workouts.
Thankfully, many different types of flooring are great for home exercise rooms. This guide will help you choose the right flooring for your home gym.
Things to Consider When Choosing the Best Home Gym Flooring
Before selecting the flooring for your exercise room, you should consider some crucial aspects. The right home gym flooring for you depends on the types of workouts you typically do and how you will use the space. However, some common characteristics to look for in home gym flooring options include the following:
Durability: One of the most important factors to consider when choosing gym flooring is its durability. After all, home gyms should be designed for heavy use and stand up to the heavier traffic that a workout room sees compared to other rooms of the house. Dropped weights, heavier foot traffic and dragging workout equipment across the floor can all take their toll on the flooring. Workouts can be tough on your home gym floors, so make sure you choose materials that will stand up to the rigors of exercising.
Shock absorption: Flooring options that provide better shock absorption are ideal for home gyms for several reasons. First, if you drop a weight or something else heavy, the flooring should absorb the impact so the object won't bounce back up at you. Second, flooring with shock absorption qualities will better protect your joints during a workout. Protect your back, ankles, knees and more from unnecessary pain and injury with flooring that has a little give to it.
Cleaning: You want a home gym area to be easy to clean. Many types of exercise take place on the floor, so it's important to keep the floor clean for each workout. Additionally, with more foot traffic, workout equipment and sweating, a gym floor can get dirty more quickly than other areas of the home. Make sure you can clean up quickly between each workout session with easy-to-clean flooring options.
Cost: Different flooring options will come at different prices, so you'll want to ensure your top flooring choices fit your budget.
Home gym equipment: The exercise equipment you want in your home gym can determine the best floor for this room. Heavy machines such as treadmills, ellipticals and power racks can easily dent floors that can't withstand much weight. Additionally, choose a slip-resistant flooring option so you can place exercise mats and tiles on the floor without them moving while you work out. Therefore, choose durable flooring with protective layers to enjoy your home gym daily.
Beyond the individual characteristics of the flooring options, you'll also want to consider just how your family will use the room. You'll want extra protection for your flooring for heavy workouts with weightlifting or large equipment. For lighter workouts, you can use more aesthetically pleasing options that make your home gym look like a studio. Consider whether heavy sweating will be a concern in your home gym and if you need extra shock absorption for joint protection.
Take Our Quiz to Find Your Flooring Style
Where Should You Put Your Home Gym?
Depending on what room you plan to put your home gym in, you can choose different floors to complement the space and location. Some living spaces can withstand certain temperatures and outside elements, which impacts your decision. Take a look at two circumstances that can influence your choice of home gym floors:
Basements: If you plan to put your home gym in the basement, pick a flooring option that provides extra warmth while you work out. Cold climates can make it more challenging to sweat it out while you run, lift and stretch. Therefore, the layers of comfortable fluff from carpets can make it easier to work out in a warm space whenever you desire.
Garage or mudroom: If the room has a door that exits outside, pick a durable flooring option with water-resistant surfaces. Mud, moisture and other outdoor messes can make their way into your home gym, impacting the quality of your floors. Selecting a flooring option with protective layers and water-resistant materials can make your home gym easy to clean and maintain its look for longer.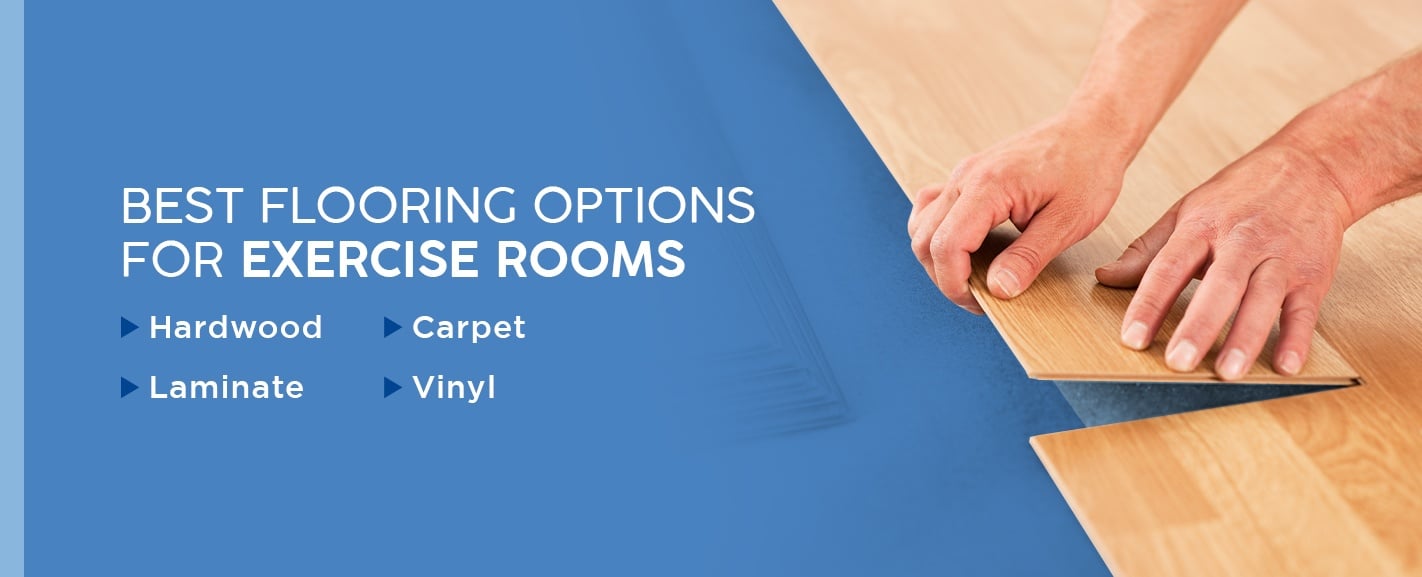 Best Flooring for Home Gyms
While you can do a workout in just about any room of the house, if you exercise regularly, you should have a dedicated space for these activities and design a room for this use. Choosing the right type of flooring will better protect your subfloors, equipment and health. For any home gym or workout room, consider these top flooring options.
Vinyl
For a versatile and affordable option, vinyl flooring is excellent for home gyms. This flooring type is available in sheets, tiles or planks and comes in various colors and styles, even mimicking the look and feel of wood floors. Vinyl flooring resists mold, mildew and moisture, making it an excellent choice as a durable gym floor. It's also very easy to clean and maintain. The downside to vinyl flooring is that it can puncture easily, so be aware of any exercise equipment with sharp edges.
Below are some pros and cons for you to consider before choosing vinyl flooring for your home gym:
Pros: You can create a comfortable yet sophisticated home gym with versatile vinyl flooring styles. With different appearances, including wood and tiles, you can save on final costs by choosing vinyl over authentic hardwood and porcelain tiles.
Cons: Vinyl floors can give you the style and water resistance you need to work out comfortably. However, vinyl floors can dent from heavy equipment and show signs of damage if not taken care of properly. If you choose vinyl floors for your home gym, you must take extra precautions with your exercise equipment.
No matter what style of flooring you choose for your home gym, you may also want to consider extra protection for your flooring, equipment and yourself. Add some quality rugs or rubber mats, depending on your style and type of exercise, to use during your workouts and your flooring will last even longer.
Carpet
You may not think of carpet for this type of room, but it is one of the most popular choices for home gym floors its superior comfort, continuity and flexibility with the rest of the home. The best carpet for exercise rooms is low-pile or commercial-grade style. Carpet provides excellent shock absorption to make workouts easy on the joints, good traction for cardio workouts and good sound-dampening qualities. However, regular carpet cleanings are a must with sweaty workouts.
Read through the following pros and cons to see if carpet is the right flooring for your home gym:
Pros: Carpet floors offer a soft and warm flooring option that can make your home gym as comfortable and safe as possible. Carpet can withstand the weight of heavy exercise equipment, so you can work out without scratching or denting the floor.
Cons: Since the surface of carpets consists of soft textured materials, spills from energy drinks or other messes can easily stain the floor. Dust particles and crumbs from healthy snacks can also get wedged into the surface, making cleaning more challenging than with different floor types.
Laminate
For an attractive and affordable flooring option, consider laminate floors for your home gym. This flooring provides hardwood's beauty at a lower cost and can work very well for certain workouts like dance, aerobics, yoga and more. However, we don't recommend laminate floors for weightlifting or other workouts using heavier equipment, as they can easily scratch and dent.
Some pros and cons to consider before choosing laminate floors for your home gym include:
Pros: For a fraction of the cost, you can enjoy a stylish home gym floor option that resembles wood or ceramic tiles. Laminate floors also protect against wear and tear, moisture and fading over time.
Cons: Unlike most modern flooring options, laminate floors aren't scratch- and dent-resistant. Since home gyms typically have heavy equipment that can have sharp edges, laminate flooring can show marks from these objects easier than other choices.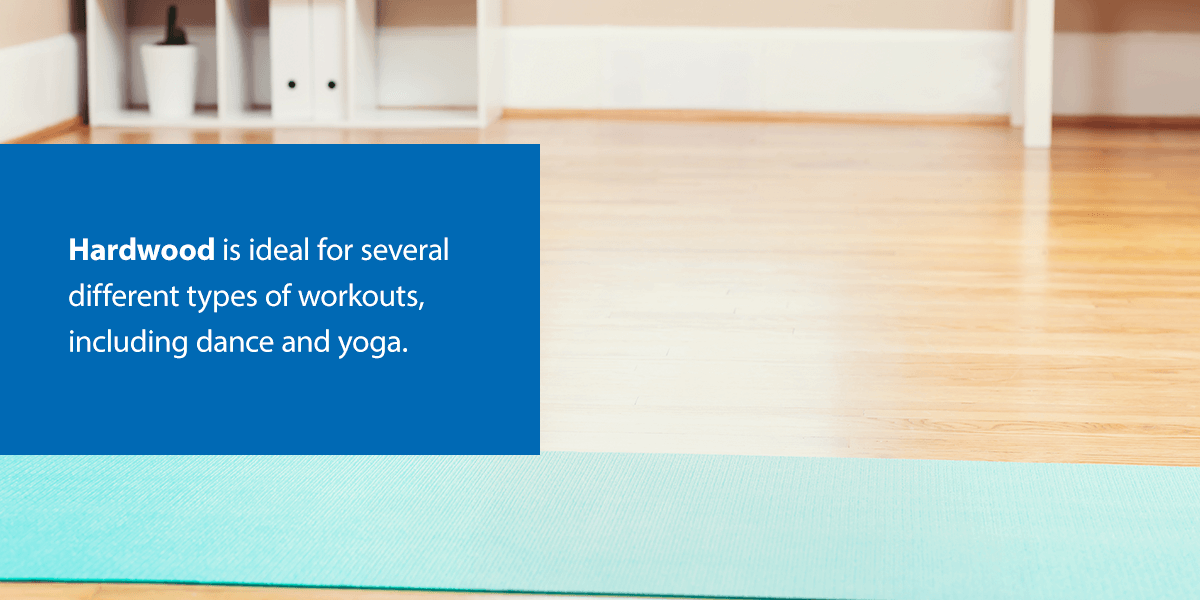 Hardwood
Hardwood flooring is perhaps the most aesthetically pleasing option for many home gyms. Wood floors give exercise rooms that professional studio look while providing long-lasting durability. If you plan to sell your home in the future, hardwood floors can increase the value of the home. This type of flooring is ideal for several different types of workouts, including dance and yoga.
However, if weightlifting is your preferred exercise method, note that dropped weights can splinter, crack or dent the wood flooring. You should also be aware that wood flooring can become slippery if the workouts include excessive sweating.
Take a look at a few pros and cons of choosing hardwood for your home gym:
Pros: Hardwood is an attractive flooring option for any room in the home. You can choose hardwood flooring for your home gym for a sophisticated and strong look that can motivate your workouts. A long life span can also be beneficial if you decide to sell your house in the future since hardwood has a better return on investment.
Cons: If authentic hardwood is your favored choice, you'll need to be careful that spills don't make it onto the floor. Moisture exposure can cause the floor to fade and lift over time since the surface isn't waterproof. Hardwood is the more expensive option of the flooring options listed below, so make sure this option fits your budget if you want this floor in your home gym.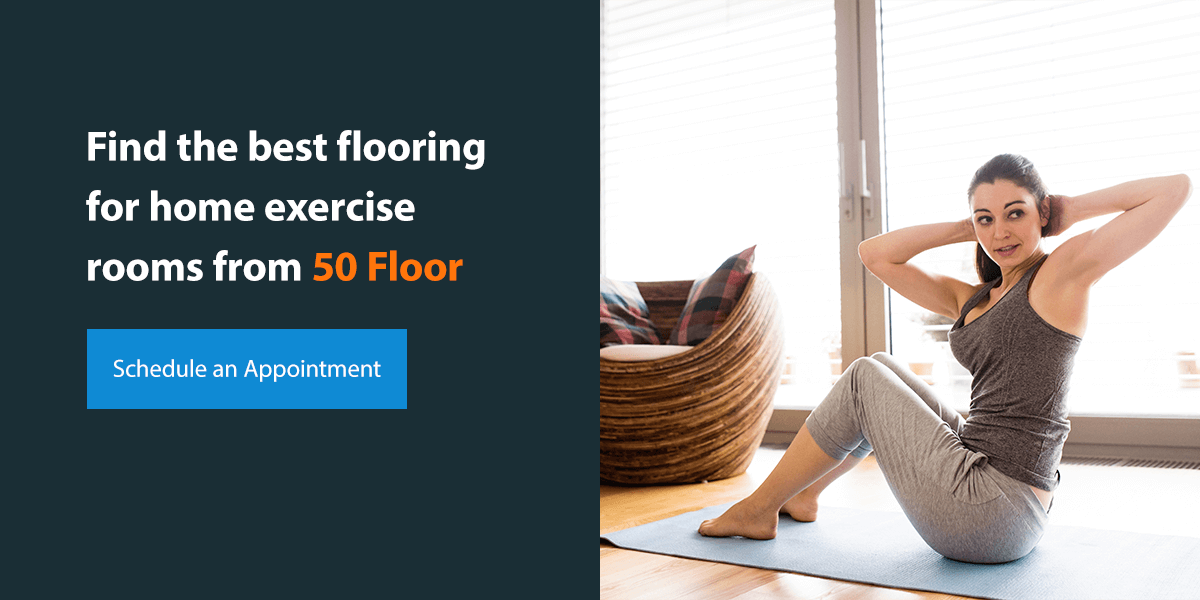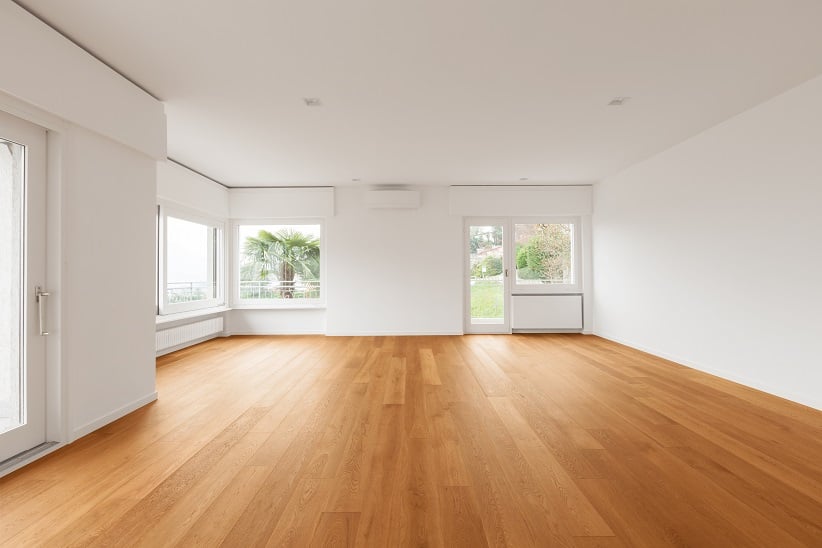 Schedule Your Appointment With 50 Floor Today
Are you ready to see all of your home's amazing gym flooring options? With a wide selection of floors with various styles, durable layers and life spans, you can rest assured your choice in hardwood, vinyl, laminate or carpet is the perfect fit for your personal exercise room.
If you want to see these floors in person to make your decision easier, you can use 50 Floor's convenient at-home shopping experience to see these options up close in your own house. You can enjoy the convenience of shopping from home with the experts from 50 Floor. We bring the best flooring for home exercise rooms to you so that you can see your options with the exact lighting and other decor elements in your own home.
Set up your free in-home consultation today, and our knowledgeable staff will come to your home and provide valuable expert advice to help you choose the right flooring for your home.