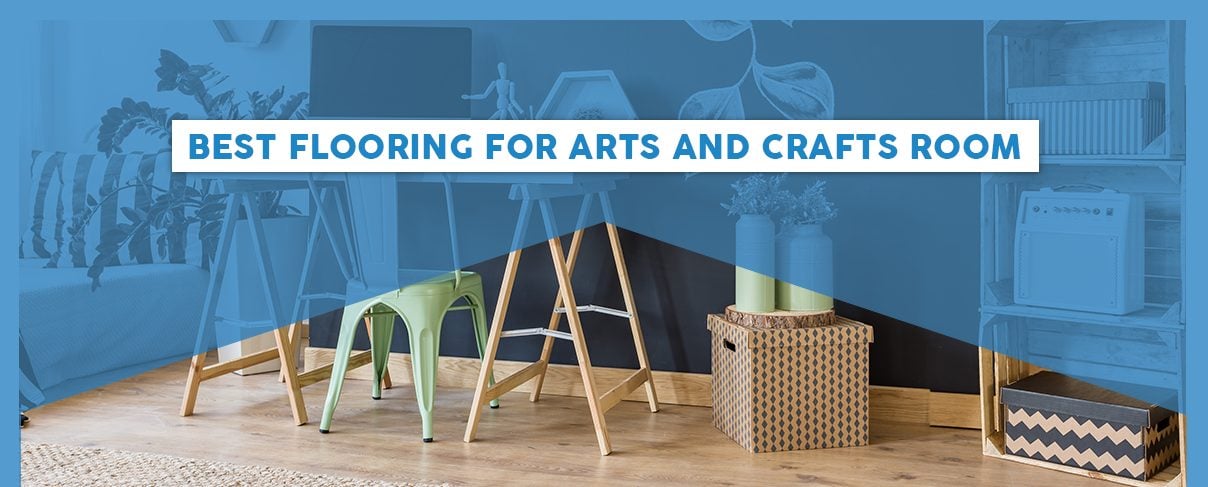 ---
Table of Contents
---
An arts and crafts room gives you or your children plenty of space to indulge in some creative hobbies. You can set up this unique area in any space you'd like, whether it's the garage, a spare bedroom or even an outdoor building.
Besides a few comfortable chairs, a wide desk and all your arts and crafts gear, you also need to design your space with the right paint color and flooring to spark creativity. This guide can help you figure out the best flooring for a craft room or art studio.
What to Look for When Choosing Flooring for a Craft Room
As you start searching for different flooring types to find the best one for your family craft room, you may want to keep these factors in mind.
1. Color and Style
Your arts and crafts room's flooring needs to motivate you and your loved ones to make art. Think about your favorite colors, textures and patterns to find a material that can inspire your workflow. You may want to choose a lighter color because dark flooring could make the room feel smaller.
Besides affecting your mood, your floor's colors should also complement the rest of the room. Unless you're going to add a fresh coat of paint and completely new decorations to your space, you should find a flooring material that matches the current design.
2. Room Temperature and Weather Conditions
If you're creating a craft room out of a spare bedroom that you haven't touched in a while, you may want to walk through it before choosing a flooring material. Think about whether the windows in the room let in direct sunlight or drafts in certain areas. If it's in the cold, humid basement, for instance, you may want to choose waterproof flooring.
Temperature changes, excess moisture and harsh UV rays can damage certain flooring materials. Try to find the flooring that can work for the weather conditions in your home. You could also add window treatments or seal gaps in your doors and windows to control the atmosphere of this part of your home.
3. Your Craft Hobbies
You could use your arts and crafts room for several different creative activities. Consider what you and your family like to do in your spare time and what you'd like to accomplish in your new workspace. Remember that your hobbies may require you to use some sticky or watery substances that can damage certain flooring materials. Try to find waterproof flooring or materials that can withstand the everyday wear and tear that takes place as you spend time working on your favorite art projects.
4. Maintenance Requirements
Whether you like to use glitter, watercolor paints or sticky glue, you need flooring material in your arts and crafts room that's easy to clean. Since clutter in your workspace can hinder your creativity, your floors shouldn't collect scrap paper, glitter or needles. Instead, install a flooring material you can easily clean with a vacuum or broom when you've finished your latest project. It also helps to have a floor that doesn't absorb liquids, so you can easily clean up water or paint.
Schedule a Free In-Home Consultation
Best Flooring for Craft Room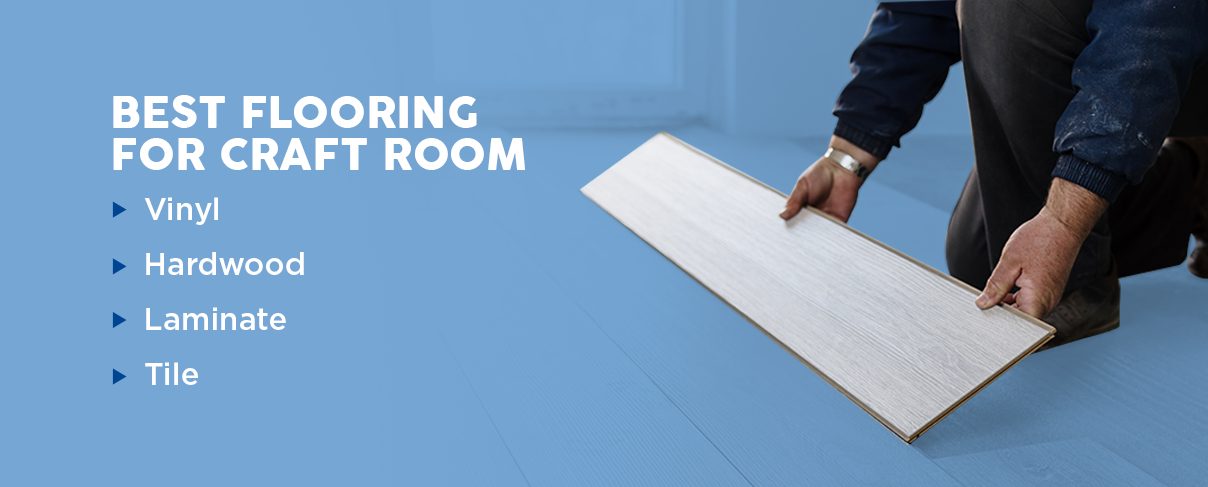 After you've considered how you want to design and use your arts and crafts room, here are some flooring craft room ideas for your workspace and why they'd be suitable for this part of your house.
1. Vinyl for Arts and Craft Flooring
Vinyl is waterproof and easy to clean, so you may want to install this flooring material if you use water or glue in your craft projects. If you accidentally spill onto the floor, you can easily wipe it up with a damp cloth. You can also pick up scrap paper, sequins, string and needles with your hands or run the vacuum after you've finished your artwork.
Besides being durable and easy to clean, luxury vinyl flooring is comfortable for your feet, so you and your kids can walk on it without worrying about developing injuries. Since it can resemble wood or tile, this material can complement any design aesthetic or color scheme. It's also available in sheet, plank and tile, depending on your desired texture and appearance. Its rigid surface can withstand wear and tear, and its protective layer is resistant to chipping or cracking due to temperature changes.
2. Laminate Flooring for Art Studio
Laminate flooring features a versatile design that can complement your craft room's aesthetic. Even though it contains mostly plastic, it tends to look like natural wood, but it's usually more durable than solid hardwood. Laminate can withstand most wear and tear that can happen in a craft room, but if you use watercolor paints or other liquids, waterproof laminate flooring can better prevent water damage from ruining the planks. Due to its durability, laminate flooring tends to be easy to clean with a broom, vacuum or damp cloth.
Take Our Quiz to Find Your Flooring Style
3. Tile Floors for Arts and Craft Room
Tile flooring is a durable material that can withstand most arts and crafts projects. It comes in a wide variety of colors, sizes and shapes that can complement your craft room's design. You may want to pick a dark grout color that doesn't show dirt, so it's easier keep your craft room clean. Even if you spill some liquid or scrap paper on the floor, you can easily clean up the mess with a mop, vacuum, broom or damp cloth.
4. Hardwoods for Art Studio Flooring
Hardwood flooring gives your crafts room a visual appeal that can help spark your creativity. It comes in a variety of wood species that each have impressive durability and aesthetic qualities. You can also change your hardwood planks' color with a colored stain to complement your craft room's design. Even though natural solid hardwood can warp when it comes into contact with water, you could also install engineered hardwood flooring that's waterproof and resistant to temperature changes.
Wood flooring is easy to clean with a vacuum or a broom, so you can prevent glitter and scrap paper pieces from sticking to the planks. The wood grain also won't hide needles like carpet would. Even if your wood flooring suffers from some wear and tear over the years, the faded look can enhance its design. If you maintain it properly, your wood flooring can last for decades in your craft room before you have to replace it.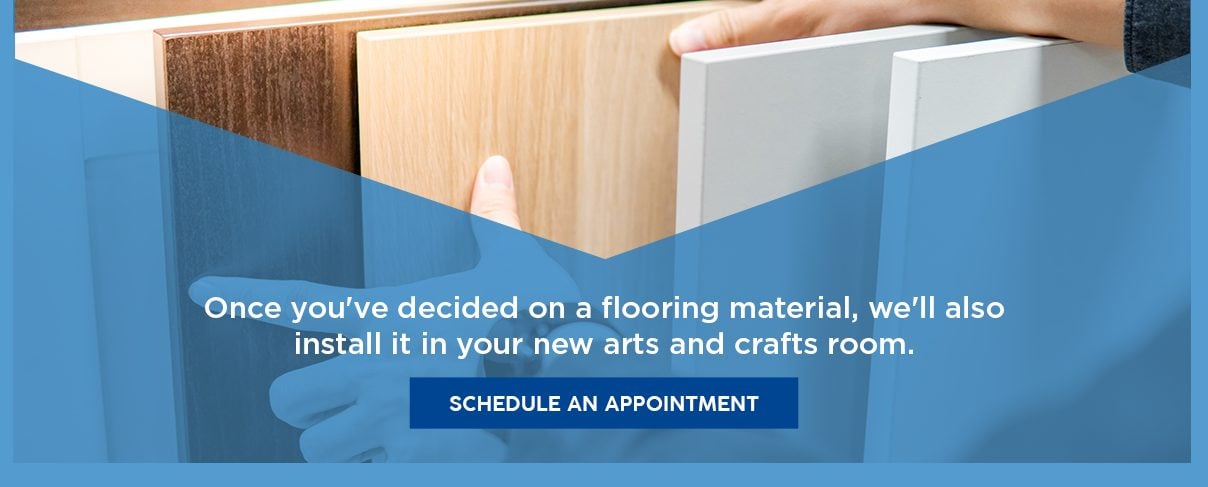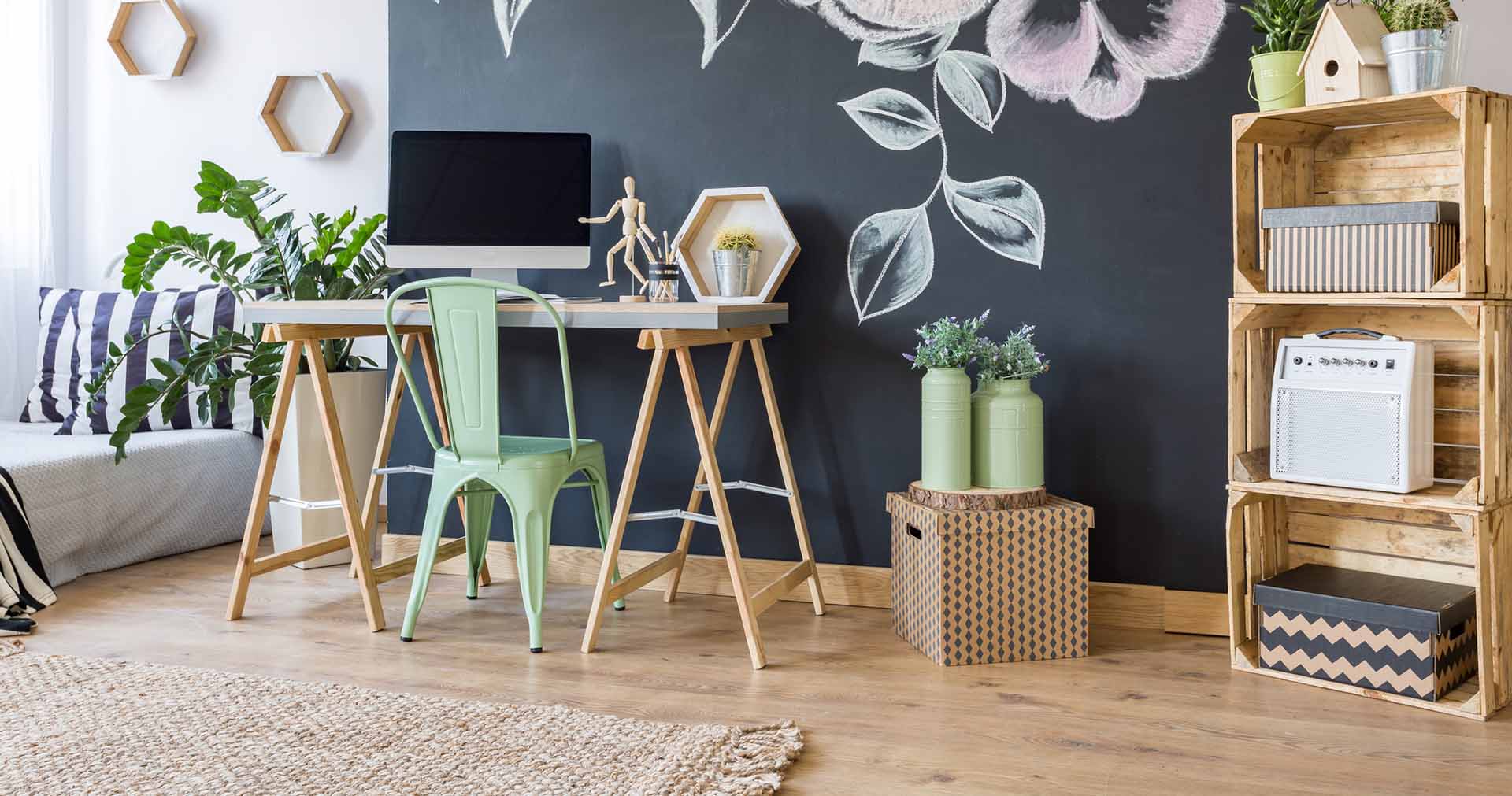 Schedule an Appointment With 50 Floor
When you're ready to install your flooring for your craft room, schedule an in-home appointment with us. We'll visit your home in one of our service areas and bring floor samples to check against your existing space. Once you've decided on a flooring material, we'll also install it in your new arts and crafts room. For more information about our products and services, you can call us at 1-877-50-FLOOR.