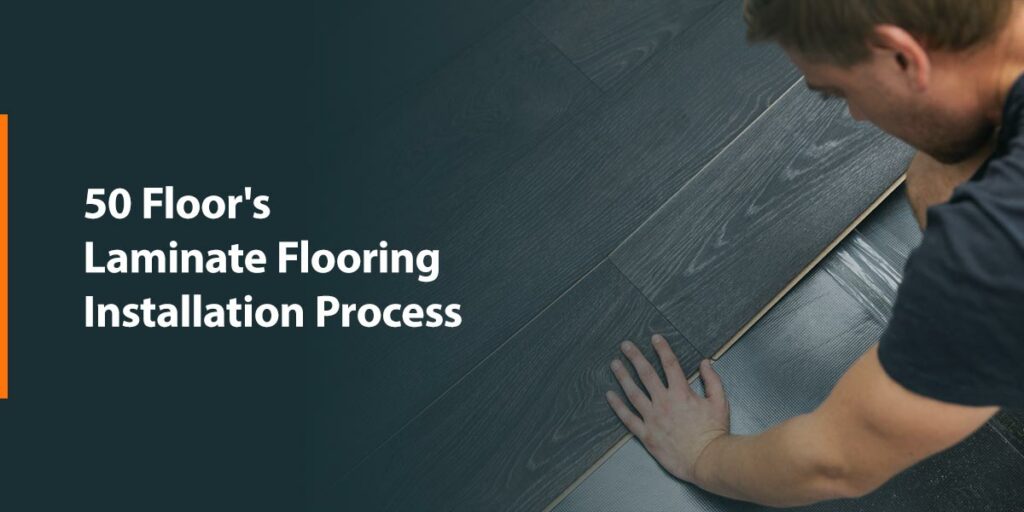 Laminate provides the luxurious appearance of hardwood at a much lower price point. Made from high-density fiberboard (HDF) or a wood fiber core, laminate flooring is durable and scratch-resistant. These properties make laminate popular among homeowners who want hardwood without the hassle.
Proper installation is critical for lasting results. But before you get started, there are some key steps you need to take to prep your space. Read on to learn more.
How Should I Prepare for Laminate Flooring Installation?
After you've selected your new flooring and measured your room, it's time to get ready to put it all together. When you hire a company for laminate flooring installation, there are a few things you can do first to help them out on installation day.
Here's a quick installation prep checklist you can use to ensure a smooth project:
Communicate with the team: The team behind your flooring installation are experts in their craft. Don't be afraid to ask them questions about anything you're unsure of. Effective communication ensures you get the result you're looking for after the installation.
Clear the space: Protect your belongings by moving everything out of the room where your new floor will go. This step also eliminates potential obstacles to installation. When you work with 50 Floor, you can leave the heavy lifting to us for the larger furniture pieces. However, you'll want to remove small trinkets, wall decorations, area rugs and other pieces from the room. Clearing as much as you can will be extremely helpful on installation day. You'll also want to empty any cabinets or closets in the space.
Confirm with the crew: When the crew arrives, you'll confirm your flooring choice and, ideally, provide a covered workplace for them to work. Then they'll get to work on the installation. Keep in mind that you may need to reschedule your installation if you cannot provide a covered workspace in the midst of poor weather.
The crew's prep work will involve acclimating the boards, removing the original flooring, preparing the subfloor and installing underlayment. After the preparations are complete, they'll start laying down the laminate boards.
Again, feel free to ask any questions you have about the process. Flooring experts have years of experience with many different types of flooring, so you can count on them to provide the answers you need.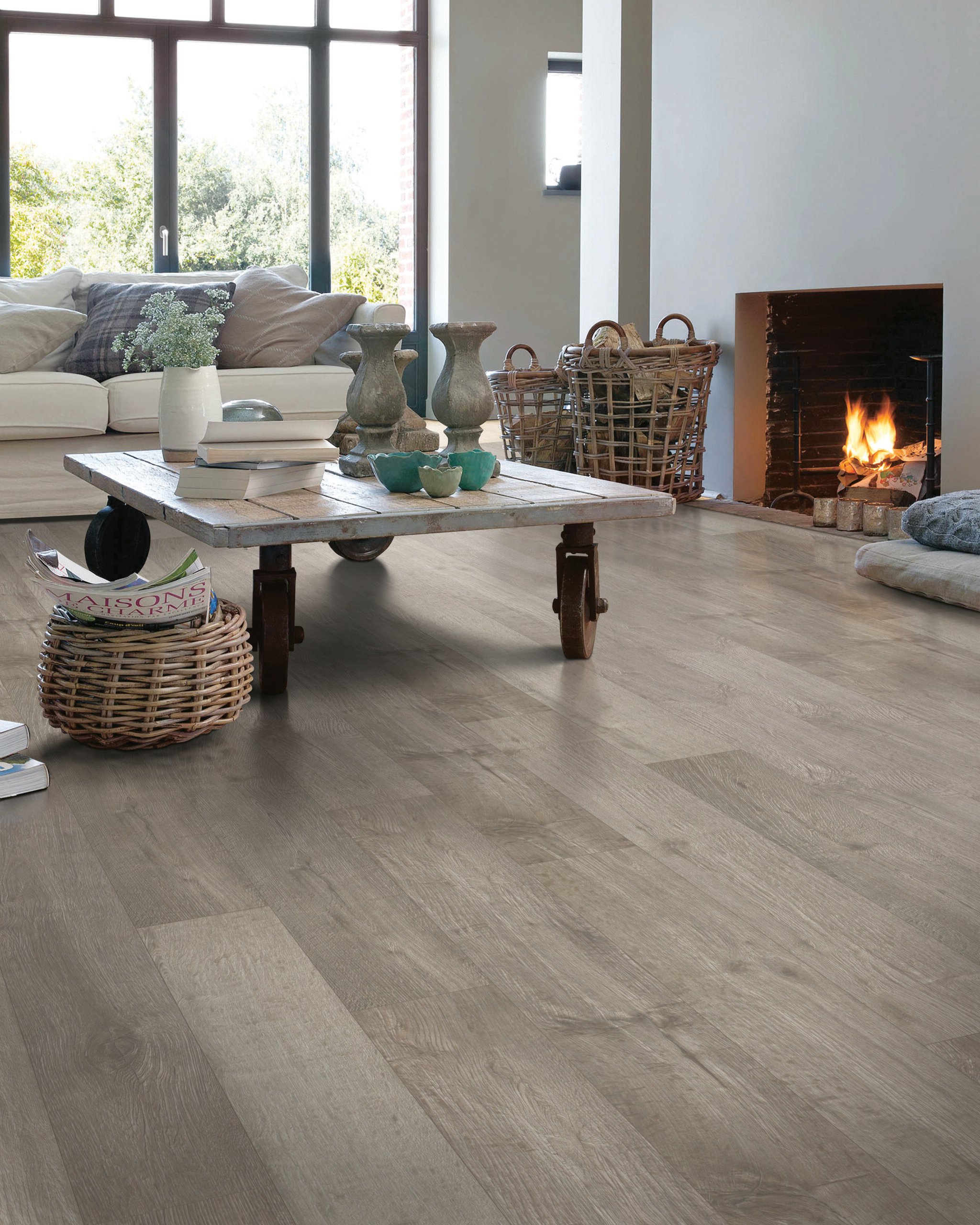 What Factors Affect Laminate Installation?
There are several factors that can affect the installation process. Consider the following before you begin:
Subfloor Preparation
The type and condition of your subfloor has a direct impact on your final results. Making sure the subfloor is clean and level before installation prevents later structural damage.
Most homes have either a cement or wood subfloor. The type you have in your home determines the kind of prep work the installation team will need to do:
Wood: In some cases, you can install laminate directly on top of a sound wood subfloor.
Concrete: This subfloor type requires a little extra work. The installation crew may also need to install a vapor barrier under your laminate to prevent moisture damage.
Some subfloors are incompatible with laminate. If this is the case in your home, you'll need to do some extra work to make it work with your new laminate. These additional renovations may cause you to go over budget if you didn't already plan for them.
Your subfloor's condition is another crucial consideration. Dirty or unstable subfloors will require more time and effort than ones that are in good condition.
Many homeowners find that this step is more work than they originally accounted for. If this sounds like you, consider making an appointment with a flooring expert to ask questions and get a professional opinion.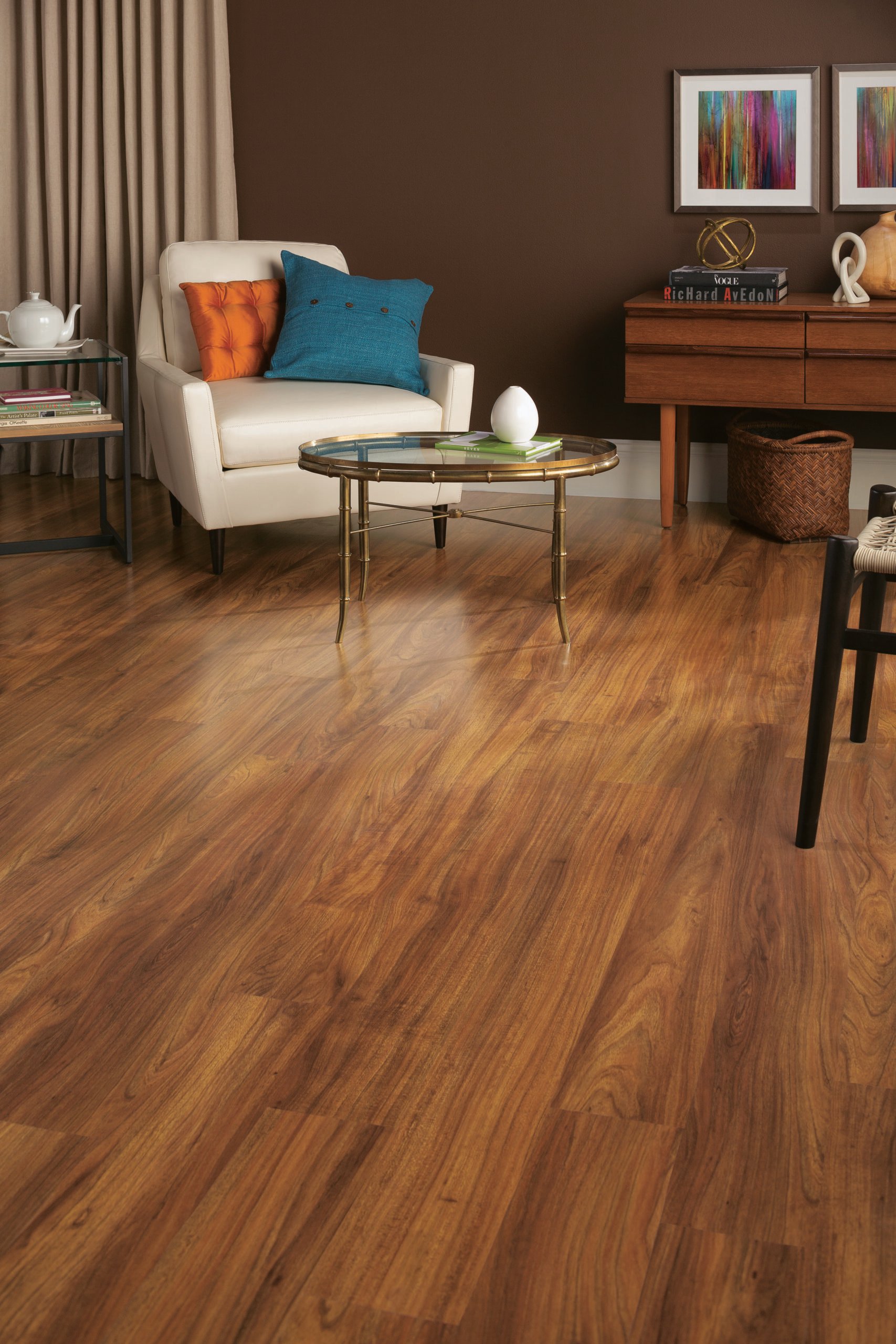 Humidity and Temperature
Homeowners who are new to renovation often forget how the environment can affect laminate floor installation. Like hardwood, laminate is porous, which means it will expand in warm or humid spaces. Likewise, in cold or dry climates, it will contract.
Let's say you want to install laminate in a sunroom. During the summer months, sunrooms without climate control tend to get hot and humid — this can warp and damage your floorboards. If you're unsure what to do, a flooring professional can provide valuable advice on how to manage conditions in your home. You'll likely need some type of climate control to achieve laminate flooring in a sunroom.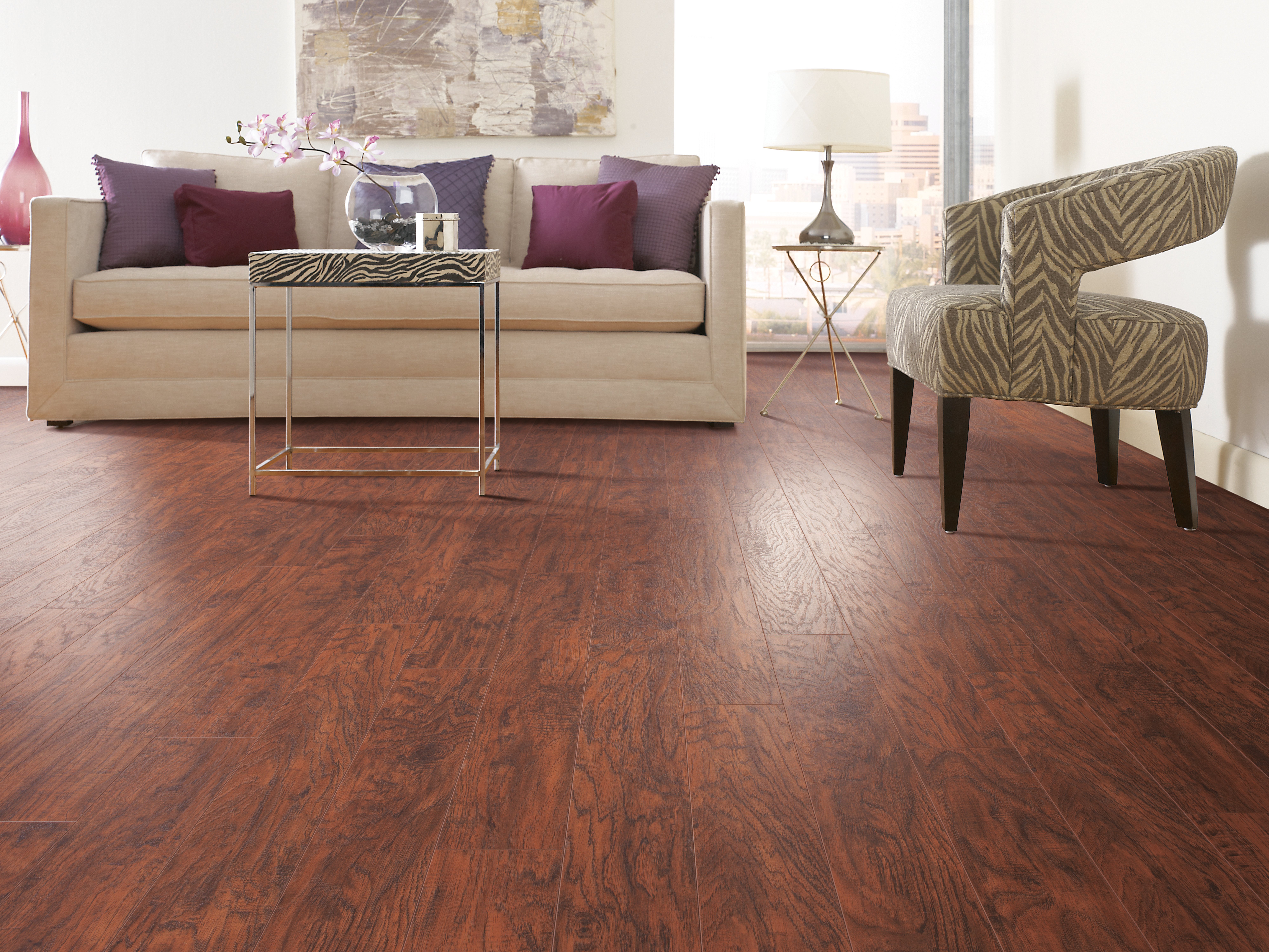 How Difficult Is Laminate Flooring Installation?
Laminate is easier to install than other flooring types thanks to its interlocking design. The planks snap together and "float" over your subfloor, eliminating the need for adhesives or nails. Additionally, because laminate is scratch-resistant, you can skip adding sealant after installation.
Essentially, laminate flooring can be installed in just a few hours with the proper tools, expertise and preparation. Working with a professional installation company helps ensure you can overcome unexpected issues that may arise during the installation process.
Here's why you may want to leave the heavy lifting to the experts:
Cost savings: Flooring experts already have all the materials and skills necessary for installation, so you don't need to go out and buy more.
Longevity: Proper installation is critical for getting the most out of laminate flooring. In addition to installing your floor, a professional can tell you how best to maintain it to keep it looking beautiful for years to come.
Speed: Laminate is easy to install, but a professional can get it done even faster. You'll be able to get back to your everyday tasks within a few short hours.
Peace of mind: From warped boards to problematic subfloors, flooring experts have seen it all. So when you bring a professional on board, you can rest assured knowing they'll help you find the best solutions for potential problems.
Book a consultation today with 50 Floor for great results and a stress-free installation experience.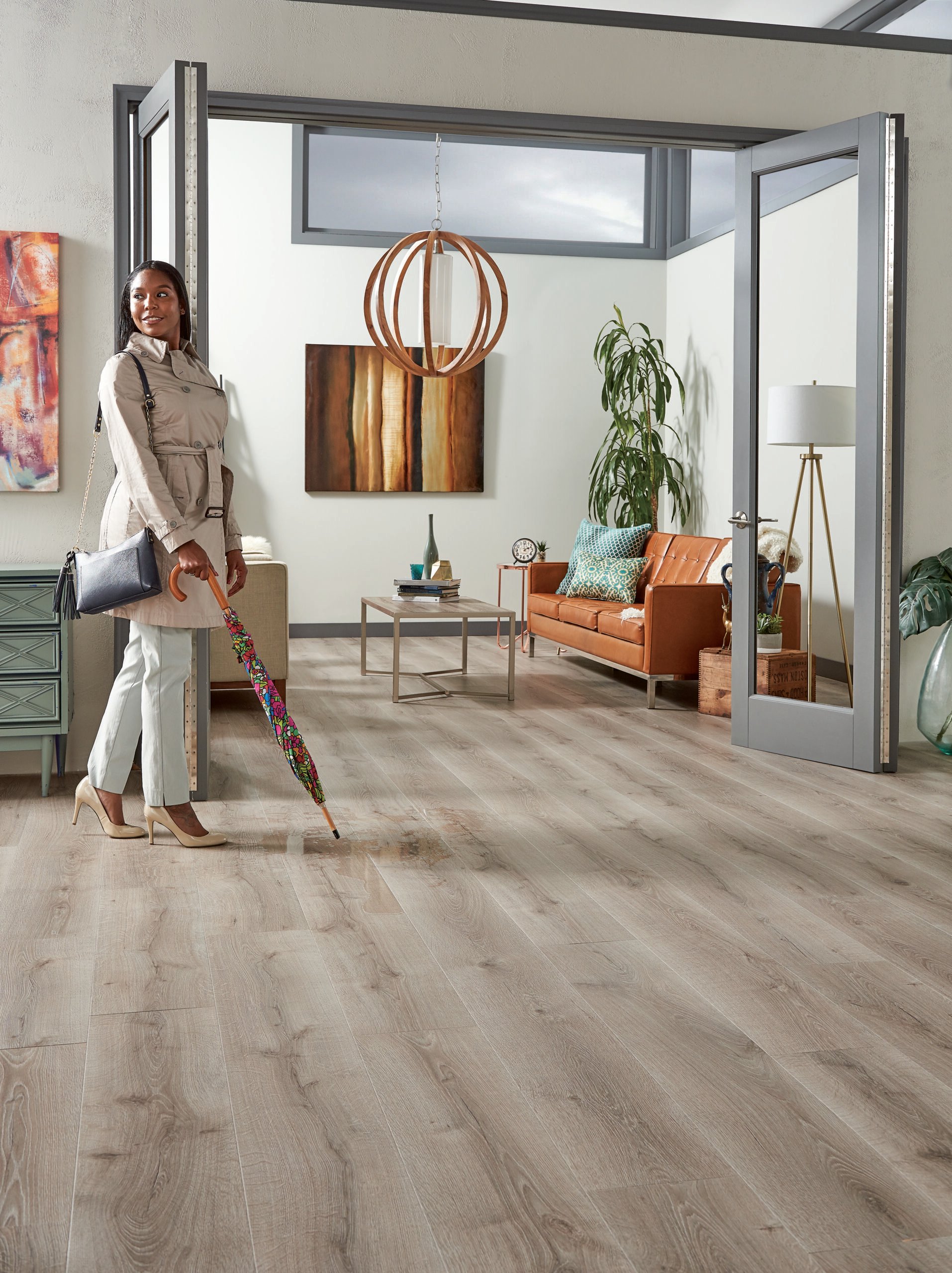 REVIEWS
Hear From Our HAPPY CUSTOMERS