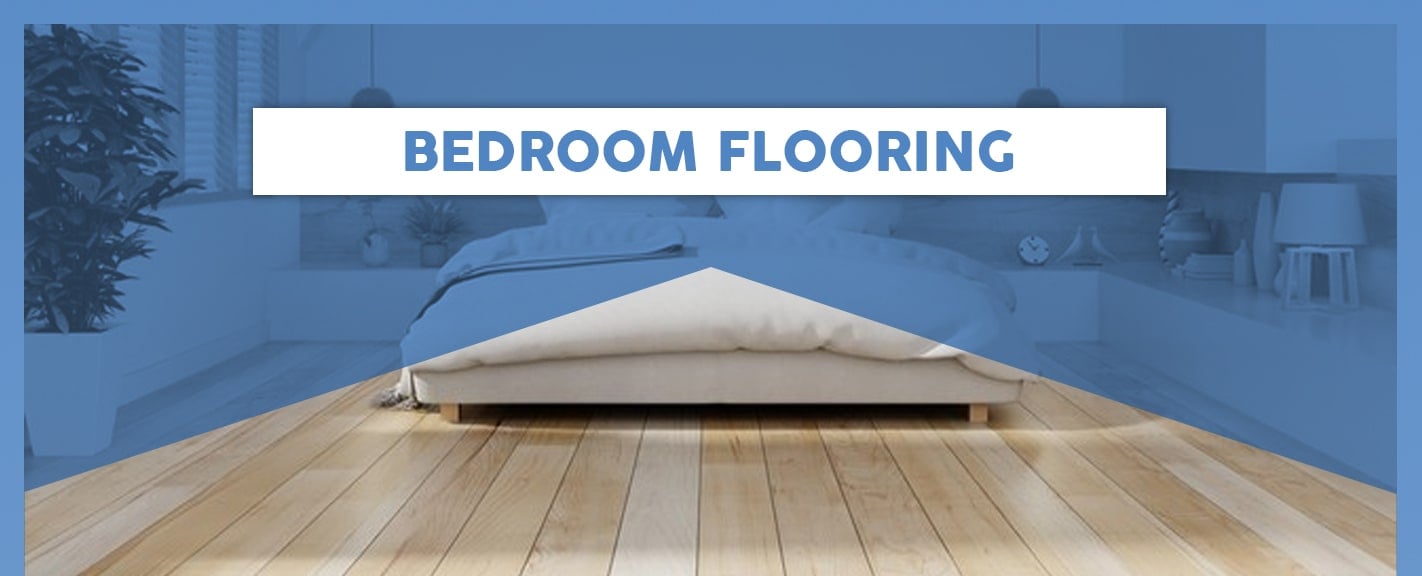 Table of Contents
---
Your bedroom is your respite from the world — it's the place you go to relax after a long day and get in your 40 winks. Since bedrooms are meant to provide peace and quiet and a place to rest, they will ideally have flooring that creates an atmosphere of comfort. The best flooring for bedrooms will help you feel at ease and reflect your personal style and taste. If it's time to refresh your bedroom's floor, here's what to consider, as well as a few ideas for flooring in bedrooms to get you started.

What to Consider When Choosing Bedroom Flooring
Before you look at bedroom flooring options, it's worthwhile to consider how you use the room and who uses it. The following five considerations can help guide you to the best bedroom flooring.

1. Who Sleeps in the Bedroom
Understanding the needs of the person or people who sleep in the bedroom will help you when you're selecting flooring. You'll likely choose a different type of flooring for a child's room compared to your master bedroom or a guest room. Ideally, the flooring you pick for a kid's bedroom will be comfortable and soft, as well as able to withstand a high level of activity.
Kids often use their bedrooms for much more than just sleeping. Your children might learn to walk on their bedroom floors, build majestic castles and other structures during imaginative play, or jump around on the floor. For that reason, you want to look for flooring that can provide cushioning with sound-dampening qualities.
Adults, on the other hand, don't usually do much more than sleep or relax in their bedrooms. The flooring you choose for your master bedroom might reflect the fact that you want to create an oasis or a sanctuary from the stresses of the world.
Another thing to think about when it comes to who will be sleeping in the bedroom is whether or not they have any sensitivities. People with allergies often prefer hard surfaces for flooring, compared to softer options such as carpet, which can trap allergens.
2. The Style of the Bedroom
Bedroom styles vary considerably. Yours might be romantic and full of fluffy, soft pillows and billowy curtains. Or, it might be sophisticated and contemporary, with clean lines and chic detailing.
Ideally, your bedroom flooring will coordinate with the bedroom's overall style. Hardwood flooring will look right at home in a bedroom with a romantic style, especially if you have a soft, fluffy area rug on top. A hardwood or laminate floor in a light, neutral color will also be appropriate in a room with a contemporary room.
If you are completely redoing a bedroom from the floor up, you might choose the flooring first, then pick design elements and decor that coordinate with it.
3. The Bedroom's Functionality
Although some bedrooms are exclusively for sleeping, others end up serving as multipurpose rooms. You might have a guest bedroom that doubles as your office, or a bedroom that you've converted into a home gym or child's playroom.
How you use the room determines how much wear and tear the flooring gets, which can influence the type of floor that's best suited for the room. For example, if you use an extra bedroom as your home office, you might want to pick out flooring that the wheels of a rolling office chair won't damage. A smooth or flat carpet can be ideal for a rolling office chair, as you'll be able to move about in the chair without it sinking into the carpet and without having to use an unattractive plastic chair mat.
Take Our Quiz to Find Your Flooring Style
4. The Flooring's Care Requirements
Different types of flooring have different care requirements. For instance, although you can vacuum most types of floor, you can't clean every type of flooring with soap and water.
If you decide to go with carpet, you'll want to schedule professional deep cleaning every so often to keep the carpet looking its best. Hardwood flooring also usually requires a bit more care and attention compared to options such as tile, luxury vinyl or laminate.
Compared to other areas of your home, the bedrooms are usually low-traffic. Your family isn't likely to bring food and drink into their bedrooms — you might even have a house rule that says no food or drink in rooms. When guests are over, they likely aren't lounging in your bedrooms. For that reason, you have a bit more flexibility when choosing flooring. You can pick a type of flooring that is a bit more high-maintenance or one that might have more particular care requirements than other areas of your home.
Keep in mind how much you care about keeping the floors clean and how much time and effort you want to spend on maintaining the flooring in the bedrooms. If a regular vacuuming or sweep is all you can manage, it's better to choose a low-care, low-fuss option over one that will need deep cleaning and TLC occasionally.
5. Your Budget
One last thing to consider when choosing the right flooring for your bedroom is how much you can afford to spend on the floor. Flooring is available at a range of price points, with some materials costing considerably more than other options.
When looking at pricing, it's essential to look beyond the cost of the floor materials themselves. Figure out how much flooring you'll need to cover the room, as well as the cost of installation and any other materials you'll need, such as underflooring. You might also have to pay to remove the old flooring from the bedroom, so don't forget to account for that in your budget.

Schedule a Free In-Home Consultation
Best Bedroom Flooring Ideas
Once you've considered your bedroom's specific needs and styles, it's worthwhile to take a look at the four best flooring options for the bedroom and weigh the pros and cons of each one.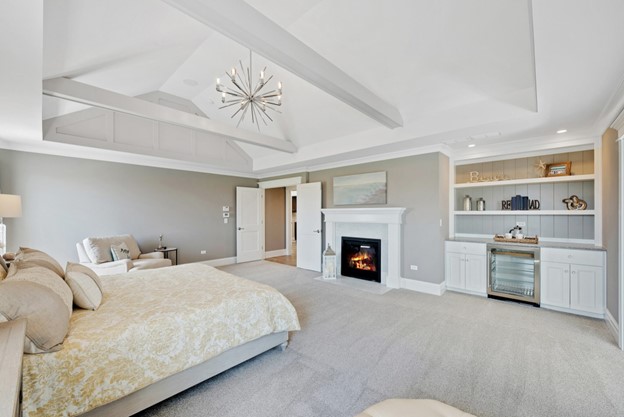 1. Carpet Bedroom Flooring
Carpet is often a favorite pick for bedroom flooring for a few reasons. It's available in various styles and provides excellent insulation and sound-dampening qualities. More importantly, carpet is one of the softest and most comfortable flooring materials available.
Some of the benefits of installing carpet in a bedroom include that it's:
Soft: Carpeting provides a soft, cushioned surface on the floor of a bedroom. It can be ideal for kid's rooms or a nursery. Some people love sinking their feet into a soft, warm carpet when they wake up.
Quiet and insulated: The carpet's thickness and cushioning mean it does an excellent job of insulating a room and keeping sounds from traveling down to the floors below.
Available in a range of styles and colors: Carpet comes in a full spectrum of colors and a variety of styles, from low pile to cut pile. It can be a solid color or patterned. Some designs and carpet types hide dirt and stains better than others.
Relatively easy to clean: You can vacuum carpeting to remove dirt and debris. You can also deep clean or steam clean your carpeting at home or hire a professional service to do it.
Budget-friendly: Carpet is available at various price points, with some styles costing a lot less than others. No matter your budget, it's likely you'll find a type of carpet that works.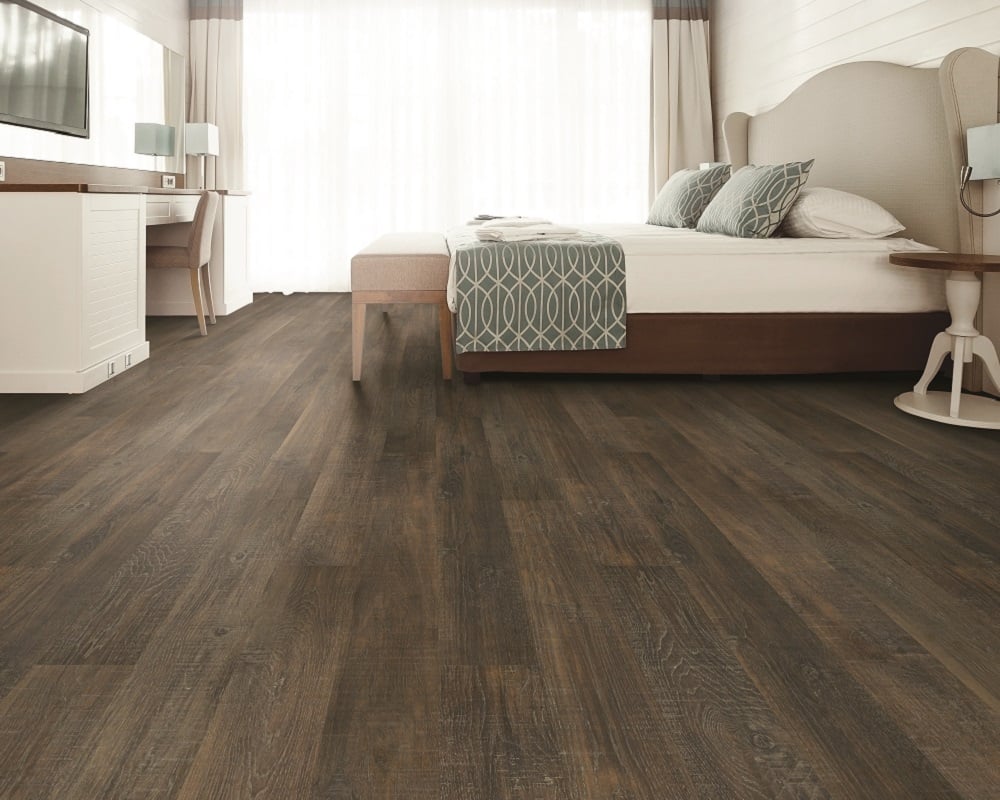 2. Laminate for Bedroom Floors
If you like the look of hardwood flooring but don't have the budget for it, laminate flooring might be an ideal alternative. Laminate floors are softer on the feet than most hardwood options. In addition, this type of flooring comes in styles and colors that replicate natural woodgrains at a portion of the cost. They also stand up significantly better against humidity.
Some of the advantages of laminate flooring in the bedroom include that it's:
Durable and moisture-resistant: Laminate flooring is made from synthetic materials and is designed to be long-lasting and durable. Although this feature might matter less when it's installed in a bedroom, it is moisture-resistant, meaning it is less likely to be damaged by water or spills.
Scratch-resistant: A laminate floor's wear layer protects against scratches, scuffs and dents, withstanding potential damage from moving or accidentally sliding furniture.
Available in a variety of colors and styles: Laminate flooring can imitate the look of hardwood or the look of tile. Whatever your bedroom's style, it's very likely you'll find a laminate flooring option to coordinate with it.
A budget-friendly choice: Laminate often costs a lot less than hardwood. It is also less complicated to install, which can also help you save money.
Easy to care for: You can vacuum or sweep laminate, and you can use most types of floor cleaners on it. Unlike hardwood, it doesn't require resealing.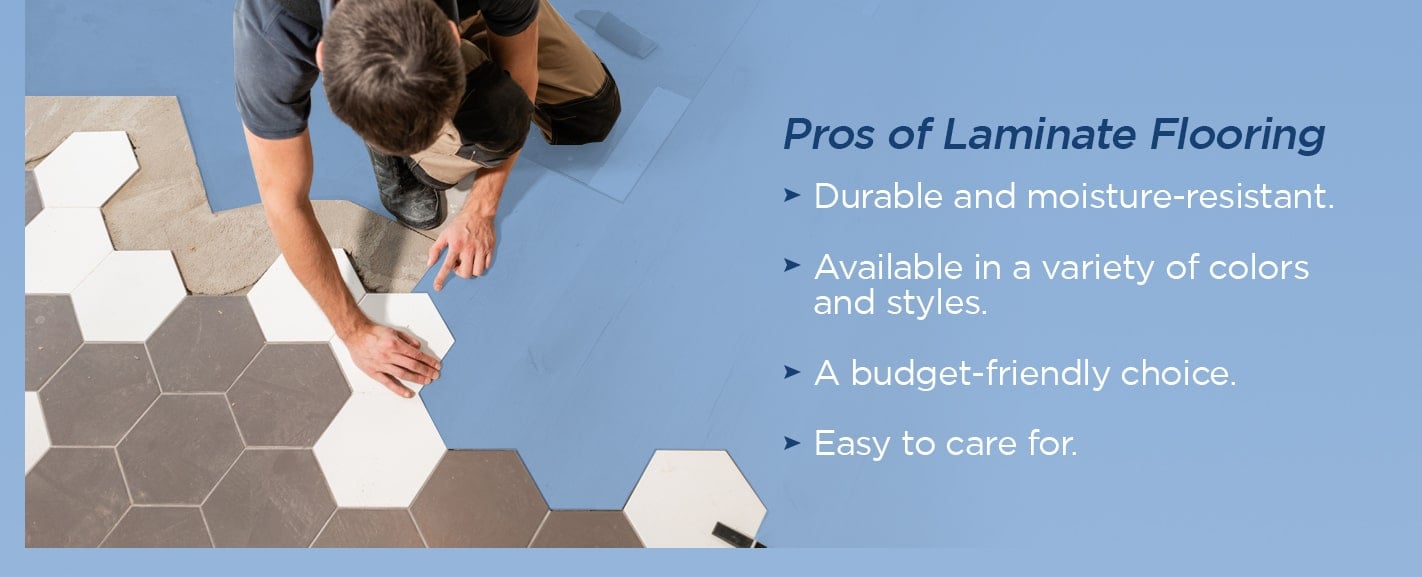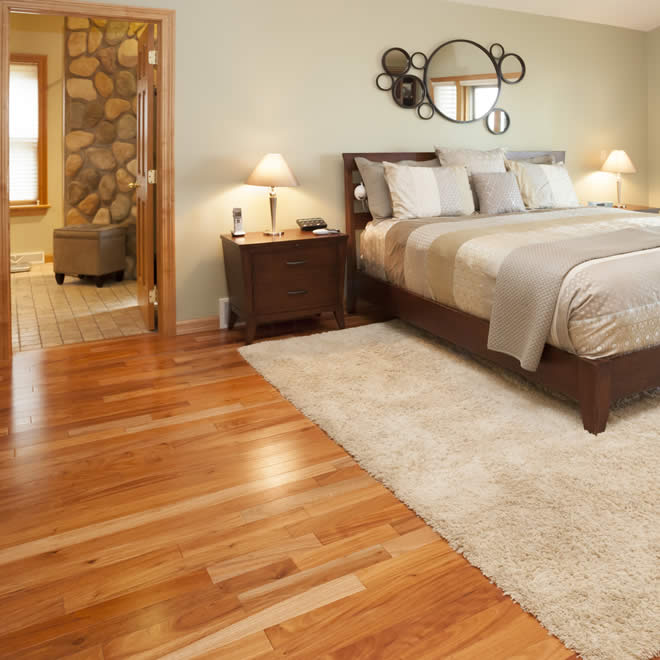 3. Hardwood Floors in Bedrooms
For some homeowners, hardwood flooring is the go-to choice for flooring in any room. Hardwood is elegant and luxurious and works well with a variety of decor styles. Many wood species are available, adding to the flooring's versatility. You also have the choice of engineered or solid hardwood, depending on your particular needs and budget.
Some of the features that make hardwood flooring an excellent choice for the bedroom include:
Versatility: You can find hardwood flooring in a variety of colors and made from a variety of different types of wood.
Visual appeal: Many people consider hardwood to be an attractive and appealing choice for flooring.
Warmth: Although hardwood isn't as warm and soft as carpeting in the bedroom, it has a warmth to it, both visually and physically. You can make wood floors even warmer and more inviting by adding a throw rug or area rug to the room.
Resale value: Hardwood floors tend to be popular and in demand from home buyers. If you replace the current flooring in a bedroom with hardwood, you might notice an uptick in the value of your home or more attention from buyers when it's time to sell.
Durability: Hardwood is a very durable material, meaning it can withstand a fair amount of wear and tear.
Ease of care: Although you might have to purchase a special hardwood floor cleaner, the flooring is usually pretty easy to care for, as you can sweep or vacuum it.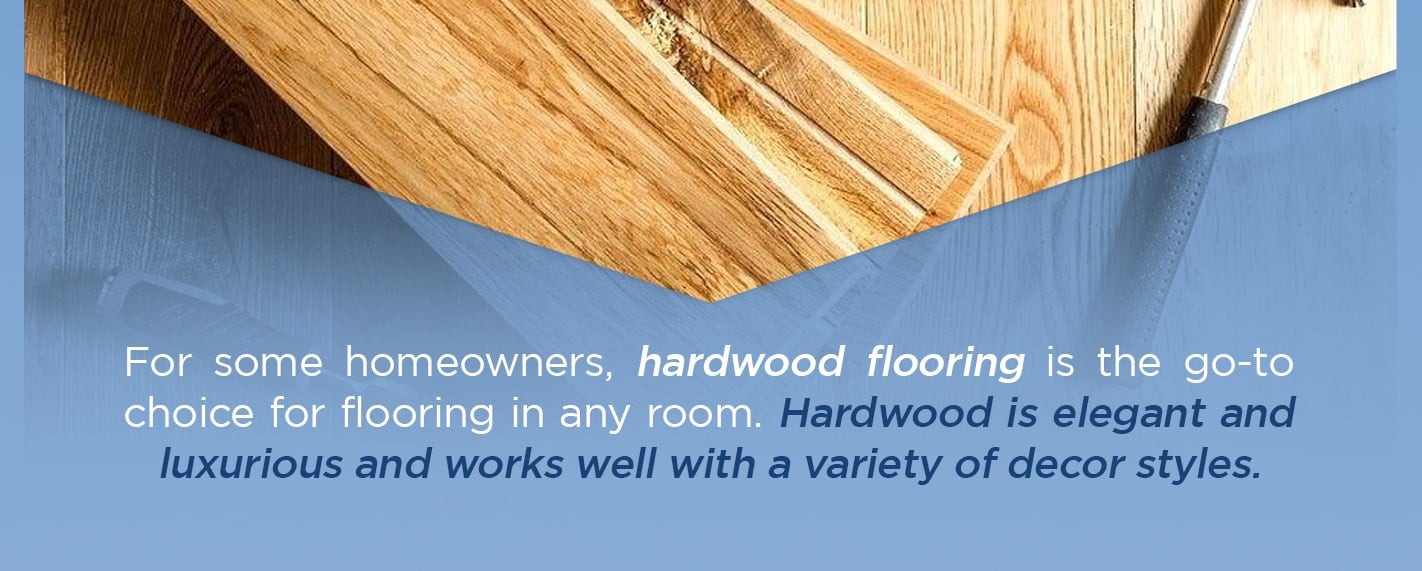 4. Luxury Vinyl in Bedrooms
Technological advancements have made luxury vinyl one of the most popular flooring options in all areas of a home, including bedrooms. Luxury vinyl tiles or luxury vinyl planks are more comfortable to walk on than hardwood options. In addition, they come in an almost limitless range of colors and patterns to meet your design preferences.
Additional features that you can enjoy after installing luxury vinyl in your bedroom include:
Waterproof design: Luxury vinyl flooring holds up against accidental spills, splashes and other messes, providing years of protection in your bedroom.
Durable construction: The advanced four-layer construction of these tiles and planks makes them one of the most durable flooring options for bedrooms.
Easy maintenance: Caring for luxury vinyl in your bedroom is as easy as regularly sweeping, vacuuming or applying a damp mop.
Enhanced comfort: This flooring offers solid thermal properties that can provide a warmer feeling underfoot than other material types, which is especially beneficial in cooler climates.
Greater affordability: Like laminate flooring, luxury vinyl tiles and planks are relatively inexpensive compared to natural materials.
Fast installation: Compared to conventional porcelain and ceramic tile, luxury vinyl is easier to install, allowing you to enjoy your new flooring without a long wait.
Tips to Help You Choose the Best Bedroom Flooring
If you're still not sure what type of flooring is the best one for your home's bedrooms, the following quick tips can help you narrow down the field and make the right choice:
Think about how you use the room:Who uses the bedroom and how they use it will be one of the most significant factors in deciding on the best type of flooring. For kids' rooms, you want flooring that's durable, easy to clean and comfortable, for instance.
Don't forget your tastes and preferences: Looks matter when choosing a bedroom floor. If you can't stand how a particular type of flooring looks, don't make yourself choose it. If you've had carpet in the past and disliked it, you might want to try a new flooring material.
Think about your tolerance for dirt and stains: How dirty can you let the floor get before you have to vacuum it? Some types of flooring mask dirt better than others and can be a good pick for people who despise vacuuming.
Take a look at samples before you decide: An easy way to get ideas for bedroom flooring is to view samples of it from the comfort of your home. Looking at flooring samples at home allows you to see how the flooring will look in your home's lighting and up against your walls and other design elements.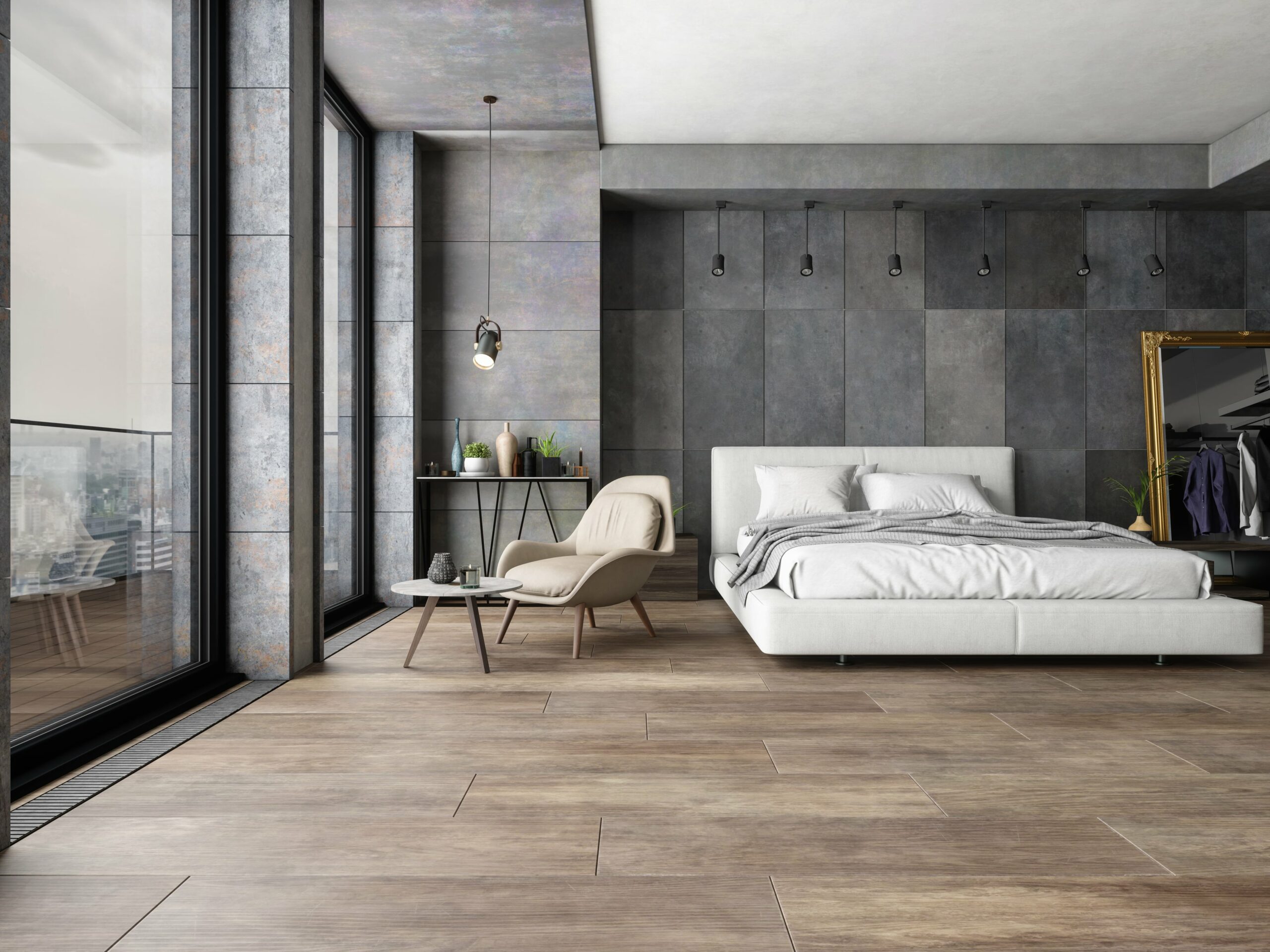 Schedule an Appointment With 50 Floor to Get New Bedroom Flooring
Ready to find bedroom flooring ideas for your home? Schedule an in-home flooring appointment with 50 Floor today. We'll bring flooring samples to your door, and one of our flooring consultants will help you choose the flooring that will work best in your bedrooms. Once you've found an option you like, we'll take care of everything else, including installation.
Enjoy a better experience shopping for flooring. Contact us to schedule your in-home appointment today.